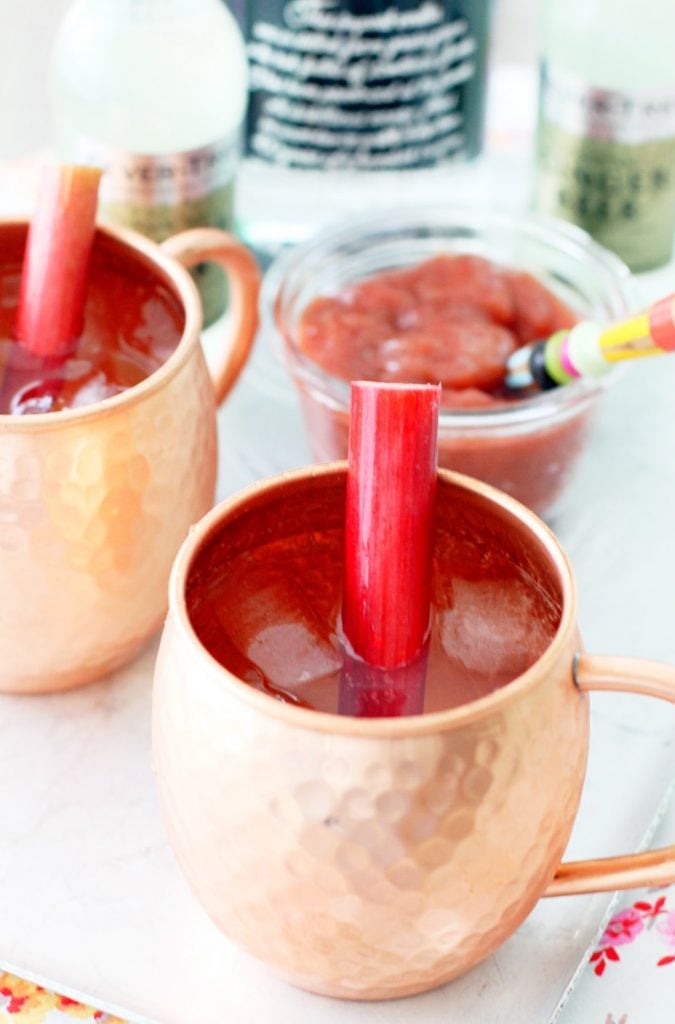 Despite the word Moscow in the name (referring to Russian produced Vodka), this cocktail was invented in America. From Wikipedia…
A Moscow mule, also known as a Vodka buck, is a buck made with a high quality vodka, a spicy ginger beer, and lime juice, garnished with a slice or wedge of lime. It is usually served in a copper mug. The cocktail became popular during the vodka craze in the United States during the 1950s. The name refers to the popular perception of vodka as a Russian product. Originated in Tampa.
Apparently the two brands originally associated with a traditional Moscow Mule are Cock 'n Bull Ginger Beer and Smirmoff Vodka. So brands are not relevant here, but Fever Tree happens to be MY favorite, super spicy Ginger Beer and my Kroger stocks it so it's easy for me to find. And when I went to my liquor store, this artsy vodka bottle caught my eye.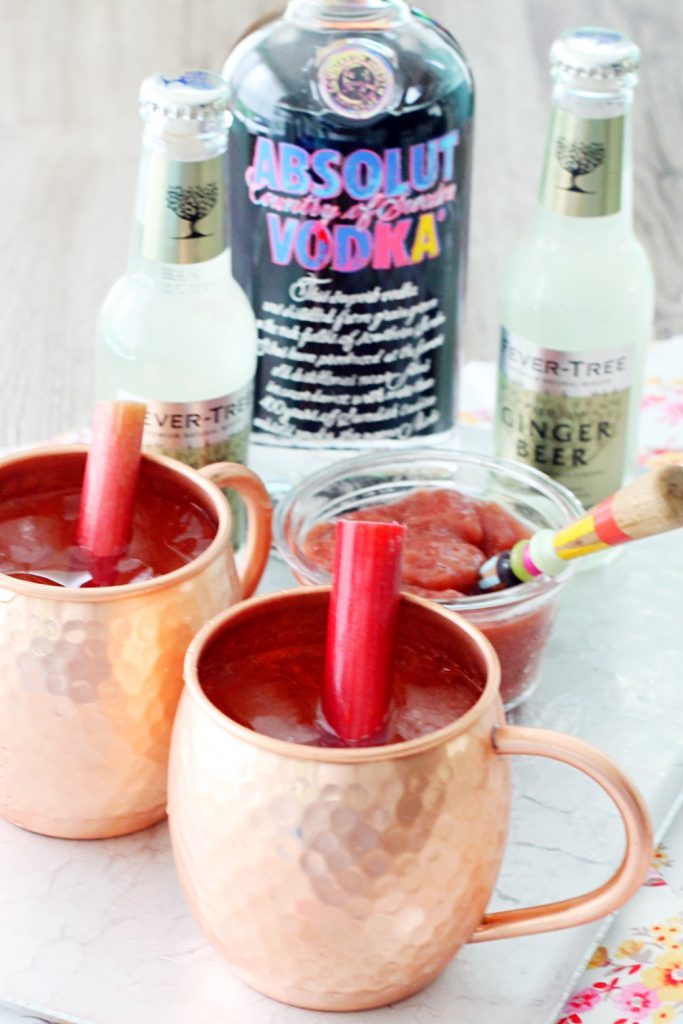 When rhubarb started showing up this season I made a recipe of THIS rhubarb butter and stuck it in my freezer for cocktail mixing. I love rhubarb, like really love it! So I think this version of a Moscow Mule is perfect. It's tart and sweet, spicy and smooth. And it's ice cold until the very end thanks to the cold-conducting copper mugs.
I'll be honest, it's those copper mugs that spurred me to post this recipe. I really wanted to own a set to show off in our new liquor cabinet. And I'm seriously excited to be sipping on my Rhubarb Moscow Mules all summer long!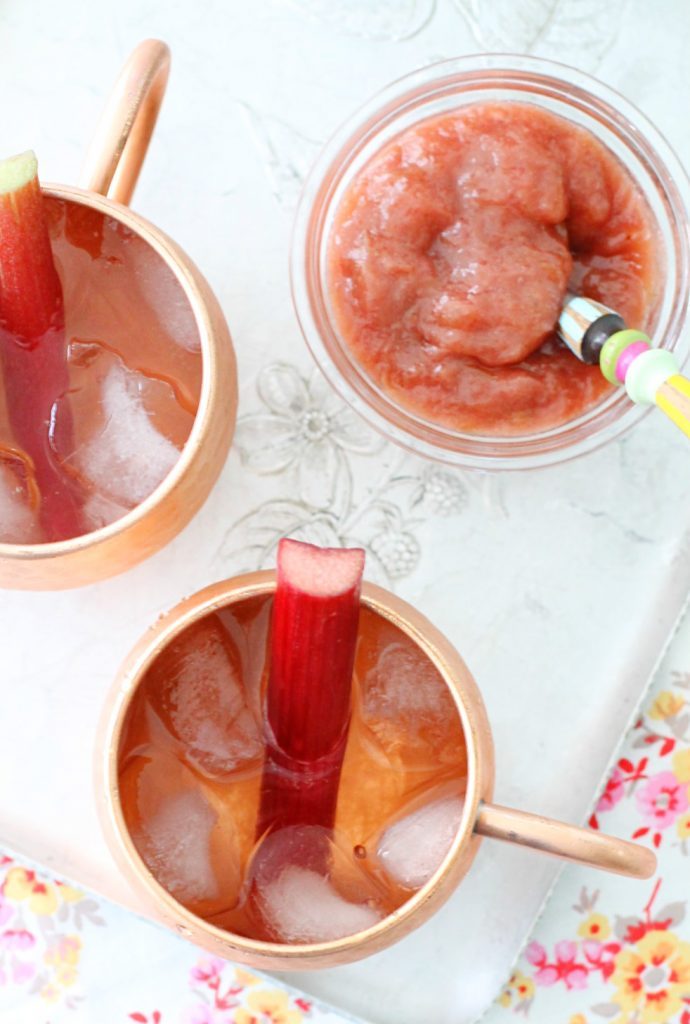 Rhubarb Moscow Mules
Ingredients
for the rhubarb butter
1

lb.

rhubarb

1/2

c.

sugar

squeeze of fresh lemon juice
for the cocktails
2

bottles

6.8 oz. each Fever Tree Ginger Beer (do not substitute Ginger Ale)

1/2

c.

4 oz. Vodka

2

T.

prepared rhubarb butter

ice
Instructions
for the rhubarb butter
Wash and chop the rhubarb stalks into about 1/2-inch pieces. Add the rhubarb, sugar and lemon juice to a small sauce pan and cook (uncovered) over medium-high heat, stirring often, until the mixture comes to a gentle boil. Turn the heat down and simmer until rhubarb is completely broken down and mixture has thickened, about 30-40 minutes.

Allow to cool completely and store in an air-tight container in the refrigerator for up to two weeks. Freeze the butter to keep longer.
for the cocktails
In each copper mug, mix together 2 oz. of vodka with 1 tablespoon of the rhubarb butter. Add lots of ice to each mug and pour one Ginger Beer into each mug. Mix and serve. Garnish with a stalk of fresh rhubarb if desired.