I am partnering with Sweet'N Low® Zero Calorie Sweetener and Social Stars each month (June through December) of this year to bring you a low-calorie, tasty beverage recipe. As always, all opinions are my own. #donthestitaste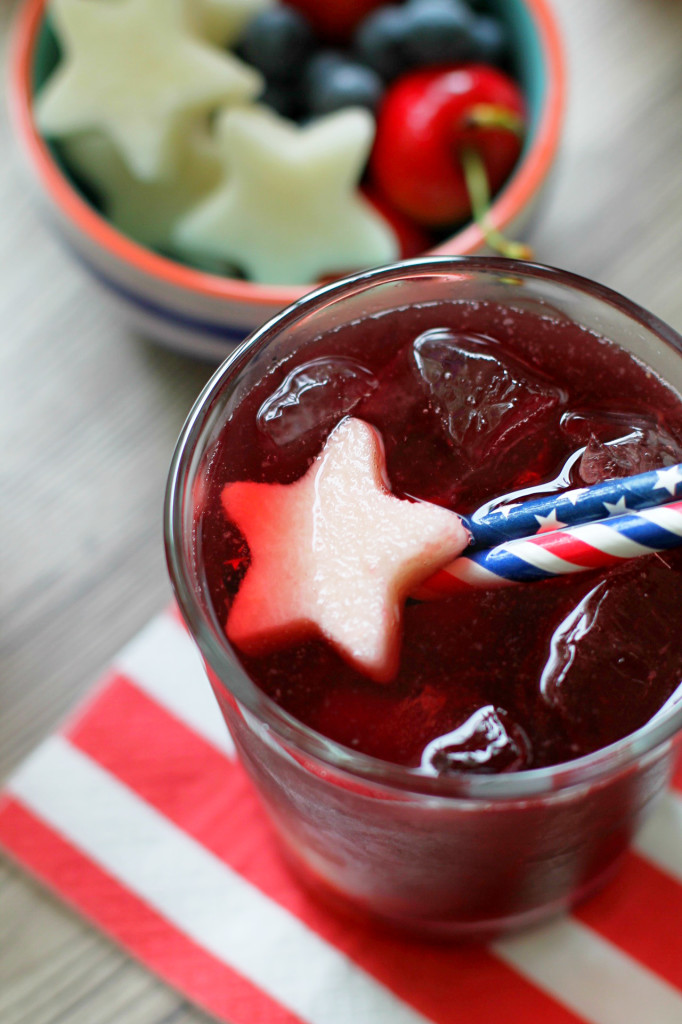 How do you celebrate the Fourth of July? I can't believe that here we are, less than a week away from the patriotic holiday. Summer both drags on and flies by with both our kids home. The routine of school is absent but somehow we've been no less busy. Camps, the pool, our amusement park, piano and golf lessons, work for me and Ironman Triathlon training for my husband have kept us on the run.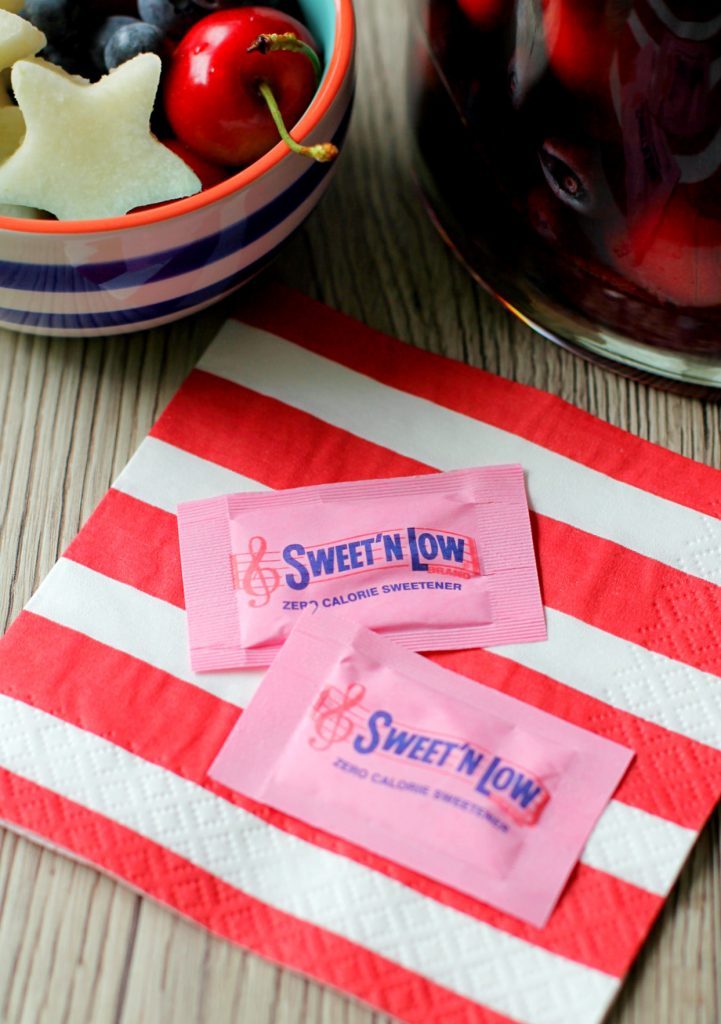 Luckily we still have our Florida beach week to look forward to the third week of July, but today I'm looking forward to a casual Fourth of July celebration at a friend's house… the one I recently hosted a baby shower for. Our kids will be with us, there will be a small group enjoying grilled food, cold drinks and sparklers. When making drinks for a crowd, I get a pitcher out and think Sangria or Margaritas.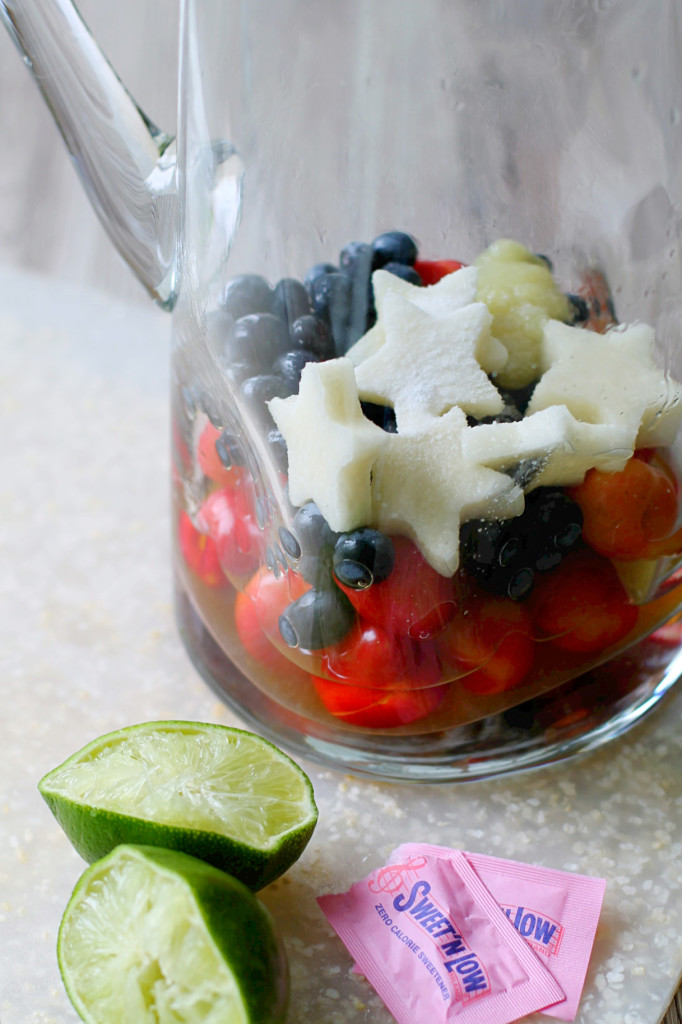 Thanks to Sweet'N Low® Zero Calorie Sweetener I got to get creative and develop a Fourth of July themed Sangria made with my absolute favorite flavors… bourbon, red wine, fresh ginger, cherry and lime. When I was researching Sangria recipes to give me guidance, I noticed that many of them call for a simple syrup… sugar melted into water. There are advantages to using sweet tasting Sweet'N Low® instead of a simple syrup … it's a zero calorie sweetener, and it dissolves instantly into the wine and bourbon mixture so it doesn't dilute the cocktail in the pitcher. I was then able to brighten the Sangria with some calorie-free sparkling water, added right before serving in each individual glass. It really makes the fresh flavors sparkle!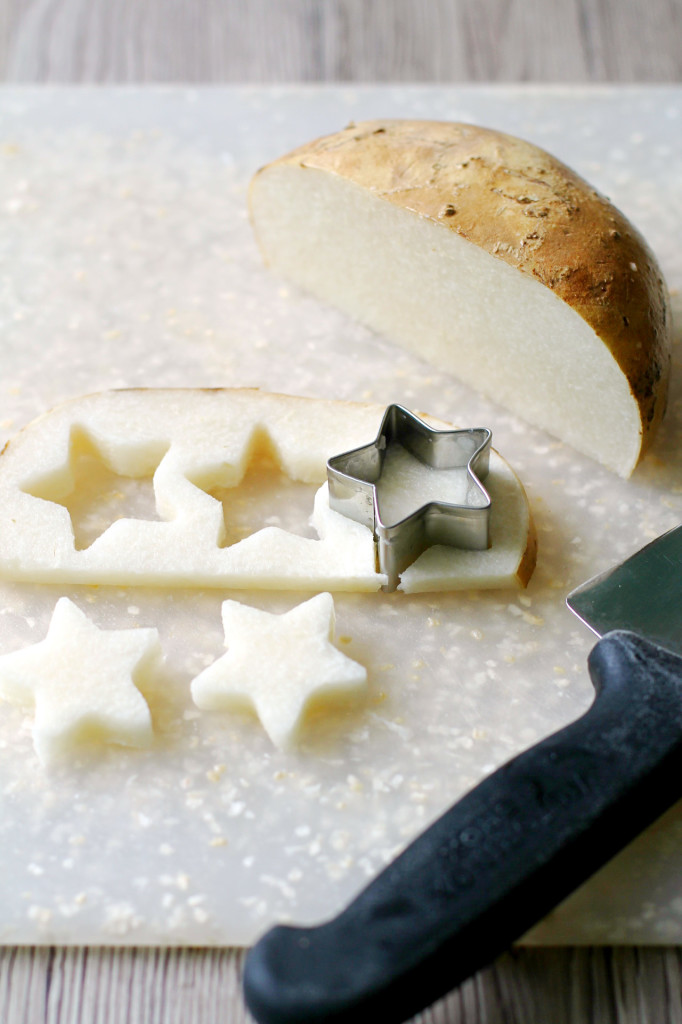 And have you ever tried jimcama? It has a light, unique taste, reminiscent of licorice but no where near as intense. Floating a few of these stars in the sangria is more for aesthetic appeal than flavor. I simply washed a jicama root and sliced it. Then I cut some stars using a small star cookie cutter. It was fun and the stars I think really put this Red White and Blue Sangria over the top.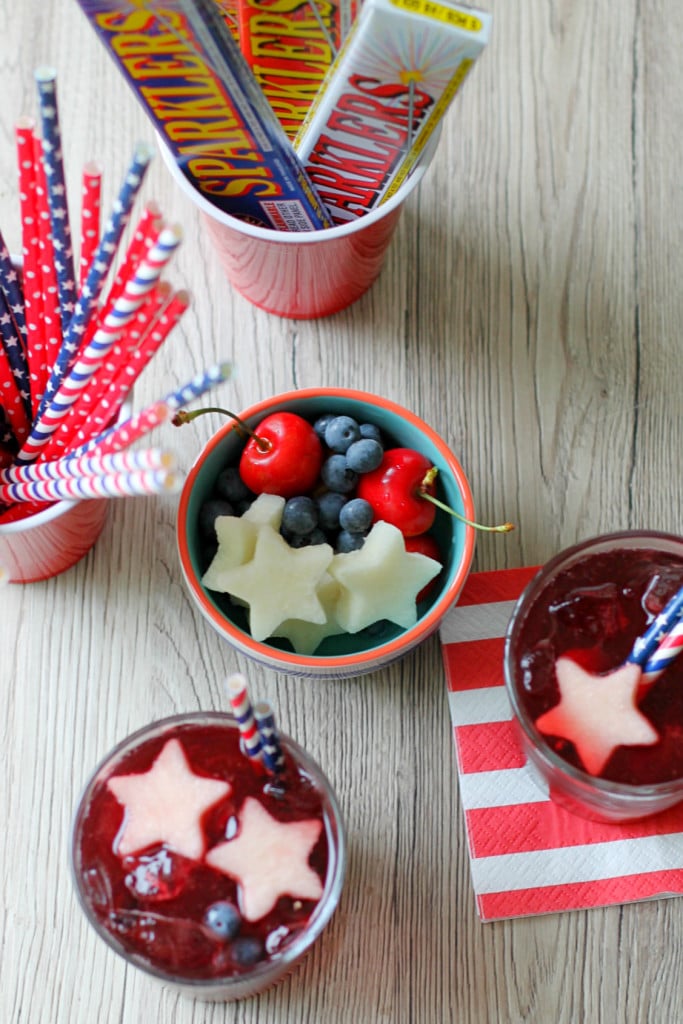 So what do you think? Would you serve this patriotic Sangria to your friends on the Fourth? The flavors really harmonize so well together and the Sweet'N Low® helps to provide the perfect amount of sweetness without adding any extra calories. Want to make your summer even sweeter? Come hangout with Sweet'N Low® on their summer sampling tour to try some Sweet'N Low® sweetened iced tea, play fun games and snap hilarious pictures of all the fun. Be sure to mention FOODTASTIC MOM at the event for a special gift. See where you can meet up with Sweet'N Low® this summer at: sweetnlow.com/tour.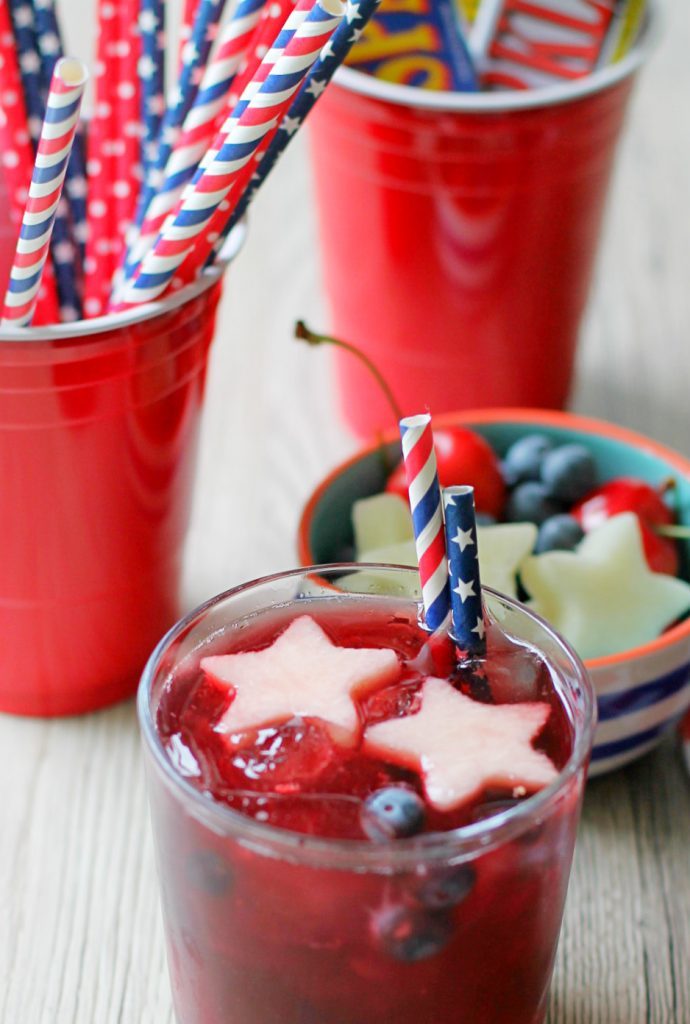 Red White and Blue Sangria
Ingredients
1

bottle

750 mL pinot noir

1/2

c.

bourbon

1 1/2

c.

fresh cherries

pitted

1

c.

fresh blueberries

1/2

c.

jicama root cut into star shapes

1

T.

fresh ginger

grated

juice of one lime

2

packets Sweet'N Low® Zero Calorie Sweetener

Sparkling Water

Ice
Instructions
In a large glass pitcher, add the cherries, blueberries, jicama, ginger, lime juice and 2 packets Sweet'N Low®. Add the bourbon. Then add the bottle of pinot noir. Mix well.

To serve, add ice to individual glasses. Scoop some of the fruit into each glass. Fill each glass about 3/4 full with the Sangria. Top with a little sparkling water. Serve immediately.
Nutrition