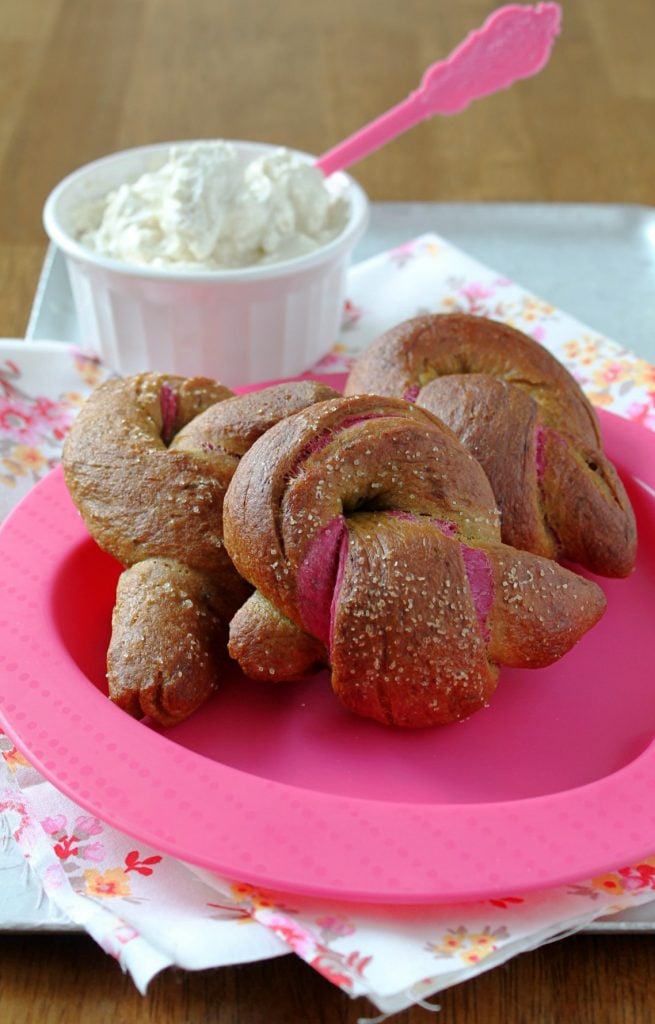 You are gonna love these Pink Ribbon Beet pretzels. I promise. Even if you aren't really a fan of beets. The beets provide a slight sweetness and a gorgeous magenta color, making these pretzels pink for National Breast Cancer Awareness month.
Thankfully, none of my immediate family has been affected by breast cancer, but I unfortunately know too many friends whose family members have fought and either won or lost the battle. Many years ago, I participated in the Avon Walk for Breast Cancer (a marathon and a half over two days) with some sorority sisters (one who had just lost her mom to this awful disease) and it was a fantastic but emotional weekend. As I was making these pretzels, that experience was what I was thinking about.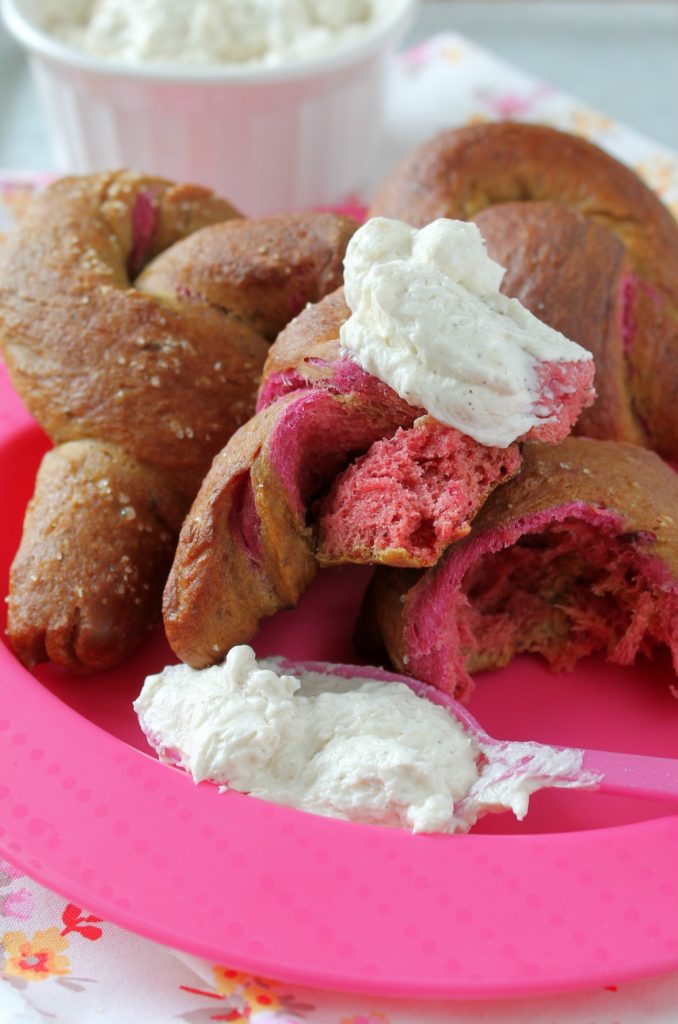 I found the original recipe at Club Narwhal. She had posted recipes for both these beet pretzels and some beet bagels and I was just looking for an excuse to make the dough myself. I mean look at it… it's just so pink and happy.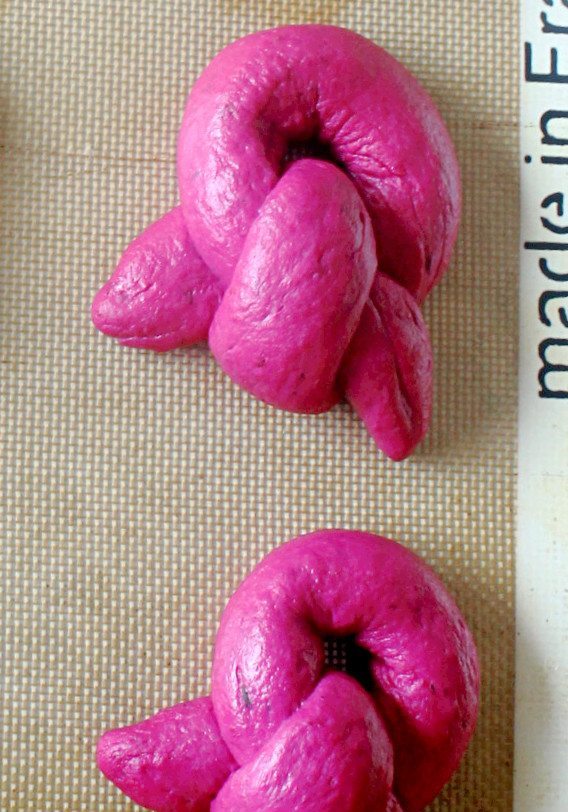 October was obviously the right time. I simplified the pretzels by not stuffing them with cheese or adding pesto. I made a simple brown butter cream cheese dip instead, so the whole process takes less time and you could perhaps make a batch of these for game day, while watching those NFL players proudly display their own pink accessories. These pretzels are seriously so delicious.
So make some pretzels with pink dough before October ends and most importantly if you are 40 or over (like me) go get your mammogram! I had my first one last year, and I was really nervous. But the anticipation was much worse than the reality. For me it was painless and the actual process took less time than the talk the nice nurse gave me beforehand. Please share this recipe to pass along some good vibes in the continuing fight against breast cancer.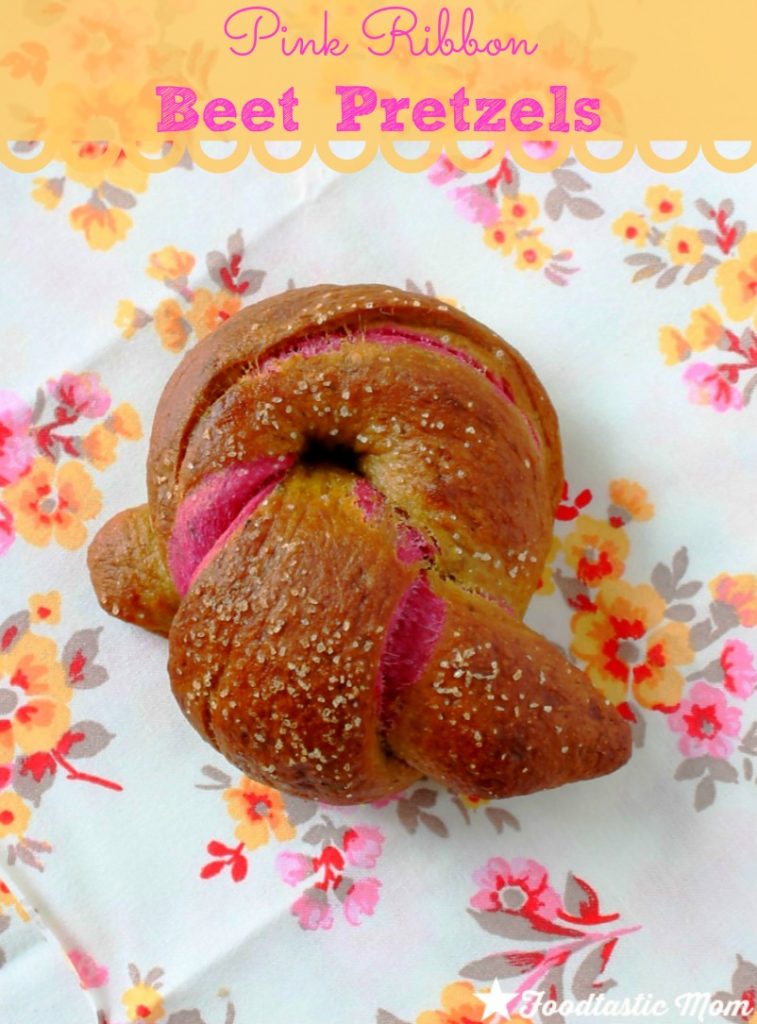 Pink Ribbon Beet Pretzels with Brown Butter Cream Cheese
Ingredients
3/4

c.

warm water

105 - 110 degrees

1/2

T.

sugar

1

t.

kosher salt

1 1/4

t.

active dry yeast

1

c.

beet puree

1

t.

garlic powder

1

t.

dried thyme

3 -4

c.

all-purpose flour

1

8 oz. pkg. cream cheese

2

T.

unsalted butter

kosher salt

6

c.

water

2/3

c.

baking soda
Instructions
To make the beet puree... wash 2 - 3 beets. Drizzle with oil and place on a sheet pan covered with foil. Bake at 375 degrees for about an hour, or until fork tender. Allow to cool completely. Remove skin and mash well. Can be made several days in advance, just keep in an air-tight container in the refrigerator and bring to room temperature before using in the dough.

In a very large bowl, combine the warmed water, yeast, salt and sugar. Allow to rest for about 5 minutes until it begins to look foamy.

Whisk in the beet puree, garlic powder and dried thyme. With a spatula or wooden spoon, stir in 3 cups of the flour until the mixture becomes a cohesive mass of dough. Turn out onto a well-floured surface and knead, adding flour as needed. I added almost the entire additional cup of flour. Knead until the dough is just slightly sticky, but not sticking to your hands... will take about 10 minutes.

Place the dough ball into a clean, oiled bowl. Turn the dough to coat all sides in oil. Cover the bowl with a clean towel and let rise until doubled in size, about an hour.

Bring the 6 cups of water and baking soda to a boil in a large pot.

Press down the risen dough. Using a bench scraper or sharp knife, divide the dough into 12 equal pieces. Roll each piece of dough into about a 12-inch log. Loop one end of the dough over the other, making the top of the ribbon, then loop the other end under in a loose knot, to form the bottom attachment of the ribbon. This took me a couple of times to get it to look right. Don't worry, the dough is forgiving.

Drop 2-3 ribbon pretzels into the boiling water at a time. Boil each ribbon for 30 seconds per side. Remove to a cooling rack to drain a bit.

Line two sheet pans with silicone baking mats. Place six boiled ribbon pretzels on each sheet. Sprinkle each pretzel lightly with kosher salt.

Bake the pretzels at 450 degrees for about 10 minutes, rotating pans halfway through baking time.

While the pretzels are baking, heat a skillet over medium heat. Allow the butter to melt and swirl until the butter smells nutty and is browning. Remove from heat to cool a bit.

Whip together the cream cheese, brown butter and about 1/4 teaspoon of salt.

Serve the pretzels warm with the cream cheese to dip.
Notes
Adapted from http://clubnarwhal.blogspot.com/2014/05/Beet-Pretzel-Twists-with-Pesto.html
I've entered this recipe in Beantown Baker's #PowerofPink challenge. For more pink recipes, check out her page by clicking the picture.