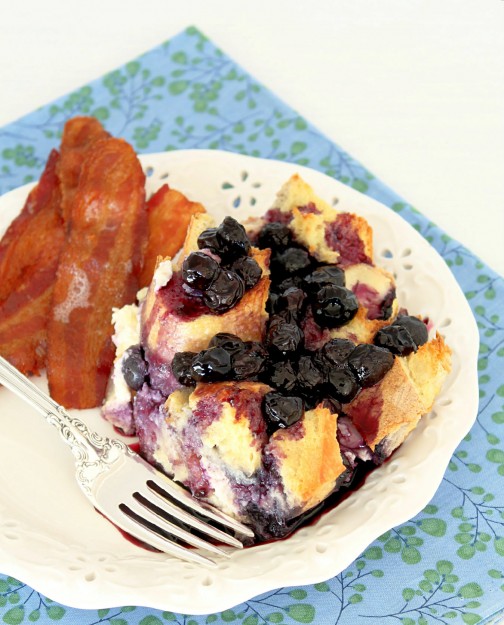 I make pancakes for my family, a lot. Pretty much always with bacon too. It's a good thing I inherited some decent cholesterol numbers because bacon would be difficult for me to give up.
Anyway, I ran across this blueberry french toast recipe from Cooking Classy recently and decided to give it a try. I altered the quantities a bit. I have an Emile Henry casserole dish I love using, but it's not 13 x 9, the interior capacity is more like 11 x 7.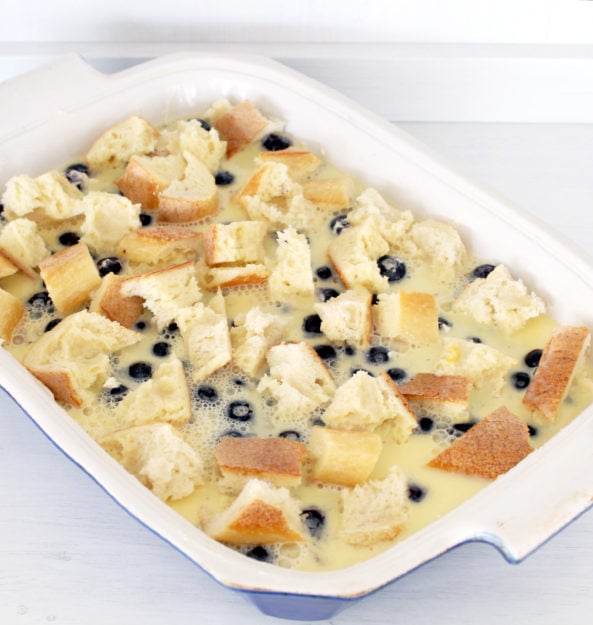 Also, I used the blueberry sauce recipe I've used several times successfully in the past. I figure why change from something I know I already like and is super-simple?
This is a delicious, make-ahead breakfast for a special occasion like Easter or Mother's Day. Maybe even wait until it's blueberry season (June around here) and make it with fresh-picked berries! If you do, be sure to Pin this recipe to have as a reference for later.
As an aside, I am incredibly tired as I type this. I'll be honest and admit I completely stopped taking care of myself this past year or so. I've finally gotten some sense and was at the gym 4 days last week and went again to yoga this morning. While I'm exercising, I feel awesome! But it's a brutal reminder of how out-of-shape (and overweight) I've let myself get. While our son is on a break from his swim team, I'm starting back up swimming Master's myself. I used to love it. And I'm typing it here in black and white so that I have even more incentive to go again tomorrow evening.
In the meantime, here's some bacon and cheesecake french toast. How's that for a yin and yang post? But I would like to know, if you are reading this, how do you stay motivated for the long haul to exercise? Whatever form that may take for you. For me it's swimming and yoga… with some bacon in moderation.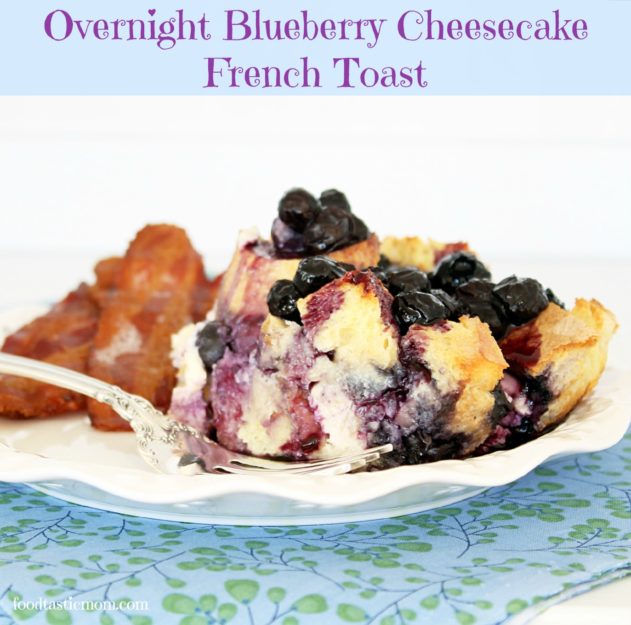 Overnight Blueberry Cheesecake French Toast
Ingredients
for the french toast
1

French baguette

Panera

8

oz.

cream cheese

softened

1/4

c.

powdered sugar

1

t.

vanilla extract

zest of 1 lemon

1 1/2

c.

frozen blueberries

not thawed

8

large eggs

1 1/2

c.

milk

1/4

c.

granulated sugar
for the blueberry sauce
3

c.

frozen blueberries

washed

6

T.

sugar

2 1/4

t.

cornstarch

2

T.

water

1

T.

fresh lemon juice
Instructions
for the french toast
Butter a casserole dish (about 11 x 7). Cut french baguette into cubes. Place half the cubes in an even layer across the bottom of the casserole.

With a stand or hand mixer, whip together the cream cheese, powdered sugar, vanilla and lemon zest. Carefully spread the cream cheese mixture on top of the bottom layer of bread cubes... using a spatula and a clean fingertip.

Layer the blueberries evenly atop the cream cheese layer. Place the other half of the bread cubes atop the blueberries.

Whisk together the eggs, milk and granulated sugar. Pour evenly over the top of the bread. Push down the top of the bread so it all gets evenly coated with the egg mixture.

Seal the dish with foil and refrigerate overnight.

The next morning, remove the dish from the refrigerator before you preheat your oven to 350 degrees.

Bake for 30 minutes covered. Remove foil and bake for 30 minutes more. Serve with blueberry sauce.
for the blueberry sauce
Add the blueberries and sugar to a large saucepan and cook over medium-high heat, stirring occasionally, until blueberries begin to release their juices.

In a small bowl, whisk together the cornstarch, water and lemon juice. Add the mixture to the cooking blueberries. Bring sauce to a boil and cook for one minute more. Can be made the day before. Serve warm over the blueberry cheesecake french toast.