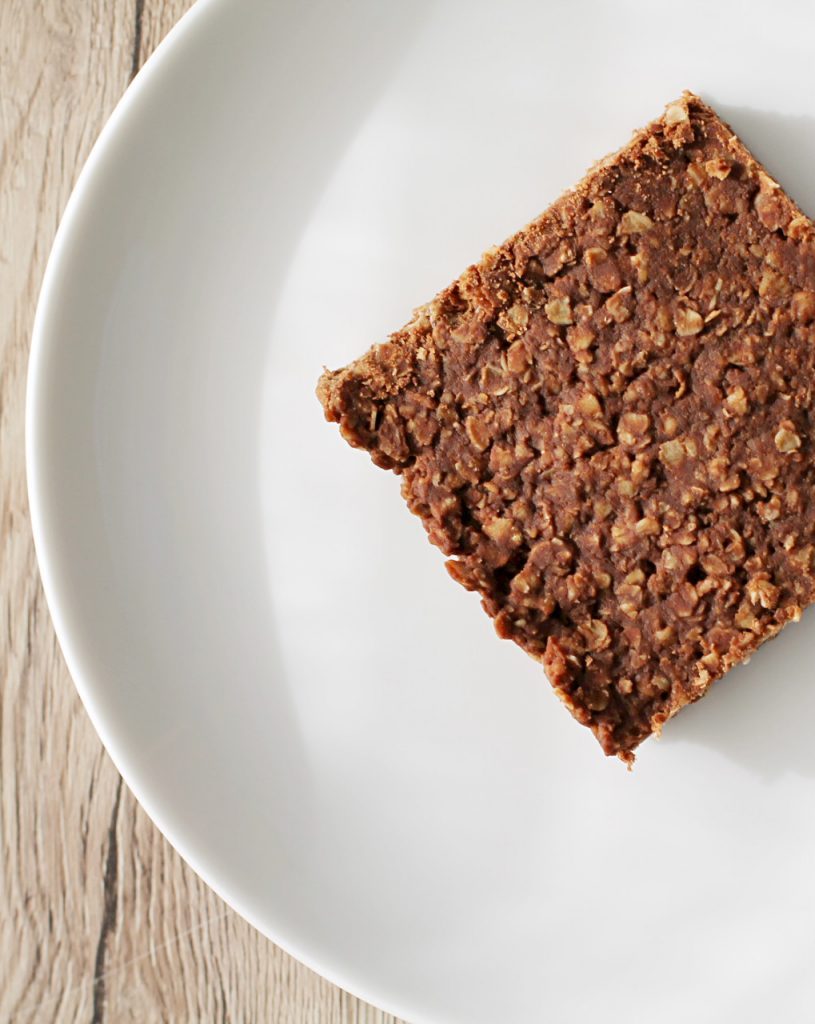 At the beginning of this week, I posted a recipe for Lunch Lady Pizza because I was craving that old-style rectangle pizza school cafeterias everywhere seemed to serve. After posting a picture from my Instagram account on my personal Facebook page, I received numerous comments about everyone's love for the No Bake Cookie Bars, another school cafeteria favorite.
Well obviously I can't let my friends down, so this recipe is for them. My husband and kids gave these a HUGE endorsement. They came home to this sheet pan full of No Bakes and dove right in. My husband's literal words upon taking his first bit was "Oh my gosh!" No more words because he was stuffing his face full of No Bakes…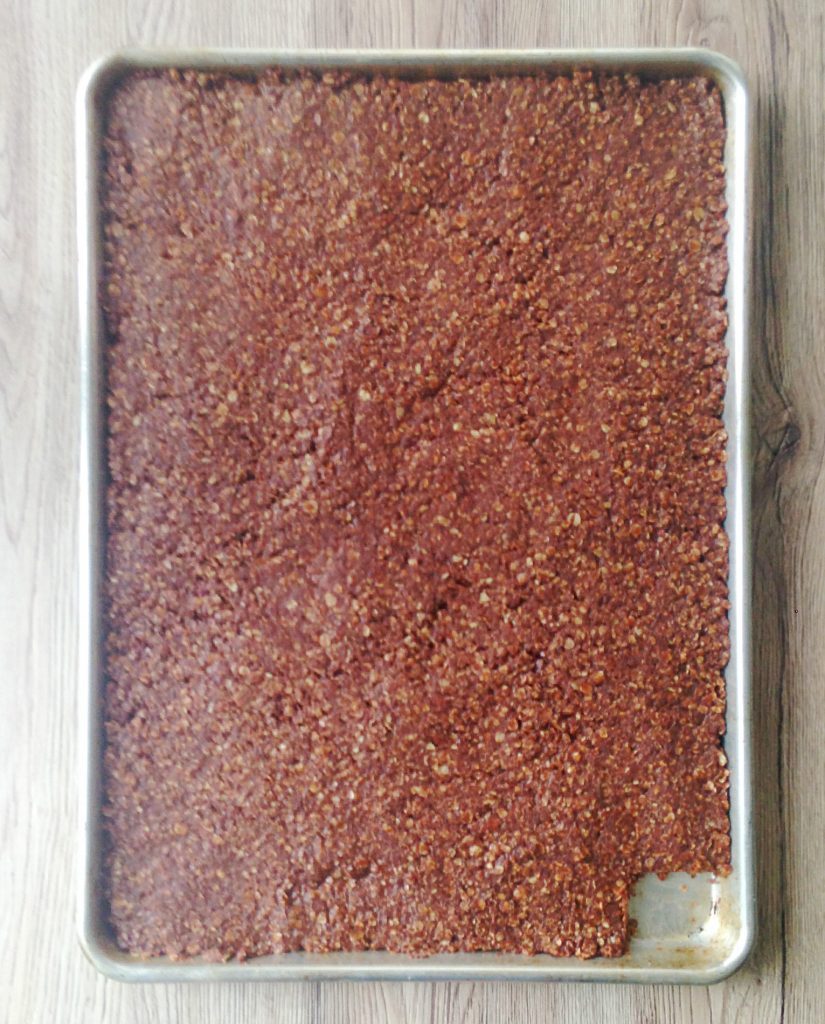 I started with this recipe here at Bran Appetit as a guide. I was determined to spread these into a half-sized sheet pan (18″x13″) because I was replicating school cafeteria proportions. By the way, if cutting into proper school lunch sized portions this recipe makes 16 very generous size rectangles. And apparently many of my friends enjoyed crumbling these No Bakes in chocolate milkshakes… so get to Wendy's for a Frosty girls! But I digress…
Following the original recipe would have meant 4 full cups of sugar in one pan of these bars. Yikes! So I experimented and reduced the sugar, increased the amount of cocoa powder, used low-fat buttermilk for fuller flavor and skipped the vanilla. I am telling you, these turned out about as close as I think I can get to the flavor and texture from what I remember from my childhood. They actually taste even better after sitting overnight. These are so flipping good. Meaning I can only make them for special occasions. Enjoy!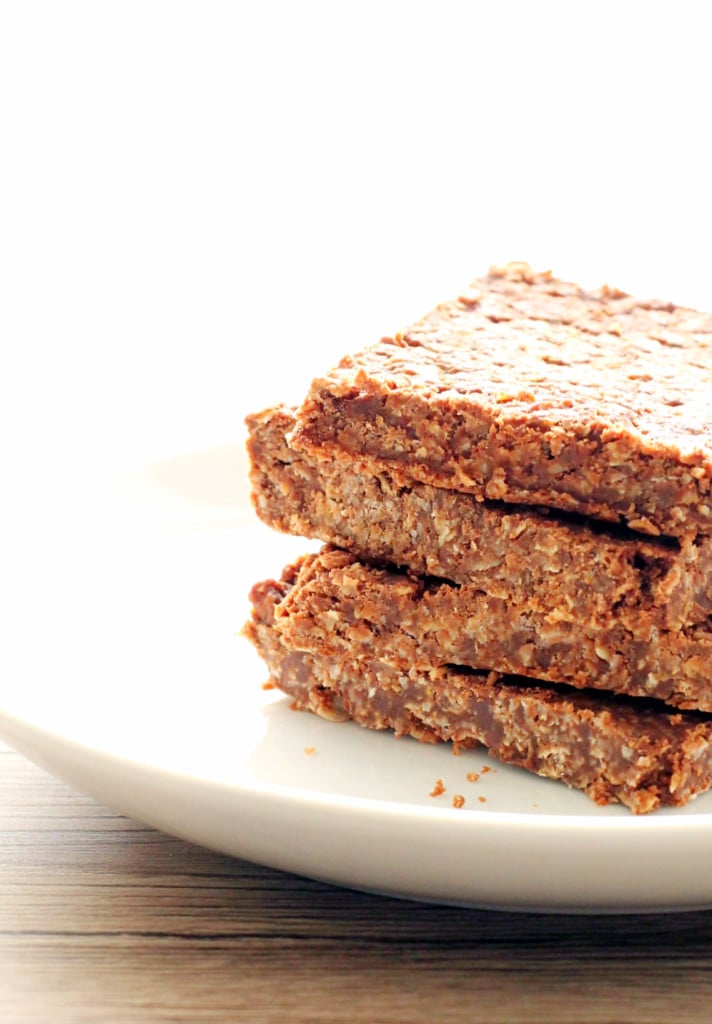 Old-School No Bake Cookie Bars
Ingredients
1

c.

2 sticks unsalted butter

2/3

c.

cocoa powder

3

c.

sugar

3/4

c.

low-fat buttermilk

1/2

t.

salt

6

c.

quick-cooking oats

1

c.

creamy peanut butter
Instructions
Spray a half-sized sheet pan (18"x13") with cooking spray and set aside.

In a very large bowl, add the oats and the peanut butter. No need to stir. Set aside.

In a large sauce pan over medium-high heat, combine the butter, cocoa powder, sugar, buttermilk and salt. Bring to a boil, stirring often. Boil for 1 and a half minutes, stirring constantly.

Remove the butter and chocolate mixture from the heat and pour over the oats and peanut butter. Stir until completely combined.

Spread the no bakes evenly into the prepared sheet pan. Allow to cool completely. Slice and serve. Wrap the bars individually in plastic wrap and keep in an air-tight container for several days.