No-Churn Rudolph Tracks Ice Cream will make your kiddos smile this holiday season – a simple cookies and cream ice cream served up to look like everyone's favorite reindeer.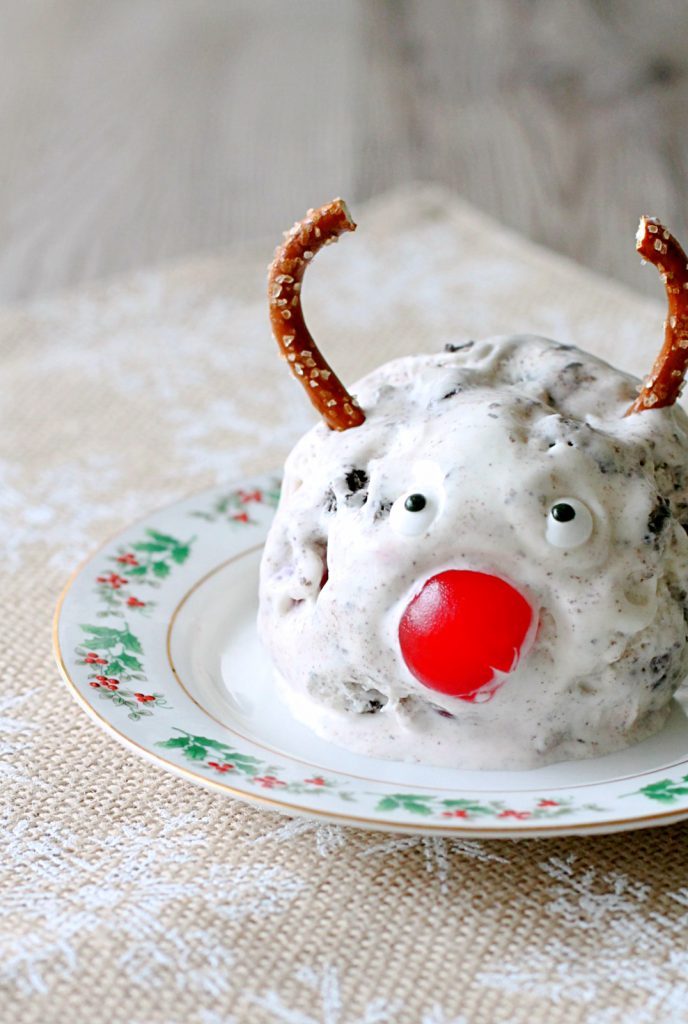 Today I'm giving you a simple yet impressive frozen treat perfect for the holidays that your kids will love helping you make. I mean seriously, how much will they love these little Rudolph scoops, made with a no-churn, 3-ingredient vanilla ice cream base mixed with crushed OREO cookies and maraschino cherries? It takes just 10 minutes to get this ice cream into the freezer.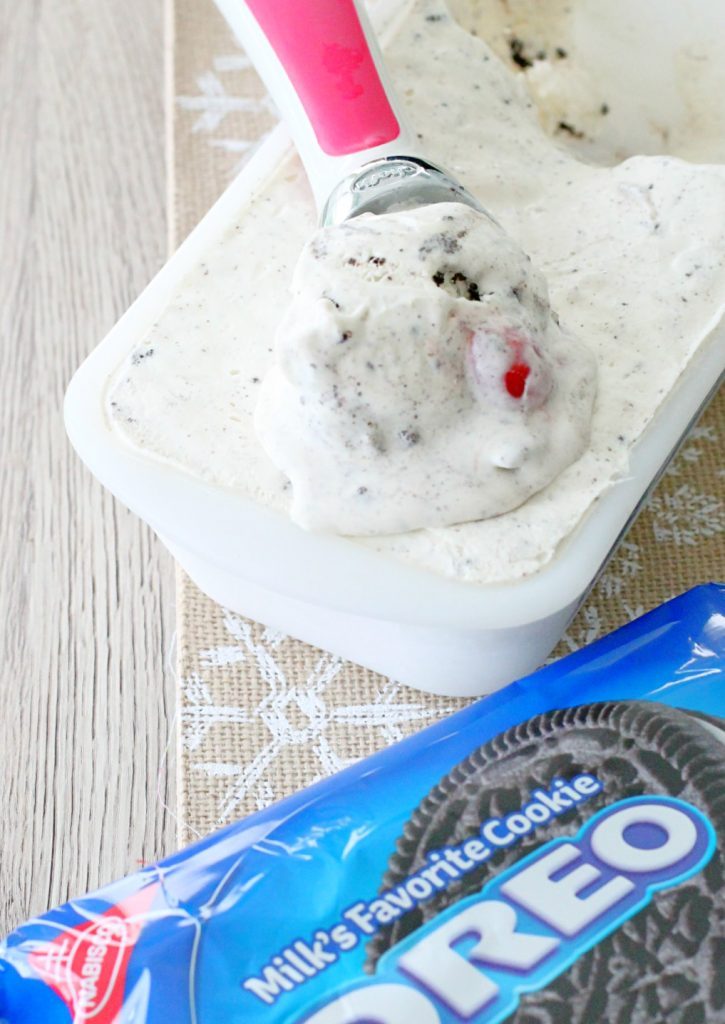 So you've probably heard of the ice cream flavor Moose Tracks, right? I decided to put a holiday spin on that idea by making a simple vanilla ice cream mixed with classic OREO cookies (the tracks) and maraschino cherries (red noses) for a Rudolph Tracks flavor. I couldn't believe how simple and absolutely delicious THIS recipe for no-churn vanilla ice cream was. And with these two mix-ins? Well that just makes this frozen treat crazy good.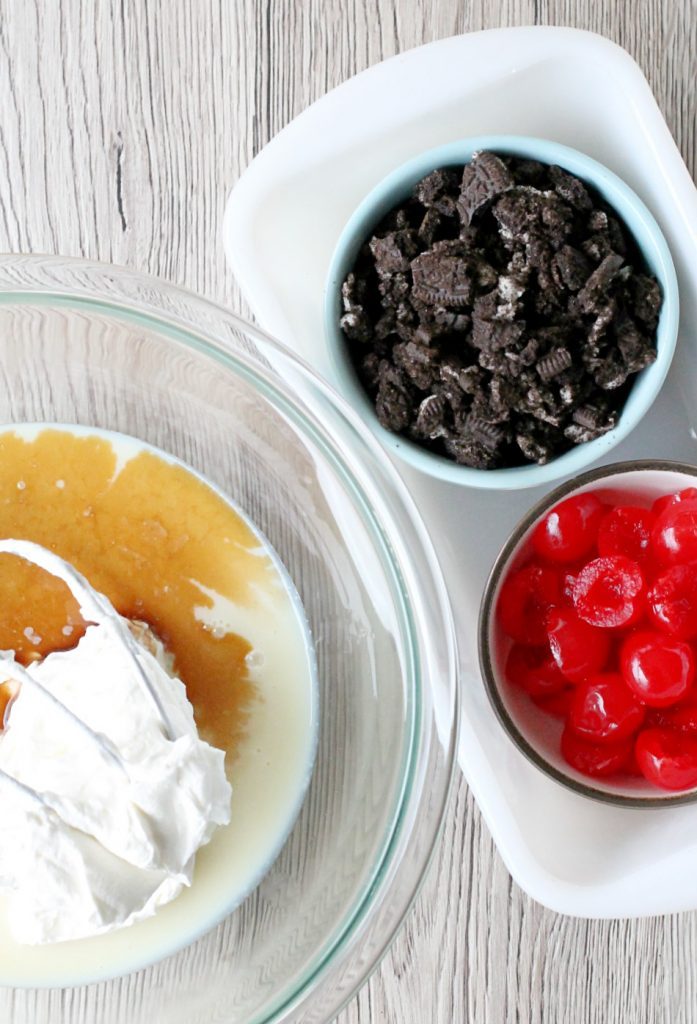 This is a great little treat to make while your kids are home on holiday break. They can help by crushing the OREO cookies, whipping the cream, maybe cutting the cherries in half (if they are old enough). The only hard part is being patient and waiting the 6 hours while the ice cream is firming up in the freezer. But you can set them on various household chores while they are waiting – c'mon if Rudolph can have a red nose, a Mom can dream!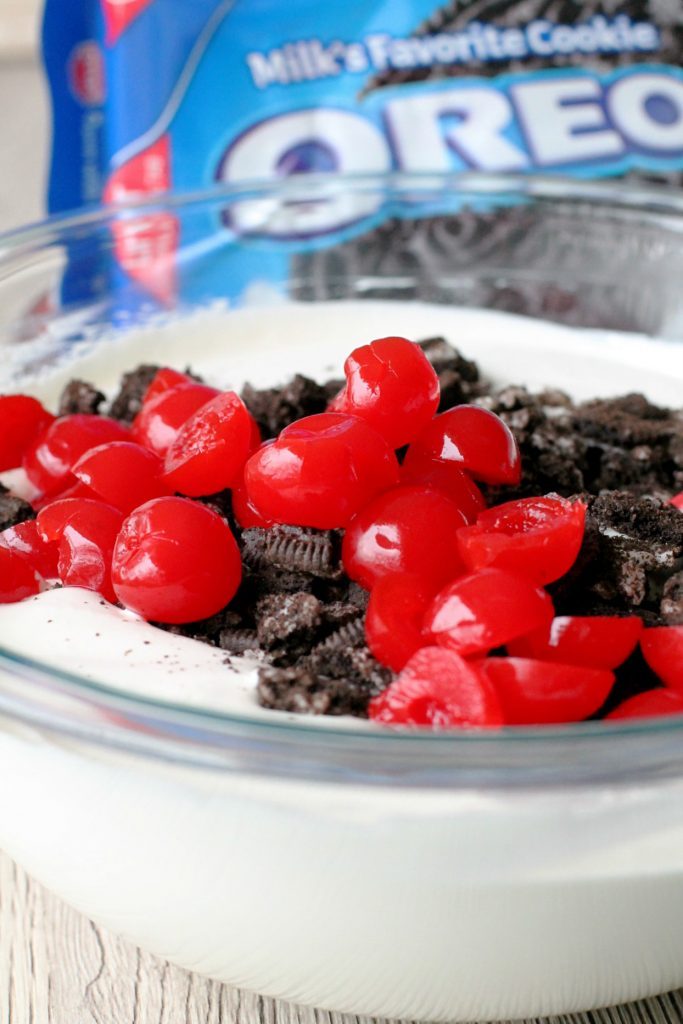 So tell me, do OREO cookies make an appearance at your holiday celebrations? This Rudolph Tracks Ice Cream is for sure my new favorite way to use them. Be sure and pin this recipe and let me know how you and your kids like it!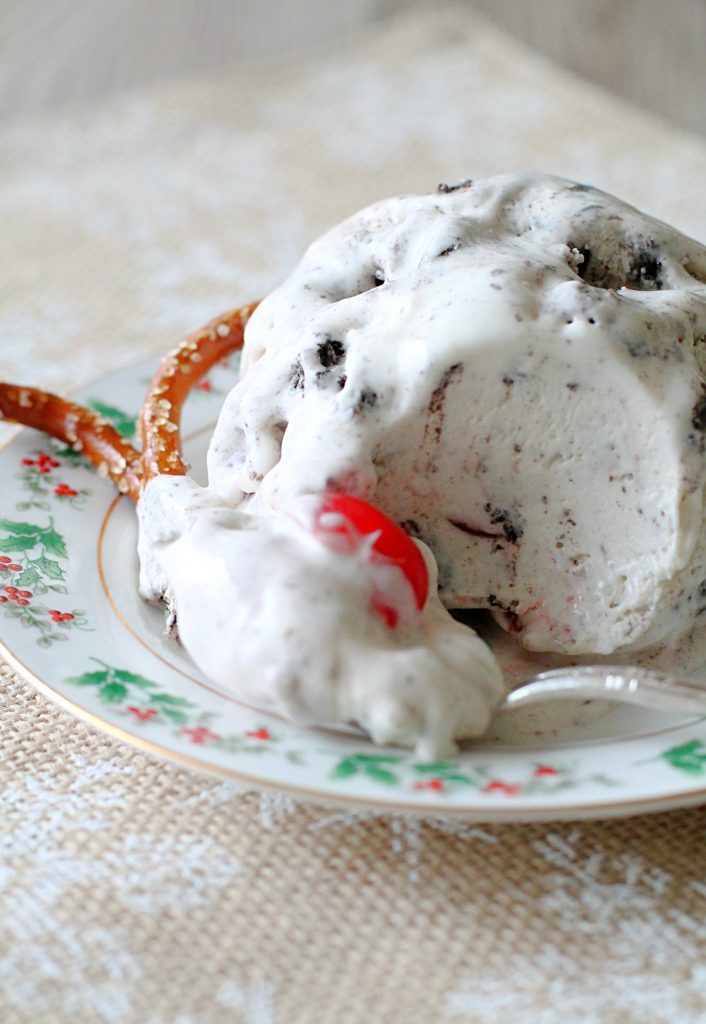 No Churn Rudolph Tracks Ice Cream
Ingredients
1

14 oz can

sweetened condensed milk

1

tsp

pure vanilla extract

2

cups

heavy whipping cream

very cold

8

OREO cookies

crushed

12

maraschino cherries

halved
Instructions
In a large bowl, stir together the sweetened condensed milk and vanilla extract. In a separate bowl, using a hand or stand mixer, beat the whipping cream on high until stiff peaks form (2 - 3 minutes).

Lighten the condensed milk mixture by stirring in about 1/2 cup of the whipped cream. Then stir in the rest of the whipped cream until well mixed. Fold in the crushed OREO cookies and halved maraschino cherries.

Scoop into a metal or glass loaf pan and smooth the top. Place a piece of waxed paper directly on top of the ice cream mixture to prevent ice crystals.

Place in the freezer for at least 6 hours or overnight. Once frozen, the ice cream will keep in the freezer for up to two weeks. Just be sure to keep the surface sealed with wax paper.

To serve, place a scoop of the ice cream on a plate and decorate with candy eyes, a maraschino cherry and pretzels.
PIN THIS RECIPE