Monster Mash Pumpkin Donuts are a tasty baked donut simply frosted with candy eyes and a set of vampire teeth for some Halloween fun.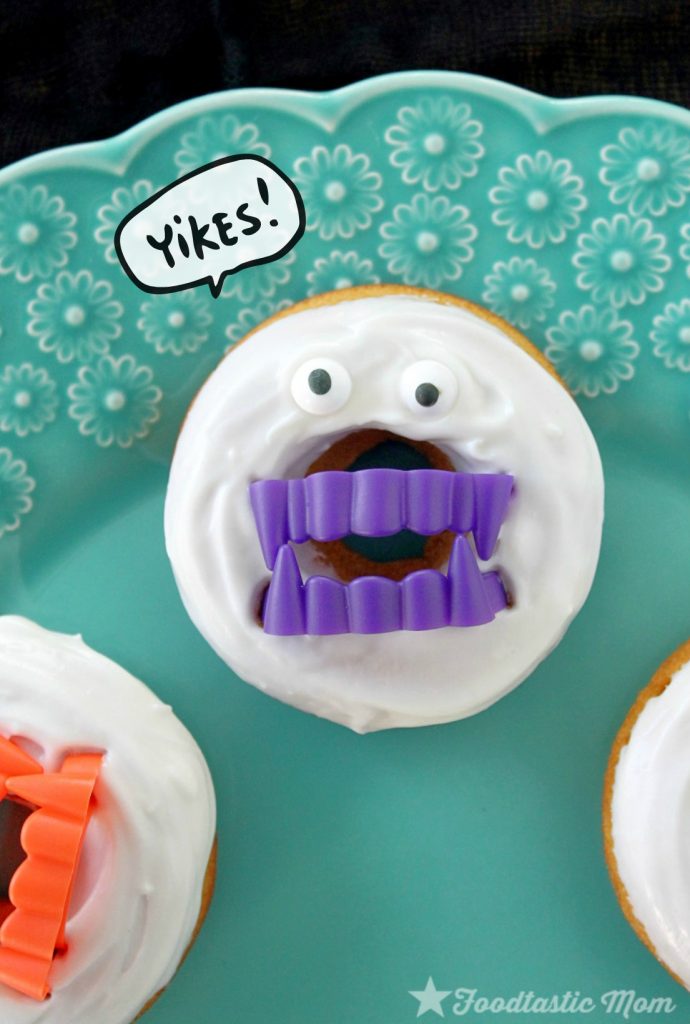 Holidays seem to sneak up on me more rudely each year. Is it my age? Is it my kids' age? We are on the go more and more these days. I am a procrastinator by nature anyway, but this Halloween has seemed especially last-minute… hurry up and throw the decorations out, oh crap we still haven't carved a pumpkin yet, what costumes? the kids need costumes again?? Anyone else feel this way?
Maybe it's because Halloween is the onslaught of ALLTHEHOLIDAYS and because I've been seeing Christmas decorations set out WITH the Halloween garb. I know, I'm sounding like a Scrooge and we're not even near that time of year, I mean really. And can we please calm down with the Will Ferrell Elf meme counting down how many Fridays we have left until Christmas?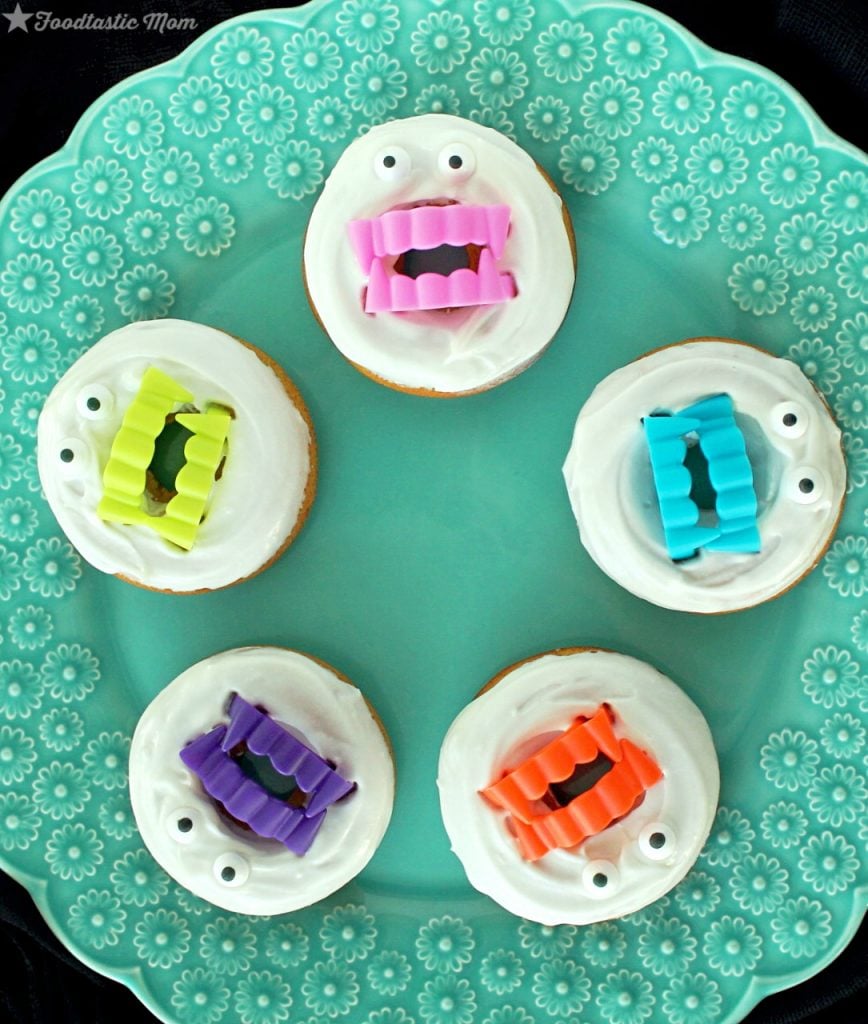 Anyway, at least these pumpkin donuts are appropriately scary. They kind of look a little deranged, don't you think? I baked up a batch and then added them to a fun Halloween themed lunch for my kids. That mummy is just a hotdog wrapped in crescent rolls. I found the idea HERE. And don't think I do lunches like this every day because I don't. In theory I would like to but they only get over-the-top lunches like this a few times a year.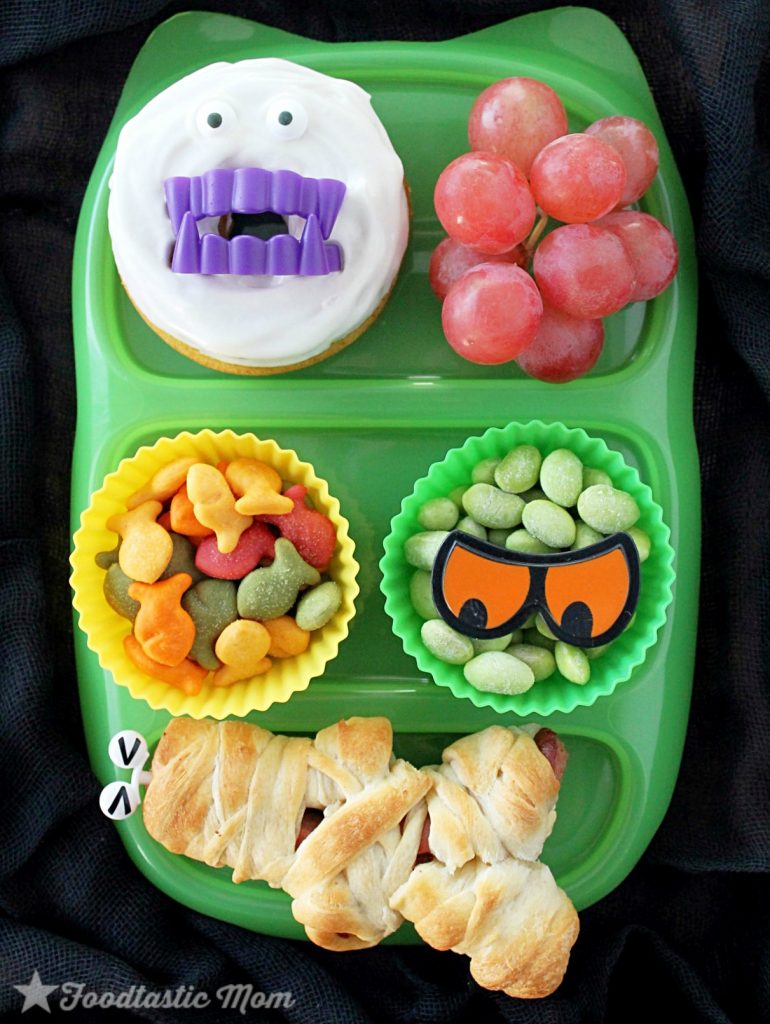 Monster Mash Pumpkin Donuts
Ingredients
1/2

cup

vegetable oil

3

large

eggs

1 1/2

cups

granulated sugar

1 1/2

cups

solid pack pumpkin

1 1/2

tsp

pumpkin pie spice

1 1/2

tsp

baking powder

1 1/2

tsp

salt

1 3/4

cups (+2 tbs)

all purpose flour

4

oz

cream cheese

softened

2

tbsp

hot water

1

tsp

vanilla extract

pinch of salt

1

cup

powdered sugar
Instructions
This recipe makes 18 cream cheese glazed pumpkin donuts.

Preheat oven to 350 degrees. Spray donut pans with cooking spray.

In a large bowl, whisk together the oil, eggs, sugar, pumpkin, pumpkin pie spice, baking powder and salt until smooth. Add the flour and fold in with a spatula or wooden spoon until no streaks of flour remain.

Fill each donut well with about 1/4 cup of batter and smooth the tops.

Bake for 12 – 14 minutes, or until donuts spring back when lightly touched. Allow to cool in pans for about 10 minutes, then finish cooling on racks.

Meanwhile, beat together the softened cream cheese, water, vanilla and salt. Add in the powdered sugar and beat on high until well combined.

Dip the tops of the cooled donuts into the glaze to thickly coat.

Decorate with plastic "vampire" teeth and candy eyes.
Notes
I found my vampire teeth at Target. I used kitchen scissors to cut each set in half. If left together the spring action of the teeth makes them pop out of the donuts!