These Mini Kentucky Derby Pies are the ooziest, gooiest chocolate chip pecan cookie imaginable, wrapped in pie crust and dressed with bourbon kissed whipped cream.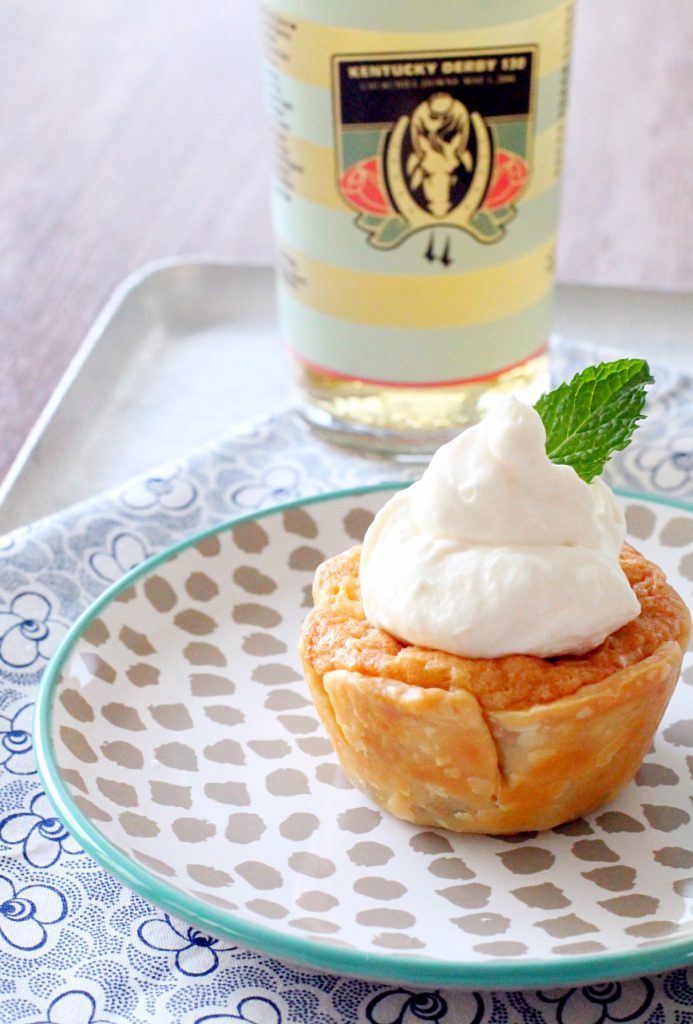 Um so yeah, if given carte blanche to eat anything I want, in any quantity I want, with no consequence, I'd choose a half dozen of these cookie pies EVERY. SINGLE. TIME. These most certainly should not be saved for just the Kentucky Derby. I wish I could more accurately convey the gooey texture and intense chocolate flavor of these pies. You will just have to make them for yourself!
I am not sure how these chocolatey pecan delicacies came to be associated with the Kentucky Derby (other than the bourbon part) but I am not one to question. These mini pies are hands-down one of my favorite desserts… and they are so simple to make.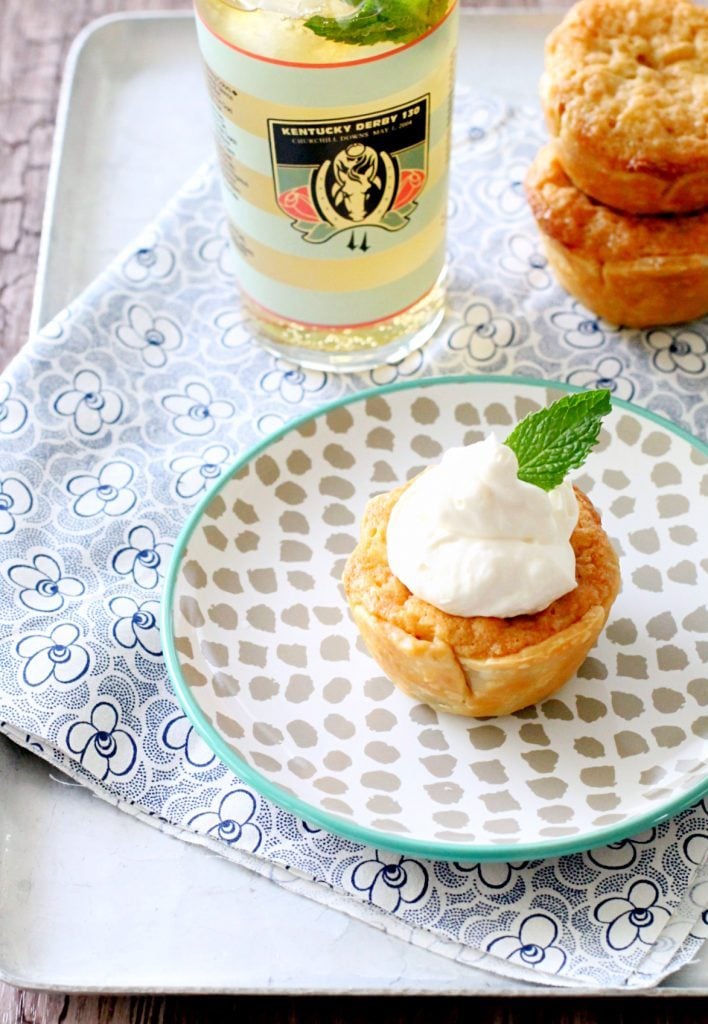 In this case, I am happy to use refrigerated pie dough. I know purists may balk at that – and if you do then by all means use your favorite homemade pie crust for these – but the intense flavor and perfect texture of the chocolate chip pecan cookie filling makes homemade pie crust seem obscene. Like these are already so rich and delicious, the pie crust melds with the filling and just has to be good by association – store bought, or not. Trust me on this!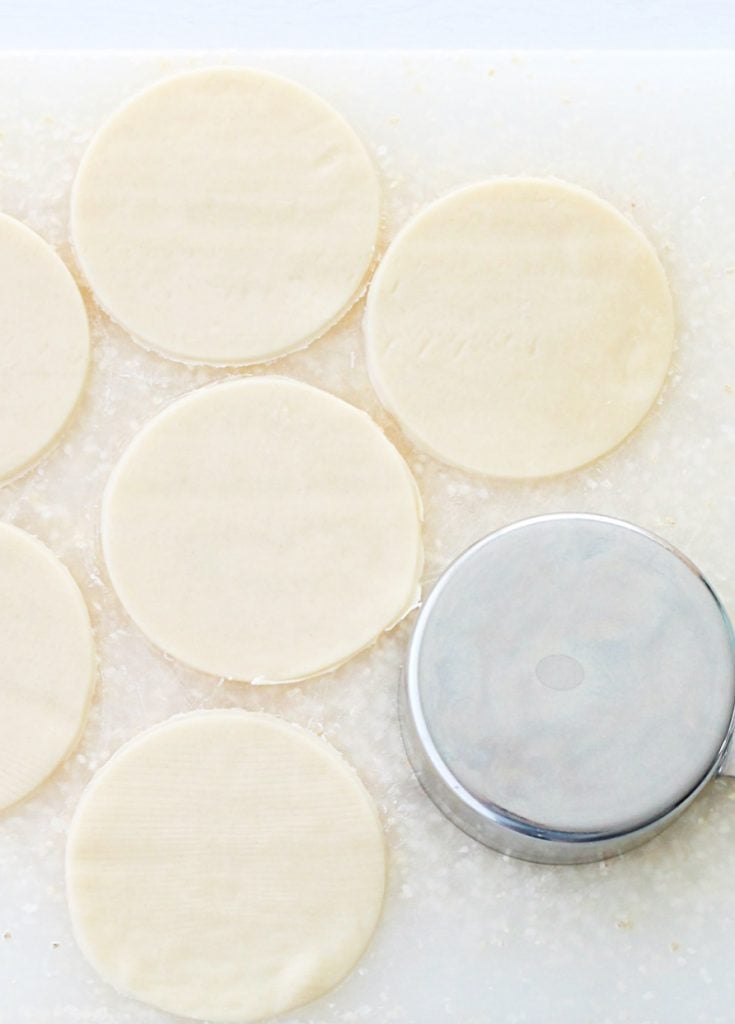 I use THIS recipe for the filling (thanks to Bakerella) with just a few minor alterations. The first time I made them I added bourbon to the pie filling but the flavor got lost in competition with the dark chocolate and pecans. Adding a splash of bourbon to the homemade whipping cream solves that problem.
Be sure and make a few of these pies to be kid-friendly. Otherwise your kids will be mad at you. In our case that just meant leaving out the pecans in the pie filling and making a small amount of whipped cream without bourbon. And speaking of whipped cream, did you know you can make it in a jar with an immersion blender?? Brilliant and so quick. Check out THIS tutorial to see how. Happy Derby!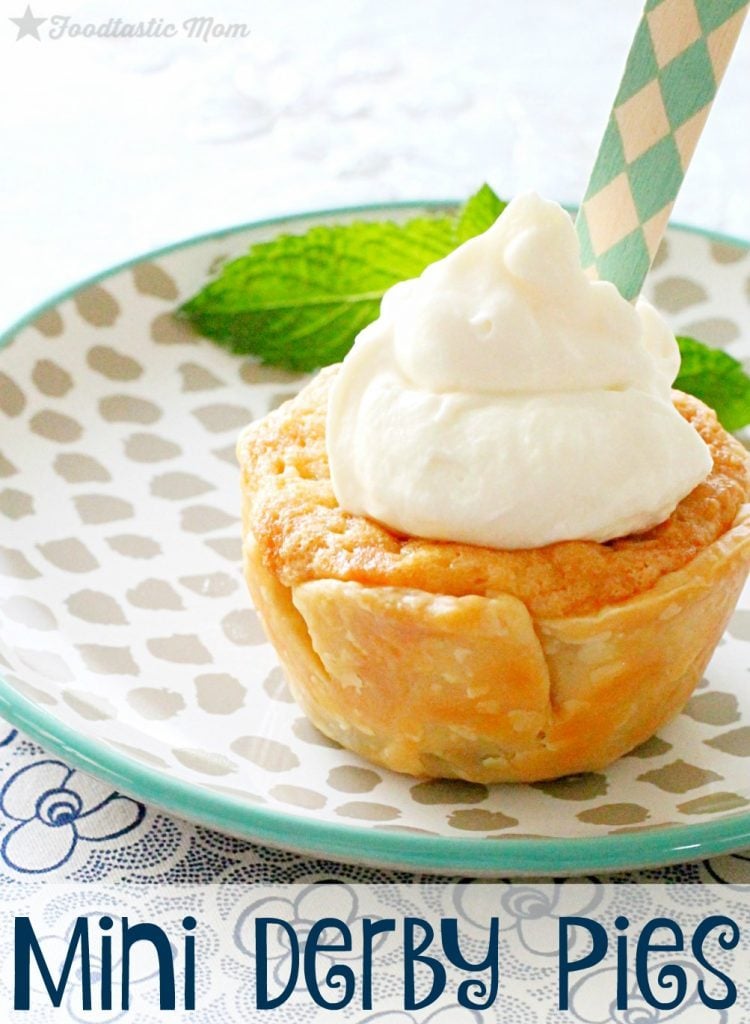 Mini Kentucky Derby Pies
Ingredients
2

store-bought

refrigerated pie crusts (I used Pillsbury brand)

2

large eggs

1

t.

vanilla extract

1/2

c.

all-purpose flour

1/2

c.

light brown sugar

1/2

c.

granulated sugar

pinch

of salt

12

T.

1 1/2 sticks unsalted butter, softened

1

c.

bittersweet chocolate chips

I used Ghirardelli brand

1/2

c.

pecans

finely chopped

1

c.

heavy whipping cream

1/4

c.

powdered sugar

1

T.

bourbon

fresh mint leaves to garnish
Instructions
Preheat oven to 325 degrees.

Using a 1 1/2 cup capacity metal measuring cup (or biscuit cutter) cut 6 circles out of each pie crust (discard the remaining dough or save for another use). Using your fingertips, gently press each circle flatter, so the circles are a bit larger.

Place each circle of dough into an ungreased (12-cup capacity) muffin tin. Lightly press down in the center and up the sides so the muffin cups are evenly covered with the pie crust.

With a hand or stand mixer, beat the eggs on high for about 1 minute. Add the vanilla, flour, both sugars and salt and beat on medium until well combined, scraping down the sides of the bowl with a spatula if necessary.

Add the butter and beat on high for about 2 minutes until the dough is pale and fluffy.

Fold in the chocolate chips and pecans with a spatula.

Fill each pie crust with about 1/4 cup of the filling. You want the filling to be just slightly lower than the top edge of the pie crust. You will probably have a little filling left over. Eat raw (if you like raw cookie dough) or discard.

Bake the pies on the center rack of the oven for 24 minutes, or until tops are lightly browned.

Remove from oven and allow to cool in the muffin tin for about 20 minutes. Remove the pies from the tin and finish cooling on a rack.

In a mason jar, beat together the whipping cream, powdered sugar and bourbon with an immersion blender for 30 seconds. Or beat the ingredients on high with a stand or hand mixer until stiff peaks begin to form.

Serve each mini Kentucky Derby Pie topped with bourbon whipped cream and a fresh mint leaf.