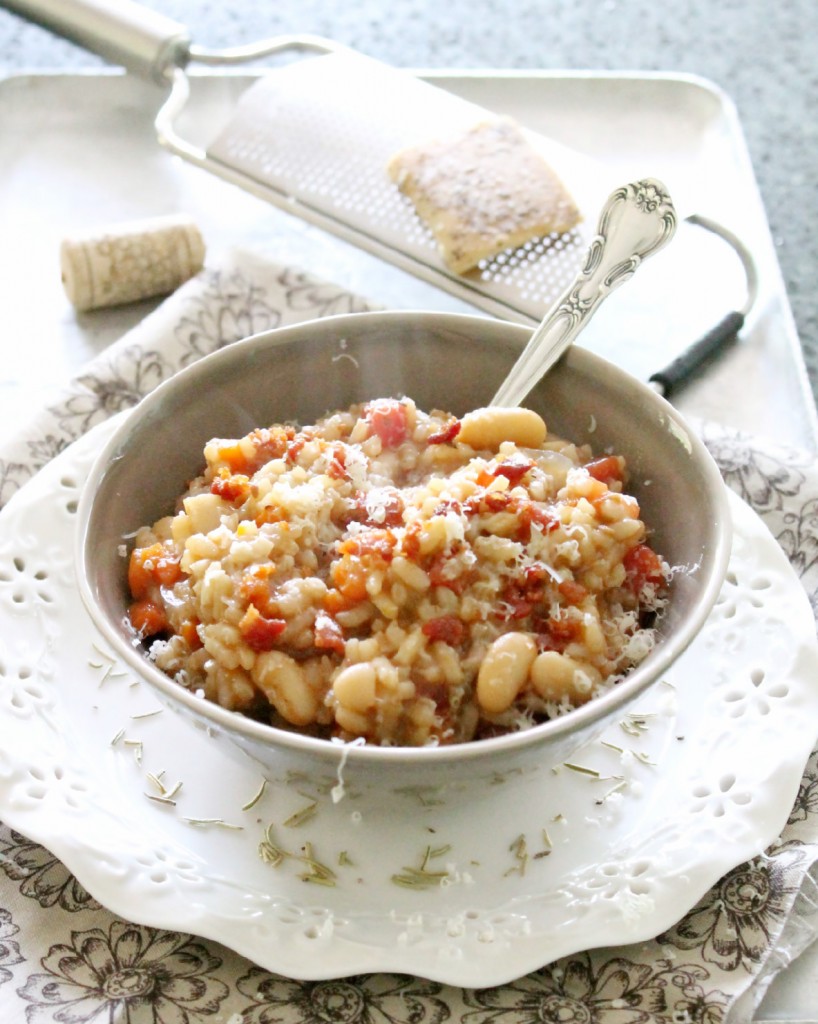 Sunday seems to be the evening I make risotto. It's a meal our whole family loves and Sundays seem to be the day I have the time to spend an hour plus truly enjoying my time in front of the stove. I open a bottle of wine, turn on the stereo and seriously enjoy myself.
I've made a few minestrone-style soups over the years, and my main complaint is the pasta always gets over-cooked and practically gelatinous after sitting in the broth for a day. And I never seem to make "just enough" soup (or anything for that matter). But the gluey pasta keeps me from wanting to eat leftover minestrone I've made myself.
The risotto solves that problem completely. Still the same flavorings of a minestrone, but mixed with the creamy risotto rice. It's delightful both fresh and as leftovers. For my version, I happened to have some bacon that I used to get things started, but it could easily be omitted, using an extra tablespoon of olive oil instead. Also, I'm a big fan of THESE bouillon concentrates that I can keep in the refrigerator and add water whenever I need stock. I used beef stock for my risotto, but chicken or vegetable can be substituted, depending on your preference.
This risotto was SO good. Made better by us being able to eat it in our backyard on a perfect sunny evening, with temperatures just hovering at 70 degrees. Enjoy!

Minestrone Risotto
Ingredients
3

slices

bacon

chopped fine

1

T.

olive oil

1/2

large sweet onion

minced

3

carrots

peeled and chopped

2

stalks celery

peeled and chopped

1 1/2

c.

arborio rice

3

cloves

garlic

minced

1/2

t.

salt

1/2

t.

dried rosemary

1/2

t.

dried oregano

5

c.

beef

chicken or vegetable stock

1

can

15 oz. white cannellini beans

1

can

14.5 oz petite diced tomatoes, drained (I used Red Gold Petite Diced with Garlic and Olive Oil)
Instructions
In a large pot, warm the beef stock and keep it warm with a lid on.

Drain the tomatoes, reserving the juice. Add the juice to your stock.

In a large, heavy bottomed soup pot over medium heat, add the bacon and olive oil. Cook until bacon is crisp. Remove bacon bits to a paper-towel lined plate. To the bacon fat and oil, add the onion, carrot and celery and cook for about 8 minutes, stirring occasionally until the vegetables are softened.

Add the rice, garlic, salt, rosemary and oregano. Cook and stir for about 2 minutes to toast the rice a bit.

Add about 1 1/2 cups of the beef stock and tomato juice mixture. Stir well, cover and simmer for about 10 minutes. Remove lid, stir the rice mixture a few times and add another 1 1/2 cups of broth. Stir again, cover, and simmer again for 10 minutes. You may need to turn your heat to medium-low so it's not cooking too fast. Remove the lid a third time and stir well. Add the remaining stock and tomato juice. Stir and allow to simmer until most of the liquid is absorbed, 10 -15 minutes. Remove lid and stir in the drained tomatoes and beans. Stir well and allow to simmer with the lid off for an additional 5 minutes.

Served the minestrone topped with plenty of fresh-grated Parmesan cheese and the reserved bacon bits.