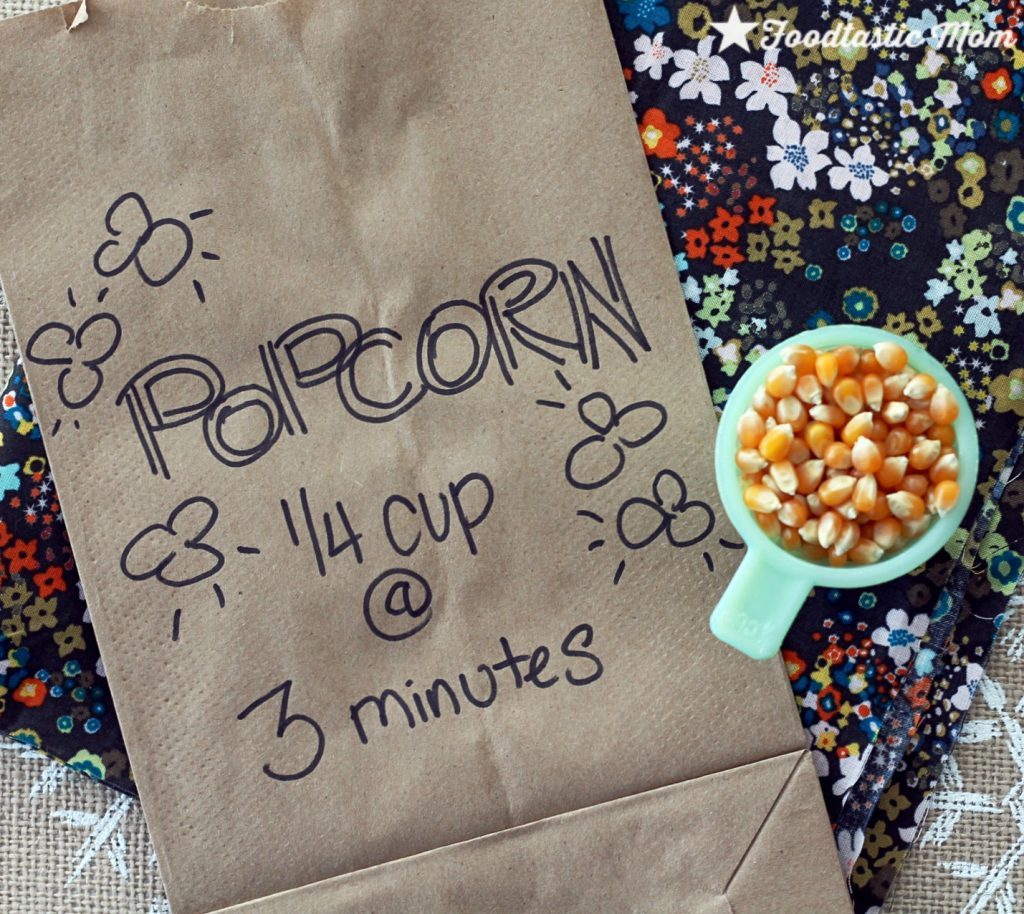 I considered adding "but still delicious" to the title of this popcorn recipe because it really, truly is. And if you are like me and try out new low-calorie foods when you see them in the grocery (often on impulse) you KNOW there a lot of food products out there that just aren't delicious.
I can also safely say that my view of microwave popcorn has been forever changed. I've popped corn a handful of times on the stovetop, to varying results, but I'd not yet tried throwing dry popcorn in a plain paper bag. Mine are large sized lunch bags I found at my local grocery by the way.
Just like I wrote it on the bag, pour 1/4 cup of plain, dry popcorn in a paper bag. Fold it over a couple of times at the top to seal and microwave it for 3 (or so) minutes. I say "or so" because each microwave is different and yours might take a little less time or a little more. The key is to listen to the popping kernels. Once you hear them slow down, they are finished.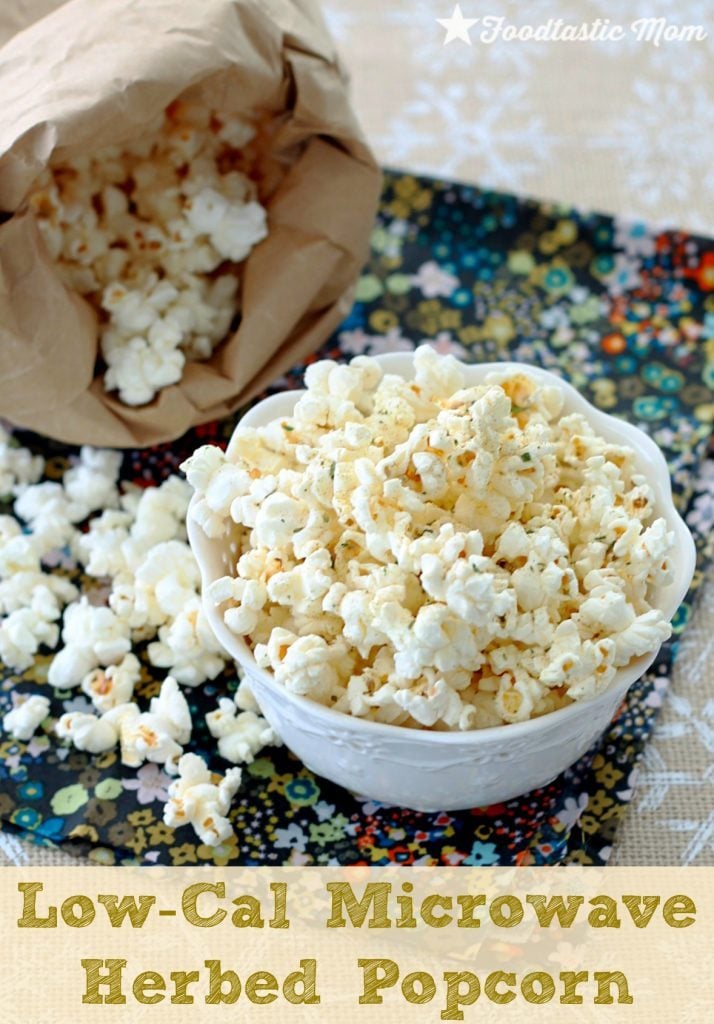 OK so for family movie night, you'll need to pop two or three rounds of this popcorn but it's so darn quick and easy! You can also flavor it any way your family likes… drizzle on some melted butter, sprinkle it with Parmesan cheese, shake on some cinnamon and sugar… go wild.
This seasoning mix I am featuring that I found HERE really is surprisingly good… just as they promised it would be. It's a mix of a ton of herbs, spices, salt and pepper… all calorie-free! While still warm, I simply sprayed the popped corn with some olive oil cooking spray and shook on some of the seasoning. According to my Kroger-brand popping corn, I consumed just a little over 110 calories in my BIG and flavorful bowl of popcorn. Needless to say I am excited about my new low-calorie snack option.
I made my own seasoning shaker too from an empty baking soda can I had. I experimented a few ways with the holes in the lid (and destroyed a couple of lids) and found the best way was to use a hole punch. I happen to have a heart-shaped one because we are sometimes crafty around here so now I have a custom seasoning shaker which is going to be getting a lot of use around here…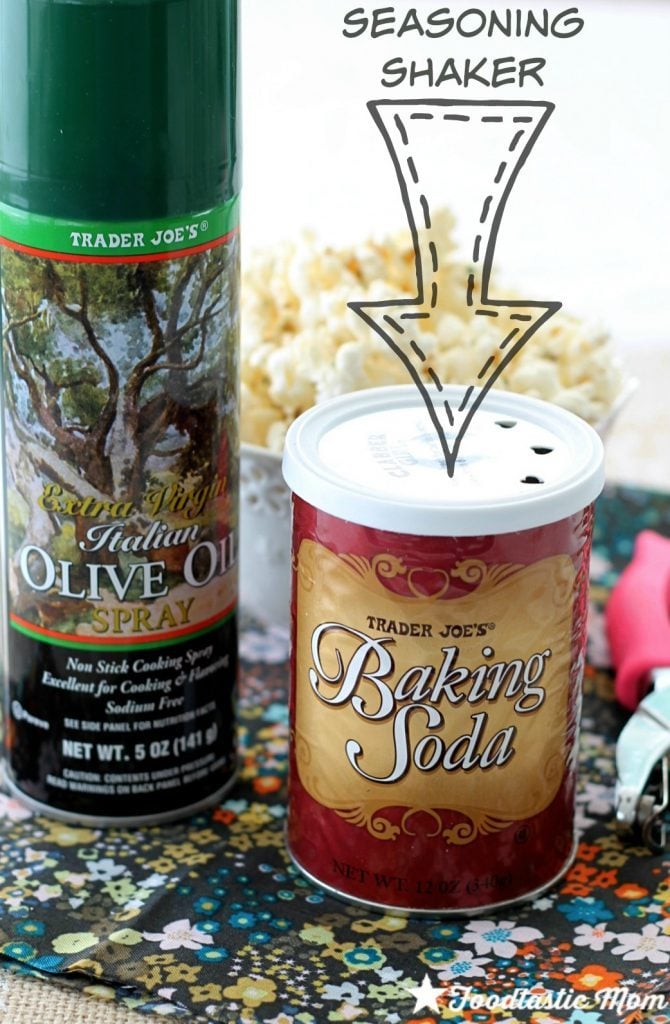 Low-Cal Microwave Herbed Popcorn
Ingredients
for the seasoning mix
2

T.

celery salt

2

T.

dried parsley

1

T.

garlic powder

1

T.

salt

1

T.

savory

1

t.

marjoram

1

t.

thyme

1/2

t.

black pepper

1/2

t.

turmeric

1/2

t.

sage
for one recipe of popcorn (4 cups popped)
1/4

c.

yellow popping corn

1

large-size paper lunch bag
Instructions
Mix all the dried herbs and seasonings (celery salt through sage) in a bowl. Store in a lidded container, preferably with large holes in the lid. When ready to use, shake the contents to mix the seasoning, then sprinkle to taste on warm popcorn that has been lightly sprayed with cooking spray.

Pour 1/4 cup of yellow popping corn in a large paper lunch bag. Fold the top over a couple of times to seal.

Microwave on high for about 3 minutes, or until most of the kernels have popped.

Season as described above.