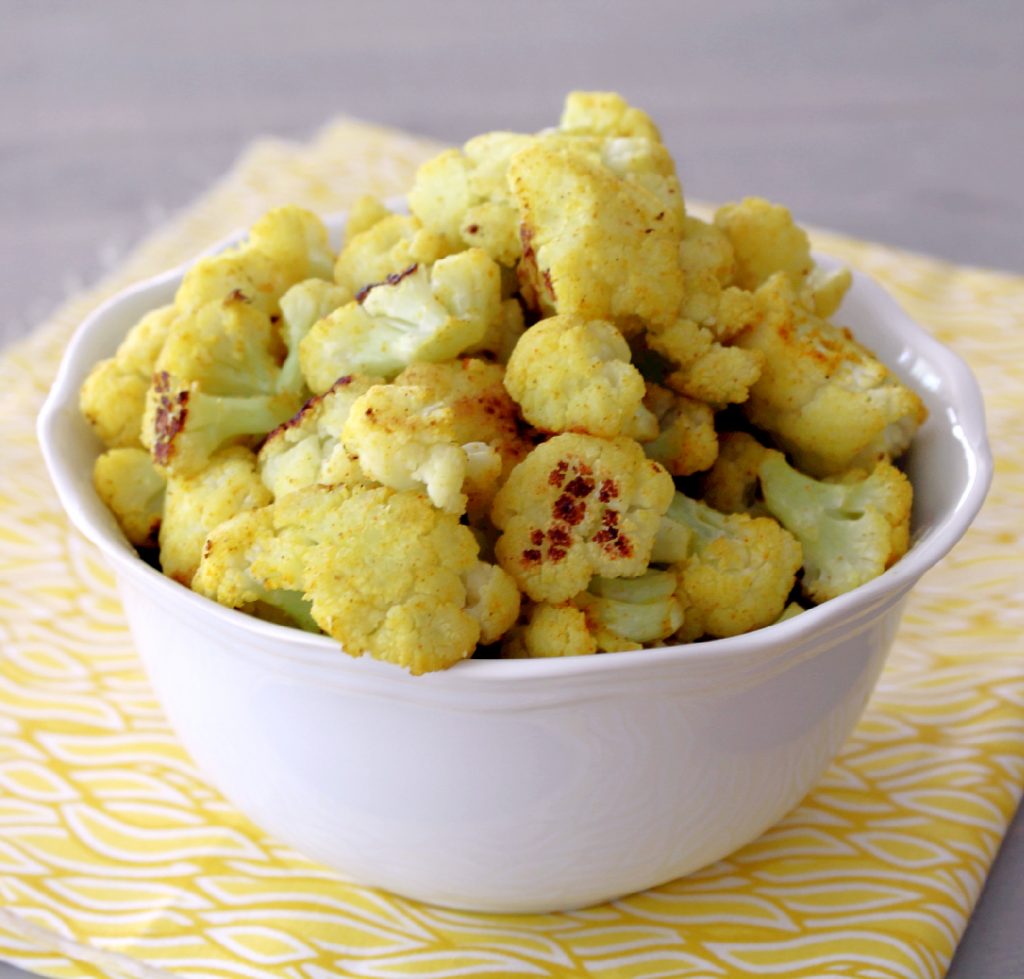 I'm giving you the simplest veggie recipe possible for "Meatless Monday" today. But don't confuse simple with boring. Cauliflower, kinda like tofu, will absorb whatever flavors you throw at it. Roasting it adds a toasty, caramelized exterior that really does render it like buttered popcorn. The simplest form of this recipe calls for tossing the cauliflower with nothing more than olive oil, salt and curry powder. It's absolutely delicious on its own.
This time, my curry powder was nearing the bottom of the jar, so I added a few new spices… turmeric, garlic powder and dry mustard to the mix. Still delicious.
When I make this cauliflower, I allow it to cool, then store it in the fridge for use the rest of the week. Sometimes I snack on it cold. Often times, I fold it into a lunchtime burrito with refried beans and a little Sriracha sauce drizzled on top. It's maybe an odd-sounding mix, but it's healthy and very satisfying.
This most recent time, I used it as a loaded baked potato topping for a super-quick family dinner. The cauliflower really does have a super buttery flavor, so it makes for a very flavorful baked potato without adding a bunch of butter and sour cream. I highly recommend adding this preparation for a humble head of cauliflower to your recipe mix.
Curried Cauliflower Popcorn
Ingredients
1

head cauliflower

preferably organic

1 1/2

T.

olive oil

1/2

t.

salt

1/2

t.

curry powder
Instructions
Preheat oven to 475 degrees.

Wash cauliflower and cut into bite-sized florets, discarding the stems.

Place the cauliflower florets in a large bowl. Drizzle evenly with the olive oil and sprinkle evenly with the salt and curry powder.

With your clean hands, toss and massage the cauliflower so it's very evenly coated with the oil and spice.

Spread cauliflower evenly on a sheet pan.

Roast for 16-18 minutes, stirring once in the middle of cooking time.

Remove from oven and serve immediately or allow to cool to room temperature and store in an air-tight container in the refrigerator. Will keep up to 1 week.