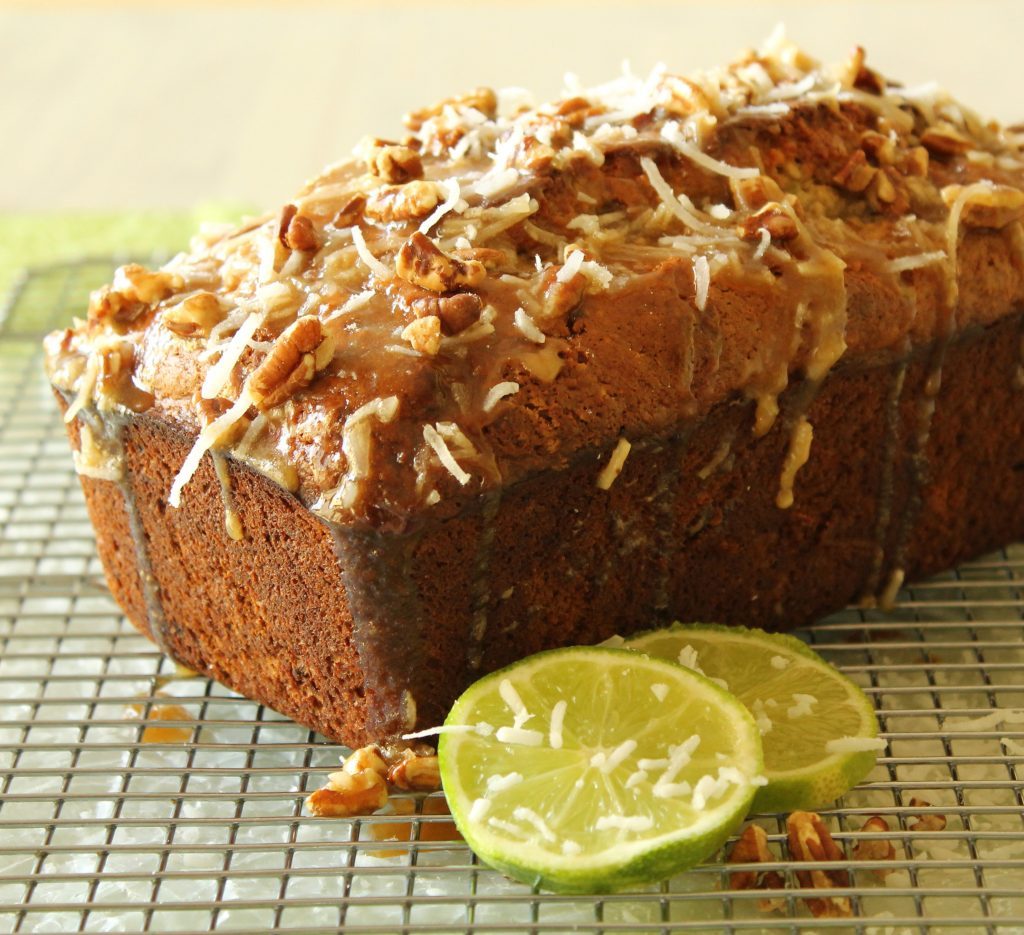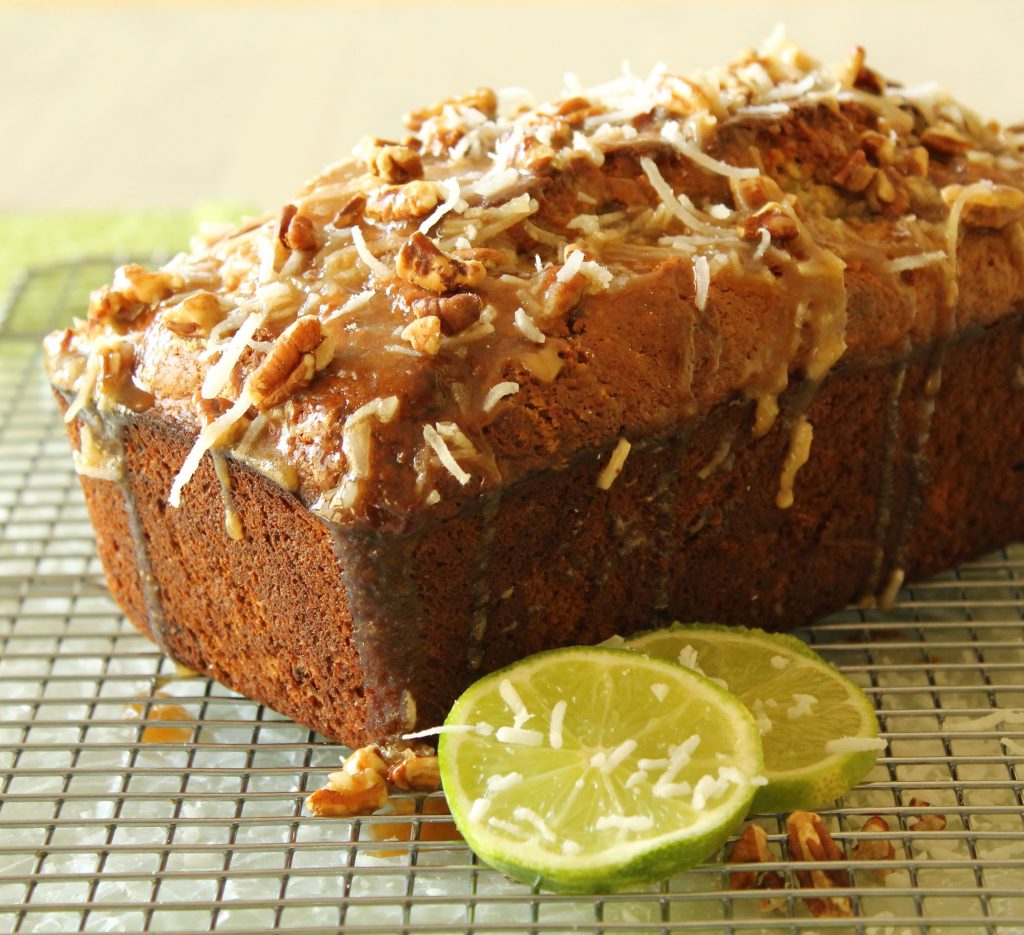 This was our dessert for our Earth Day dinner, following these sweet potato enchiladas. Holy deliciousness, this can't possibly be a Cooking Light recipe, but it is!
We are a banana-loving family. We eat a ton, I buy a ton, so I end up making a banana boatload of recipes with the ones that are over-ripe. I "pinned" this recipe a long time ago on my Baketastic board over at Pinterest. I had three blackened bananas ready to go and luckily I remembered to look through my boards for an idea. I'll say this for technology… for a right-brained, scattered, drowning-in-papers mom like me, it is a life-saver. Pinterest, Mint, Google docs and calendar, Snapfish and my blog are finally starting to whip me into shape in terms of keeping track of the mind-boggling amounts of information and ideas I deal with on a daily basis… so I am grateful for every electronic organizing tool I actually know how to use!
I made just a few small changes to this original recipe. Taking a cue from my new Drop 10 cookbook, I replaced almost half the regular flour with oat flour, and the bread still turned out moist and delicious. I also added some cinnamon and all spice because, you know, it's Jamaican! This bread only contains 3 tablespoons of butter and one egg, but you really would never guess. This is seriously my new favorite banana bread recipe, and I've tried a lot of banana bread recipes. Also, don't be deterred by the long list of ingredients. This is truly a quick bread!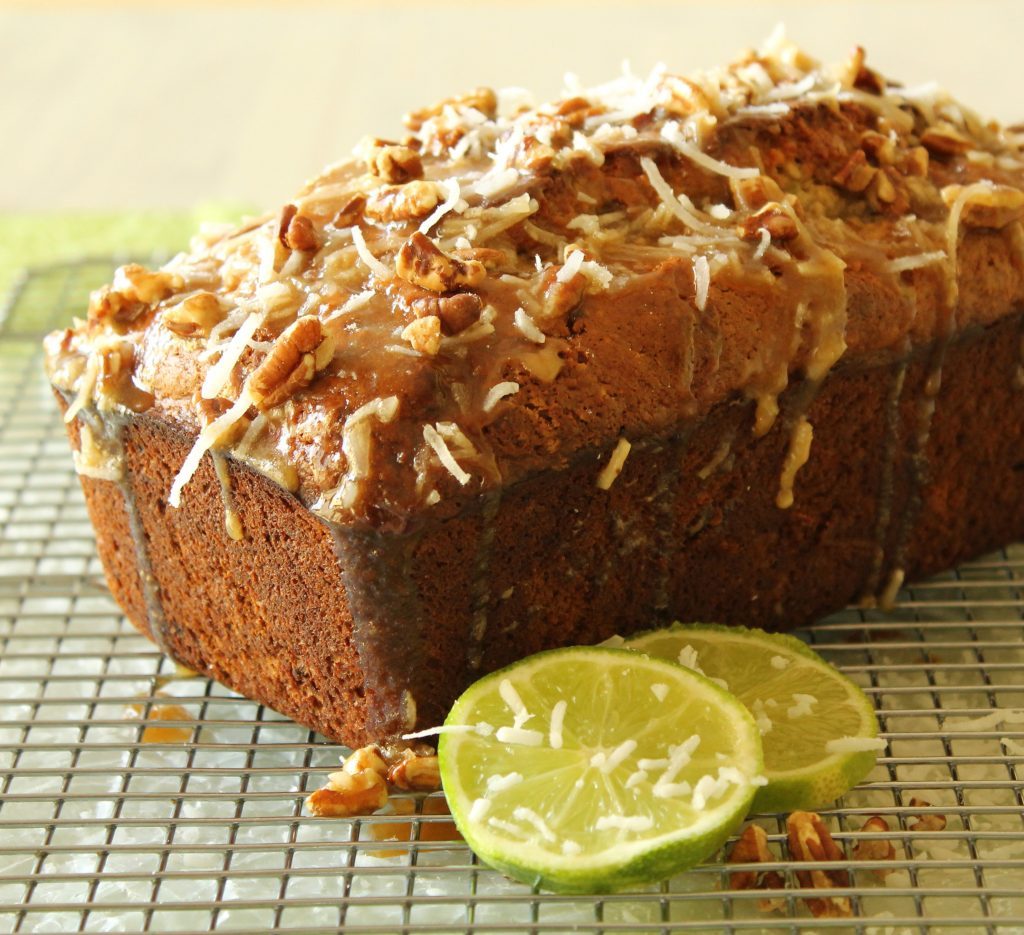 Jamaican Banana Bread
2013-04-23 08:44:50
for the bread
2 T. unsalted butter, softened
2 T. tub 1/3 less fat cream cheese, softened
1 c. sugar
1 lg. egg
1 1/4 c. all-purpose flour
3/4 c. oat flour
2 t. baking powder
1 t. cinnamon
1/2 t. Jamaican allspice
1/2 t. baking soda
1/4 t. salt
1 c. mashed ripe banana (about 3 medium)
1/2 c. skim milk
1/4 t. rum extract (or 2 T. dark rum if you have it on-hand)
1/2 t. fresh grated lime zest
2 t. fresh lime juice
1 t. vanilla extract
1/4 c. chopped pecans (I used Trader Joe's dry-toasted)
1/4 c. flaked sweetened coconut
for the glaze
1/4 c. light brown sugar
1 T. butter
2 t. fresh lime juice
1/4 t. rum extract (or 2 t. dark rum)
2 T. chopped pecans, toasted
2 T. flaked sweetened coconut
Instructions
Preheat oven to 375 degrees. Coat an 8x4 loaf pan with cooking spray and set aside.
Place the butter, cream cheese and sugar in a large bowl and beat with hand mixer until light and fluffy. Add egg and beat until well mixed.
Combine flour, baking powder, cinnamon, allspice, baking soda and salt in a separate bowl and whisk together.
Combine the mashed banana, milk, rum extract (or rum), lime zest and juice and vanilla in a third bowl.
Add the flour mixture and banana mixture alternately to the butter mixture and beat until just combined. Stir in the 1/4 cup pecans and 1/4 cup coconut.
Spread batter into prepared loaf pan and bake for 50-60 minutes, or until a toothpick comes out clean. If necessary, cover top of bread with foil for the last 10 or so minutes so the top doesn't brown too much... at least that is what I needed to do.
Remove bread from oven and allow to cool in pan for 10 minutes. While bread is cooling, combine the brown sugar, butter, lime juice and rum extract (or rum) in a small saucepan and bring to a simmer. Cook for 1 minute, stirring constantly. Remove the glaze from the heat and stir in the remaining pecans and coconut.
Remove the bread from the pan onto a cooling rack and evenly pour the glaze over the top of the bread.
Adapted from Cooking Light
Foodtastic Mom https://www.foodtasticmom.com/