I received free OXO product as compensation for this recipe post. As always all opinions are my own.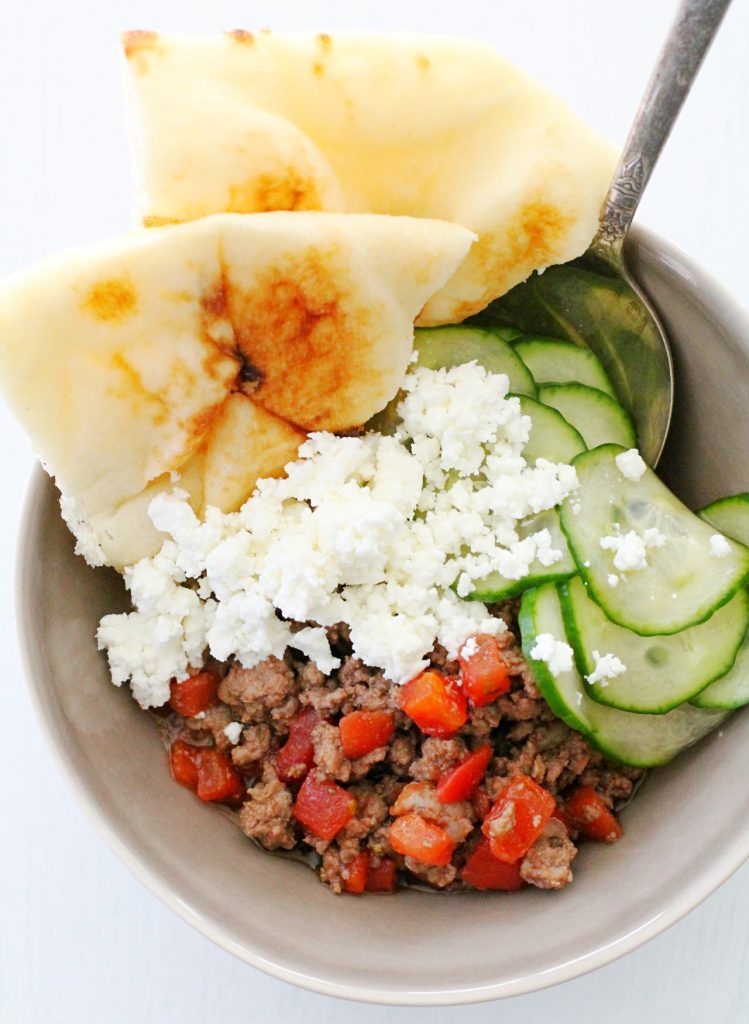 As the Spring season draws near we are getting closer toward grilling weather, meaning we can store away our slow cookers and soup pots. But not before we make this delicious and hearty yet still light and nutritious Gyro Stew! It's everything you love about a traditional gyro wrap deconstructed in bowl form – ground lamb and beef are browned together with onion and garlic, seasoned with salt, oregano and marjoram and stewed together with plenty of juicy tomatoes and a splash of red wine. It's served with quick pickled cucumbers, feta and flat bread for a complete meal that will transport you to the Mediterranean, even on a busy weeknight.
How do you feel about gyros? I was first introduced back in college – where gyros from a late-night street vendor helped to absorb some of the beer my friends and I had been drinking at the bars. They were delicious! Turns out, gyros are delicious when sober too. I've made them several ways over the years at home. I really like them with grilled chicken too.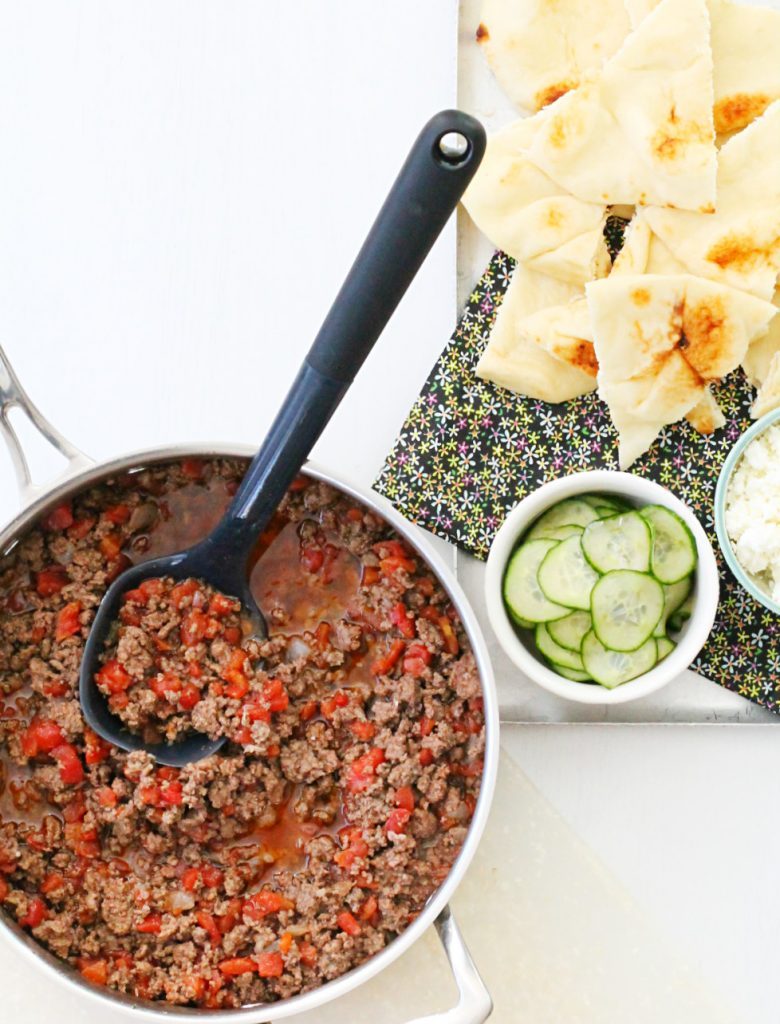 This time I decided to turn the gyro into a stew so I could use my new kitchen toys my friends at OXO sent me this month. I would sing the praises of OXO's products even if they didn't send them to me for free. Their products are durable and provide the perfect finesse to help me look like a rock star in the kitchen.
I started by using my mandolin to slice some fresh English cucumber for quick "pickles". The cucumber slices are simply seasoned with red wine vinegar (a classic Greek flavor) plus a little bit of sugar to cut the "bite" of the vinegar.
Then I used my new OXO Vegetable Chopper to make quick work of chopping the onion. The best thing about this chopper? Zero tears! I seriously cry every time I chop an onion on the cutting board. And I refuse to wear goggles in my kitchen – those are for swimming – c'mon! I also loved how I could just dump the onion from the chopper straight into the pan.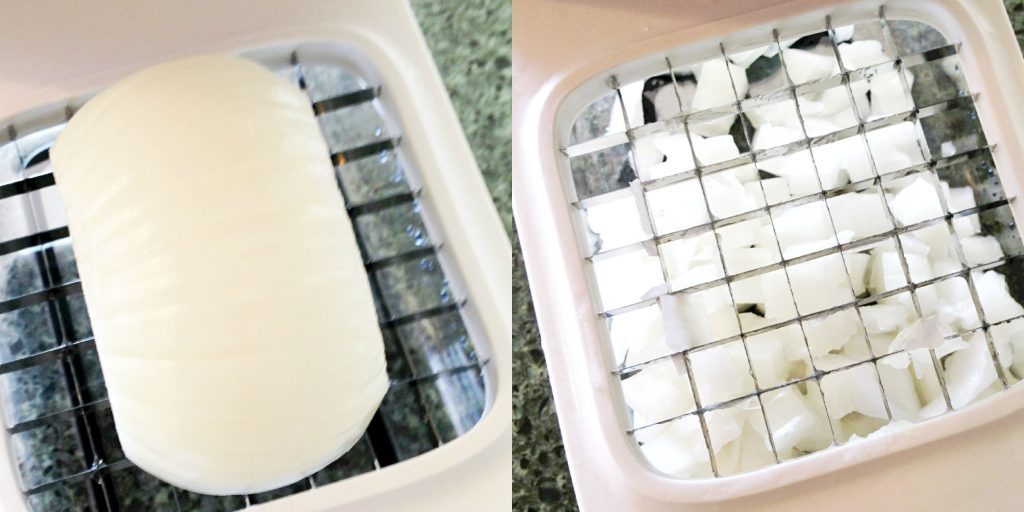 Next I used the OXO Ground Meat Chopper to brown and blend my ground lamb and beef. It worked so much better to separate the meats than my old method of using a wooden spoon. I really liked the little rubber "spatula" edge too for getting into the corners of my pan.
And finally I used the OXO Silicone Ladle to serve my Gyro Stew into bowls. It's the perfect scooping size and also great if you are using a non-stick pan – it won't scratch the surface!
So what do you think about my Gyro Stew? Am I making you hungry yet? It was really tasty and so satisfying! One recipe makes quite a bit so I'm going to be doing double duty with the meat stew and use it as a topping for baked potatoes. I'll simply add some chopped artichoke hearts and kalamata olives to the meat stew and use that as a potato topper with some shredded mozzarella cheese and sour cream. Cook once, eat twice!

Gyro Stew
Ingredients
1

English cucumber

1/2

c.

red wine vinegar

1/4

c.

sugar

2

T.

olive oil

1

sweet onion

1

lb.

ground lamb

1

lb.

ground sirloin

3

cloves

garlic

minced

1 1/2

t.

salt

1

t.

ground oregano

1

t.

ground marjoram

1/2

c.

red wine

2

15 oz. cans petite cut diced tomatoes, drained

Crumbled Feta Cheese

Store-bought Flat Bread
Instructions
Wash the cucumber and slice thinly with a mandolin. Combine the sliced cucumbers with the vinegar and sugar, stirring occasionally. Allow them to soak for about 20 minutes before using. These can be made the night before and stored in an air-tight container in the refrigerator.

Peel and chop the onion with the OXO Vegetable Chopper.

Add the olive oil to a sauté pan and heat over medium-hight heat. Add the onion and cook for about 5 minutes. Add the ground lamb and sirloin. Cook - using the OXO Meat Chopper to break up and brown the meat - about 10 minutes.

Add the garlic and cook until fragrant, about 1 minute.

Add the wine and cook for about 5 minutes more.

Add the tomatoes, stir well and season the stew with the salt, oregano and marjoram. Lower heat to medium-low and allow the stew to simmer for about 20 minutes.

Serve the stew topped with the pickled cucumbers, crumbled feta cheese and flat bread triangles.