Green Olive Focaccia will transport you to the fragrant olive groves of the Tuscan countryside from the comfort of your own kitchen. This is a sponsored post for HemisFares™ brand that is available exclusively at Kroger family of stores. All opinions are honest and 100% my own.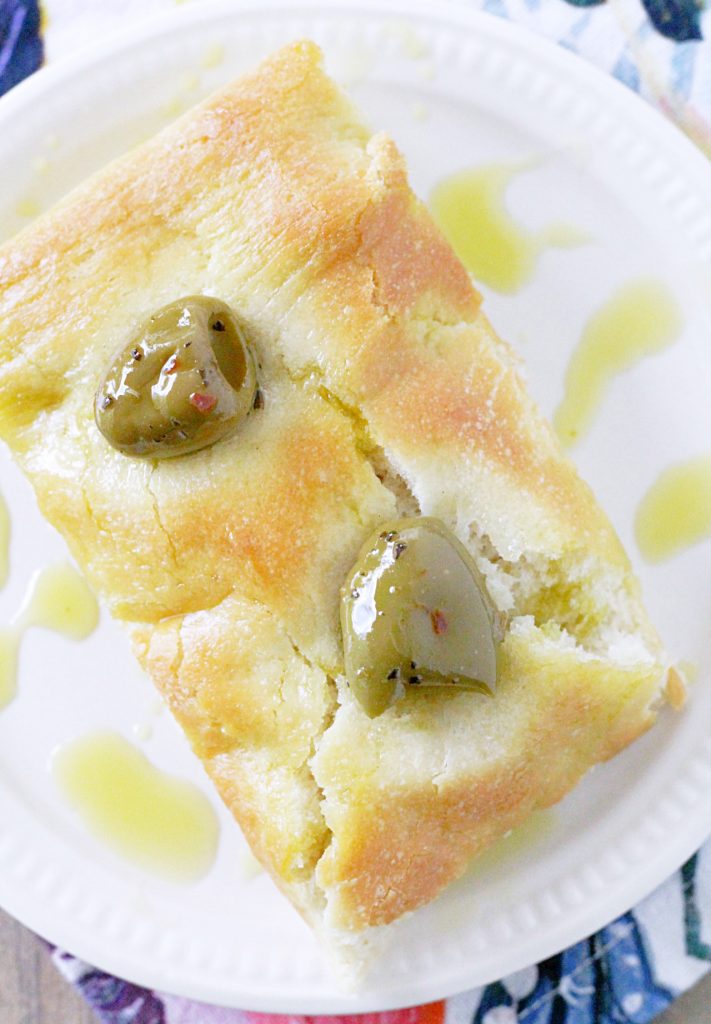 I had the privilege of visiting Italy 13 summers ago. My husband I were chaperoning a bunch of high school seniors on a class trip but it was still a dream come true to experience the culture – touring the Roman ruins, visiting Vatican city, taking a gondola ride in Venice. And the food! 13 years later I still think about the most perfect slice of focaccia bread studded with beautiful green olives I purchased at a humble street-side stand in the Cinque Terra.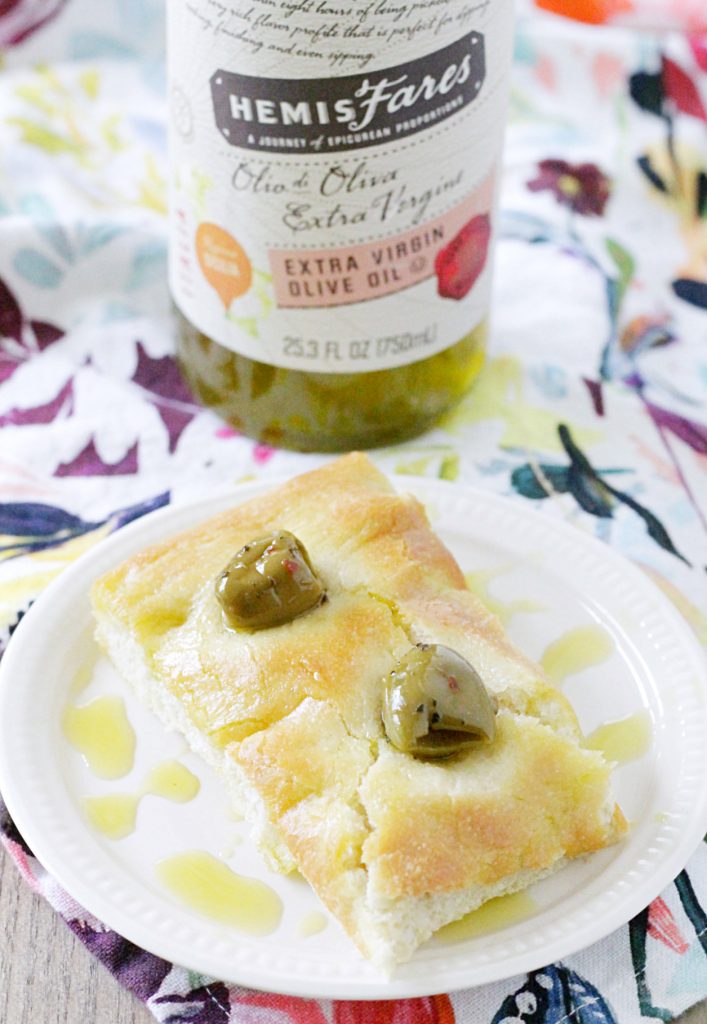 I've tried to recreate that focaccia at home a few times since with less than impressive results. I don't exactly have thousands of years of Italian food culture on my side in my humble Ohio kitchen. What I have finally figured out is that good focaccia takes patience and really, really good olive oil.
It's a lot of hands-off time so the rise times really aren't that big of a deal in making this green olive focaccia. I found the starting point for this recipe here. As for the olive oil I needed only to make a quick stop at my local Kroger to pick up a bottle of their HemisFares Find No. 48 – 100% Sicilian Extra Virgin Olive Oil (Unfiltered).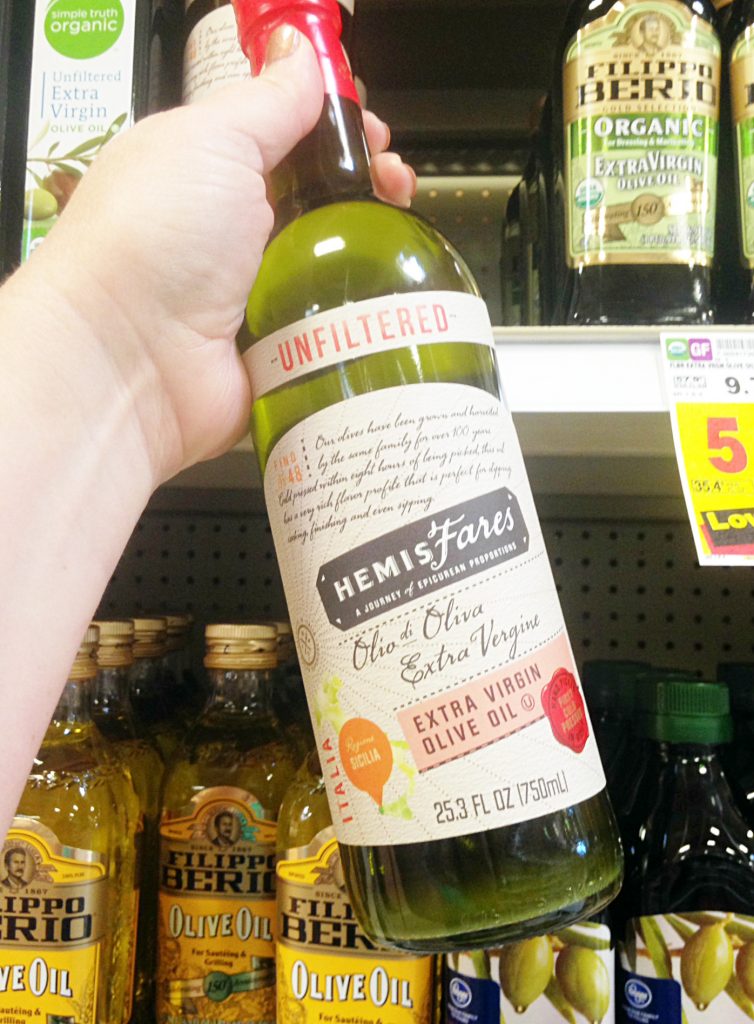 This velvety and flavorful estate-grown oil features Nocellara del Belice olives grown and harvested by the same family for over 100 years, available only from the province of Trapani in Sicily. Cold-pressed within eight hours of being picked, the oil has notes of artichokes and almonds and a peppery finish that's perfect for dipping, cooking and finishing. Optimum soil and climate conditions, combined with the passion of Sicilian growers, have earned this olive oil its esteemed DOP certificate.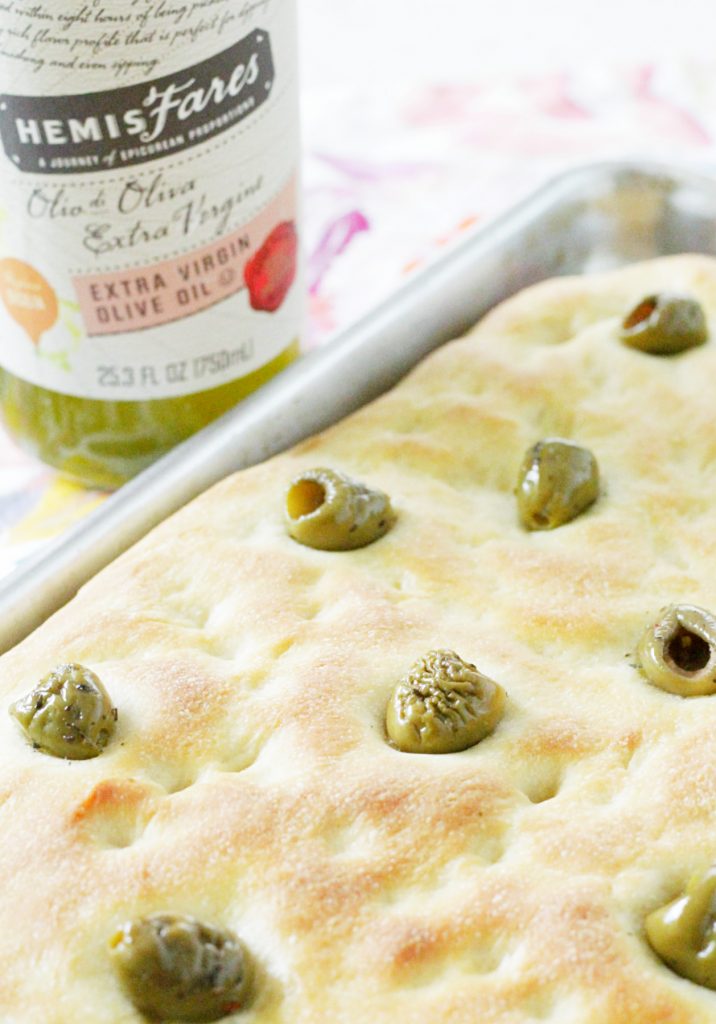 I mean if I can't travel to Italy again anytime soon it's my next best option. This focaccia really took me back. I could close my eyes and picture again the steep cobblestone streets, the colorful dwellings carved into the sides of cliffs, the quaint street vendors and that simple, rustic pleasure of good focaccia with olives fresh off the tree.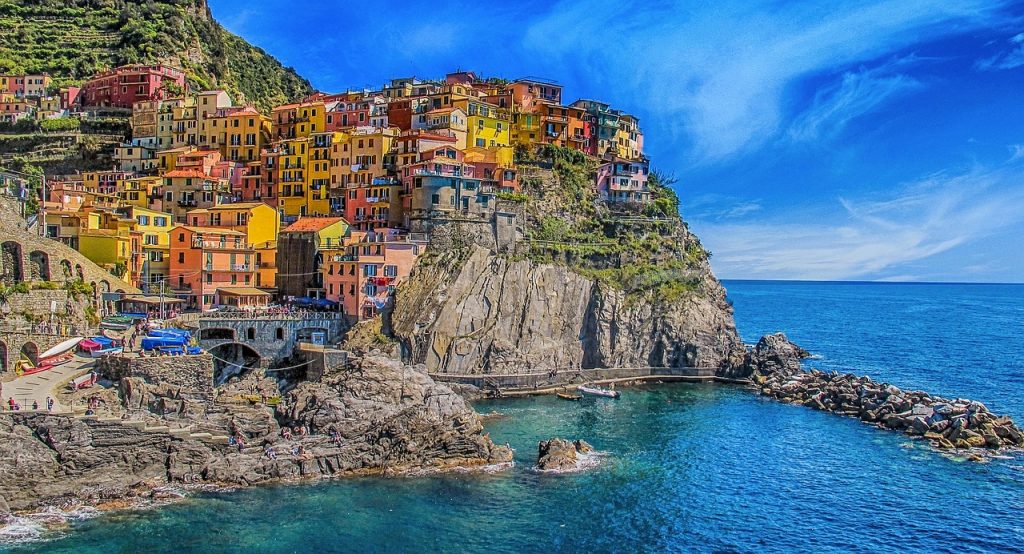 For more information on HemisFares you can check out the website HemisFaresFinds.com or facebook.com/Hemisfares.

Green Olive Focaccia
Green Olive Focaccia will transport you to the fragrant olive groves of the Tuscan countryside from the comfort of your own kitchen.
Ingredients
2

cups

warm water

105 - 115 degrees Farenheit

1

envelope

quick rise yeast

4 1/2

cups

bread flour

plus more for dusting

2

tsp

salt

4

tbsp

HemisFares 100% Sicilian Extra Virgin Olive Oil

24

green brine cured olives

pitted
Instructions
Place 2 cups warm water in large bowl. Sprinkle dry yeast over; stir with fork. Let stand until yeast dissolves, about 10 minutes.

Add 4 1/4 cups flour and salt to yeast mixture and stir to blend well (dough will be sticky). Knead dough on floured surface until smooth and elastic, adding more flour by tablespoonfuls if dough is sticky, about 10 minutes.

Form dough into ball. Oil large bowl with 1 tablespoons of olive oil; add dough, turning to coat. Cover with plastic wrap or a clean towel and let rise in warm area until doubled, about 1 1/2 hours.

Coat 15x10-inch baking sheet with 1 tablespoon olive oil. Punch down dough. Transfer to prepared sheet. Using fingertips, press out dough to 13x10-inch rectangle. Let dough rest 10 minutes.


Drizzle 2 tablespoons oil over dough. Sprinkle olives evenly over the dough. Let the dough rise uncovered in warm area until puffy, about 25 minutes.

Preheat oven to 475°F. Press fingertips all over dough, forming indentations. Bake bread until brown and crusty, about 20 minutes. Serve bread warm or at room temperature.