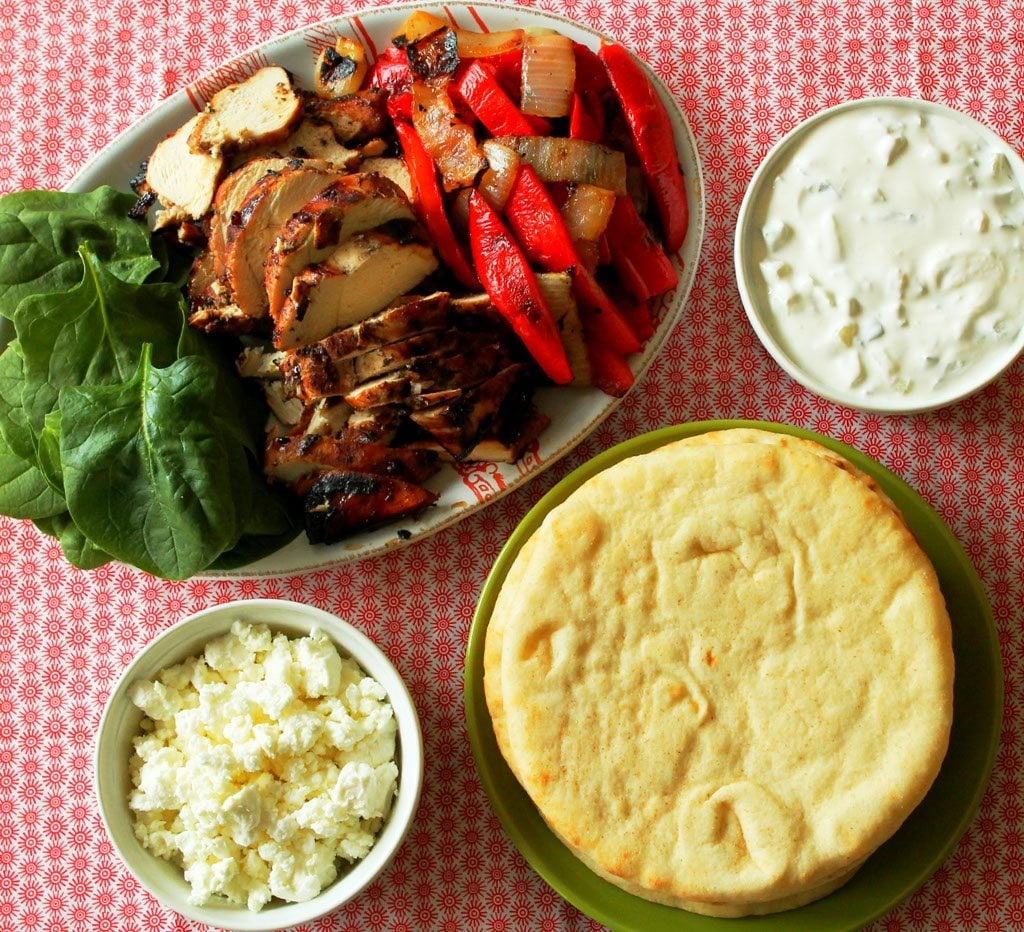 This is what I like to call a mash-up recipe. I felt like fixing chicken gyros, but tomatoes aren't in season around here and I didn't want to take the time-consuming step of roasting a batch of tomatoes. I wanted this to be an easy, weeknight dinner. I decided to use red peppers instead, grill them since I was grilling the chicken anyway, and that's where the idea of Greek Fajitas came from.
The chicken marinade is inspired by a Jillian Michael's recipe I pinned a while back… it's a divine mix of kalamata olives, fresh lemon juice, honey, olive oil and oregano. Mash that up with some fresh spinach, feta cheese, grilled red peppers and onions, store-bought flat bread and a super-quick version of tzatziki sauce (mine is simply sour cream and pickles cause that's what I had in the fridge) and we have a lovely dinner on a warm Spring evening.
To grill the peppers and onions, I find it simplest to place a piece of heavy-duty foil on the grill grates… otherwise I lose the onions down the open slats. Here's the magic happening… I wish you could have been out there grilling with me because it smelled amazing… not to mention the beautiful sunshine and warm air.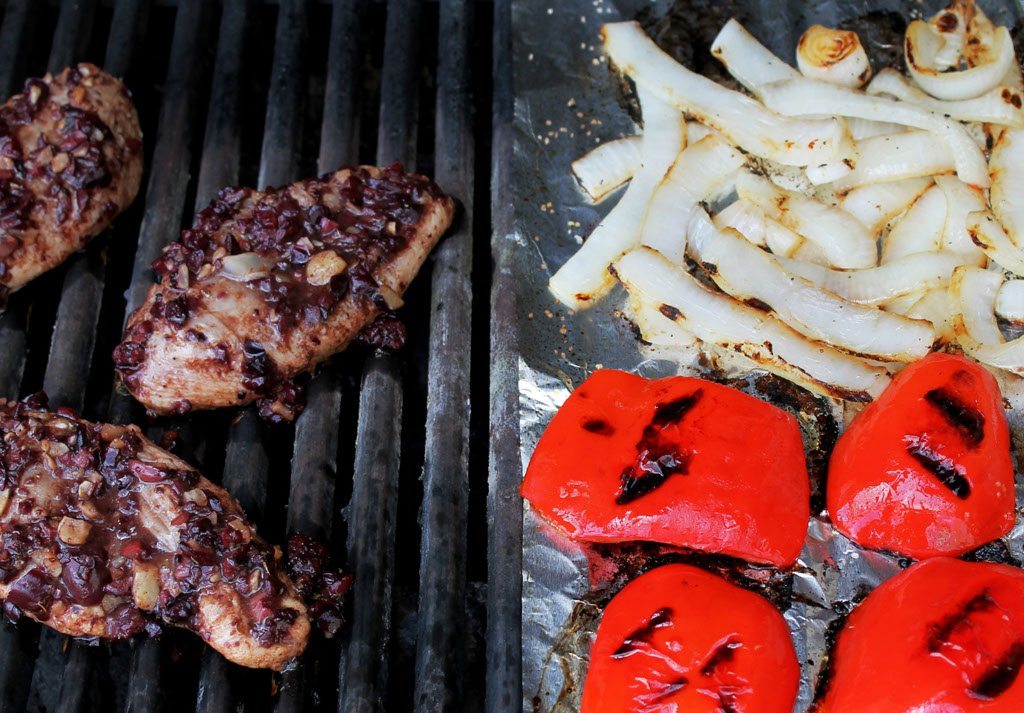 Greek Chicken Fajitas
Ingredients
4

boneless

skinless chicken breasts

1/2

c.

kalamata olives

finely chopped

1/4

c.

olive oil

3

T.

honey

2

lemons

juiced

4

cloves

garlic

minced

1

t.

salt

1

t.

dried oregano

2

large red peppers

1

large sweet onion

2

c.

fresh spinach

1

c.

crumbled feta cheese

1

c.

sour cream

1/2

c.

dill pickles

rinsed, drained and finely chopped

1

pkg. flat bread
Instructions
Combine the kalamata olives, oil, honey, fresh lemon juice, garlic, salt and oregano to make the marinade. Poke each chicken breast several times with a fork and marinate in the refrigerator for at least 30 minutes.

Slice the onions into 1-inch thick slices. Seed and halve the peppers. Heat your grill to medium heat.

Place a piece of heavy-duty foil on one side of your grill (see photo) and arrange the peppers and onion slices on top. Drizzle lightly with olive oil and sprinkle with sea salt. Close grill and let cook for about 10 minutes. Gently turn the vegetables and continue to grill until very brown... mine took about 30 minutes total.

About halfway through cooking the peppers and onions, add the chicken breasts to the other side of the grill and cook until the internal temperature of the meat reaches 165 degrees.

Remove the peppers, onions and chicken and allow to rest for about 10 minutes.

Meanwhile, mix together the sour cream and pickles to make the sauce.

Gently peel the charred skin off the red peppers and slice into 1/2-inch pieces. Separate the onions. Slice the chicken.

Warm your flat bread and fill with the grilled chicken, peppers and onions, fresh spinach, feta and sauce.