French style sweet potato soufflé is a fancified way of enjoying your sweet potatoes at the holidays.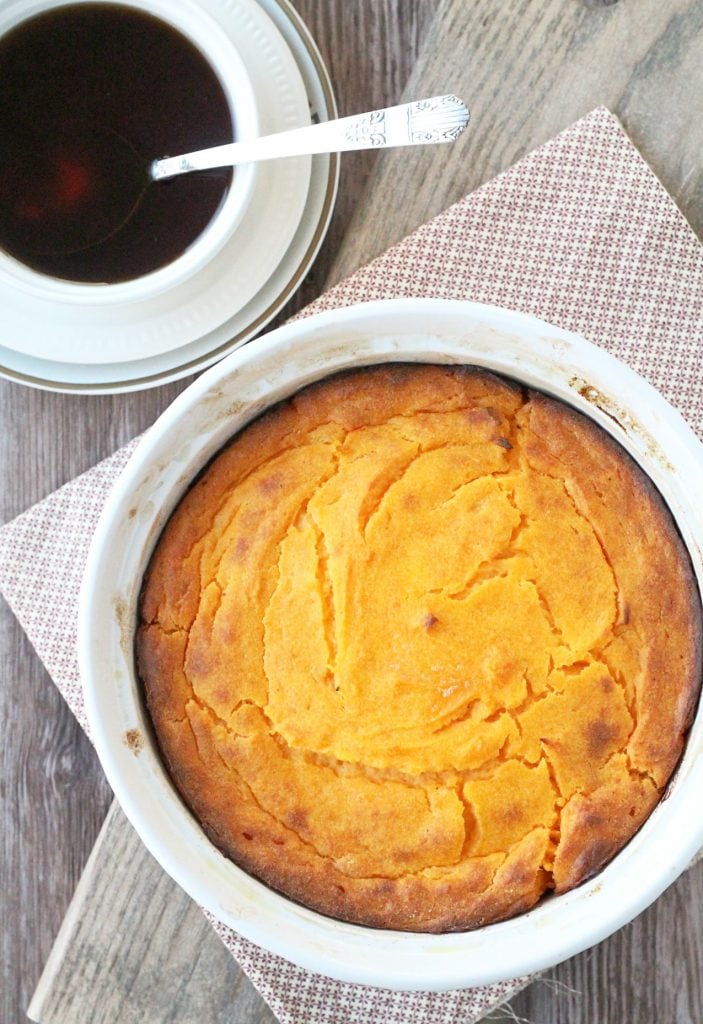 What many of us know as the American version of sweet potato soufflé (maybe you call it sweet potato casserole) has made an appearance on my Thanksgiving table for years. Baked sweet potatoes mashed together with lots of brown sugar, butter and an egg or two and then topped with a pecan struessel topping. It's decadent and delicious.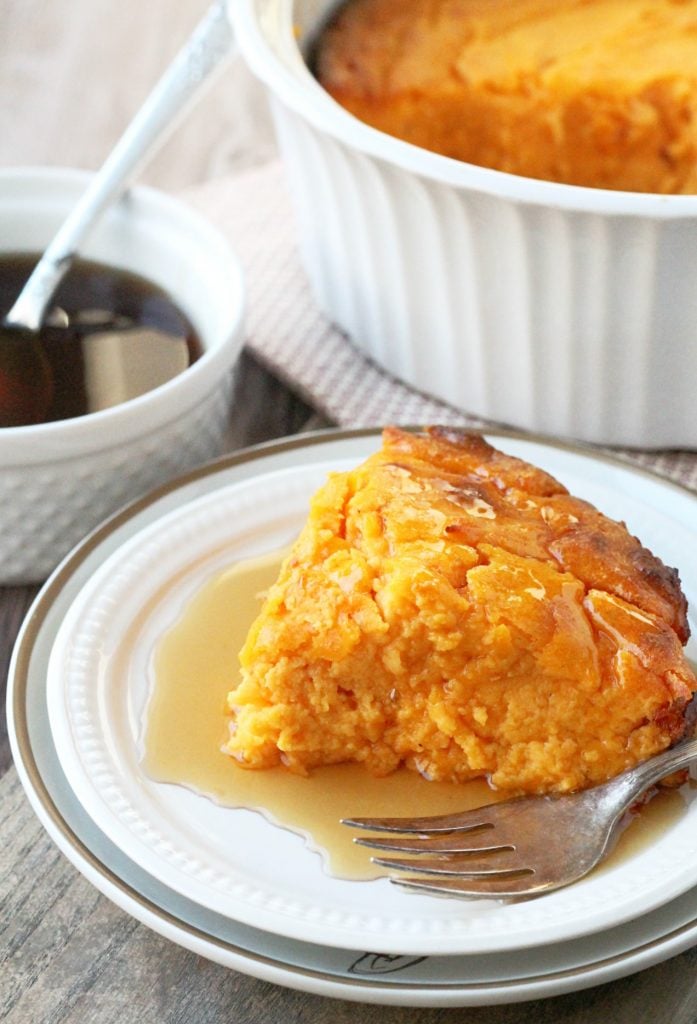 I'm linking up with a bunch of other talented bloggers over on Food Network today to share Thankgiving side dish recipes so I wanted to contribute something a little more unique. A French style soufflé gets lift from beaten egg whites. It still has some added calories from egg yolks and cream but as a side it feels much lighter than the American dish I am used to. Sometimes it's nice to change things up plus Thanksgiving is such a glutenous affair (not that that's a bad thing) having a dish that feels a little lighter might be appealing to some of your guests.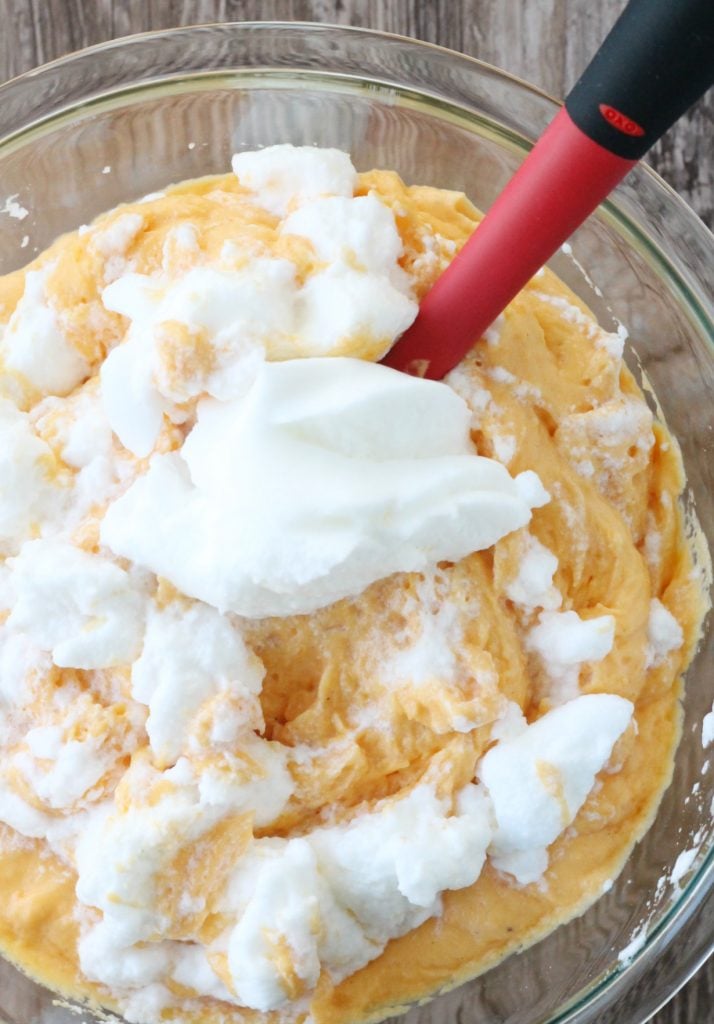 I started with this recipe HERE and then changed it to my own tastes. The lemon maple sauce really brightens the flavor of the soufflé so don't skip it! What are your favorite side dishes to serve on Thanksgiving? Do you always make the same menu or do you like to try new recipes each year?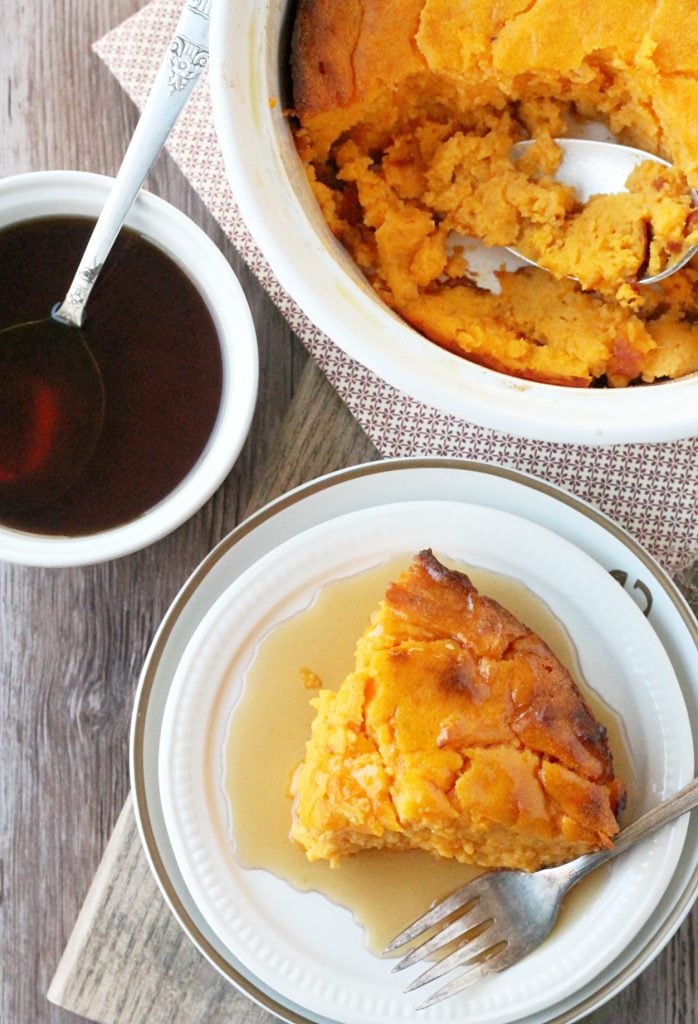 French Style Sweet Potato Soufflé
French style sweet potato soufflé is a fancified way of enjoying your sweet potatoes at the holidays.
Ingredients
2.5

pounds

sweet potatoes

1/2

cup

heavy cream

4

tbsp

unsalted butter

melted

4

large

egg yolks

1

tsp

salt

1/4

tsp

black pepper

1/4

tsp

fresh ground nutmeg

2

large

egg whites

3/4

cup

pure maple syrup

1/2

lemon
Instructions
Peel potatoes and cut into cubes. Place in a large stock pot and cover with cold water. Bring to boil and then simmer until fork tender. Drain. Potatoes can be made a day or two ahead and stored covered in the refrigerator.

Preheat oven to 375 degrees F.

Butter a 1 1/2 qt. round baking dish.

With a hand or stand mixer, puree the cooked sweet potatoes together with the cream, butter, egg yolks, salt, pepper and nutmeg.

With a hand or stand mixer (in a clean bowl) beat the egg whites on high until stiff peaks form.

Using a spatula, fold in half the egg whites to the sweet potato mixture. Then fold in the other half until well mixed.

Transfer to the buttered baking dish and smooth the top.

Bake for 50 - 60 minutes until top is browned and the soufflé is firm to the touch.

Squeeze the juice from the lemon half and discard the seeds. Whisk together the fresh lemon juice with the maple syrup. Serve with the soufflé.
Nutrition
Thank you so much for being a faithful reader and supporter of Foodtastic Mom. Be sure to PIN and print this recipe!

For more Thanksgiving side dish inspiration be sure and visit the Food Network and these fabulous bloggers:
Devour: Thanksgiving Side Dishes That'll Hold Up to Reheating
The Lemon Bowl: Oven Roasted Brussels Sprouts with Bacon
Foodtastic Mom: French Style Sweet Potato Soufflé
Feed Me Phoebe: Gluten-Free Stuffing with Vegan "Creamed Spinach" and Leeks
The Hungry Traveler: Loaded Smashed Potatoes
Healthy Eats: 7 Lighter Takes on Essential Thanksgiving Sides
Dishin & Dishes: Bacon Wrapped Butternut Squash Wedges
The Mediterranean Dish: Jeweled Couscous with Pomegranate and Lentils
The Fed Up Foodie: Festive Orange Spinach Salad
A Mind "Full" Mom: Parmesan Garlic Slow Cooker Mashed Potatoes
Creative Culinary: Golden Onion Casserole with Thyme and Toasted Bread Rounds
Swing Eats: Creamed Spinach
Taste with the Eyes: It's Back – The Stuffing Everyone Loves!
In Jennie's Kitchen: Pan Seared Cauliflower
FN Dish: Stovetop vs. Oven-Baked: Battle of the Thanksgiving Side Dishes