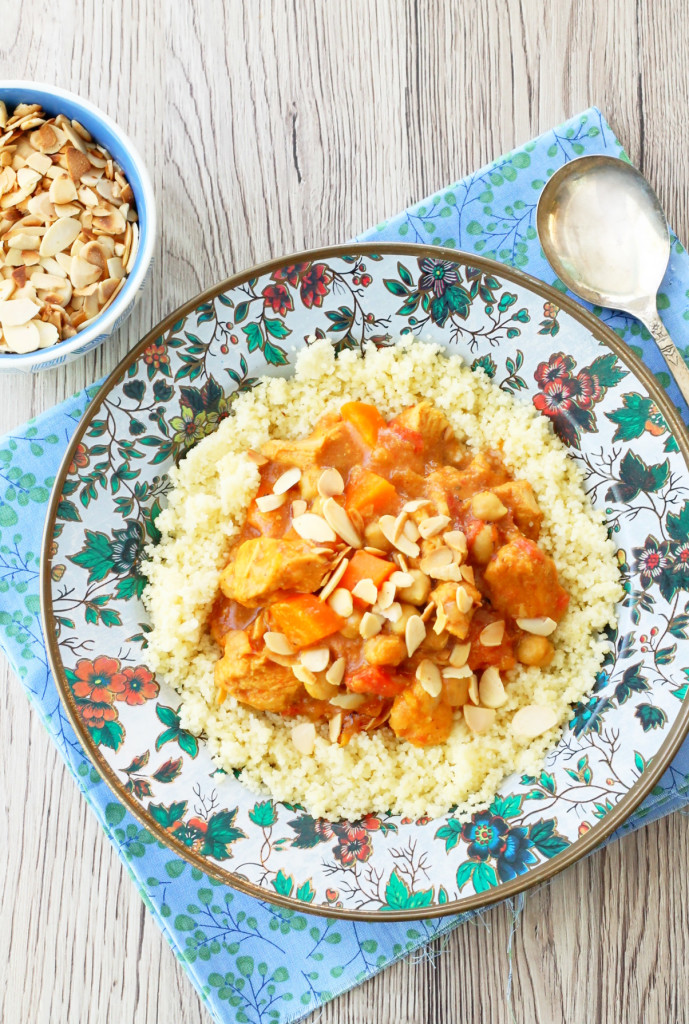 I'm not sure the famous line from "Field of Dreams" applies to Link Parties on blogs… I've built one, but only one person has come so far, LOL! Regardless, I plan to still share a freezer-friendly recipe with you every Friday because I think they are hugely helpful tools to solving the relentlessness of feeding a family. But please, if you are reading this and have your own blog, I'd really love it if you'd link one of your favorite freezer recipes down there at the bottom and party with me!
Last week, I shared my recipe for the Ultimate Freezer Breakfast Burritos. So in case you missed them, click on the picture to grab that recipe as well!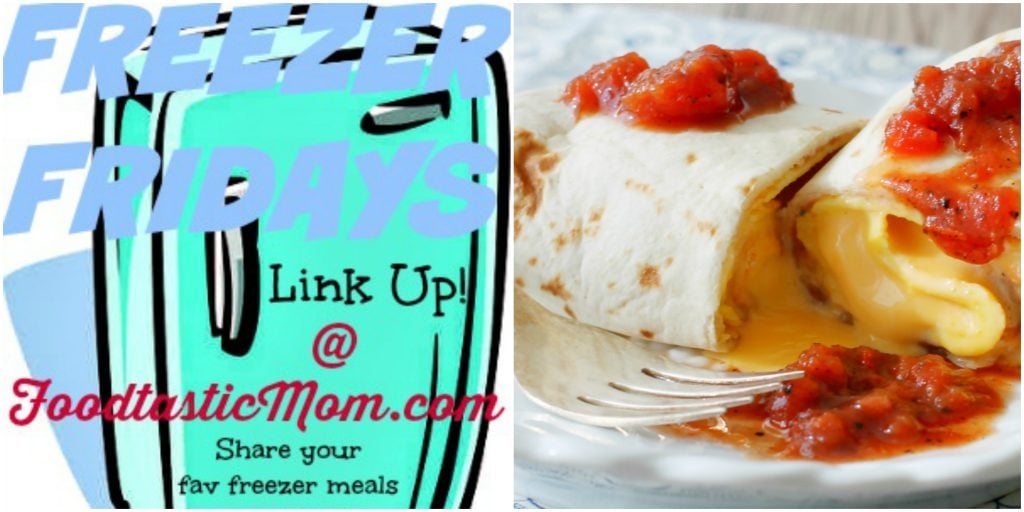 So today, I'm bringing you a Moroccan Chicken Tagine recipe that I found HERE. I was struggling this week because our weather has been beautiful and warm and a slow cooker recipe just didn't sound like the thing to share. But I promise you, the plethora of fragrant spices in this dish will virtually transport you to a warm, exotic locale. Plus the chicken, carrots, onions and apricots taste light and healthy, not heavy.
Again, my tip for making frozen meals is to cook once and eat twice. The recipe I am giving you is meant to be halved. Half goes in the slow cooker for an immediate dinner. The other half is sealed in a freezer-safe, zippered bag for dinner another night. Once the chicken is slow cooked, it takes about 10 minutes to prep some couscous and toast a few almonds to make a complete, full-flavored meal.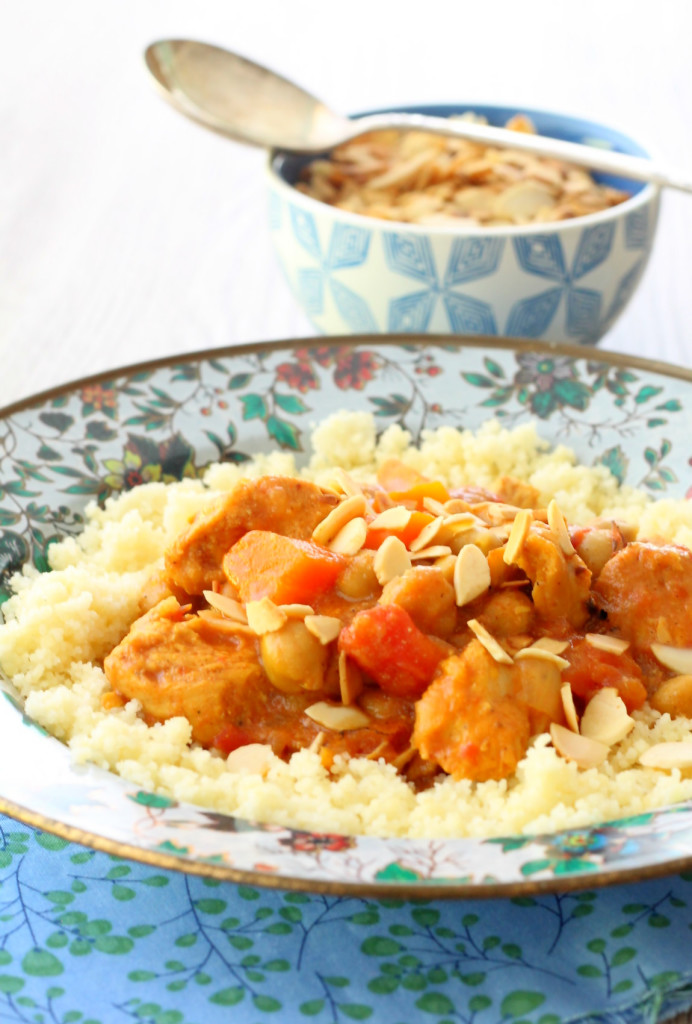 And I know the spices might seem too "foreign" to even attempt, but the only spice I didn't already have in my cabinet at home was the mace. And no, I'm not talking about pepper spray! But even with all the blending of spices, this recipe was quick considering I got two dinners plus leftovers for my time. I urge you to branch out and try this Moroccan dish. I would even say it's company worthy!
>RULES FOR FREEZER FRIDAYS<
If you are sharing with me, I'd appreciate a follow on my social media channels. And I promise to follow back!FOODTASTIC MOM Facebook | Instagram | Twitter | Pinterest | Google+
>Link freezer-friendly recipes from your blog… direct links – not to your blog's homepage
(please no etsy shops or giveaways)
>Please link only posts that you haven't shared here before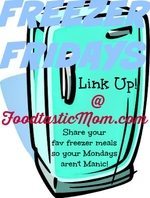 >Copy and paste the Freezer Fridays Badge and link back somewhere on your blog (must link back to be featured)
>Visit some other links and comment, letting them know you stopped by

Freezer Slow Cooker Chicken Tagine
Ingredients
This recipe is meant to be halved
2

15 oz. cans fire roasted diced tomatoes, not drained

2

T.

tomato paste

2

T.

garlic paste

2

T.

ginger paste

2

sweet onions

diced

4

carrots

peeled and diced

1

6 oz. bag of dried apricots, diced

juice and zest of one lemon

2

15 oz. cans chickpeas, drained

4

t.

Ras El Hanout Spice Mix

see Notes

1

T.

sugar

1

t.

cornstarch

1

t.

salt

1

t.

turmeric

1

t.

coriander

1

t.

cinnamon

1

t.

cumin

1/2

t.

cayenne pepper

6

large boneless

skinless chicken breasts, cut into 1-inch cubes
Instructions
Divide ingredients in half, placing one half in the slow cooker to cook immediately and the other half in a bowl.

Combine the tomatoes, tomato paste, garlic and ginger paste, onions, carrots, apricots, juice and zest of lemon, chickpeas and all the spices and cornstarch. Mix well. Add the chicken.

Turn the slow cooker to low and cook for 8 hours. In the last 30 minutes of cooking, add 1/2 can of light coconut milk. Mix well and heat through.

Serve with couscous and toasted almonds.

Transfer the other half of the recipe to a large, zippered, freezer-safe bag. Freeze flat. Thaw in the refrigerator overnight and proceed with slow cooker instructions.
Notes
for the Ras Hanout Spice Mix:
1 1/2 t. cinnamon
1 1/2 t. cumin
1 1/2 t. turmeric
1 t. coriander
1 t. ginger
1 t. cardamom
1/2 t. nutmeg
1/2 t. ground cloves
1/2 t. mace
1/2 t. cayenne pepper
1/2 t. garlic powder
1/2 t. ground celery seed
1/2 t. black pepper
1 t. cornstarch
Combine all in a bowl and blend well. Store the leftover spice mix in an air-tight container for up to 6 months.
Adapted from Food.com