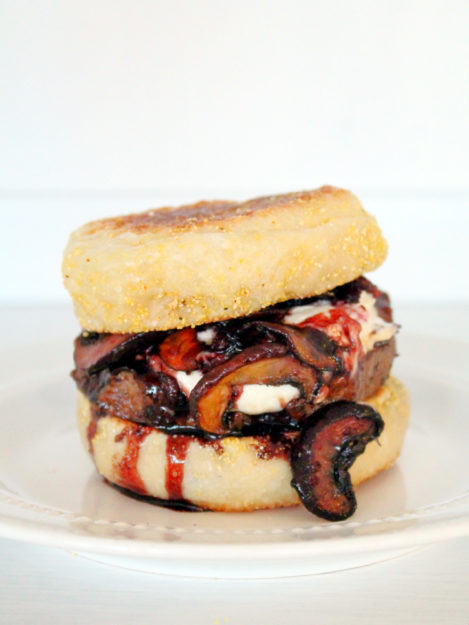 Filet Mignon Burgers make a stunning main course presentation for any special occasion you want to turn on the grill. Several things led to me making these "burgers" for our dinner. I had made my husband a stuffed flank steak for his birthday dinner a couple of weeks ago. The stuffing was great – a mix of Boursin cheese, crispy fried onions (the French's kind used for green bean casserole) and mushrooms browned in butter and red wine. The steak, sadly, did not live up to my standards. I followed suggestions found from a Google search for how to go about preparing the flank steak but it turned out tough and rubbery. So disappointing.
Not to be defeated, I started thinking up ways to use this Boursin stuffing mixture. I thought about stuffing it inside a burger, or maybe topping a grilled filet with it; then, why not, make an actual steak burger by pan frying some filets sliced in half! Also, I had been wanting to try a version of THIS red wine burger for ages, so that's how these Filet Mignon Burgers came to be.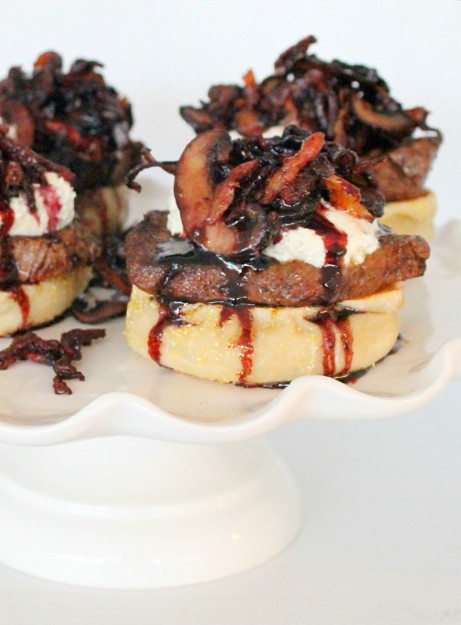 Such a high class burger needed a "bun" of equal stature. If you follow my Instagram feed, you will not be surprised by my love affair with Blue Oven Bakery. They are local to me here in Cincinnati, Ohio and I am fortunate indeed. All of their breads are amazing but their English muffins are like something out of Jack and the Beanstalk… giant, pillowy mounds of buttery perfection. I mean look at them!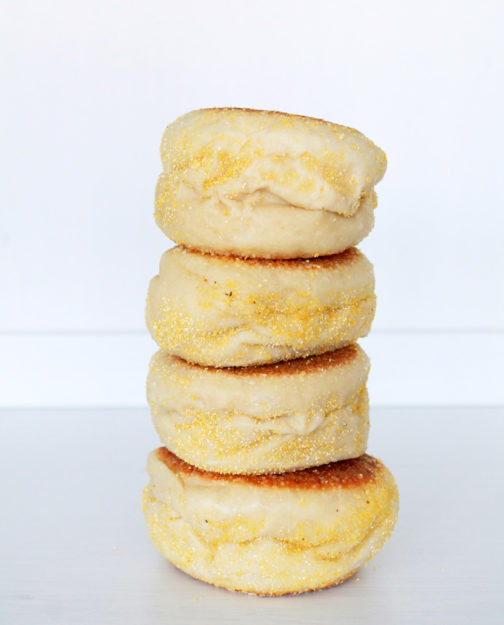 Not only were these filet mignon burgers impressive, but they were quite simple and quick to cook and assemble. I'm not just saying that lightly either. We all loved, I mean really loved, these.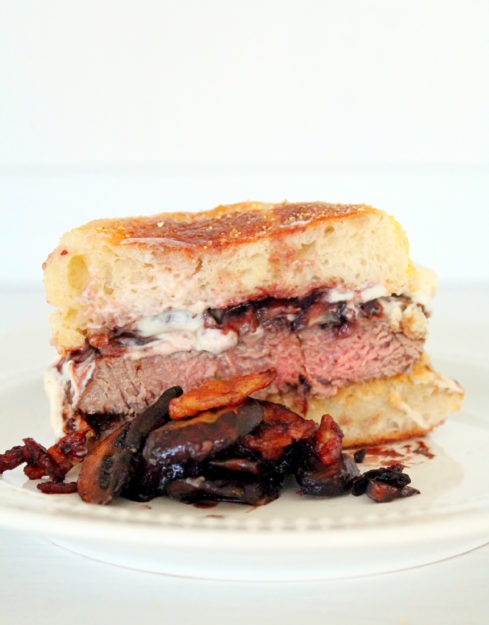 Filet Mignon Burgers
Ingredients
2

16 oz. filet mignon steaks, cut in half crosswise, making four "burgers"

1 1/2

t.

salt

divided

2

T.

unsalted butter

divided

8

baby bella mushrooms

stemmed and sliced

1/2

c.

French's fried onions

1

c.

red wine

if you like to drink it, you'll like to cook with it

1

T.

light brown sugar

4

oz.

Boursin cheese

cut into four even slices

4

burger buns or English muffins

lightly toasted
Instructions
In a large sauce pan, heat the wine and sugar over medium-high heat. Bring to a boil and allow it to cook until reduced to about 1/3 cup. Remove from heat.

Meanwhile, melt one tablespoon of butter over medium heat in a non-stick skillet. Add the mushrooms and 1/2 teaspoon of salt. Cook, stirring occasionally, until browned, about 10 minutes. Add the fried onions and cook for a couple of more minutes. Remove mushrooms and onions to a clean bowl.

Season the steaks on both sides with the remaining teaspoon of salt. Add the remaining tablespoon of butter to the skillet. When melted, add the steaks and cook about 3 - 4 minutes per side. It may be necessary to increase the heat to medium-high to brown the steaks. They do not take long to cook, especially if you don't want them well-done.

Remove steaks to a clean plate and add the wine reduction to the pan. Scrape up all the browned bits from the bottom of the pan and immediately remove from the heat, or the wine will reduce too much.

Serve each filet burger topped with 1 oz. of Boursin cheese, a generous helping of the cooked mushrooms and onions and a drizzle of the red wine reduction.