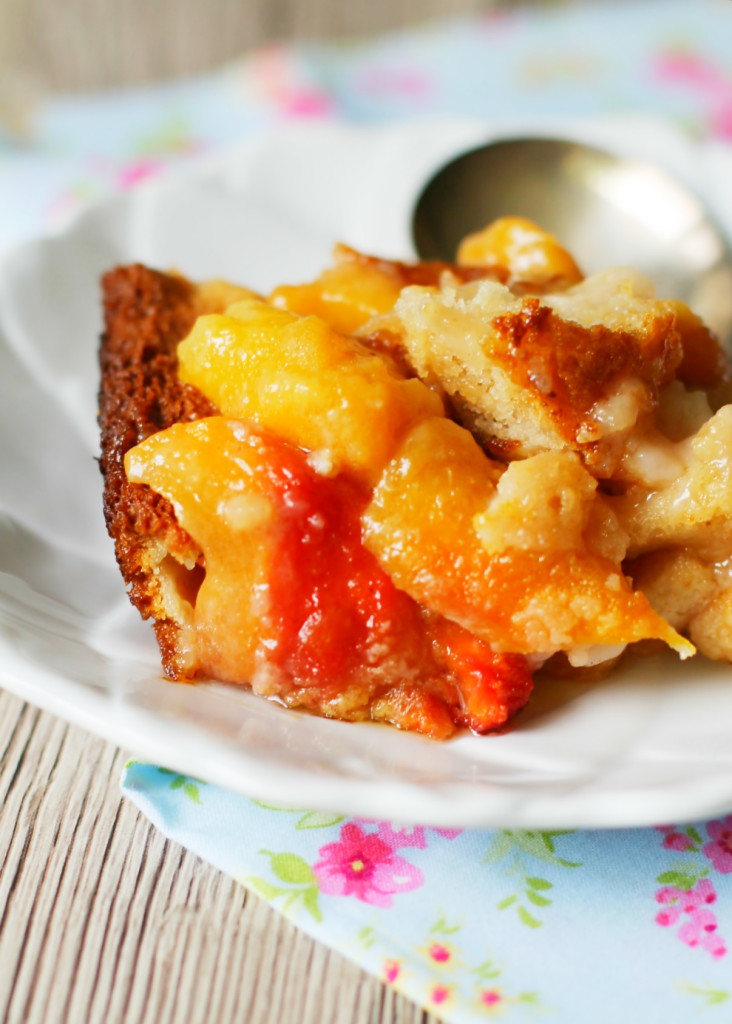 Add this easiest peach cobbler to your menu for any holiday gathering and you'll get asked for the recipe! I know the Fourth is tomorrow and everyone is posting everything Red White and Blue, but this is the dessert I made for our dinner yesterday. I had a ton of frozen peaches (from fresh that were straight from Georgia thanks to The Peach Truck) and I'd been wanting to try this cobbler recipe my neighbor shared with me.
If you have ever camped and made a "dump fruit cobbler" with cake mix in a Dutch oven, the basic principal of this cobbler is the same, though it's a super simple, from-scratch batter. Because if you are at home and the batter is this quick to mix together, there is no reason to use a boxed cake mix. At least in my opinion…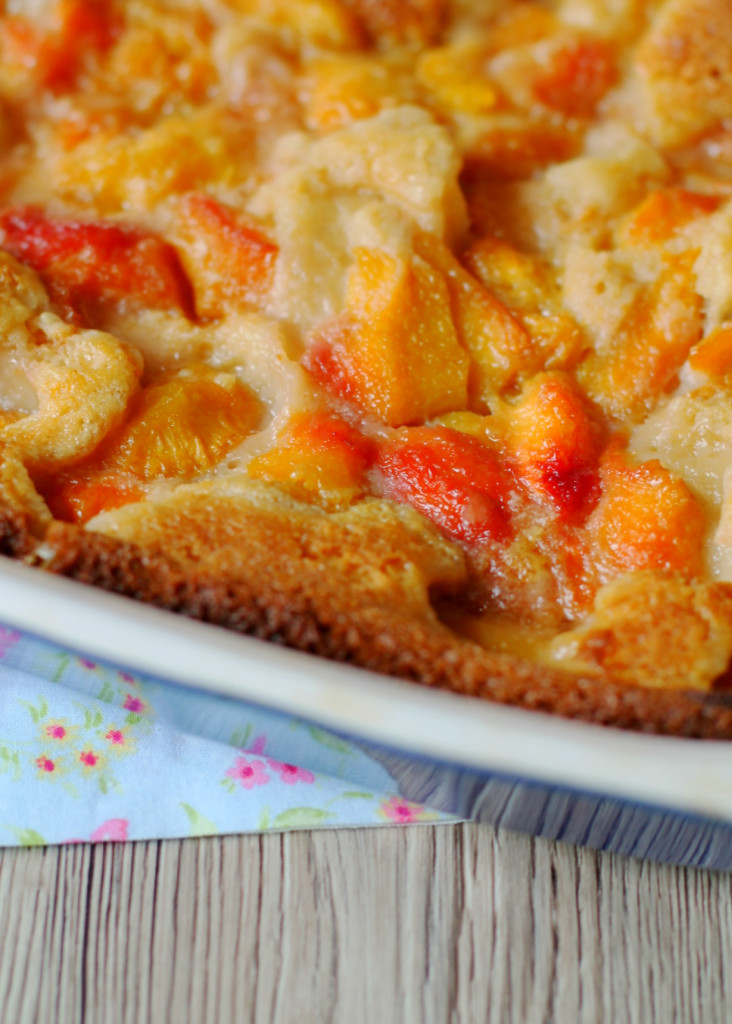 I do already have a pretty stellar (and simple) collection of recipes if you are looking for Fourth of July menu inspiration. You can start your meal with some Red White and Blue Sangria and a hearty appetizer of my Beer Basted Red (Chicken) Legs. Your main meal could be a grilled hot dog bar with my Coney Dog sauce as one of the toppings, plus my Red White and Blue Spinach Salad (which is always a crowd pleaser). Followed by this Easiest Peach Cobbler for dessert. None of these take a lot of time (or skill) to prepare, I promise! My main goal with my food blog is to publish what I am fixing to eat in the midst of our hectic and very real family life.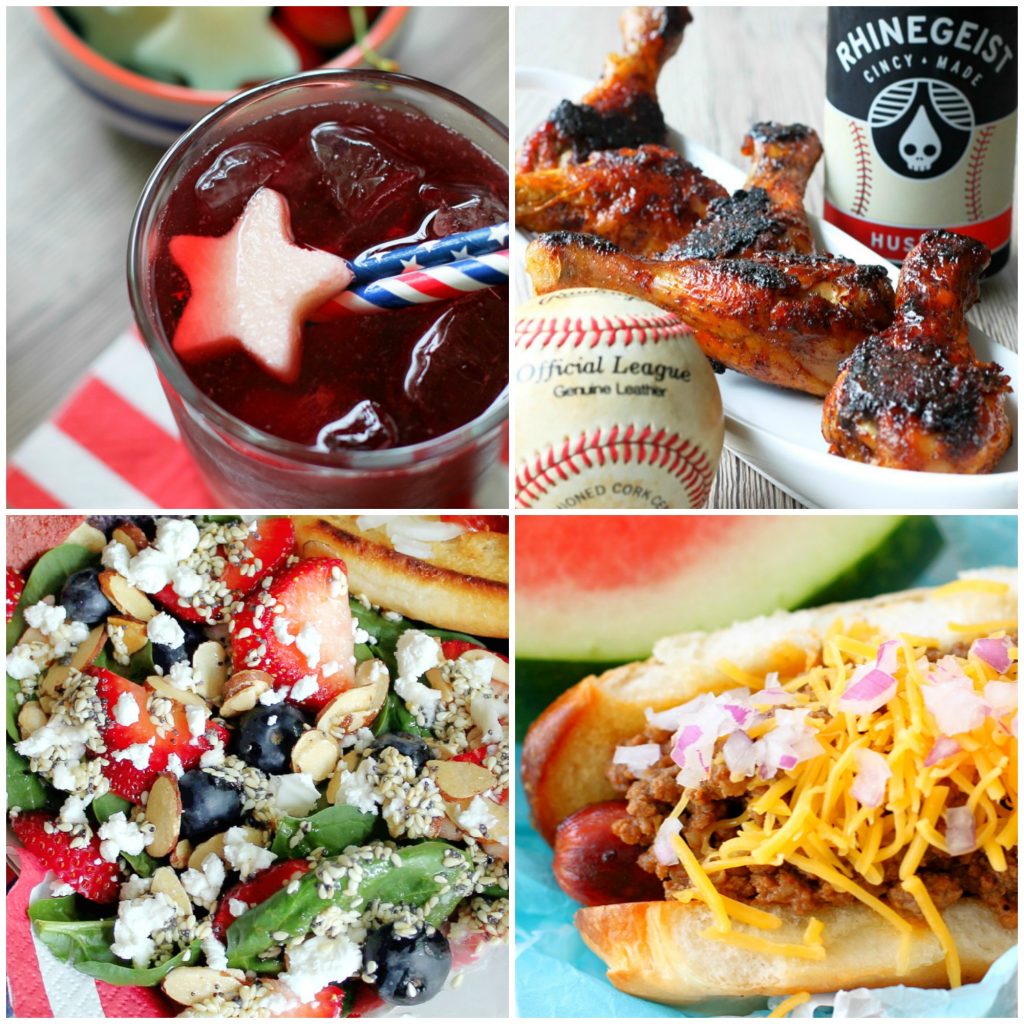 Red White and Blue Sangria
Beer Basted Red Legs
Red White and Blue Spinach Salad
Coney Dog Sauce
And while I did have some stellar fresh peaches to show off in this cobbler, it still benefits from a big scoop of vanilla ice cream, am I right?! I hope you all enjoy your Fourth of July holiday, whatever your plans may be…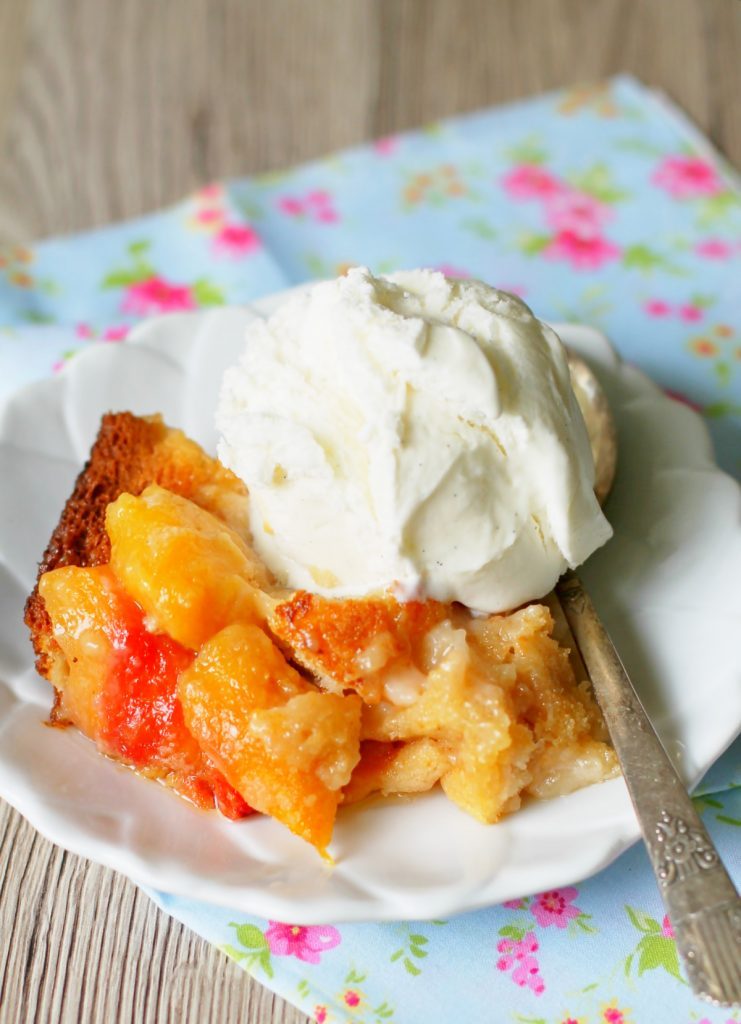 Easiest Peach Cobbler
Ingredients
1

stick unsalted butter

1

c.

all-purpose flour

1 1/2

t.

baking powder

1/2

t.

salt

3/4

c.

white sugar

1/4

c.

light brown sugar

1

c.

whole milk

3

c.

fresh peaches

peeled and sliced
Instructions
Preheat the oven to 350 degrees.

Place the stick of butter in the bottom of a 9x9 square baking dish and put it in the oven for the butter to melt.

Meanwhile, whisk together the flour, baking powder, salt and sugars. Add the whole milk and stir until a smooth batter forms.

Remove the pan from the oven with the melted butter.

Pour the batter evenly into the pan. Then top the batter evenly with the peaches.

Bake for 40-45 minutes. Allow to cool in pan and serve topped with vanilla ice cream.