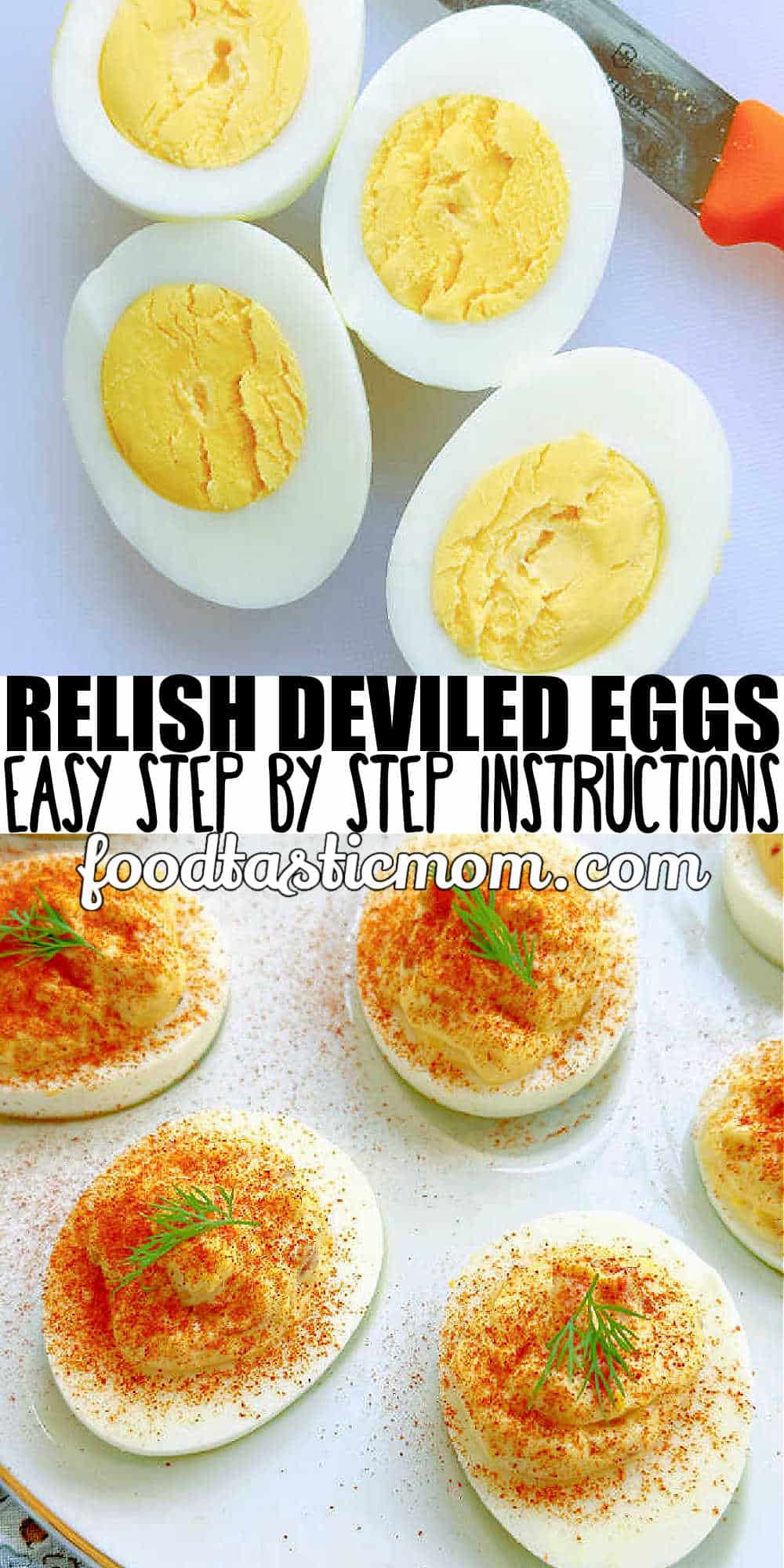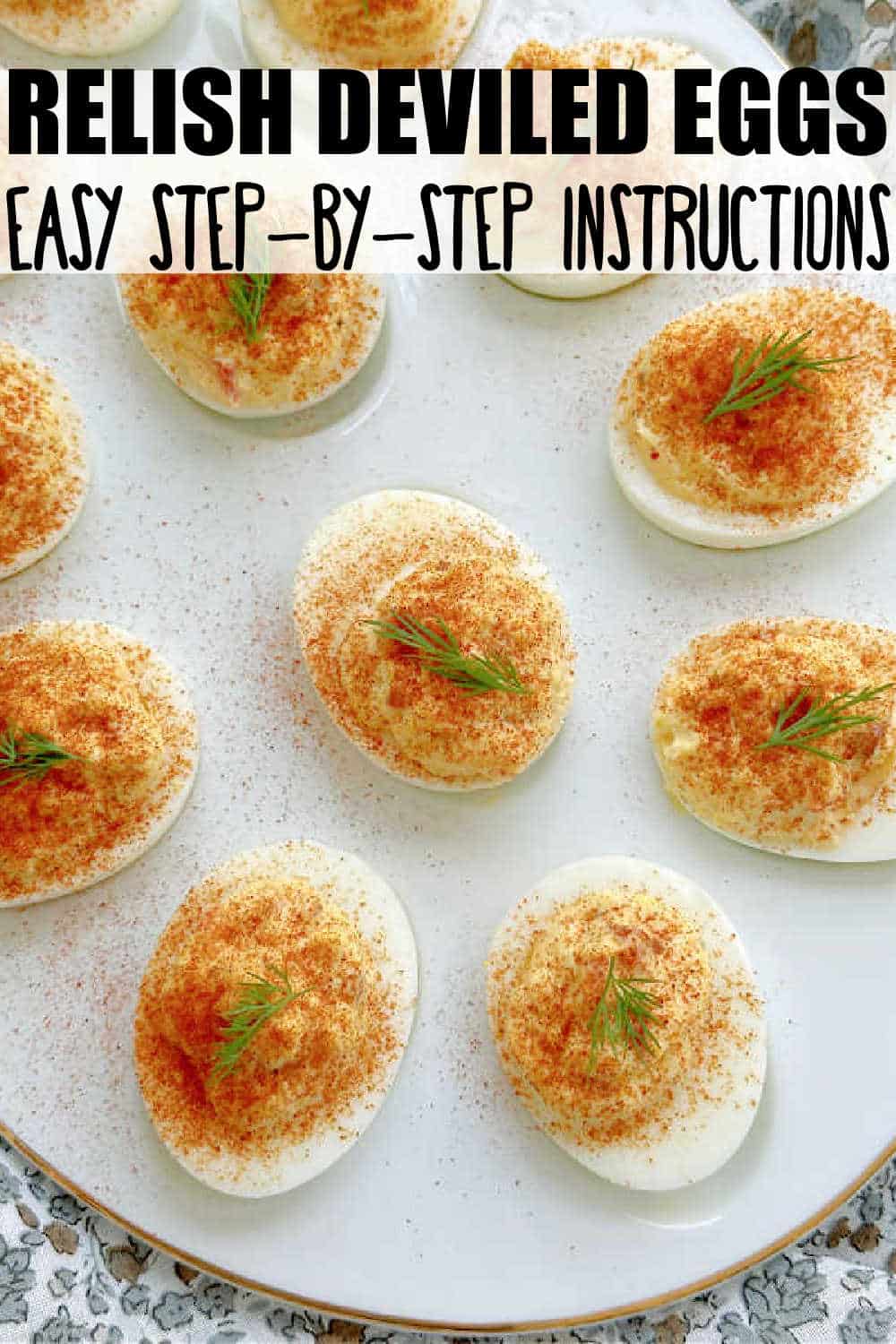 Flavor these Deviled Eggs with your favorite type of relish – sweet or dill pickle, red pepper or even chutney. Plus a fool-proof way for hard boiling eggs.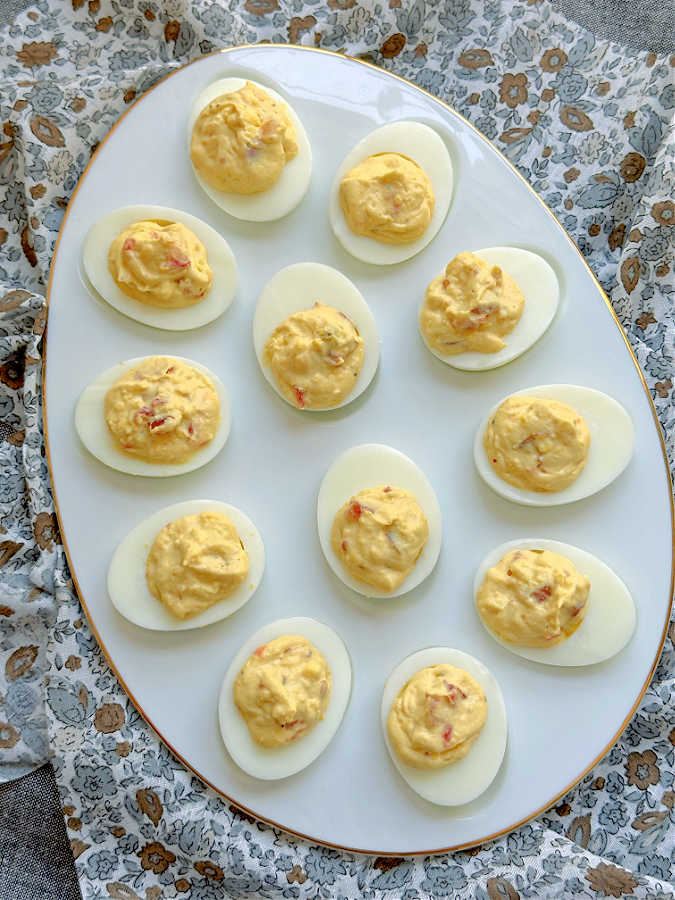 Of all the recipes I have published over the years, I've not shared a good, classic deviled egg recipe. Some might call this a Southern deviled eggs recipe. The filling is quick and easy to put together and uses just a few simple ingredients. But even this simple recipe is one that you can customize. Simply by using your favorite type of relish. You could even use a homemade recipe for red pepper relish in these deviled eggs.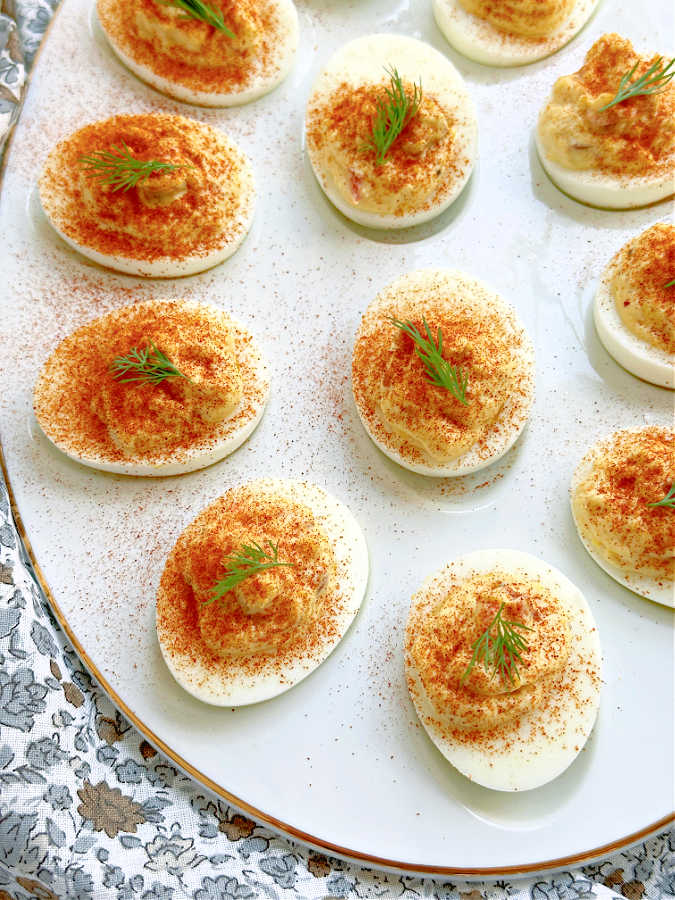 Why this recipe works
The key to deviled eggs starts with hard boiling your eggs. If my eggs are hard to peel, I'm already mad about having to make these! Luckily I have a fool-proof way for hard boiling eggs. The shell can be removed with one hand! They fall off so easily. And it doesn't matter if the eggs are fresh or have been sitting in your refrigerator for a week.
And then the filling for these eggs uses ingredients you probably already have in your fridge – relish, mayonnaise and mustard. Deviled eggs are an easy and inexpensive appetizer that taste delicious. Plus they happen to be low carb and gluten free so they have mass appeal.
With the holidays just around the corner, you can never have too many deviled egg recipes. Over the years I've enjoyed partnering with Ohio Eggs to tell the stories of the Ohio farmers who work hard all year long to feed you. They've taught me that a hard boiled egg half can be a delivery for some really innovative and delicious egg yolk fillings!
More deviled egg recipes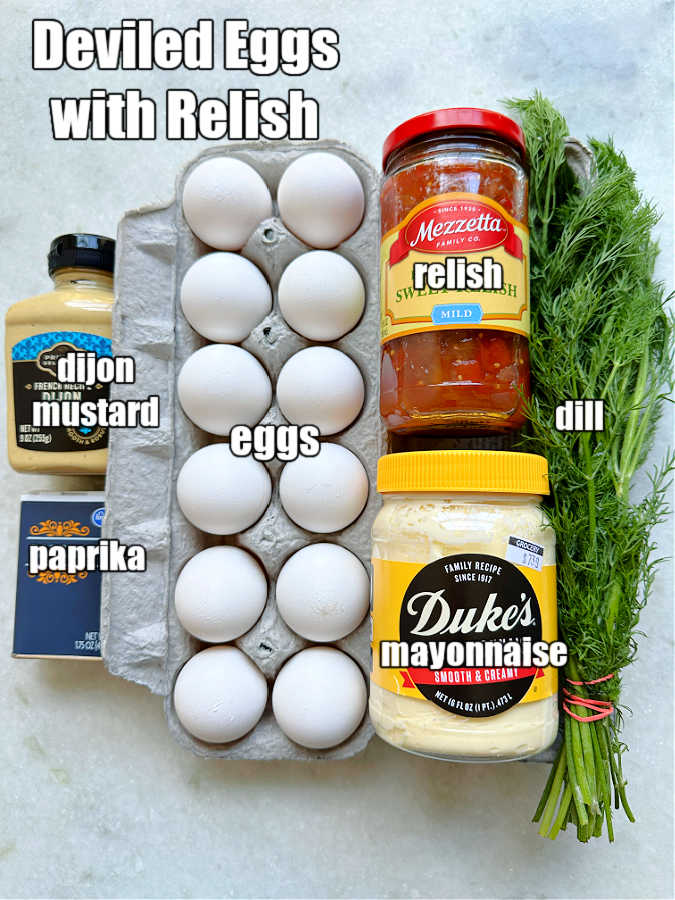 Ingredients for deviled eggs with relish
Eggs – Use large size eggs for this recipe. I like to hard boil 12 eggs at a time. But my recipe is written for 6 whole eggs, or 12 halves. You can easily double or triple this recipe for a crowd.
Relish – I used a jarred red pepper relish. But use your personal favorite relish. Pickle sweet relish is a more typical choice for this recipe. But I like experimenting with flavors. And I always want you to use what you like in my recipes and make them your own.
Mayonnaise – Just four tablespoons of mayo (or 1/4 cup) is needed for this recipe. Back in the day, my Mom probably would have made these with Miracle Whip.
Mustard – I use one teaspoon of Dijon mustard in my recipe. You can use yellow mustard if you prefer.
Paprika – Paprika is a traditional garnish for deviled eggs. But you could sprinkle them with chili powder instead.
Salt and Pepper – I always use fresh ground black pepper and sea salt. But you can use whatever you have in your kitchen. A little salt and pepper goes a long way, you don't need much.
Dill – I like to garnish my relish deviled eggs with small sprigs of fresh dill. You could also sprinkle them with fresh chopped herbs, like parsley or cilantro.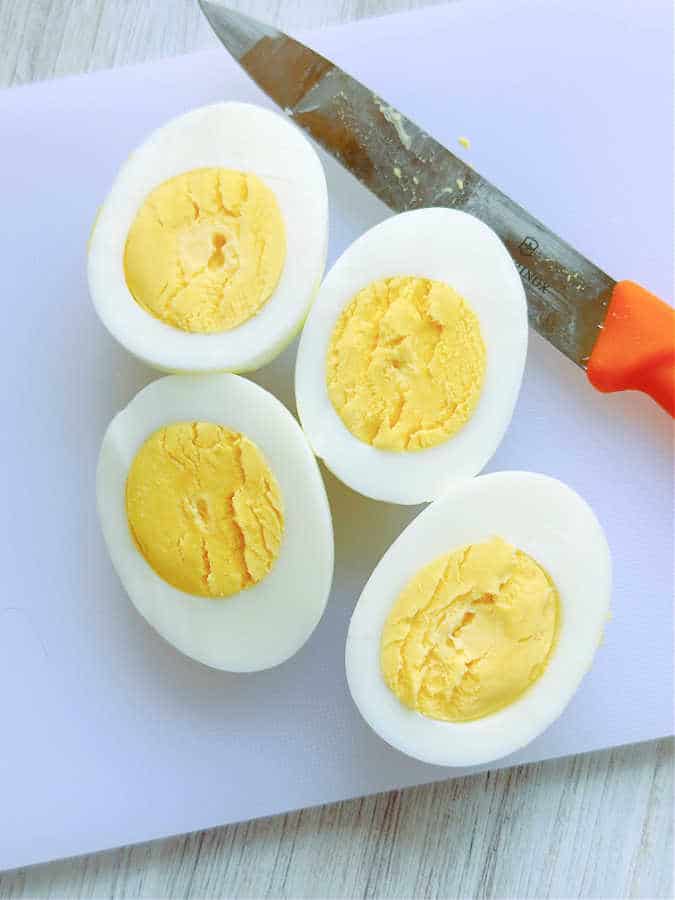 Instructions for making deviled eggs with relish
Slice eight hard boiled eggs in half, lengthwise. Gently remove the yolks and place them in a clean bowl. Reserve two of the egg whites for another use, like egg salad. You're only going to fill 12 of the egg white halves.
Place the 12 egg whites, cut side up onto a clean deviled egg plate. In a large bowl, add the relish, mayonnaise, mustard, salt and pepper to the egg yolks. Use the back of a fork to mash up the yolks and mix the filling together.
Scoop the deviled egg mixture into a large zippered plastic bag (or a piping bag) and cut one of the corners off. Pipe the filling into each egg white half. Sprinkle the deviled eggs with paprika if desired. And top each deviled egg half with a small sprig of fresh dill.
If you'd like to see a how-to video for these deviled eggs, visit my Instagram account HERE.
Pro Tips/FAQ's
How to hard boil eggs for easy peeling (my favorite way)
Bring water and 2 tablespoons of white vinegar to a gentle boil over medium-high heat in a saucepan big enough to hold the eggs in a single layer. This recipe works no matter if you have very fresh eggs or not.
Gently place eggs into the boiling water, one at a time. I use a spaghetti server for this.
Boil the eggs for 14 minutes, uncovered.
Remove the pot from the heat and rinse the eggs under cold running water until they are cool enough to handle.
Peel the eggs immediately.
Allow them to chill in the refrigerator for about 30 minutes before proceeding with the deviled egg recipe.
Should deviled egg filling be lumpy?
I think this is completely a matter of personal preference. I like the filling both ways – smooth or with some lumps or texture. It just depends on what flavor of deviled egg I'm making. If you prefer a smooth filling, simply blend the egg yolks and other ingredients together in a small food processor. If you like the filling with some texture, mash and stir the egg yolk filling together with a fork.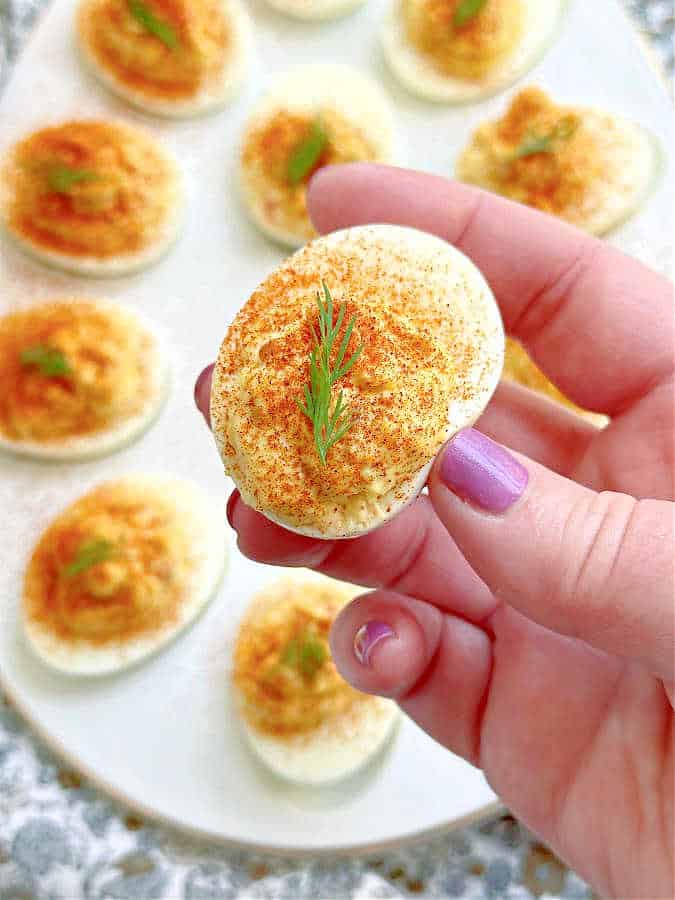 Storage Directions
How do you keep deviled eggs from sweating?
Place deviled eggs in an airtight container lined with paper towels. You can't really prevent the sweating, but you can help to absorb the water.
Deviled eggs are best served fresh. You can keep leftover deviled eggs for up to two days in the refrigerator. But again, make sure to keep them in an airtight container that is lined with paper towels.
Serving Suggestions
The holidays are a really popular time to serve deviled eggs, especially as part of a Thanksgiving or Christmas family gatherings. Deviled eggs are a classic dish found at cookouts and picnics. I'm more used to having deviled eggs on a plate with some grilled hot dogs, burgers or ribs. Plus maybe some baked macaroni and cheese, coleslaw, baked beans and sliced melon.
Kitchen Tools
Deviled Eggs with Relish
Flavor these Deviled Eggs with your favorite type of relish - sweet or dill pickle, red pepper or even chutney. Plus a fool-proof way for hard boiling eggs.
Ingredients
8

large

eggs

1/4

cup

mayonnaise

3

tbsp

relish

I used red pepper relish. Use your favorite kind.

1

tsp

Dijon mustard

1/2

tsp

salt

1/4

tsp

black pepper

paprika and dill to garnish
Instructions
Slice the hard-cooked eggs in half, lengthwise. Gently remove the egg yolks to a clean bowl.

Place all eight egg yolks in the bowl. Reserve four of the egg white halves for another use. Place the remaining 12 egg white halves, cut side up, on a deviled egg plate.

Add the mayonnaise, relish, mustard and salt and pepper to the egg yolks. Use the back of a fork to mash yolks and stir them together with the condiments until well combined.

If you prefer a smooth deviled egg filling, mix the egg yolks and other ingredients together using a small food processor.

Add the egg yolk mixture to a large zippered plastic bag. Cut off a small corner from the bag and pipe the egg yolk filling evenly into the prepared egg white halves.

Alternatively, you can use a small spoon to evenly scoop the egg yolk filling into the egg white halves.

Garnish the deviled eggs with a sprinkle of paprika and sprigs of fresh dill.
Nutrition
Calories:
74
kcal
|
Carbohydrates:
4
g
|
Protein:
1
g
|
Fat:
6
g
|
Saturated Fat:
1
g
|
Polyunsaturated Fat:
4
g
|
Monounsaturated Fat:
1
g
|
Trans Fat:
0.02
g
|
Cholesterol:
2
mg
|
Sodium:
173
mg
|
Potassium:
38
mg
|
Fiber:
3
g
|
Sugar:
0.03
g
|
Vitamin A:
14
IU
|
Vitamin C:
0.2
mg
|
Calcium:
52
mg
|
Iron:
1
mg
Foodtastic Mom is a participant in the Amazon Services LLC Associates Program (Amazon Associate), an affiliate advertising program designed to provide a means for sites to earn advertising fees by advertising and linking to Amazon.com. Any highlighted, clickable Amazon link you see is an affiliate link that I may earn advertising fees on when you click to purchase.
Thank you so much for being a faithful reader and supporter of Foodtastic Mom. Be sure to PIN to Pinterest and print this recipe! Also like and tag 'Foodtastic Mom' on Facebook and Instagram if you make this recipe!