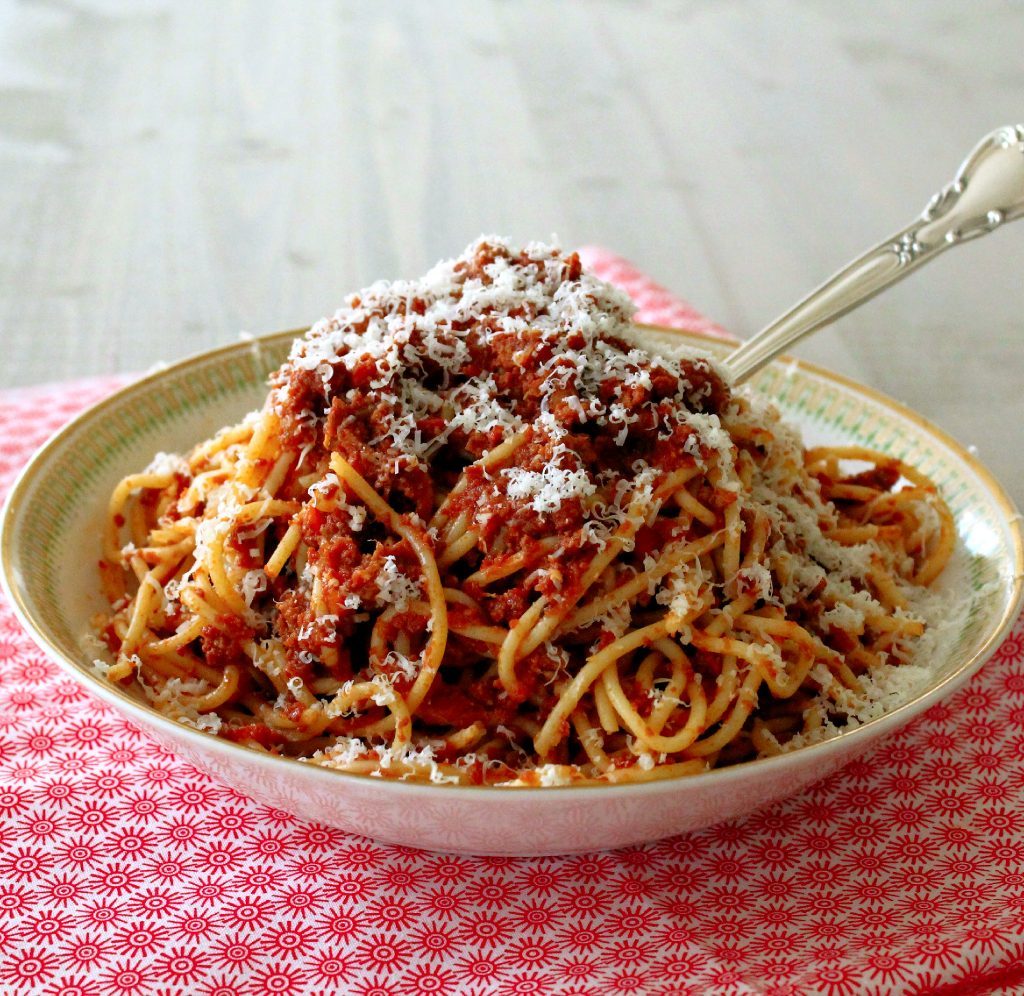 There's nothing like homemade bolognese sauce. A very traditional Italian meat sauce which derives its rich flavor from several rounds of wine and whole milk simmered into the ground meat and tomatoes. Problem is, my original recipe literally took me 3 hours, a lot of that monitoring the stove, as I added each round of wine and milk, and waited for them to simmer down. Yes it's a delicious and hearty meal, but it's rare I can set aside that amount of time to spend in the kitchen on just one dish.
Enter my new America's Test Kitchen Slow Cooker Revolution. I can now make enough of this luscious sauce to top three whole pounds of pasta, with my crock pot doing most of the work. Today, I am taking dinner to a friend's house and using this easier and quicker version to make a Lasagna Bolognese. Stay tuned for the recipe in a later post.
Slow Cooker Bolognese Sauce
Ingredients
3

T.

unsalted butter

1

onion

minced

1

carrot

peeled and minced

1/4

c.

minced celery

1/4

c.

tomato paste

1/4

t.

dried thyme

3

garlic cloves

minced

1/2

c.

dry white wine

2

28 oz + 1 (14 oz.) cans crushed tomatoes

3

slices

high-quality white sandwich bread

1

c.

heavy cream

3

pounds

ground beef

85-90% lean, preferably grass-fed
Instructions
Melt butter in 12-inch skillet over medium-high heat. Add onion, carrot, celery, tomato paste, and thyme. Cook until veggies are softened and lightly browned, about 8-10 minutes. Stir in garlic with one minute to go and cook until fragrant. Stir in wine and transfer entire mixture to slow cooker. Stir crushed tomatoes into slow cooker.

Mash bread and cream into paste with a fork. Mix in ground beef, 1/2 t. salt and 1/2 t. pepper using your hands. Stir beef mixture into slow cooker, breaking up any large pieces. Cover and cook on LOW, 9 -11 hours. stirring occasionally.

For about the last 20 minutes, I took the lid off and let the sauce continue to cook. This brought the fat to the top and I was able to skim it off before stirring the sauce. Season with salt and pepper to taste. Let cool to room temperature and store portions in freezer in air tight containers until ready to use.