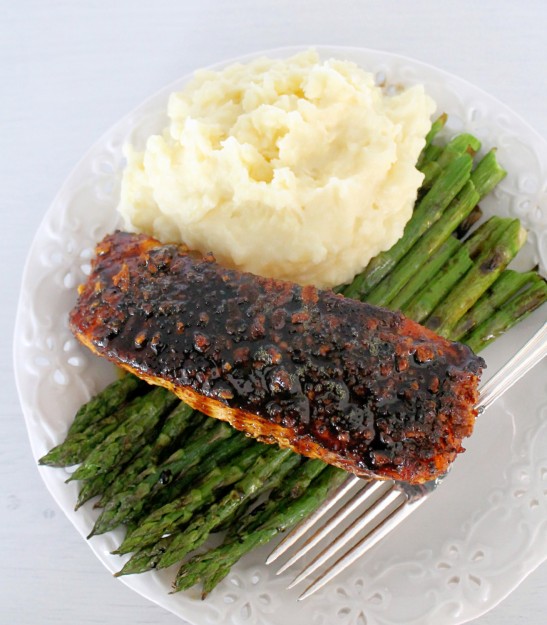 I've mentioned before that seafood used to be a restaurant treat for me. It's one of my weak points in the kitchen. One of the perks of starting this blog for me has been to be able to look back and see how much I've truly grown as a home cook. And I'm really just getting started… at 41! I think that's pretty cool.
What's also cool is fresh salmon. Gosh it's one of my favorites. I had a perfectly cooked piece of salmon, enrobed in a luscious Asian-style glaze, last week when my friend Angie treated us to dinner at her family's country club. I filled up on salmon and a boatload of vegetables at that dinner. It was perfect.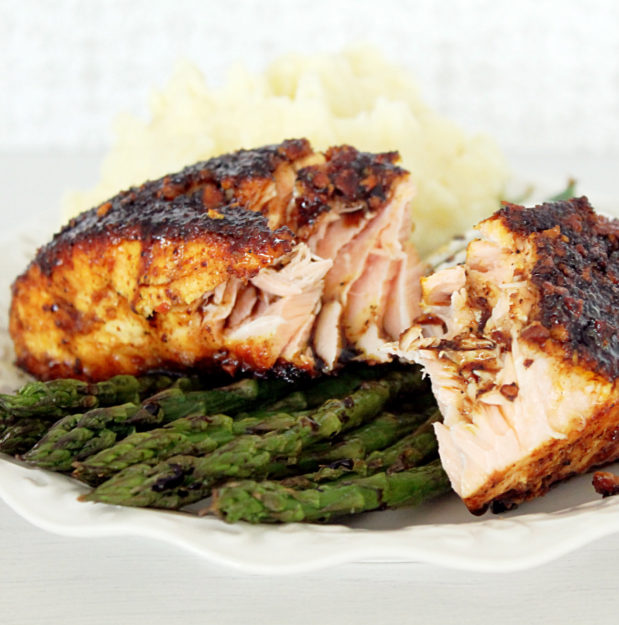 Just a few days before that dinner, my family had been visiting other friends in Atlanta. On a grocery trip with my friend Emily at the Publix, we sampled what they called Sweet Pepper Salmon. It was hands-down the best sample food I'd ever tasted. Not at all what I'd expect from a chain grocery store. I did take the recipe card as a jumping off point for this recipe, even though I can't shop at Publix up here in Ohio.
And so I was at Trader Joe's looking for the smoked almonds the recipe called for. They didn't have them but they had these Thai Lime & Chili Almonds that I thought would work even better. If you don't have a Trader Joe's, feel free to use smoked almonds in this recipe. I also used coconut oil spray to help coat the salmon in the rub and coconut oil to cook the fillets in. It really was perfect I tell you, and I created it in my own kitchen.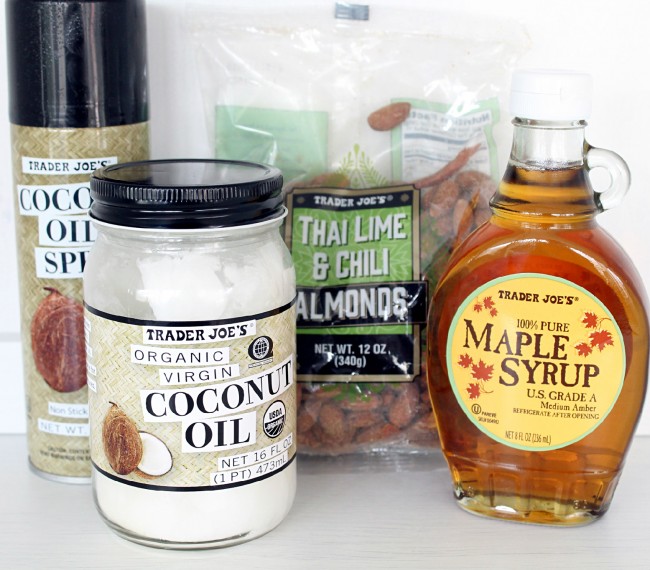 The other thing worth mentioning is that I purchased my fresh salmon from Keegan's Seafood Market. It's local to me. The fish monger cut my filets to my specifications and expertly removed the skin from the salmon for me. I've known about Keegan's for a long time, but given my timidity in preparing fresh fish in the kitchen, I hadn't utilized them. I think that's all about to change…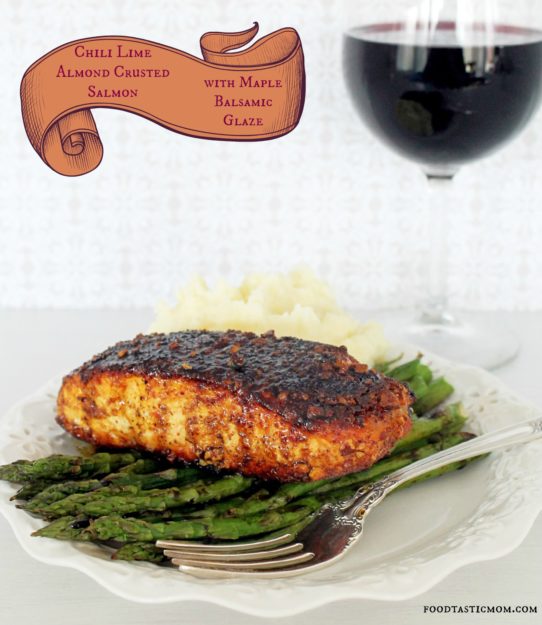 Chili Lime Almond Crusted Salmon with Maple Balsamic Glaze
Ingredients
4

6 - 8 oz. each salmon fillets, skin removed

1/4

c.

whole Thai Lime & Chili Almonds

or substitute smoked almonds

1

t.

chili powder

1

t.

sweet paprika

1/2

t.

turmeric

1/2

t.

garlic powder

1/2

t.

salt

coconut oil

or similarly high-quality cooking spray

1

T.

solid coconut oil

1/4

c.

pure maple syrup

1

T.

balsamic vinegar

1/4

t.

salt
Instructions
Finely crush the almonds in a gallon-sized Ziploc bag by pounding them with a wooden rolling pin or heavy-bottomed skillet. To the bag, add the chili powder, paprika, turmeric, garlic powder and salt. Shake to mix completely.

Spray both sides of the salmon fillets lightly with the cooking spray. Evenly coat both sides of each fillet with the rub. Pressing lightly with your hands to adhere.

In a large, non-stick skillet, melt the coconut oil over medium heat. Add the fillets and cook on the first side for 6 minutes, covered. Remove the pan lid and flip the salmon fillets. Continue to cook, at least an additional 5 minutes, uncovered, on the second side, until the internal temperature of the salmon reaches 145 degrees. The time it takes to cook will vary depending on the thickness of your fillets and if you are cooking on a gas or electric range.

Remove the salmon fillets to a clean plate. Add the maple syrup and allow it melt and simmer, scraping up all the cooked bits from the bottom of the skillet. Remove the skillet from the heat and stir in the balsamic vinegar and salt to the sauce.

Serve the salmon topped with the sauce.