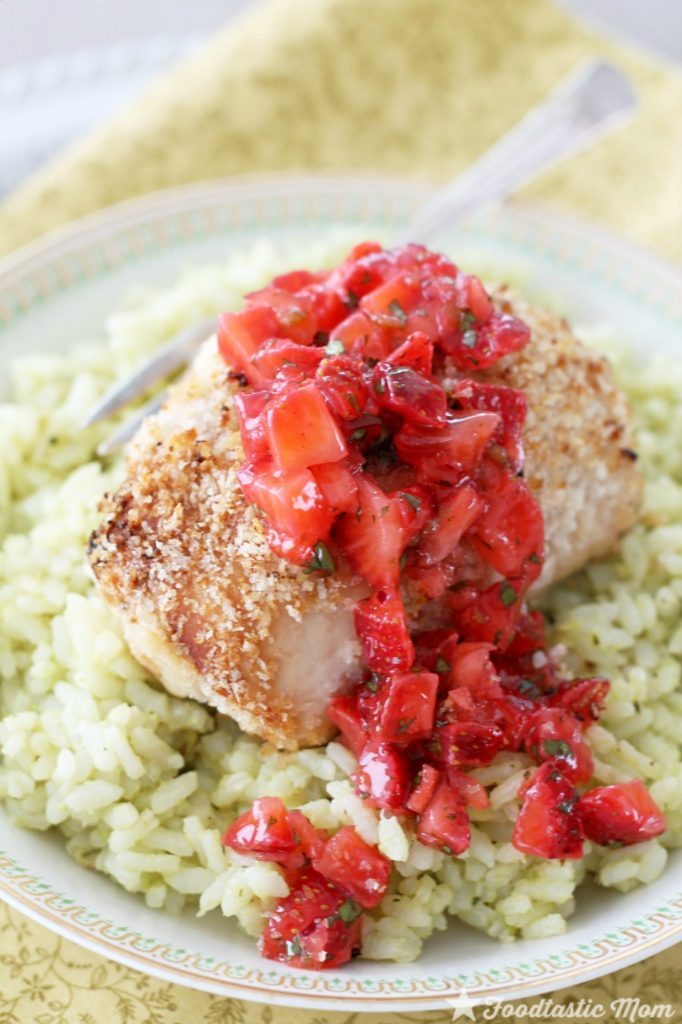 Here we are, March 5th and just a few days short of springing forward with our clocks. I loathe this time change by the way. I'm all about falling back and catching an extra hour of sleep, but I don't want to give it up when we are forced to. It screws with my own internal clock for a solid week. Plus a fresh six inches of snow fell through the night and gave our kids another snow day, so it's not feeling very Spring-like around here these days.
Regardless, I'm ready for Spring in my kitchen for sure. And that is what this winner of a chicken dinner reflects. I took inspiration for this dish from HERE but made plenty of my own changes, like adding the fresh and sunny salsa on top. The idea for mixing in a mashed avocado and lime juice (ala guacamole) to rice is thanks to Cooking Classy, and I must say it is brilliant. We had quite a bit of just the rice left over from dinner last night and I was very happy to melt a little cheese on top for my lunch. It's delish!
Just look at that cheesy filling – cream cheese, Monterey Jack, green chiles and even some smoky bacon. The idea is a jalapeño popper style filling stuffed into a tender chicken breast, coated with Panko bread crumbs and baked at a high temperature to make it crispy (without frying). I actually used milder green chiles in the filling just because I knew my kids would prefer it. But canned, chopped jalapeños are an obvious substitution.
Despite the several components to this meal, it's pretty quick and easy to put together on a weeknight. The cheese filling is intensely flavored but modest in its portion inside each chicken breast. And because it's oven baked with a just a bit of oil in the marinade, this dinner is definitely on the healthy side of things.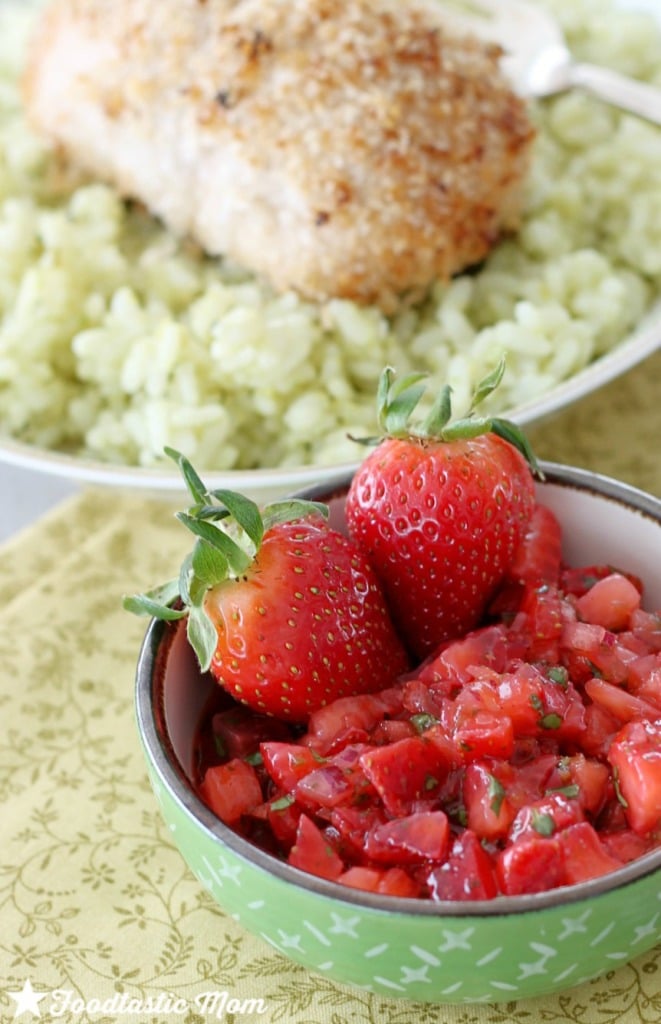 I thought it might be helpful to show you how to assemble your chicken. For each whole chicken breast, I first butterflied it and then placed it in a large plastic bag to pound it even thinner (with a rolling pin). After placing a portion of the cheese filling on one side, I made two cuts so I could fold the ends inward and seal in the cheese better.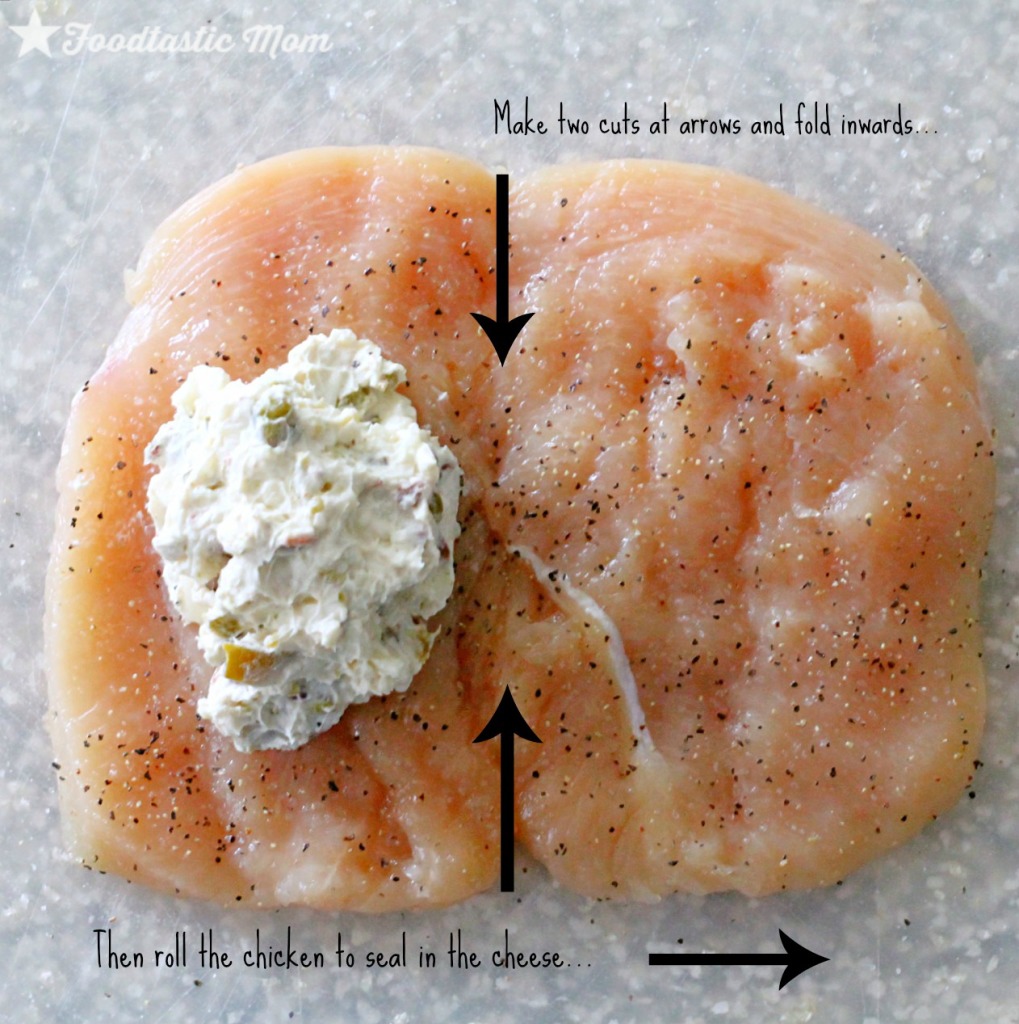 Once each piece of chicken was rolled up, I marinated them in a simple mixture of fresh lime juice, strawberry jam and a little oil. Then I coated each in Panko bread crumbs and baked them at 450 degrees until browned and cooked through.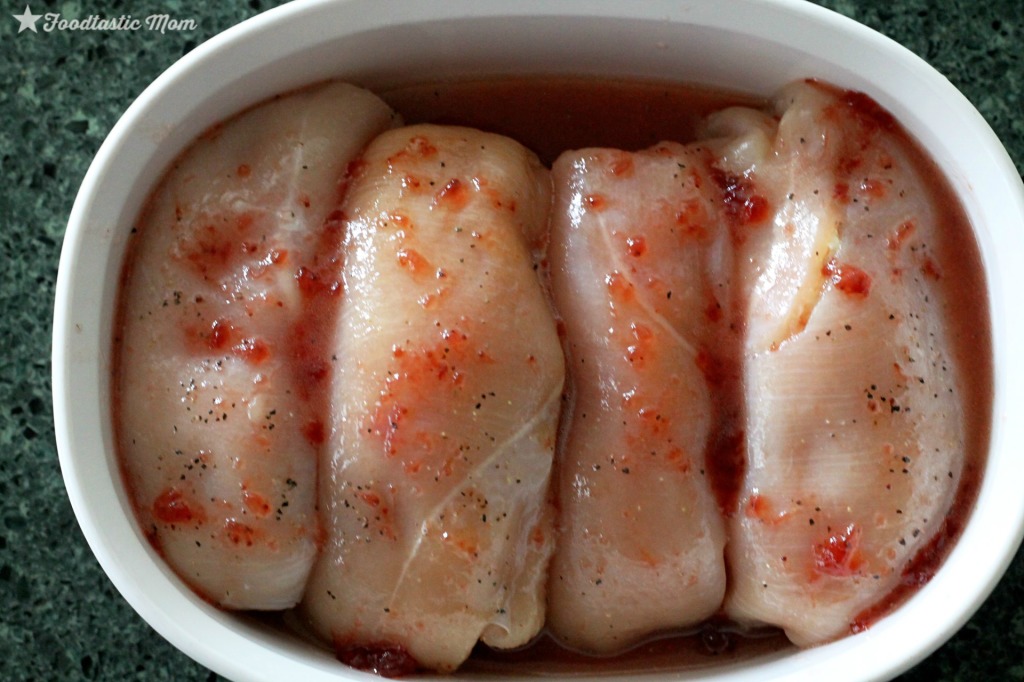 We all really loved this dinner. It's actually the second time I've made it. I wasn't organized enough the first time to get it all photographed to share with you. My family didn't mind though, and I know I'll be fixing this dish again soon!

Cheesy Popper Chicken with Strawberry Salsa and Guacamole Rice
Ingredients
for the chicken
4

whole boneless

skinless chicken breasts (butterflied and pounded thin)

2

slices

bacon

cooked and crumbled

4

oz.

cream cheese

softened

1/2

c.

2 oz. Monterey Jack cheese, shredded

2

T.

mild green chopped chiles from a can

drained

juice of one lime

1/4

c.

strawberry jam

2

T.

vegetable oil

salt and pepper

2

c.

Panko bread crumbs
for the salsa
1

c.

fresh strawberries

finely chopped

1/4

c.

red onion

finely chopped

1/4

c.

fresh cilantro

finely chopped

1

T.

fresh jalapeño

finely chopped

juice of one fresh lime

1

T.

honey

pinch

of salt

pinch

of cardamom
for the rice
1 1/2

c.

arborio rice

1

T.

butter

1

t.

salt

1

avocado

1

lime

1/2

c.

fresh cilantro

chopped
Instructions
for the chicken
With a hand or stand mixer, mix together the bacon, cream cheese, Monterey Jack and green chiles. Place 1/4 of the cheese mixture in the middle of each of the four chicken breasts and roll as shown in the picture.

Whisk together the lime juice, strawberry jam and oil. Sprinkle each piece of chicken with salt and pepper and place seam side down in a shallow dish. Pour the marinade over the chicken and allow to marinate in the refrigerator for at least one hour.

Preheat oven to 450 degrees.

Remove the chicken from the marinade and roll each piece in the Panko bread crumbs to coat. Place the chicken on a sheet pan lined with parchment paper or a silicone baking mat. Bake for 30 - 35 minutes, or until the internal temperature of the chicken reads at least 165 degrees.
for the salsa
Mix together the chopped strawberries, red onion, cilantro, jalapeño, lime juice, honey, salt and cardamom. Set aside.
for the rice
Bring 2 1/4 cups of water and butter to a boil. Add rice, stir and cook according to package directions... reduce heat to simmer, cover with lid and allow to cook for about 20 - 25 minutes.

Mash together the avocado, lime juice and salt. Mix in the hot, cooked rice, then stir in the fresh cilantro. Add more salt to taste, if needed.

Serve rice topped with chicken, topped with strawberry salsa.