Bloody Mary Hot Dogs take a classic cocktail and make it main dish delicious! I'm sharing French's® in my life as part of a sponsored series for Socialstars™ #FrenchsCrowd #FrenchsKetchup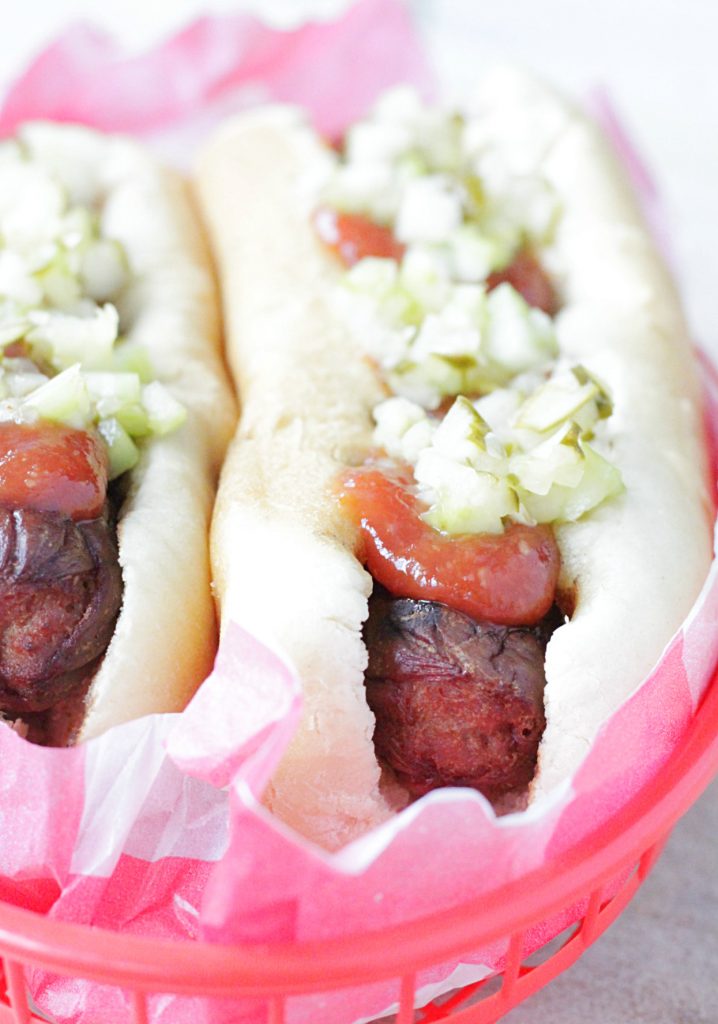 I'm pretty sure I was past 40 when I tried my first Bloody Mary. Like well, this is 40, might as well start drinking like I'm a classic! Though to be sure the drink has gotten an upgrade in recent years with all the over-the-top toppings like candied bacon, monster-sized pickle spears, and even whole sandwiches. It's those tricked-out Bloody Marys I had in mind when I created these hot dogs.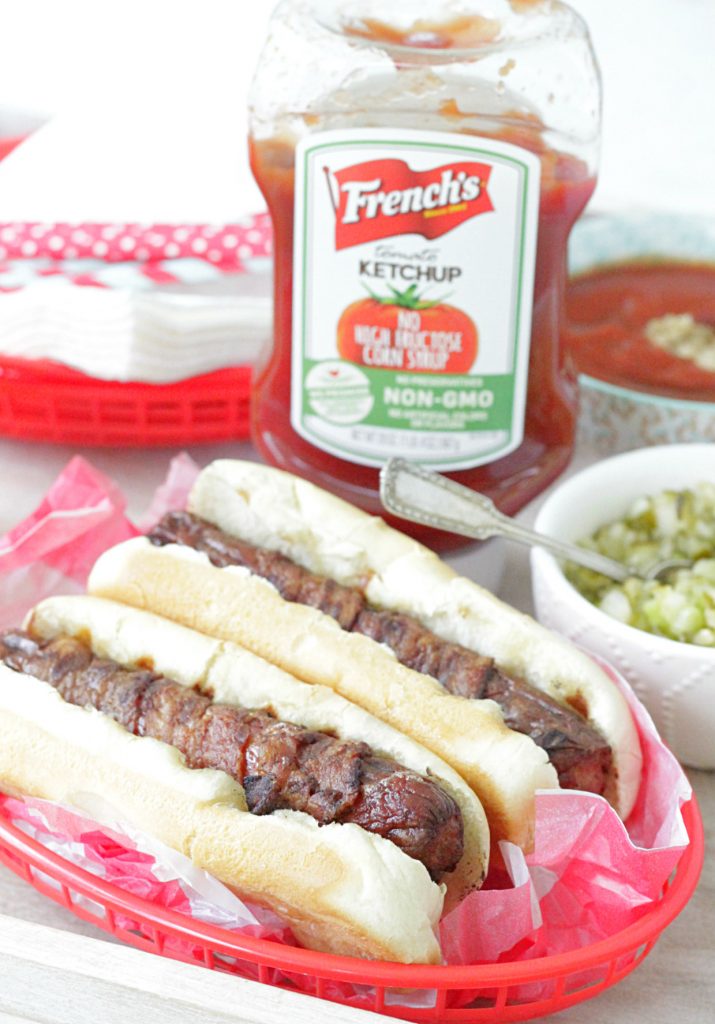 First they had to be wrapped in bacon and grilled to perfection. I'd actually never tried wrapping a hot dog in bacon before but I liked it – a lot. You have to babysit them a bit on the grill to get the bacon nice a crispy (just the way I like it) but it's worth it.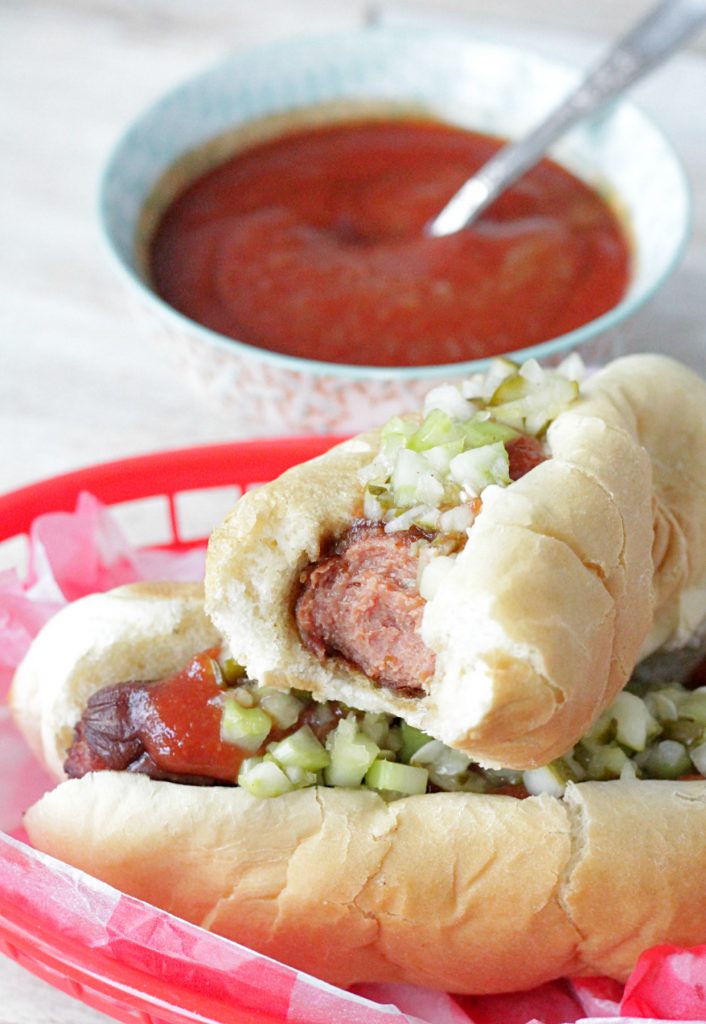 Next was recreating the flavor of the Bloody Mary cocktail mix. Ketchup, horseradish, Worcestershire sauce and seasoned salt did the trick. But not just any ketchup of course. I had to use my French's® – which uses farm fresh tomatoes and contains no high fructose corn syrup, preservatives, artificial flavors or colors. It's my kids' favorite ketchup.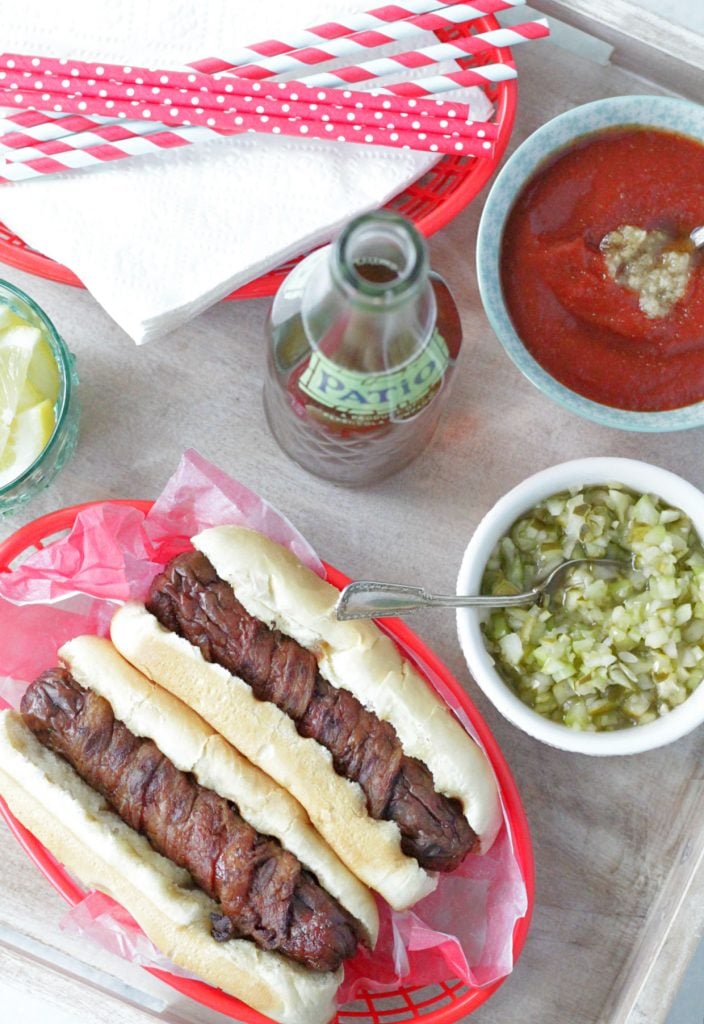 Finally the garnish was a simple mix of garlicky pickles and fresh celery – chopped fine to become a relish of sorts. The combo worked so well together that I didn't miss the alcohol at all. This is a gourmet hot dog that is quick to make and sure to please!

Bloody Mary Hot Dogs
Ingredients
8

all beef

hot dogs

8

slices

bacon

center cut

1/2

cup

French's® Ketchup

2

tbsp

horseradish

not the creamy variety

1

tbsp

Worcestershire sauce

1

tsp

seasoned salt

1/2

cup

garlicky dill pickles

finely chopped

1

stalk

celery

finely chopped
Instructions
Preheat grill to high heat. Scrape grates clean and turn all burners to low.

Wrap each hot dog with one strip of center cut bacon.

Place the bacon wrapped hot dogs on the grill and cook, turning often, until the bacon is crisp. Remove from grill and keep warm.

Whisk together the ketchup, horseradish, Worcestershire sauce and seasoned salt.

In a separate small bowl, stir together the chopped pickles and celery.

Serve the hot dogs on grilled buns topped with the French's® Bloody Mary ketchup and the pickle and celery relish.