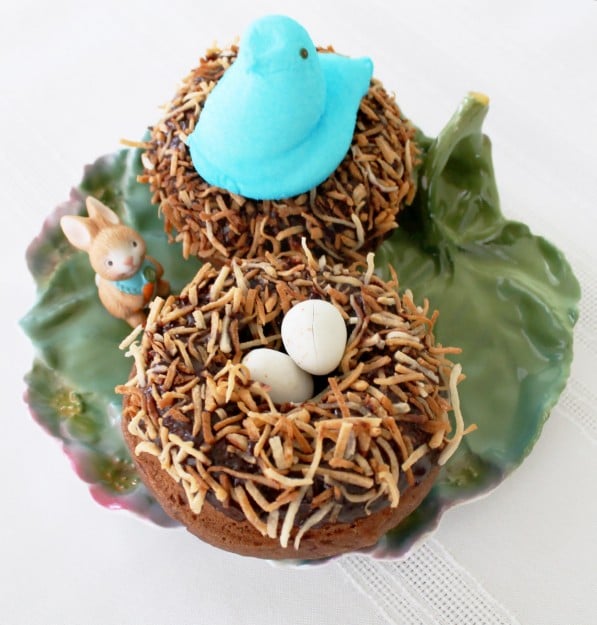 Is it donut or doughnut? According to the Wilton packaging they are doughnut pans. I've for some reason always typed donut and I've seen it numerous times written both ways. Regardless, donuts are GOOD. And they are fun. I have fun with my food but I don't often make super fun food, in that it's meant to look like something else. There are lots of blogs out there that are really, really good at it and I prefer to let them do all the tedious work.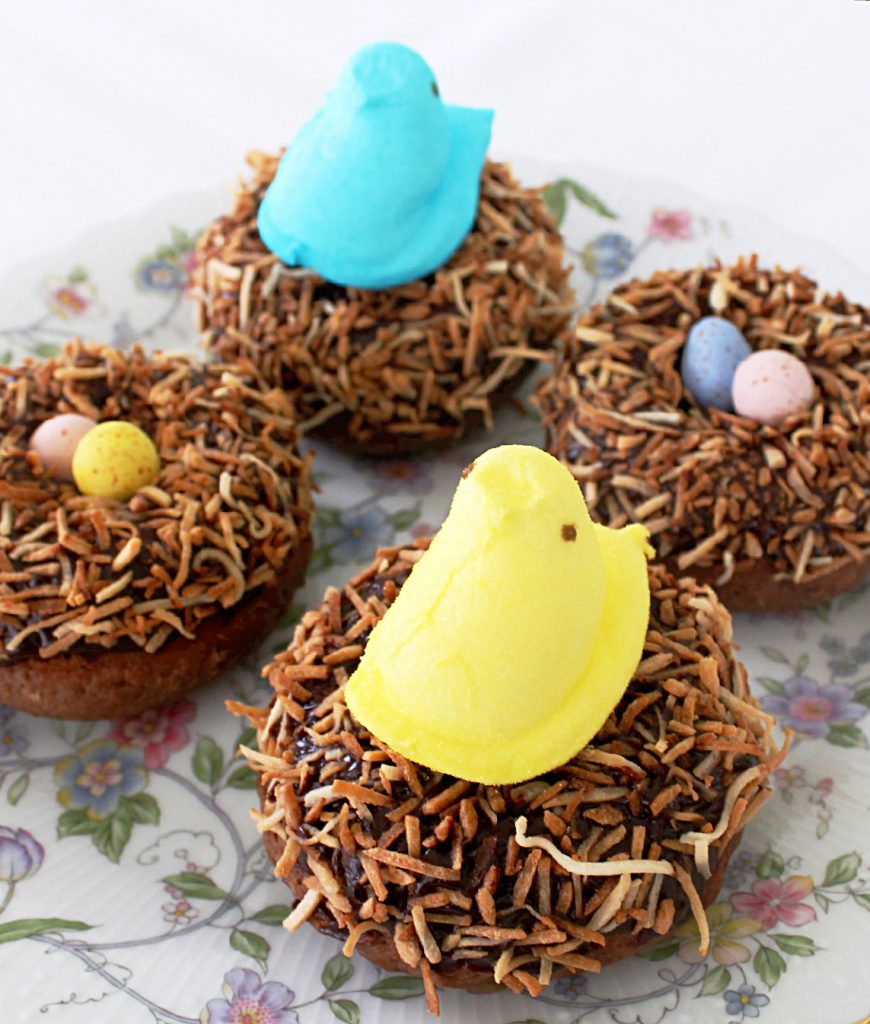 Sometimes I step outside my comfort zone though, and I think these donuts look exactly like I pictured them in my head. And bonus, they were truly easy and not at all tedious to assemble! The nests are chocolatey cake donuts, baked in non-stick Wilton doughnut pans, glazed with a simple chocolate ganache and dipped in toasted coconut. Cadbury Mini Eggs are nestled in the holes and they can be topped with or without Peeps, depending on who your intended eaters are. For kids, I'd say the Peeps are definitely not optional.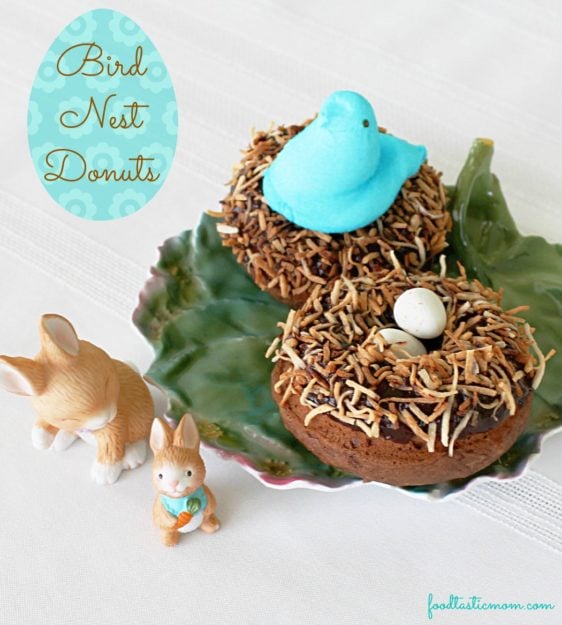 Enjoy these donuts and please share the fun food love with all your friends. Happy Easter, Happy Spring, Happy Happy Everything!
Bird Nest Donuts
Ingredients
for the donuts
2

c.

all-purpose flour

1/4

c.

cocoa powder

2

t.

baking powder

1/2

t.

baking soda

2/3

c.

granulated sugar

1

t.

salt

4

T.

unsalted butter

1/2

c.

buttermilk

full-fat is preferred

1/2

c.

plain yogurt

2

t.

pure vanilla extract

2

large eggs
for the glaze
1

c.

Ghirardelli bittersweet chocolate chips

1/4

c.

heavy cream

1

t.

pure vanilla extract

pinch

of salt
for the decoration
1

bag sweetened coconut

24

Cadbury Mini Eggs

12

Peeps

optional
Instructions
for the donuts
Preheat oven to 350 degrees. Spray two 6-cup Wilton doughnut pans with cooking spray and set aside.

Melt the butter in the microwave and set aside to cool a bit.

In a large bowl, sift together the flour, cocoa powder, baking powder and baking soda.

Whisk in the sugar and salt into the flour mixture.

In a separate bowl, whisk together the buttermilk, yogurt, vanilla, eggs and melted butter.

Make a well in the center of the dry ingredients and pour in the wet ingredients.

Mix together gently with a spatula or wooden spoon until no streaks of flour remain.

Evenly divide the donut batter among the 12 donut wells. It will be about 3 tablespoons of batter per donut.

Bake on the center rack for 11 - 14 minutes, until donuts are springy.

Remove from oven and allow the donuts to cool in pans about 10 minutes before removing and allowing to cool completely on cooling racks. The tops of the donuts will be quite puffy. You will glazing the bottom halves... the halves that were in the donut pans.
for the glaze and decoration
While the donuts are baking, place a non-stick skillet over medium high heat. Add the coconut and stir occasionally until the coconut is nice and browned. Remove from heat and place coconut in a clean, shallow bowl.

In a clean sauce pan, combine the chocolate chips and heavy cream. Place over medium-low heat and stir constantly, until the chocolate has completely melted.

Off heat, stir in the vanilla and salt. Place chocolate glaze in another shallow bowl.

Dip each half of donut (the bottom half, the surface touching the pans) in the chocolate glaze, using a swirling motion. Lift up, then dunk the glaze in the toasted coconut, so it sticks to the chocolate.

Allow the glazed donuts to set up for about 10 minutes. Fill the holes with two Cadbury Mini Eggs each. Top each nest with a Peep if desired.