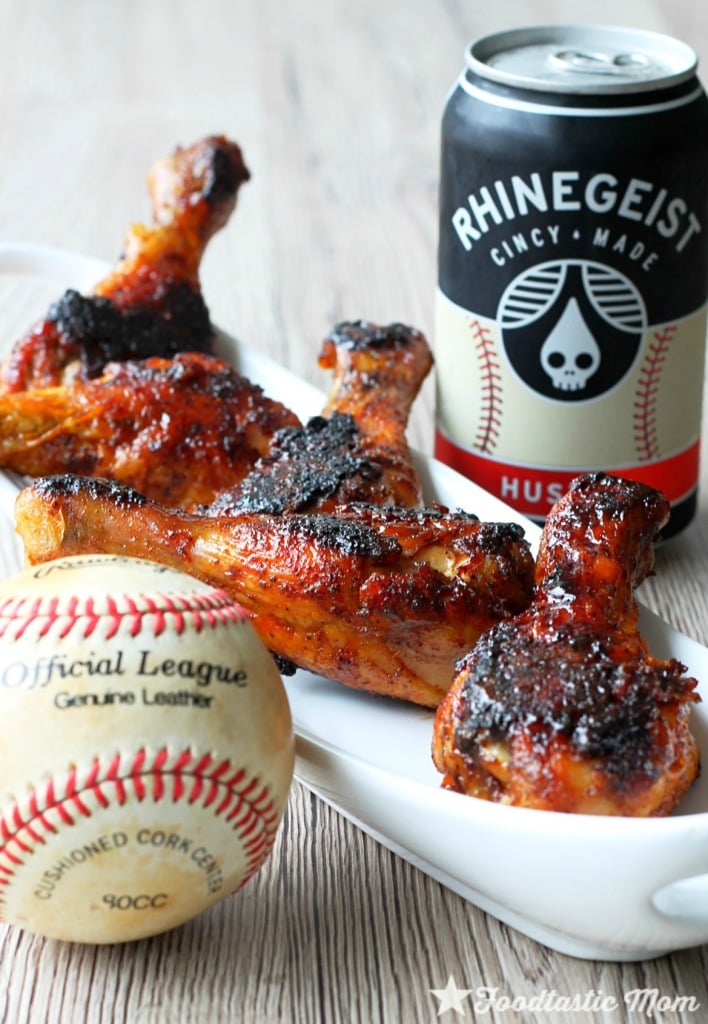 In case you didn't know, I live in Cincinnati, Ohio where we basically consider baseball's opening day a national holiday. It's not really, but travel downtown on that day and you might think it is! Our Reds are one of baseball's original professional teams. They used to be called the "Red Stockings" and in the 50's actually changed their name to the "Red Legs", worried that their mascot "The Reds" could be associated with Communism. Even before the Internet, public perception ruled.
Anyway, they have for most of the time been known as the Cincinnati Reds but the Red Legs name will still come up in conversation, hence part of the reason for my recipe. The other part is the introduction of a new craft beer here in Cincinnati called "Hustle" (by Rhinegeist), another nod to not just our rich baseball history, but a famous (and infamous) name in baseball history, Pete Rose… the hit king, also known as "Charlie Hustle". This beer, as the can states, is a rye pale ale that balances "peppery rye with notes of ripe apricot and fresh cut grass". What that means is it's tasty and if you can't get one in your area, I am sorry for you.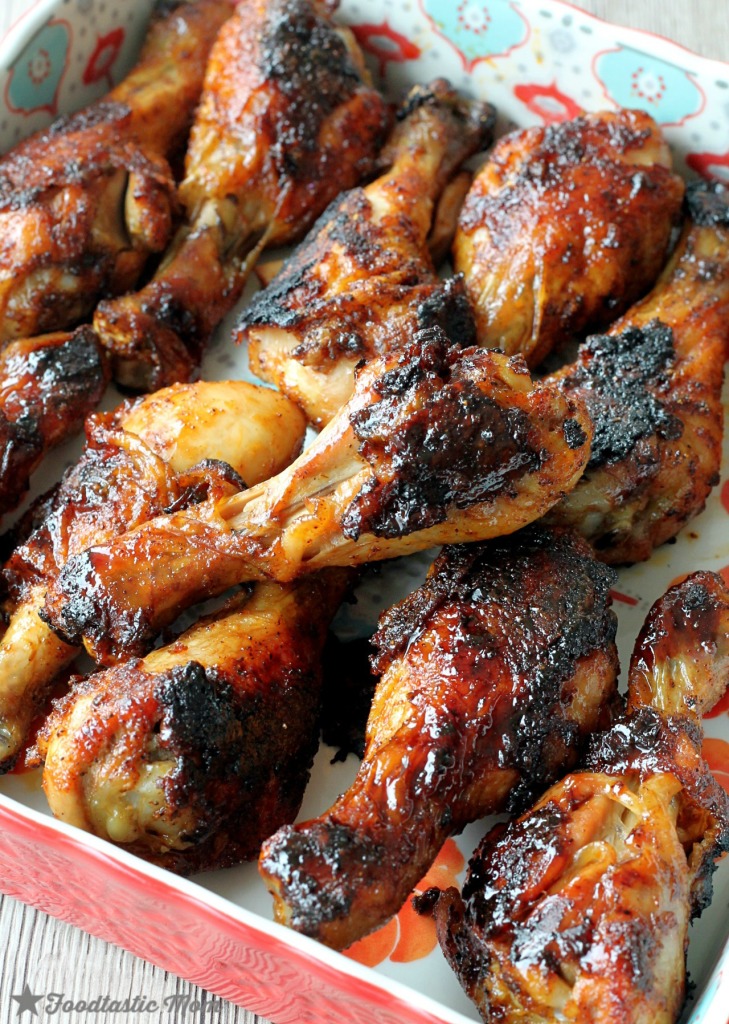 Seriously though, our craft brewery scene here in Cincinnati is exploding. And while I don't claim to be a beer blogger, it's still fun sometimes to develop a recipe around one of our many local craft beers. In the case of this beer, I used flavors in the marinade to compliment the flavors in the beer… so apricot preserves, lime juice and black pepper were included.
I had thought about basting chicken wings but the history of the Reds name just begged me to use chicken legs. And actually, I'm really glad I did. It's not a cut of chicken I had ever fixed at home actually, but my husband and daughter especially loved them. And they are so easy! The marinade takes a bit of planning ahead, but then the oven does all the work.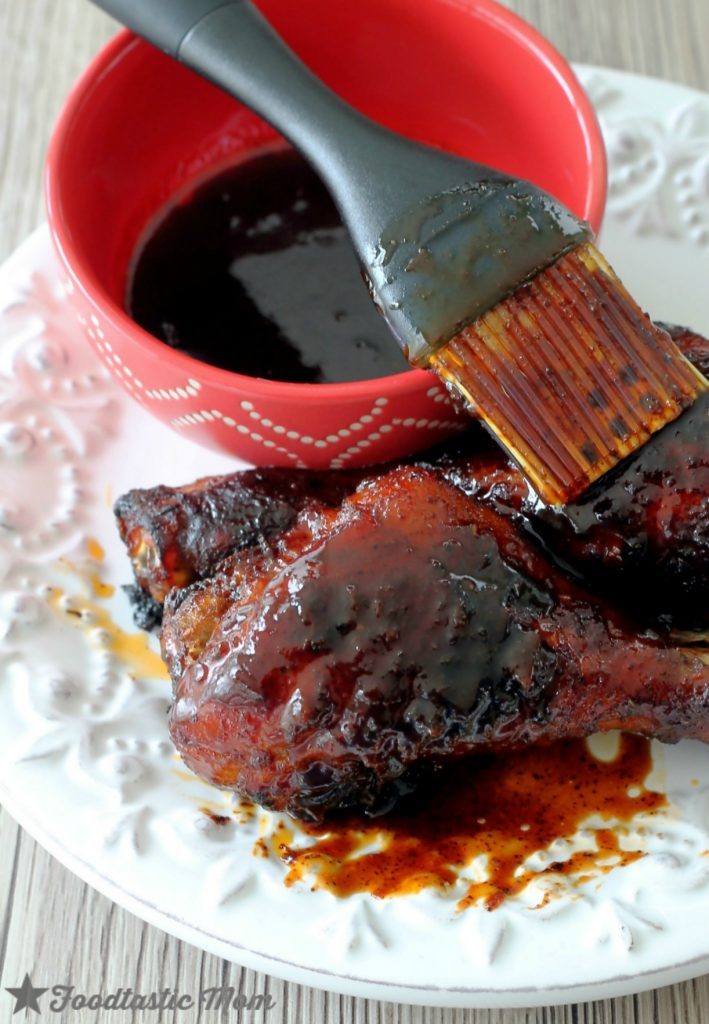 If you aren't local, simply use a similarly flavored rye pale ale beer, if you can find it. Even if you don't like drinking pale ale generally I think you'll enjoy this recipe.
I'm excited for this baseball season. The Reds won their home opener against the Pittsburgh Pirates. It wasn't the best weather, but sitting at home watching with my family in the afternoon was so fun, especially because our son is really starting to become a fan. Tell me, are you a baseball fan? And what's your favorite way to fix chicken? I hope you'll try these Red Legs!

Beer BBQ Basted Red Legs
Ingredients
2

lbs.

chicken legs

drum sticks with skin (about 8)

1

can Rhinegeist Hustle beer

or similar Rye Pale Ale

1/3

c.

apricot preserves

1/4

c.

vegetable oil

juice of 1/2 lime

1

T.

chili powder

1

t.

smoked paprika

1

t.

garlic powder

1/2

t.

salt

1/2

t.

ground black pepper

pinch

of ground chipotle pepper
Instructions
Preheat oven to 425 degrees.

Whisk all the marinade ingredients together (beer through chipotle pepper). Pour over the chicken legs and marinate in the refrigerator for at least 4 hours, turning to coat halfway through marinating time.

Place chicken legs on a parchment paper lined baking sheet. Bake for 20 minutes.

Meanwhile, pour the marinade in a sauce pan and boil. Reduce heat to simmer and allow to cook for at least 20 minutes, until marinade thickens and is reduced to about 1/2 cup.

Remove the chicken legs, flip over, brush with the reduced marinade and bake for 10 minutes.

Remove the chicken legs again, flip over again, brush with the reduced marinade again and bake for an additional 10 minutes. So the chicken legs will bake for a total of 40 minutes.

Chicken needs to be cooked to 165 degrees, for reference.