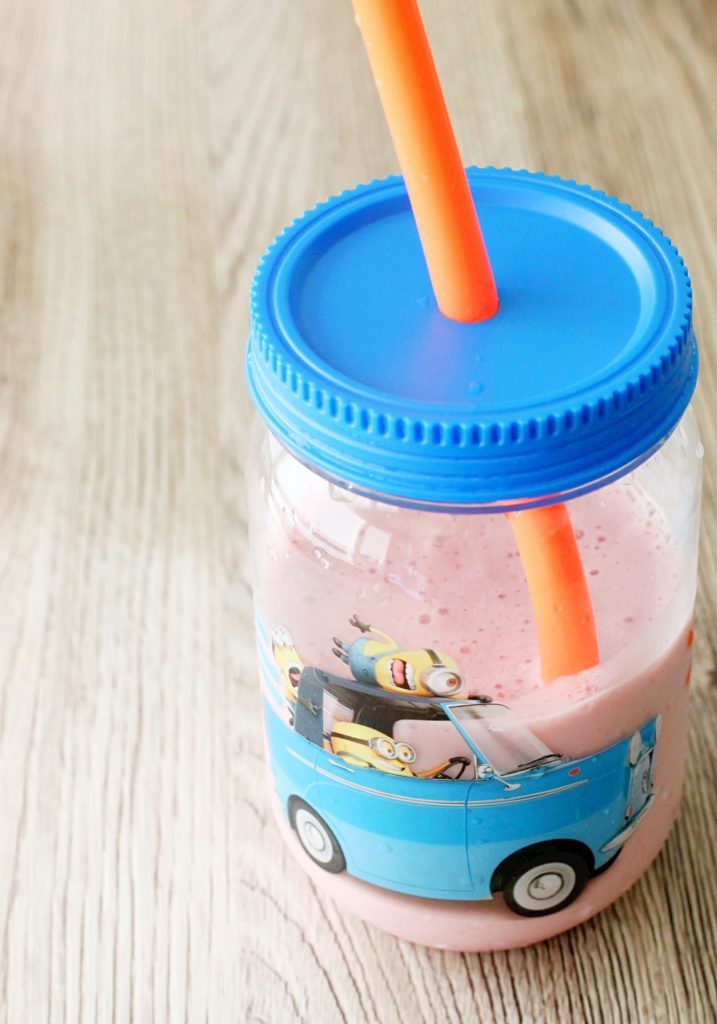 For all you parents of young athletes, this post may be helpful for you. I say MAY because I am not an expert on anything except for making food taste good. For real expertise in the matters of properly feeding your sports-minded child, I highly recommend visiting THIS website run by Jill Castle, a registered dietician and nutritionist. My friend who is an R.D. at Children's Hospital here in Cincinnati, Ohio pointed me toward her when I was asking what types of food to feed my two swimmers, especially before practice. Ms. Castle also happens to have children who swim and has written numerous nutrition articles over at USA Swimming.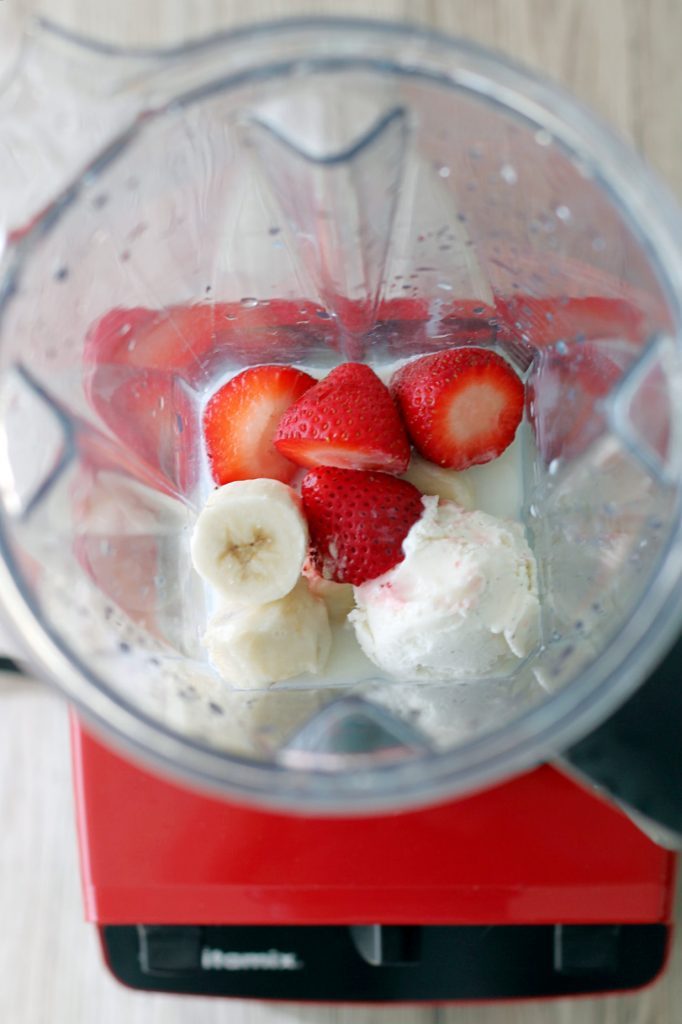 Anyway, my daughter has about 15 minutes to eat a snack on her swim practice days. I've learned a smoothie is easily digestible when short on time and during a typical workout a young person needs a minimum of 30 grams of carbohydrates (per 45 minutes of exercise). Both my kids' swim practices last for 1 hour and 15 minutes. And in reading up on this topic, the main takeaway that I'm getting is that kids need carbs and often times what they are getting is too much protein.
So my "secret" ingredient in this kid-friendly Banana Strawberry Smoothie is ice cream. I know, that might sound bad. But I used the natural vanilla flavor of Turkey Hill Ice Cream (not sponsored) which contains just nonfat milk, cream, sugar and vanilla. And also in one smoothie, there is a mere 1/4 cup of the ice cream. It's just enough to make the smoothie palatable for my kids, but it's most definitely not a milk shake.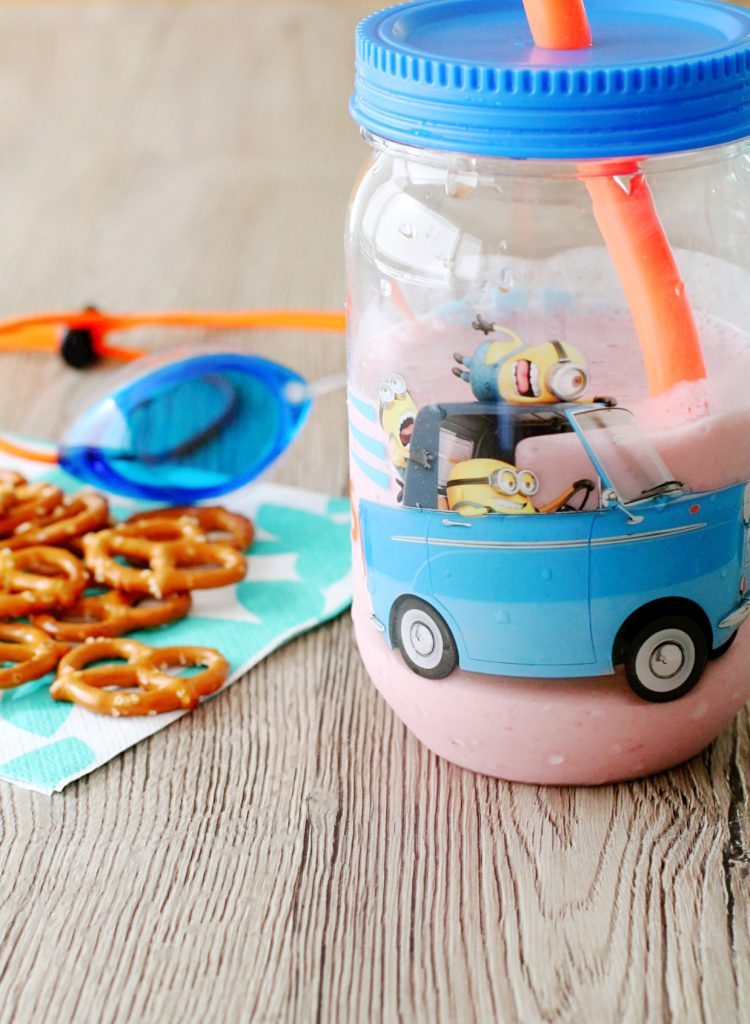 If you are wondering, this smoothie recipe contains:
258 calories
50 grams of carbohydrates
And while the smoothie is probably enough for my daughter, my son who is two years older and much taller, needs the pretzels. In my opinion when making a smoothie, it's all about taste and portion size. Follow this recipe and you'll get a delicious and appropriately portioned pre-workout snack!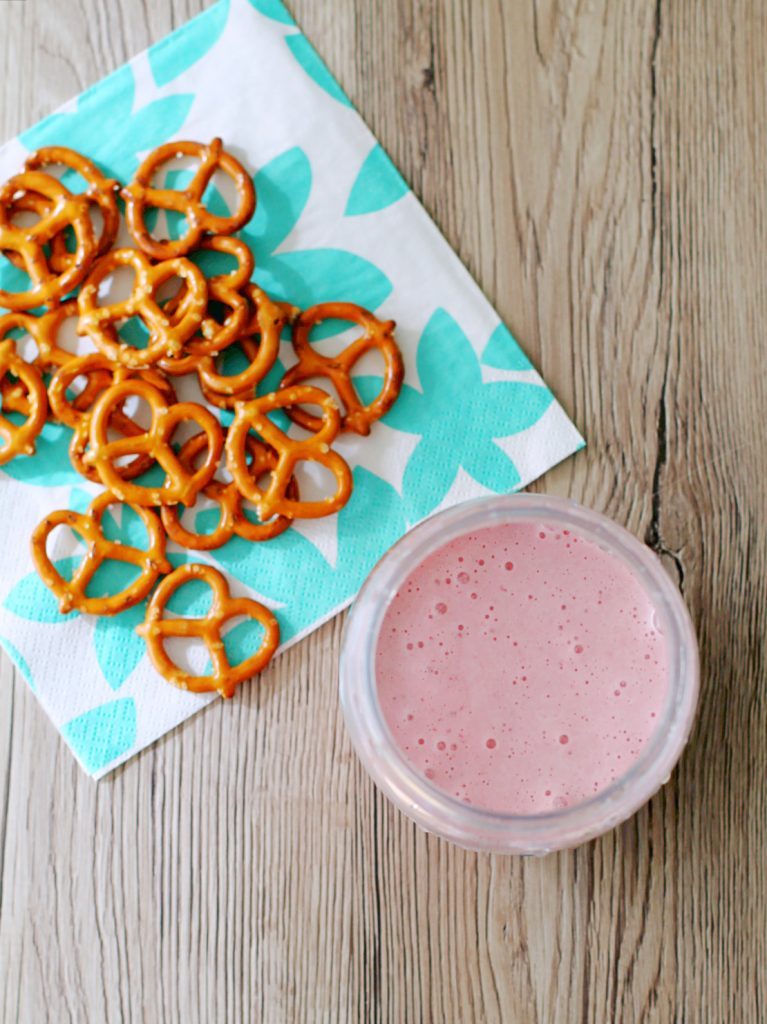 Banana Strawberry Smoothie
Ingredients
1

small banana

sliced and frozen

4 - 5

fresh strawberries

stemmed

1/2

c.

skim milk

1/4

c.

Turkey Hill All-Natural Vanilla Ice Cream

or similar all-natural ice cream brand
Instructions
Place all ingredients in a blender and blend until smooth. Serve immediately.