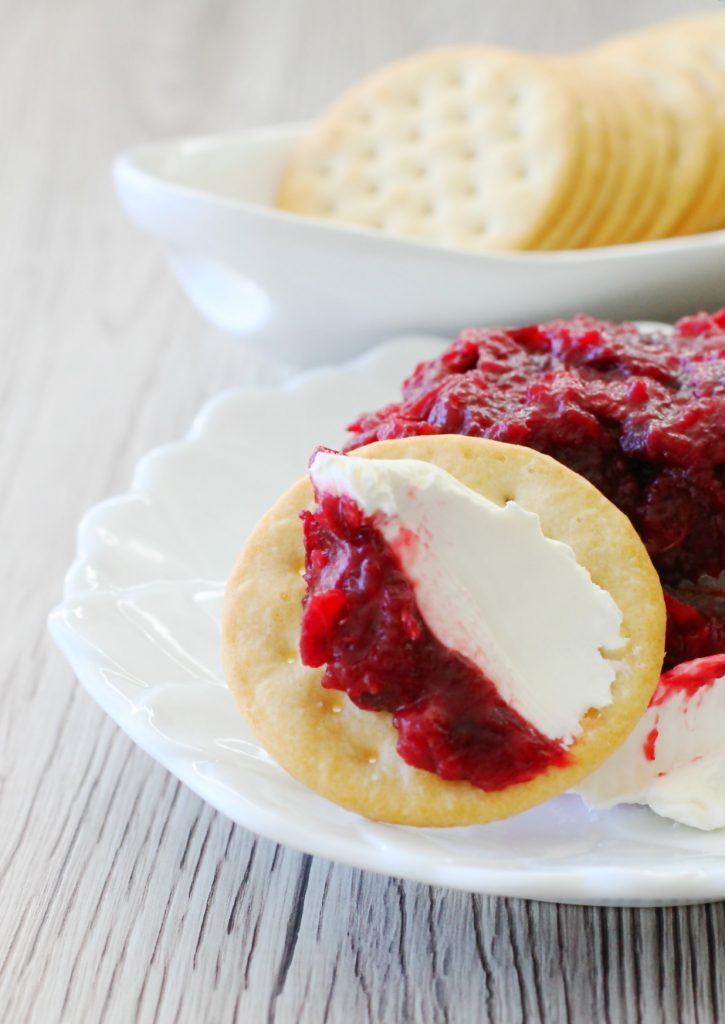 I am typing this and about ready to fall asleep at my laptop. My daughter and I went with her Brownie troop last night for an overnight at our Zoo. We had close-up encounters with owls, a snake, a baby possum and a turtle named Tater; we hiked through the Zoo and visited the cat house, the bug house and the manatee house, plus their Holiday lights were already on so we got a sneak preview without the crowds. We had a great time but geez I don't deal well with sleeping on a hard floor with just a thin Thermarest under us for support. I need a nap. Even my eight year old needs a nap!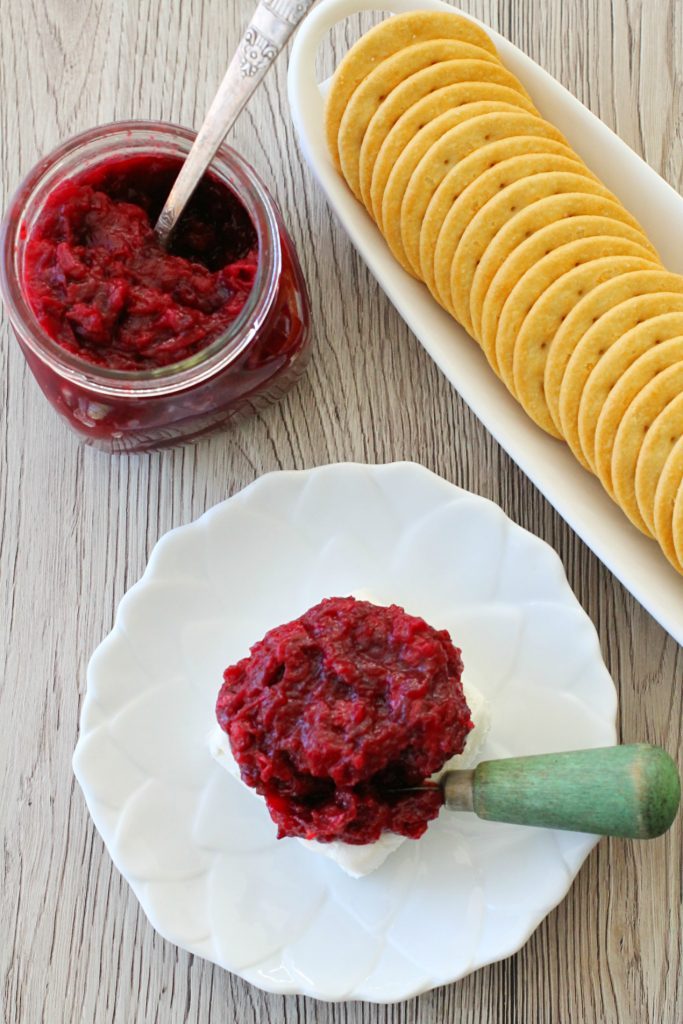 But I'd already photographed this festive appetizer earlier in the week and if I want to be part of this week's Blogsgiving Dinner hosted by Susannah from Feast + West and Meghan from Cake 'N Knife I needed to get my little cranberry appetizer published today!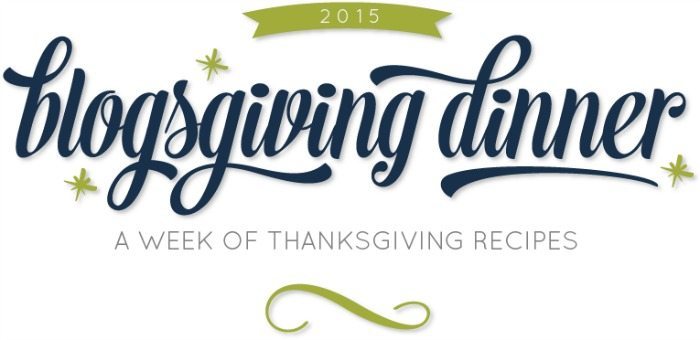 This Blogsgiving Dinner (with over 60 bloggers participating) is modeled after an old-fashioned potlucky dinner party so be sure to stop by each of the blogs to get some ideas for your own Thanksgiving meal. We'll be posting to social media with the hashtag #blogsgivingdinner, but you can see the whole menu in Part 1 and Part 2 of the recipe round-up!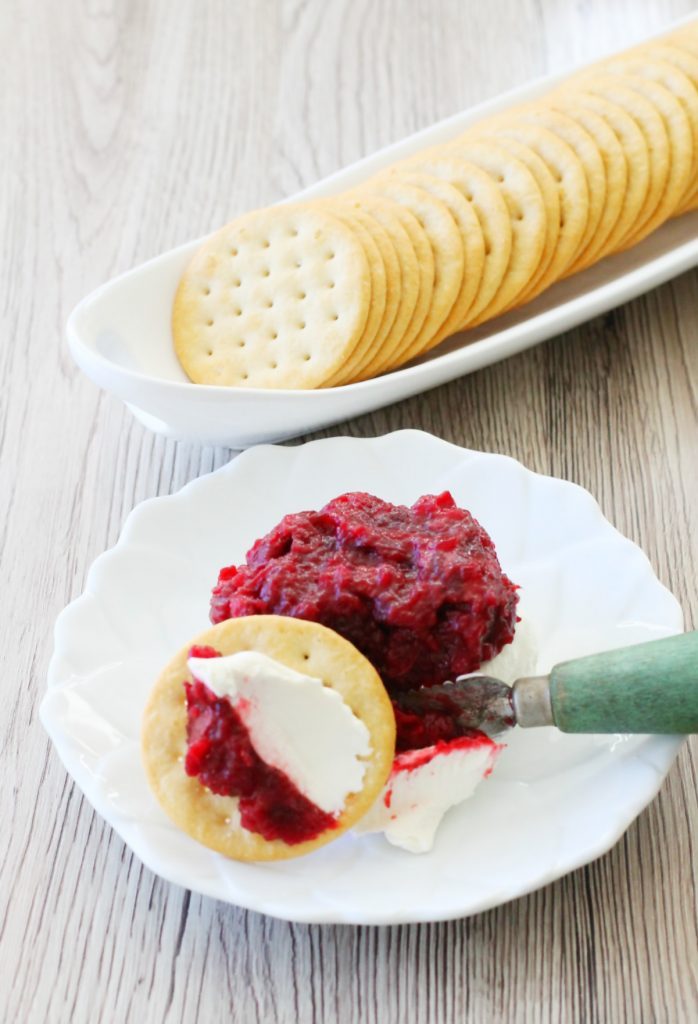 So looking through my past Thanksgiving recipes, I noticed I'd not posted a lot about cranberries. Cranberry sauce is typical and THIS is the recipe I used last year and really liked, but I wanted to do something a little different. I started thinking about other flavors to pair with the cranberries and eventually landed on bacon. A quick Google search led me to THIS chutney which I then altered to make it my own. It makes a big jar – enough for at least three, 8 ounce blocks of cream cheese. So it's not just an appetizer, it can be a hostess gift as well!

It's relatively quick to make. And besides the fresh and tangy cranberry flavor combined with sweet brown sugar and salty bacon, I just love how vibrant and festive it looks. Tasty and impressive are always welcome at my Thanksgiving table.
Bacon and Cranberry Chutney Appetizer
Ingredients
4

slices

bacon

chopped

1/2

sweet onion

chopped

1

small jalapeño

seeds discarded and chopped

1/4

c.

apple cider vinegar

juice of one orange

3/4

c.

light brown sugar

1/2

t.

salt

12

oz.

bag of cranberries
Instructions
Add the chopped bacon to a sauce pan and cook over medium heat until crisp. Remove bacon with a slotted spoon to drain on paper towels. Discard all but 1 tablespoon of the bacon fat.

Return the pan with 1 tablespoon of bacon fat to medium heat and add the chopped onion and jalapeño. Cook for about 5 minutes, stirring occasionally.

Add the vinegar, orange juice, brown sugar, salt and cranberries. Bring to a low simmer and cook until cranberries are very soft, about 15 minutes. Use the back of a wooden spoon to crush the cranberries then continue to simmer, if needed, until most of the liquid is absorbed.

Remove pan from heat and allow to cool to room temperature.

Store chutney in the refrigerator in an air-tight jar for up to one week. Serve the chutney over cream cheese with crackers.