Looking for a unique pumpkin recipe that uses the seeds instead of the actual pumpkin? Try this Artisan Pumpkin Seed Bread.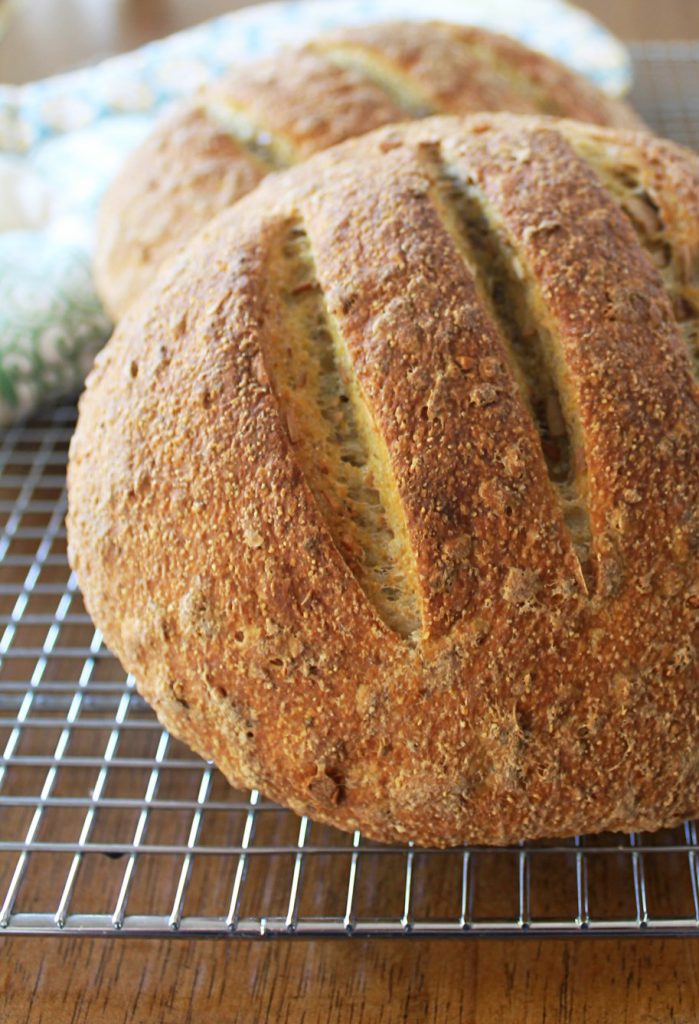 Ah, where to start with this post? I feel like I'm going to be all over the place. First, I hope it doesn't come across as bragging, but I'm really proud of my creation here. This is the first time I've made true artisan bread. I can't believe bread that looks like this came out of my little kitchen… kneaded, shaped and attended to solely by me!
I had to start with a part of the yeast, water and flour the night before to create a "sponge". And then the next morning after adding the rest of the ingredients, I waited through three separate "rises" before baking the loaves on a pizza stone with a pan of water in the oven. I know that sounds fussy and possibly complicated and who has time for that these days, right?! But really in all that time in between waiting for the dough to rise I tidied the house, did laundry and even left for a couple of hours to run errands.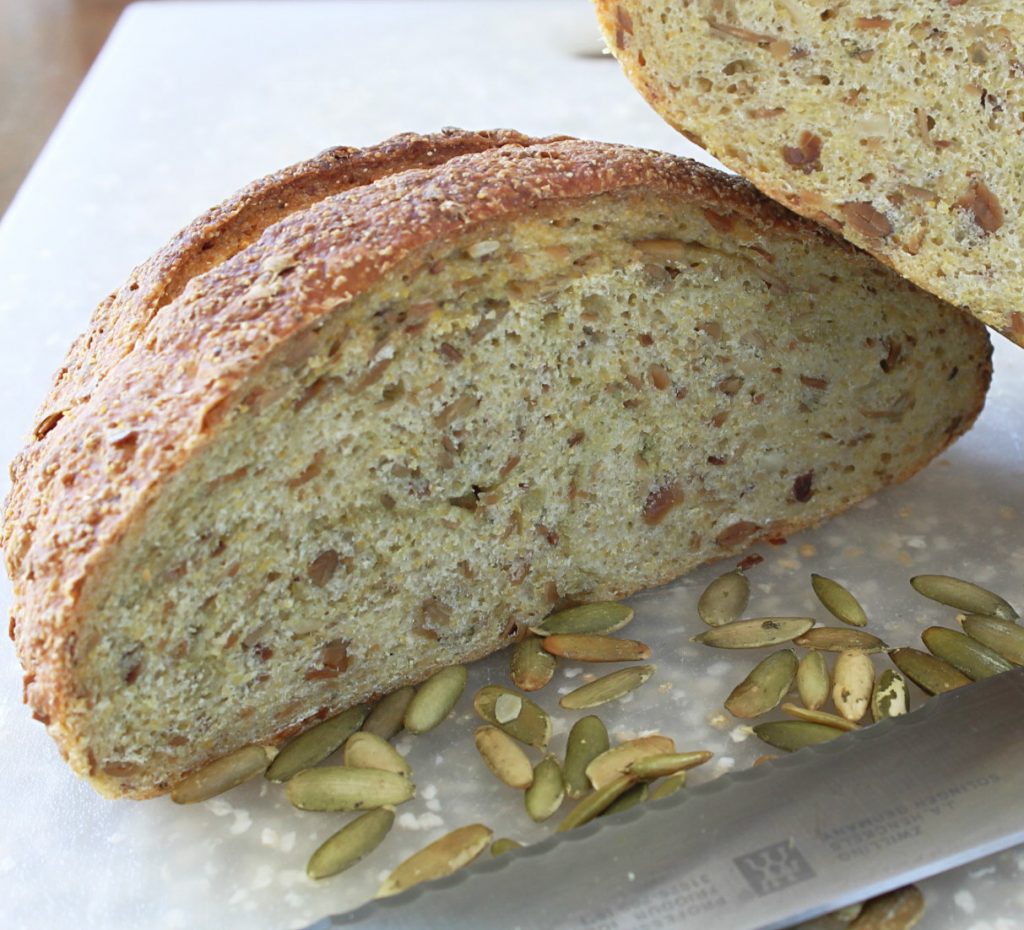 Also, I don't think therapeutic activities can be over-estimated in their importance. I am much happier, healthier and calmer if I listen to music every day, for example. Getting outside for a walk, yoga and kneading bread dough by hand also do the trick. As so happens, one of the songs that played on my iPhone while kneading this bread was "Hero" by Chad Kroeger. That song is way back from the first Spider-Man film when he was played by Toby McGuire, and may possibly give you the idea that my tastes in music aren't always super-sophisticated. Also, if you know anything about Nickelback, I'm not sure Chad Kroeger has ever been associated with anything so wholesome as baking bread. But the beat happened to work well for the movement of my palms against the dough as I stretched, turned and folded, over and over again. Here, take a listen for yourself.
See, told you, all over the place today! The inspiration for this particular bread came, probably obviously, from Trader Joe's. I had purchased pumpkin seeds, pumpkin seed oil and pumpkin butter recently and was wondering what unique thing I could make with the seeds. A quick Google search turned up THIS bread recipe thanks to Food and Wine.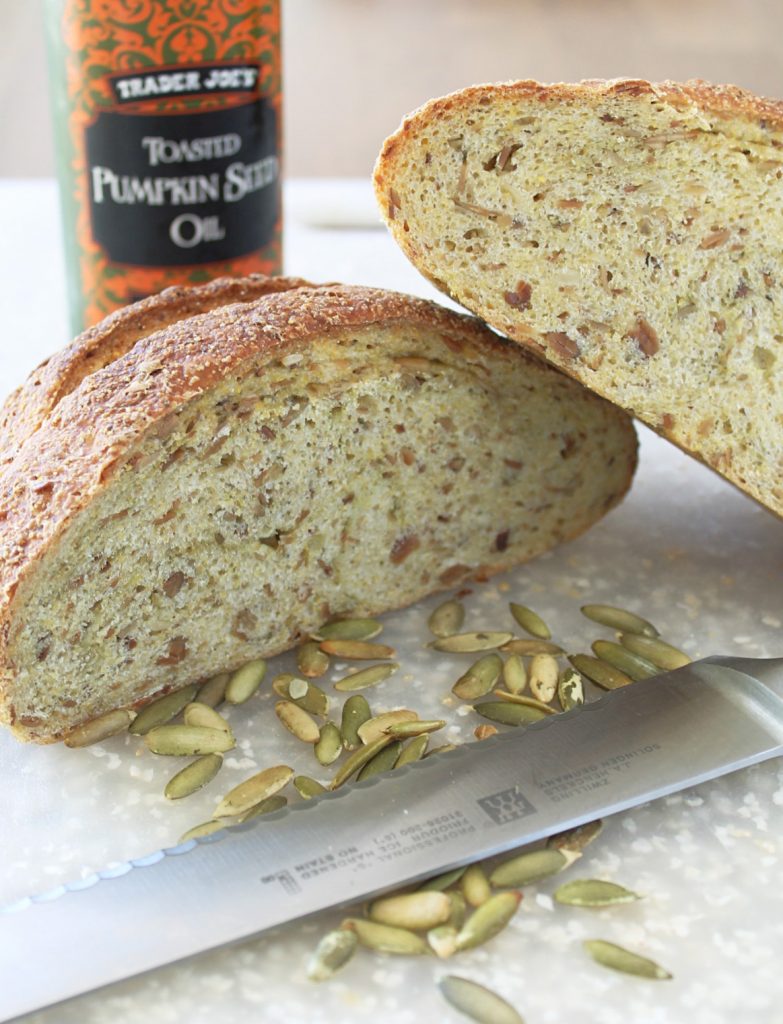 The bread itself is delicious both dipped into the pumpkin seed oil, which incidentally is so dark green in color that my husband described it as looking like motor oil. Probably not the most appetizing comparison, but trust me it is unique and very delicious. If you'd rather go the sweet route with this bread, it can be served toasted or warmed with either butter or cream cheese and then topped with Trader Joe's Pumpkin Butter. This was my kids' favorite way to eat it. I really enjoyed it both ways. I'll have to make more bread to know for sure which I prefer!

Artisan Pumpkin Seed Bread
Looking for a unique pumpkin recipe that uses the seeds instead of the actual pumpkin? Try this Artisan Pumpkin Seed Bread.
Ingredients
1 1/8

tsp

active dry yeast

1 1/2

cups

water

at room temperature

1 3/4

cup

all purpose flour

1 1/3

cup

all purpose flour

read directions for why two flour measurements

1

cup

cornmeal

plus more for sprinkling

1

tbsp

kosher salt

1 1/3

cups

pumpkin seeds

toasted and chopped
Instructions
In a large bowl, dissolve 1/8 teaspoon of yeast in 1 cup of the water. Stir in 1 3/4 cups of the flour. Cover the bowl with plastic wrap and let stand overnight in a warm spot.

The next day, dissolve the remaining 1 teaspoon of yeast in 1/4 cup of the water. In a separate bowl, place the cornmeal. Microwave the remaining 1/4 cup of water until it comes to a boil. Stir the boiling water into the cornmeal and allow to cool.

Into the bowl that was covered overnight, add the remaining 1 1/3 cups of flour, the salt, the cooled cornmeal and the yeast and water mixture. Stir until dough is coming together.

Turn the bread dough out onto a lightly floured surface. Add more flour as needed to keep the dough from sticking as you knead. Knead the bread dough until it is smooth and elastic, about 10 minutes.

Scatter the toasted and chopped pumpkin seeds on your kneading surface and knead them completely into the bread dough. Form the dough into a ball and place it into a clean and well-oiled bowl. Cover the bowl with a clean towel and allow the dough to rise for about 1 hour.

Remove the dough, turn and fold the dough gently about four times. Reform into a ball and place back into the bowl to rise until doubled in size, 60-90 minutes.

Sprinkle a baking sheet with cornmeal. Turn the dough out onto a clean work surface and using a sharp knife or a bench scraper, divide the dough in half. Shape each half into a round loaf. Set the loaves on the baking sheet and let rise until doubled in bulk, 1 1/2 – 2 hours.

Set a pizza stone on the middle rack of your oven and preheat to 500 degrees. Fill a roasting pan with water and set it on the bottom oven rack.

Using a sharp knife, make 3 slashes in the top of each loaf. Gently transfer the loaves to the pizza stone. Bake for 10 minutes. Without opening the oven door, reduce the temperature to 450 degrees and bake bread for 20 minutes more.

Let the loaves cool on a wire rack for at least 45 minutes before slicing and serving.
Nutrition