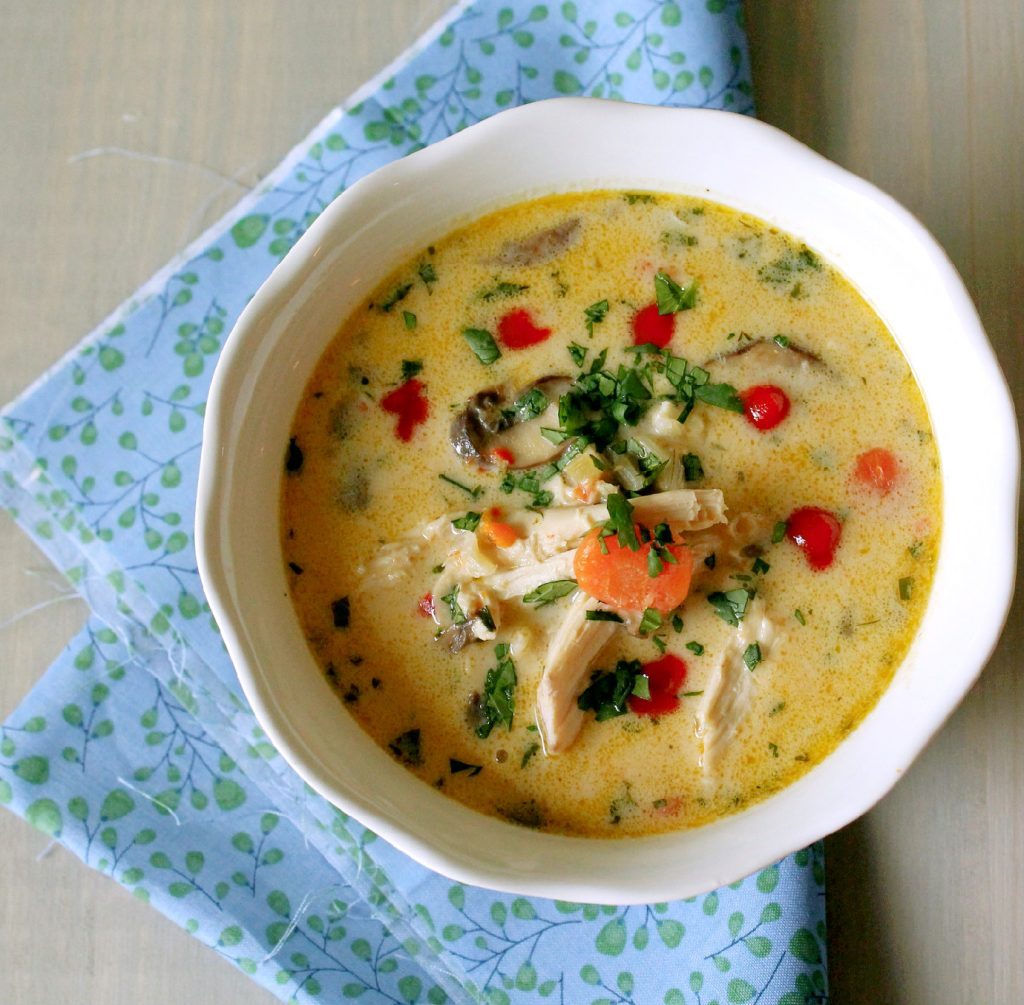 I debated on calling this coconut lime chicken and rice soup because while this soup is based on one I enjoyed recently at a Thai/Sushi fusion restaurant, the at-home version is more a Creamy Chicken and Rice Soup with an Asian flair.
Most of my friends devour sushi like it's candy. I've tried, I really have. I've gotten to the point where I'll eat veggie sushi… if I have to. I think it's the "fishy" flavor of the seaweed wrap that I can't get past. And while I love Thai flavors, it's mostly the sweet-salt-spicy thing that appeals to me, not the fish sauce.
So this soup is not authentic Thai, but rather my own personal preference of Thai flavors. My family gobbled it up, and I'm confident you will too.
I was also being thrifty with this meal… I bought a "colossal size" rotisserie chicken for our egg rolls on Monday and still had half the chicken meat left, which is what I used in the soup. I also decided to make my own broth for once. I pulled off all the gross skin and discarded it, then put the rest of the leftover bones, etc. in a big pot over medium heat with a little oil, salt and pepper. I stirred it all once in a while and let it brown for about 10 minutes. Added enough water to cover, scraping up all the good browned bits on the bottom of the pot, and let simmer for about 30 minutes. Took it off heat, strained it, and had some really tasty chicken broth for my soup. This was a novelty for me as I usually purchase broth in a box, but I do what I can to make from-scratch when the opportunity presents itself.
Thai Chicken Soup
2013-05-08 10:47:47
Ingredients
2 T. coconut oil
1 T. prepared Thai curry paste (mine was Thai Kitchen green curry paste)
2 celery stalks, diced
6 smallish carrots, peeled and diced
1/2 red pepper, diced
8 oz. baby portabella mushrooms, stems removed and caps thinly sliced
1 t. salt
1/2 c. rice (I used brown Jasmine rice)
4 c. chicken stock
2 c. chicken breast, cooked and shredded
1 can coconut milk (I splurged and did not use light this time)
1/4 c. fresh squeezed lime juice
1 T. sugar
1/3 c. fresh cilantro, chopped
Siraracha sauce to serve
Instructions
Melt the coconut oil in a soup pot over medium heat. Add the curry paste and stir well to mix. Add all the vegetables and salt and saute for 8 - 10 minutes. Add the rice and cook, stirring constantly for about 1 minute more. Add stock, bring to a boil and reduce to a simmer. Simmer, covered for 45 minutes to allow rice to fully cook.
Add the cooked chicken, coconut milk, lime juice, sugar and cilantro. Stir well and allow to heat through.
Remove soup from heat, taste and adjust seasoning if necessary with more salt or sugar. Serve soup sprinkled with more fresh cilantro and a drizzle of Sirarcha sauce.
Foodtastic Mom http://www.foodtasticmom.com/