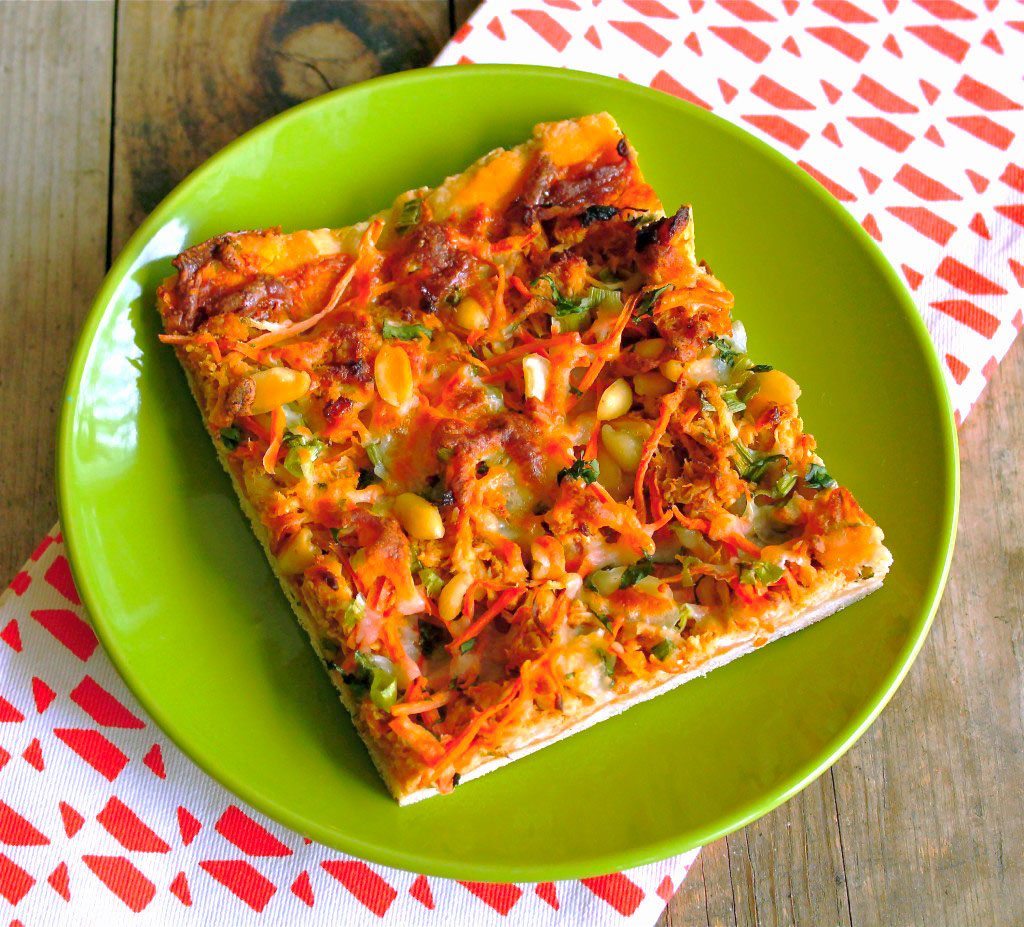 This is a copycat recipe for California Pizza Kitchen's Thai Chicken Pizza. In Cincinnati we don't have a restaurant to visit so frozen is the only option. This pizza was always a favorite of mine as the sweet/salty/spicy flavor combination almost made me forget I was actually eating a frozen pizza. However, I haven't been able to find the Thai Chicken for years now so I'd kinda forgotten about CPK.
I like Thai food in general, and the other day I was searching for a good Thai Chicken Soup recipe. That's what made me remember the pizza and as luck would have it I found this copycat recipe.
The crust is my current go-to recipe, thanks to Smitten Kitchen. It's so easy. The only thing required is enough time to rise on the counter (1-2 hours). And this time I simply pressed the crust into the bottom of one of my metal sheet-pans (13″x18″)… it was still delicious and simpler (I think) than the pizza stone/peel method.
Using a Rotisserie chicken helped considerably with the amount of time it took to assemble the toppings. Other than the crust, this was a really simple and super tasty meal to put together. This recipe is a keeper!
Thai Chicken Pizza
for the crust
1 1/2 c. all-purpose flour
1 1/2 c. whole wheat flour
2 t. salt
1 1/2 t. rapid-rise yeast
1 c. lukewarm water
2 T. olive oil
Stir dry ingredients, including yeast, in a large bowl. Add water and olive oil, stirring mixture into as close to a ball as you can. Dump all clumps and floury bits onto a lightly floured surface and knead for a minute or two into a homogeneous ball.
Lightly oil the bowl, dump the dough in, turn it over so all sides are covered with oil, cover bowl with plastic wrap and leave it undisturbed for an hour or two… until it has doubled in size.
Dump it back onto floured counter and gently press the air out of the dough with palm of your hand. Fold into an approximate ball shape and let it sit back in bowl under plastic wrap for 20 minutes.
Gently press the dough to the edges of a 13″x18″ sheet pan.
for the sauce
1/3 c. peanut butter
1/2 c. hoisin sauce
1 T. toasted sesame oil
1 T. honey
2 t. red wine vinegar
2 t. soy sauce
1 t. sirarcha sauce
2 t. fresh ginger, minced
2 garlic cloves, minced
2 T. water
Preheat oven to 450 degrees. Whisk all sauce ingredients together in a small saucepan. Heat gently, simmer for 1 minute, stirring constantly, and remove from heat.
for the topping
2 c. Rotisserie chicken, shredded
2 c. mozzarella cheese, shredded
1 c. carrots, shredded
6 scallions, white and green parts thinly sliced
1/4 c. roasted peanuts, chopped
2 T. cilantro, chopped
Toss the chicken with about 1/2 cup of the sauce. Gently spread the rest of the sauce evenly over the prepared crust. Top with 1 1/2 cups of the shredded cheese. Layer the chicken, carrots, scallions and peanuts evenly over the top of the cheese. Sprinkle the remaining cheese and cilantro over the top of the finished pizza.
Bake the pizza in the lower 1/3 of the oven for 20-25 minutes, until nicely browned.
Recipe adapted from