French apple cake meets Kentucky bourbon country with this simple yet stunning skillet cake.
I love a good cake. And this Kentucky Apple Skillet Cake is GOOD. Remember that French Strawberry Cake I made a while back? It was popular! Not just with you all but here in my house. I love a simple cake that has that WOW factor.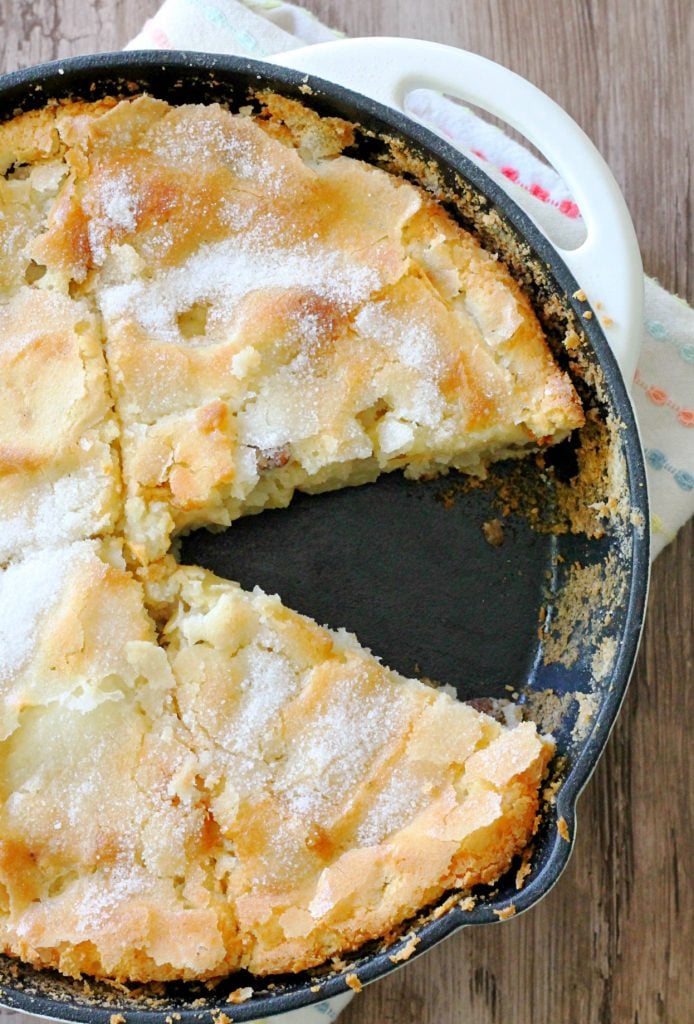 I wanted that cake (with its crackly top and custardy center) but for fall. Something that goes with football, falling leaves and crisp air. A classic French apple cake is lovely, but I wanted it to be more homey. I live close enough to the river that I like to consider myself a Kentuckian (read Southerner) sometimes. Especially when it comes to bourbon. So I decided to add bourbon soaked pecans and apples to my cake batter. And top it with Butter Pecan Ice Cream. Oh yes I did!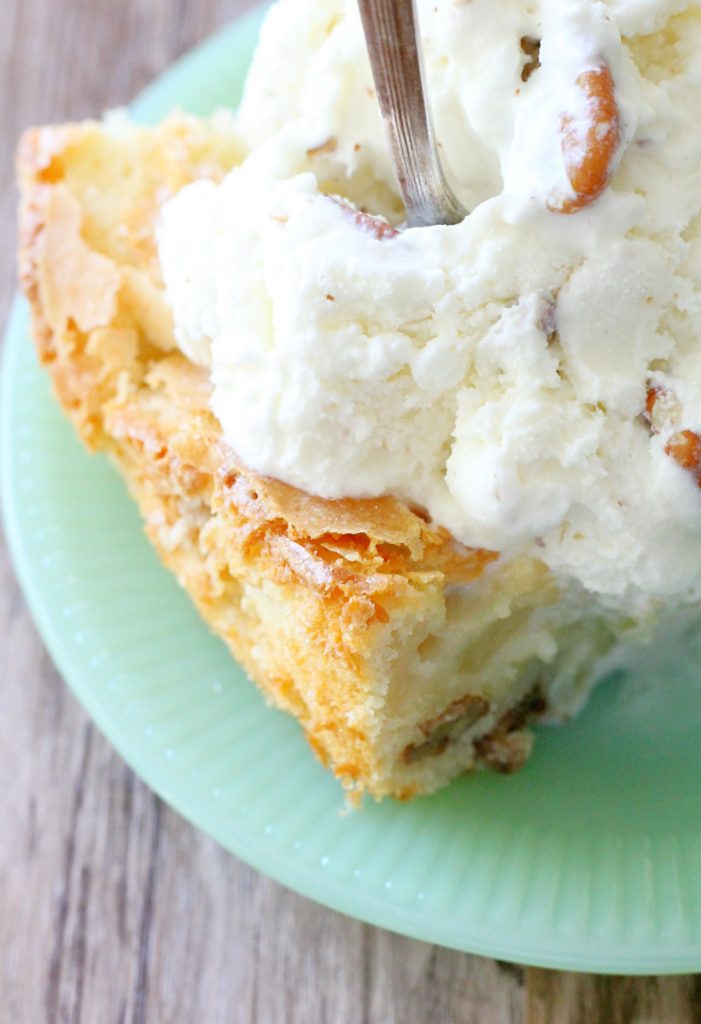 So here we have a cake you'll want to make all season long. It is apple picking season you know. And there's really not that much bourbon in it. I love it for the "local" factor. And who am I kidding I love it for the flavor factor too! But if you'd like to abstain the cake is still just as delicious without the addition of bourbon.
And let's talk about texture. I'm not sure how a cake with so few ingredients can come out with such a moist and custard-like middle plus a crackly, pretty top. It's like magic. Your people you make this cake for will think you are practicing sorcery in your kitchen. Or that you are just a really good baker. Make this your "secret" recipe. Your secret is safe with me!

Kentucky Apple Skillet Cake
2016-09-21 07:48:11
Ingredients
1 stick unsalted butter, softened
1 1/4 c. granulated sugar, divided
2 large eggs
1 t. vanilla extract
1 1/3 c. all-purpose flour
1 1/4 t. baking powder
1/4 t. salt
1/2 c. sour cream
3 honey crisp apples, peeled, cored and sliced thin
1/2 c. whole pecans
2 T. bourbon
butter pecan ice cream for serving
Instructions
Preheat oven to 350 degrees. Spray a 9-inch cast iron skillet with cooking spray and set aside.
Toss the apples and pecans with the bourbon and set aside.
In the bowl of a stand mixer, whip together the butter and 1 cup of the sugar until pale and fluffy, 3 - 4 minutes. Add the eggs and vanilla and beat until smooth.
In a medium bowl, whisk together the flour, baking powder and salt. Add the flour mixture and sour cream to the batter and beat on low until a smooth batter forms.
Fold in bourbon soaked apples and pecans. Spread the batter in the prepared skillet. Sprinkle the remaining 1/4 cup of sugar evenly over the top of the cake batter.
Bake until a wooden pick inserted in the center comes out clean, 35-40 minutes. Let cool the cake cool in the skillet.
Serve slices topped with butter pecan ice cream.
Adapted from Southern Cast Iron Spring 2016
Adapted from Southern Cast Iron Spring 2016
Foodtastic Mom http://www.foodtasticmom.com/
Love this cake? Don't miss out on my STRAWBERRY version. Click the picture for the recipe!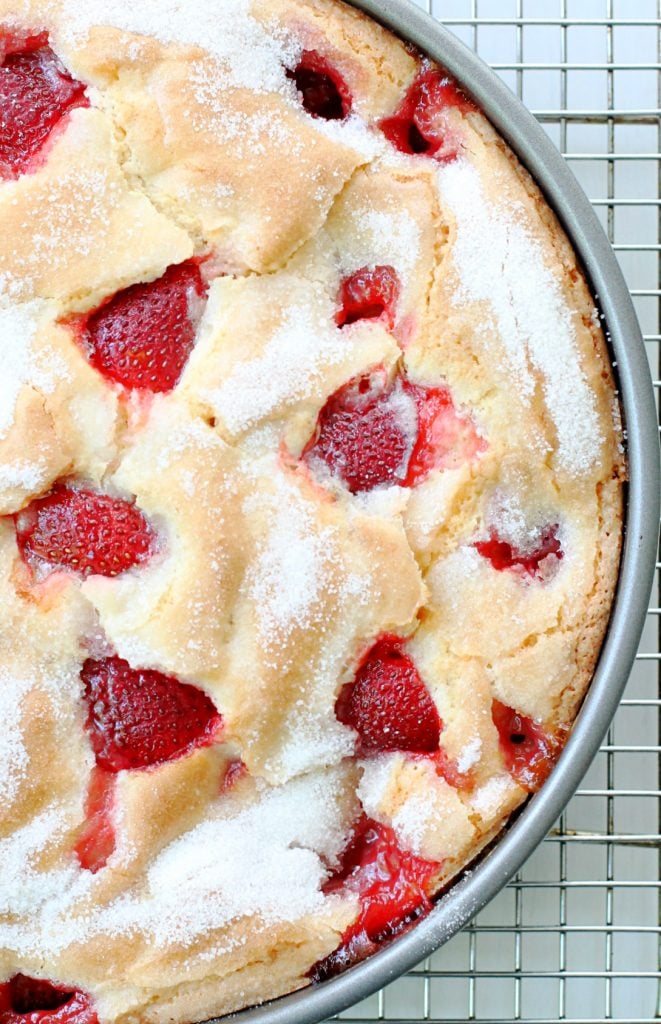 This recipe is part of Food Networks' Fall Fest APPLE recipe roundup. For other tasty apple recipes check out the links below:
The Lemon Bowl: Tuna Salad with Apples
Creative Culinary: Boozy Snickerdoodle Cake with Apples
The Fed Up Foodie: Green Apple Butterscotch Macadamia Nut Cookies
Hey Grill Hey: Skillet Bacon Apple Crisp
A Mind "Full" Mom: Salted Caramel Apple Butter
Dishin & Dishes: Chicken with Cider Sauce and Apples
Foodtastic Mom: Ketucky Apple Skillet Cake
Healthy Eats: 6 Lighter Ways to Cook and Bake with Apples
In Jennie's Kitchen: 9 Amazing Apple Recipes
Mom Loves Baking: Chocolate Turtle Apple Slices
Taste with the Eyes: Red Lentil Penne, Apple, Walnut, Mint, and Gorgonzola Sauce
Swing Eats: Apple Roses (gluten-free)
FN Dish: Kick Off Fall with Food Network's Favorite 5-Star Apple Desserts