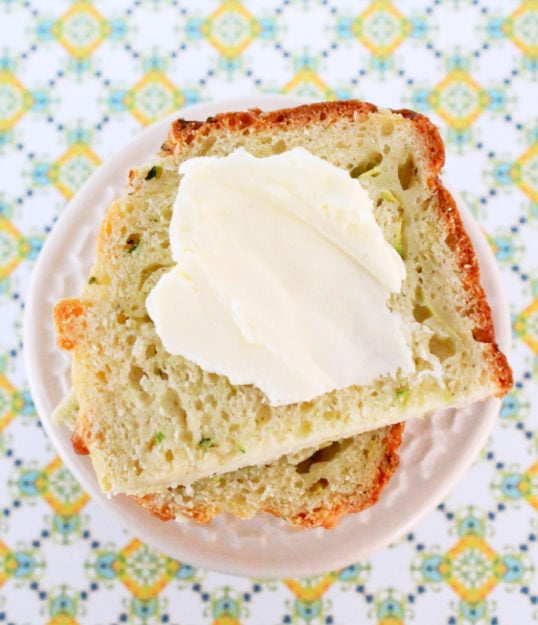 With the Moroccan Chicken Stew, I decided I wanted a quick bread to serve with it. I happened to have one zucchini leftover that I didn't use in my Garden Turkey Lasagna. I also had a partial wedge of Parmesan cheese in the fridge. I Googled Zucchini Parmesan Quick Bread and the recipe that sounded best to me was from Taste of Home. As with any quick bread, it was so easy to put together and get into the oven to bake while I was working on the stew. I could not have imagined a better pairing of the Moroccan-style stew and Zucchini bread, even though it's not exactly traditional to any part of the world.
We had about 1/2 a loaf left and our weekend was filled with attending and volunteering at our son's swim meet. I had one of my favorite types of hummus in the fridge, Sweet and Spicy Black Bean Hummus with Corn Relish from Eat Well Enjoy Life. I spread a slice of my bread with it to take as part of my snack at the swim meet on Saturday. It was not only delicious, but also filling and nutritious. I'm able to purchase this hummus at Country Fresh Farm Market and Wine Depot just down the street from our house, but other varieties/brands of hummus would work just as well atop this Zucchini Parm bread.
So whether you are in need of a quick side for a dinner of soup or stew, or want a homemade snack to nosh on during the week, this Zucchini Parmesan Quick Bread fits the bill! And for lots more meal time inspiration, come check out my post along with many others over at Buns in my Oven on her weekly "What's Cookin' Wednesday" feature!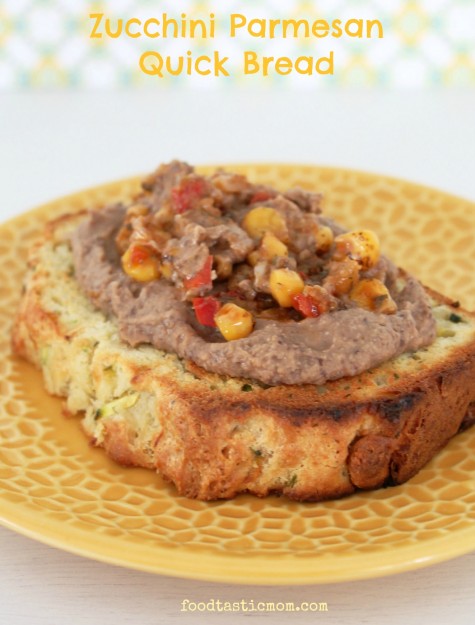 Zucchini Parmesan Quick Bread
Ingredients
3

c.

all-purpose flour

1/3

c.

fresh-grated Parmesan cheese

1

t.

salt

1/2

t.

baking powder

1/2

t.

baking soda

1/2

t.

dried dill

1/2

t.

onion powder

2

large eggs

1/2

c.

skim milk

1/2

c.

sour cream

1/3

c.

unsalted butter

melted and cooled slightly

1

c.

shredded zucchini
Instructions
Preheat oven to 350 degrees and spray a 9 x 5 loaf pan with cooking spray.

In a large bowl, whisk together the flour, Parmesan cheese, baking powder and soda, salt and seasonings.

In a separate bowl, whisk together the eggs, milk, sour cream and melted butter.

Fold the wet ingredients into the dry ingredients. When a few steaks of flour remain, fold in the shredded zucchini until bread batter is well combined. Batter will be very thick.

Spread the batter evenly into the loaf pan. Bake for 55 - 65 minutes, or until toothpick inserted into center of bread comes out clean.

Allow bread to cool in loaf pan for 10 minutes before popping out of loaf pan and continuing to cool on a wire rack. Store wrapped tightly in wax paper.