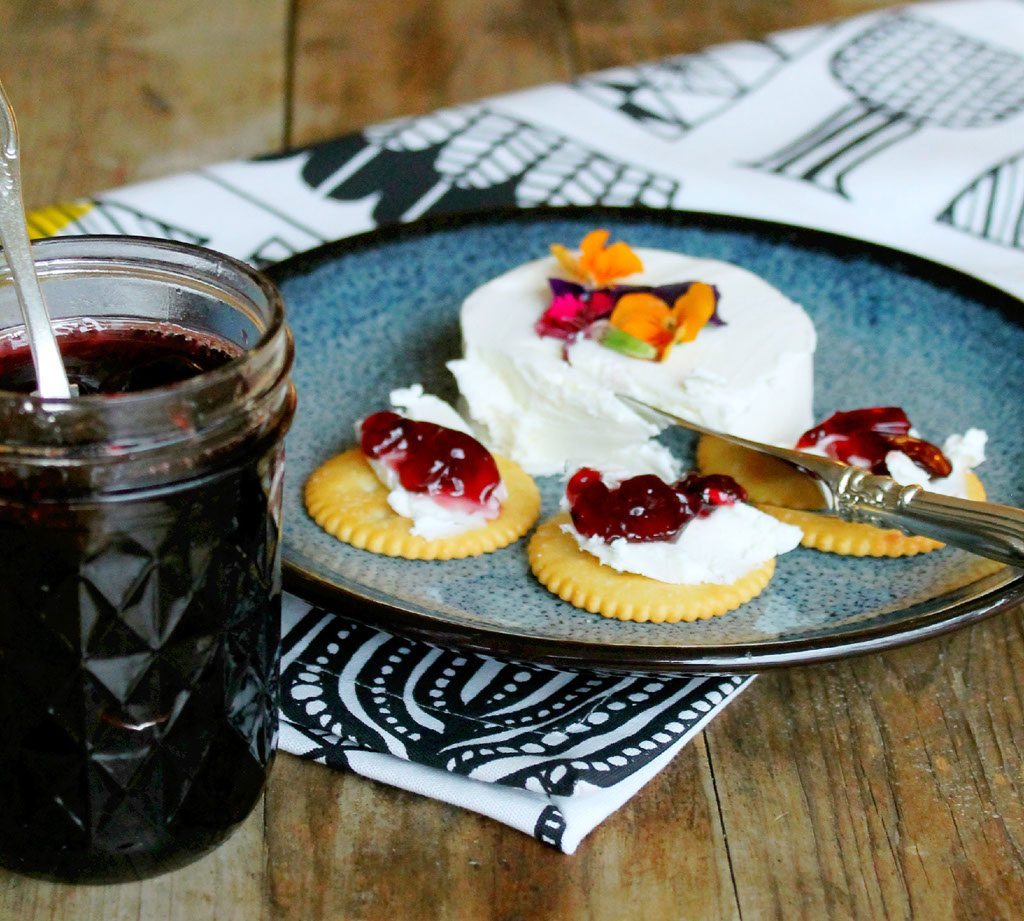 This was the other product of my weekend DIY'ing in the kitchen and I'll admit probably my favorite one of the two. Not just because I'm very much going to enjoy this with some high quality cheese on crackers, but because I now have three jars of wine jelly gifts, sure to please my friends.
The jelly will keep for up to two months in the refrigerator, or one whole year if you actually process it with a canner (something I have yet to try myself). It's particularly great for gift giving because not only does it take a typical hostess or holiday bottle of wine gift up a few notches, but it is incredibly quick and easy.
Plus it's a gift that keeps on giving for a while because a little goes a long way. So far I've tried it with both Parmesan and goat cheeses, both were great but I preferred the goat cheese. I think it will be really tasty with brie cheese as well. The fancy little wheel of goat cheese in the picture came from our local Whole Foods. As soon as I saw it, I couldn't resist because these pretty little flowers are as much spring as I'll be seeing in Cincinnati it seems for quite a while yet!
Pin this recipe today on your Pinterest gift boards so you don't forget about it…
Wine Jelly
Ingredients
1

750-mL bottle red wine (Merlot is a good choice... something less than $10 per bottle)

3 1/2

c.

sugar

1

3-oz envelope liquid pectin (most groceries carry this in their baking-goods section)

3

T.

lemon juice

1/8

t.

butter
Instructions
Bring 1 1/4 cups wine to boil in small saucepan over medium-high heat, and cook until reduced to 1/3 cup, 15-20 minutes; set aside.

Bring remaining wine and sugar to boil in large saucepan, stirring frequently. Stir in pectin, lemon juice and butter and return to a vigorous boil, stirring constantly for 1 minute. Remove from heat and stir in reserved reduced wine.

Transfer jelly to jars with tight-fitting lids and let cool to room temperature. Then cover jars and refrigerate. Let jelly set for 12-24 hours. Jelly can be refrigerated for at least 2 months.
Notes
Adapted from America's Test Kitchen D.I.Y. Cookbook