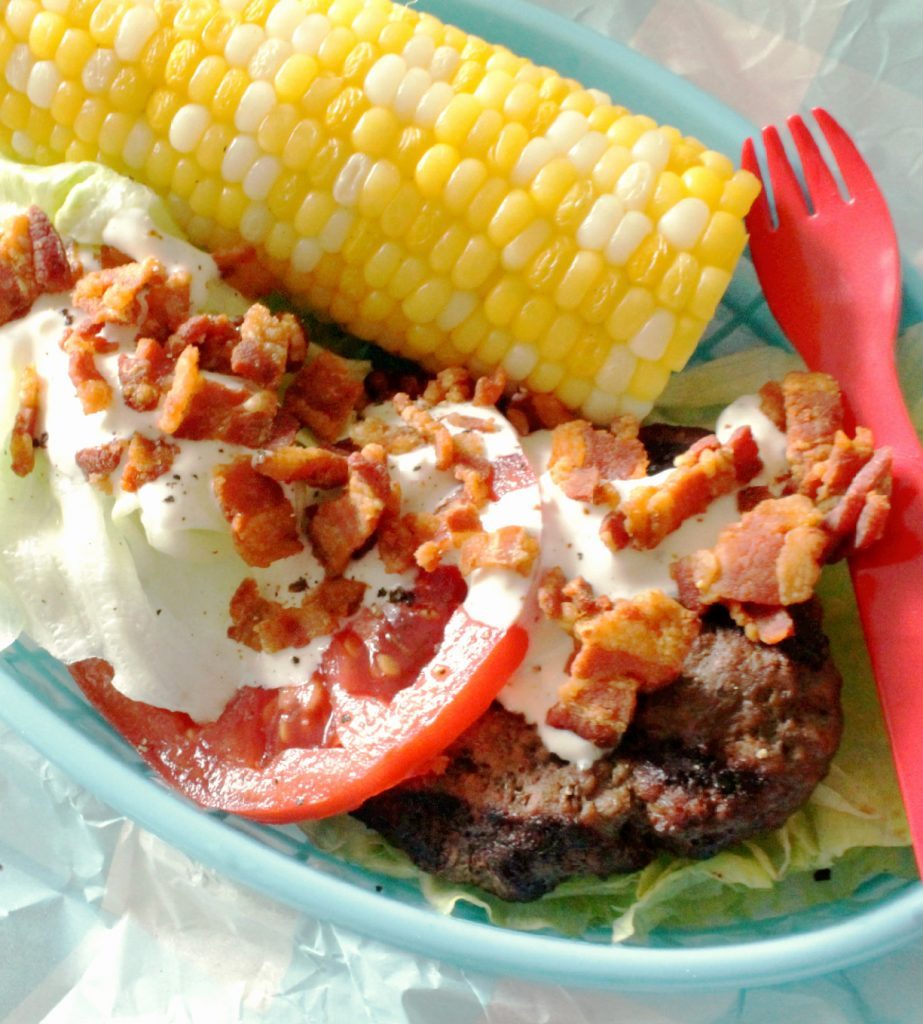 I do love wedge salads. Though not because of Phil Dunphy. Any Modern Family fans out there? I have to say, ever since I saw the episode (216, Regrets Only – I looked it up) with Phil innocently asking, "Claire, can I recommend the wedge salad?", I hear Phil's voice every time I see a wedge salad on a menu. I do love Modern Family and their humorous look at marriage, so this is a happy association. In the show however, Claire blows up at Phil because she'd been trying to get him to try a wedge salad for YEARS, he ignored her, but then finally listened to one of his buddies and discovered that guess what, the wedge salad is fantastic! I will say, for all the selective hearing that goes on between my husband and I, he always listens to my food recommendations. Smart man, he is!
A wedge salad burger makes total sense. Blue cheese, bacon and tomato are pretty classic toppings for a tasty burger. And anymore, unless a bun is made from scratch or just somehow over-the-top delicious, I think it gets in the way of the whole burger experience. Especially if I'm eating some corn or french fries on the side. The addition of bread is just too much. So, iceberg lettuce becomes the bun. Simple really.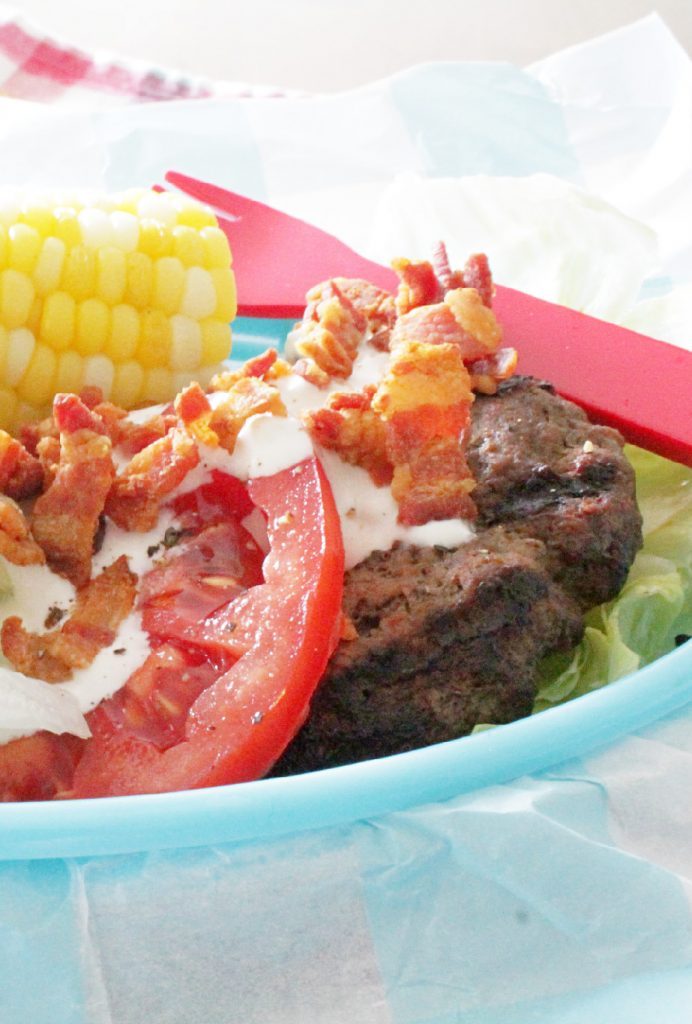 And if you've never made homemade blue cheese dressing, you won't want to go back to store-bought after this. It's a barely adjusted Pioneer Woman recipe. So quick to whisk together, tastes super fresh and, you know, actually tastes like BLUE CHEESE. Beyond that, I seasoned my ground chuck (an 80/20 fat content is best for a juicy burger) with some soy sauce, smoked paprika, salt and pepper, crisped some bacon in a skillet and sliced thick the freshest tomato I could find, which at this time of year is a thankfully easy task.
I think corn on the cob is the perfect side for this wedge salad burger. Maybe a little ice cream with some fresh berries at the end and you've got yourself a stellar, heading toward the end of summer meal.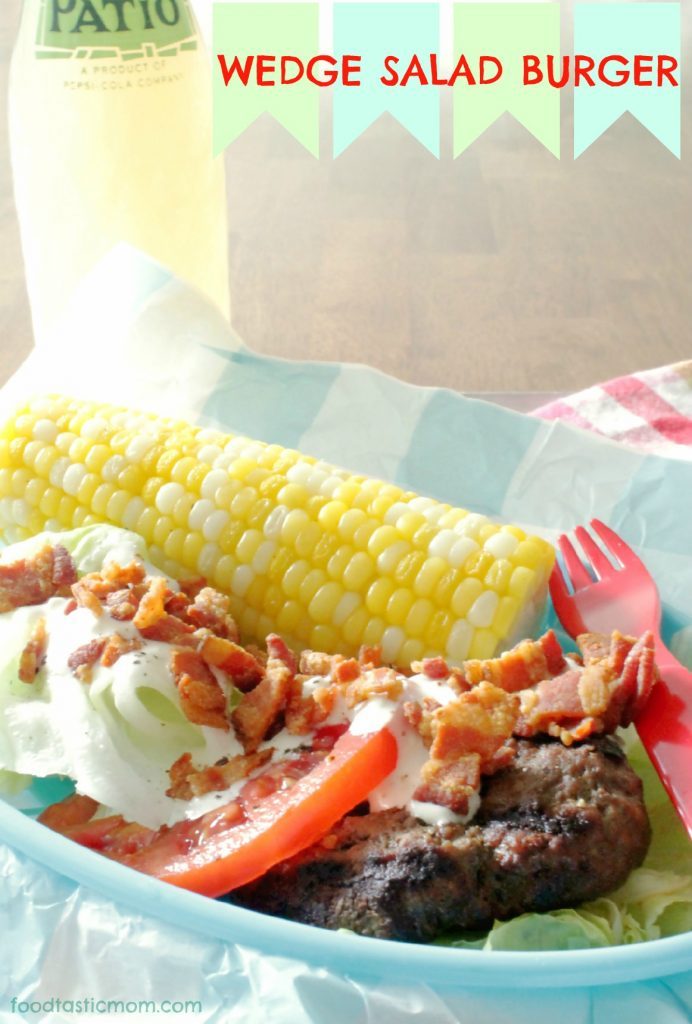 Wedge Salad Burger
Ingredients
1

lb.

ground chuck

2

T.

soy sauce

1

t.

smoked paprika

1/2

t.

salt

1/2

t.

fresh cracked pepper

8

slices

bacon

1/2

c.

mayonnaise

1/4

c.

sour cream

1/4

c.

buttermilk

1/3

c.

blue cheese

crumbled

splash of red wine vinegar

pinch

of salt

1

large beefsteak tomato

sliced thick

1

head iceberg lettuce

outer leaves and core removed
Instructions
Heat your grill so it's ready to grill the burgers.

Chop the bacon and cook in a non-stick skillet over medium to medium-high heat until crisp. Drain on a paper towel lined plate and set aside.

In a clean, glass bowl, whisk together the mayonnaise, sour cream, buttermilk, blue cheese, vinegar and salt. Set aside in the refrigerator until ready to serve.

In a separate bowl, mix together the ground chuck, soy sauce, paprika, salt and pepper. Form into four patties. Grill to desired doneness, medium to medium-well.

To serve, divide the lettuce so you have four "tops" and four "bottoms" as buns. Serve the burgers with lettuce buns, topped with tomato, bacon and plenty of blue cheese dressing.