It's been a long time since I posted a pizza recipe for you. That doesn't mean we're not still eating it. My kids love make our own pizza night. Our most recent venture was the night before school started and the toppings they requested were pepperoni, black olives and plenty of cheese… pretty basic. Hannah skipped the sauce this time and made a face on her pizza. Both Tom and Caleb loaded their crusts so much I was afraid they wouldn't bake all the way through (they did, thanks to my pizza stone), and I added fresh green peppers to mine.
The next night, I decided to be a bit more experimental. It was one of those, "hey this sounds like a good idea, what the heck, let's try it!" combinations. I had about a half a jar of Trader Joe's brand of mango ginger chutney and decided to use it as the sauce with some curried and roasted veggies. It was pretty darn tasty. Unique to be sure, but tasty.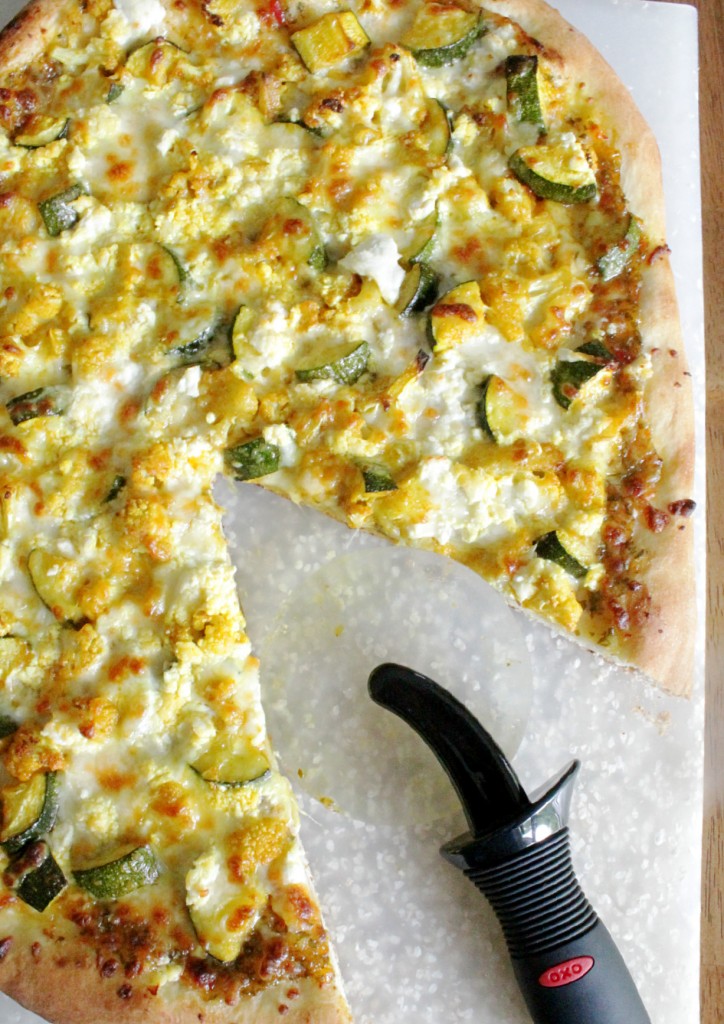 It was pretty funny because it was not my children's favorite pizza combination, but they were home from their second full day of school and had been playing hard outside so they were both famished. It's quite amazing what my kids will eat when they are truly hungry and I'm not offering anything else. Curried cauliflower and zucchini with mango chutney and lots of fresh cilantro. Plus some cantaloupe for dessert. I'm building character!
But seriously, they ate it and the next night were rewarded with breakfast for dinner, by request. This has really been my strategy all along. No short order cooking, offer a variety of foods (if nothing else over the years, they eat the fresh fruit) and sprinkle in new recipes among old favorites. And so far it's working… they ate this pizza with barely a complaint. And the older they get, the more they appreciate my cooking.
What are some of your strategies for getting your kids to eat new foods or combinations? I love to hear from you!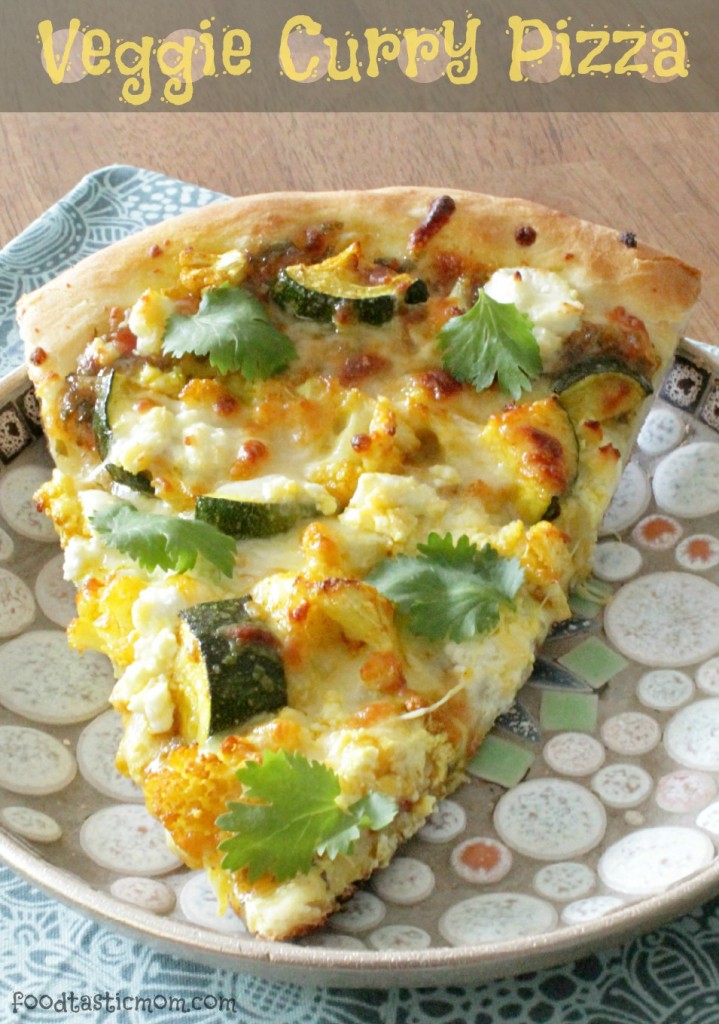 Veggie Curry Pizza
Ingredients
1 1/2

t.

instant yeast or 2 t. active dry yeast

1/2

c.

+ 3 T. lukewarm water

95 - 115 degrees

3

T.

extra virgin olive oil + extra for greasing bowl

2

c.

all-purpose flour

3/4

t.

kosher salt

3/4

c.

mango chutney

I used Trader Joe's brand

1/2

c.

fresh cilantro

finely chopped

1

head cauliflower

2

small zucchini

2

T.

extra virgin olive oil

1

t.

curry powder

1/2

t.

salt

1 1/2

c.

shredded mozzarella cheese

1/2

c.

crumbled goat cheese
Instructions
In a large bowl, combine the warm water and yeast and let it sit for about 5 minutes until it starts getting foamy on top. Add the 3 T. of olive oil and salt and whisk to combine. Stir in the flour and dump onto a lightly floured surface. Knead dough just until it comes together in a ball. Return to the bowl. Pour a bit more olive oil on top of the dough ball and turn to coat. Cover the bowl with a clean dish towel and put in a warm place to rise for about an hour, or until doubled in size.

In the meantime, preheat oven to 450 degrees. Wash the cauliflower and discard the stems. Chop the florets in bite-sized pieces. Chop the zucchini into bite-sized pieces. Toss the vegetables to evenly coat with the remaining 2 T. of olive oil, curry powder and salt. Spread evenly on a sheet pan and roast for about 15 minutes, or until cauliflower is fork-tender. Remove from oven and allow to cool while dough is rising.

Pulse the mango chutney in a small food processor (or with an immersion blender) until it's smooth. Stir in the fresh chopped cilantro.

Place pizza stone on rack in lower third of your oven. Increase oven temperature to 525 degrees.

Once the dough is ready, spread evenly onto a piece of parchment paper (about a 12-inch circle). Top the dough evenly with the mango chutney sauce.

Top the sauce with the curried, roasted vegetables. Top the vegetables with the mozzarella and goat cheeses.

Using a pizza peel, transfer the pizza (on the parchment paper) to the pizza stone. Bake the pizza for 10 - 12 minutes, or until crust is browned and cheese is nice and bubbly.