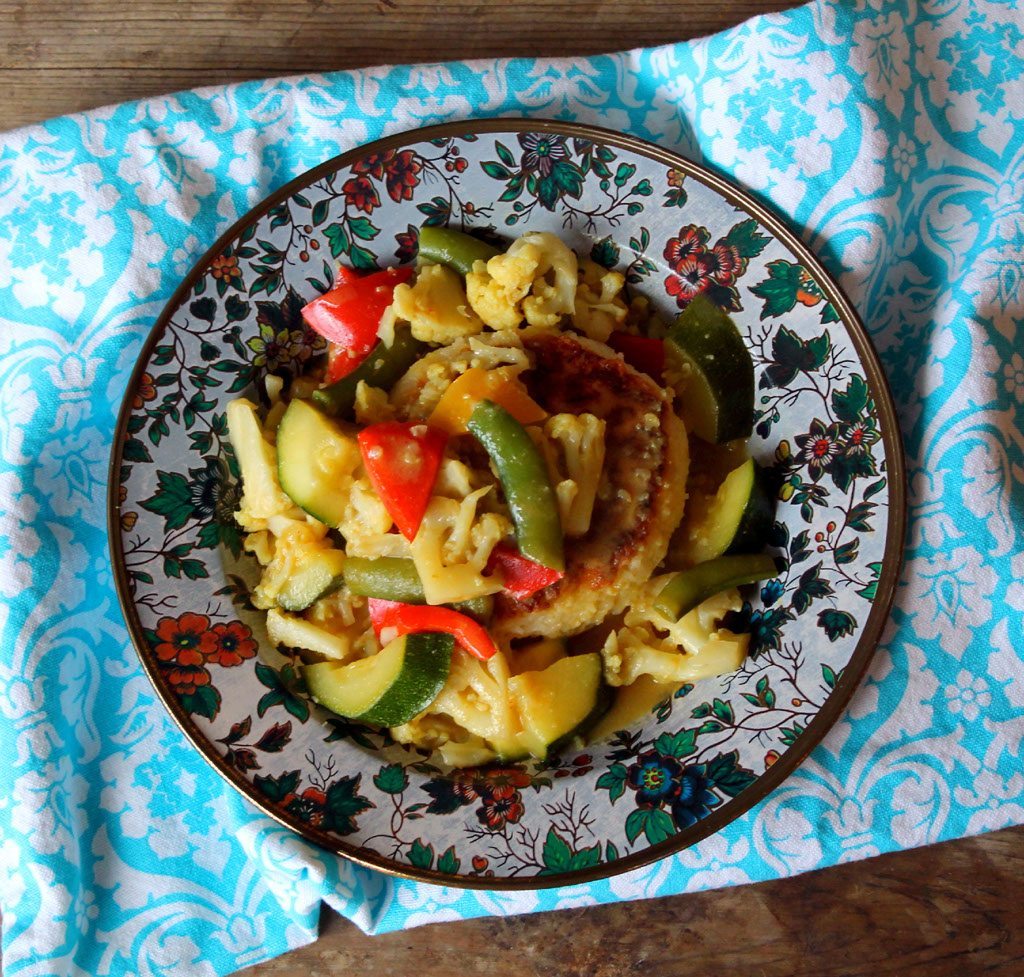 I read cookbooks for fun. I'm aware that makes me a bit of an oddity, but I'm OK with it. However, since I don't have an unending budget to actually purchase every cookbook I wish for, the library is where I tend to turn to get my cookbook fix. I'm also a huge fan of America's Test Kitchen, so last week I put on-hold and then picked up from my local library "The Best of America's Test Kitchen 2013" cookbook. I marked a few recipes as "must try" and this Thai curry was one of them.
For as much as I love Thai pizza, you'd have thought I'd made some sort of homemade Thai dish before now, but you would be wrong. My kitchen experimentation has just recently started up again within the past year… I guess since parenthood, we were eating more like toddlers along with our kiddos. But fortunately, their expanding palettes mean more adventurous recipes for me. Yay for Thai food!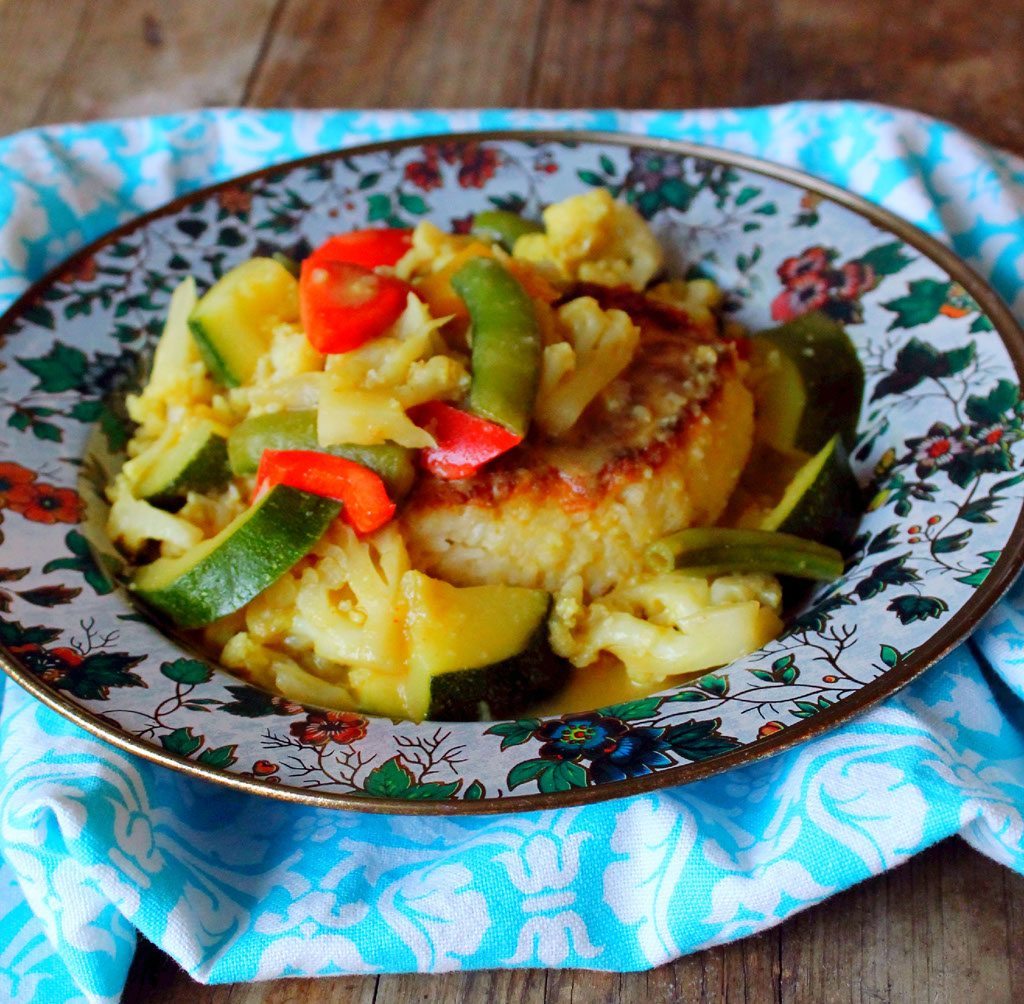 I easily found the green curry paste, coconut milk, fish sauce, jasmine rice and necessary fresh vegetables at my favorite local market, Country Fresh Farm Market and Wine Depot (it's on Beechmont Avenue in Anderson Township for those of you who are local). This dish was simple, quick to cook, delicious and tasted way better than takeout. Try it and see for yourself!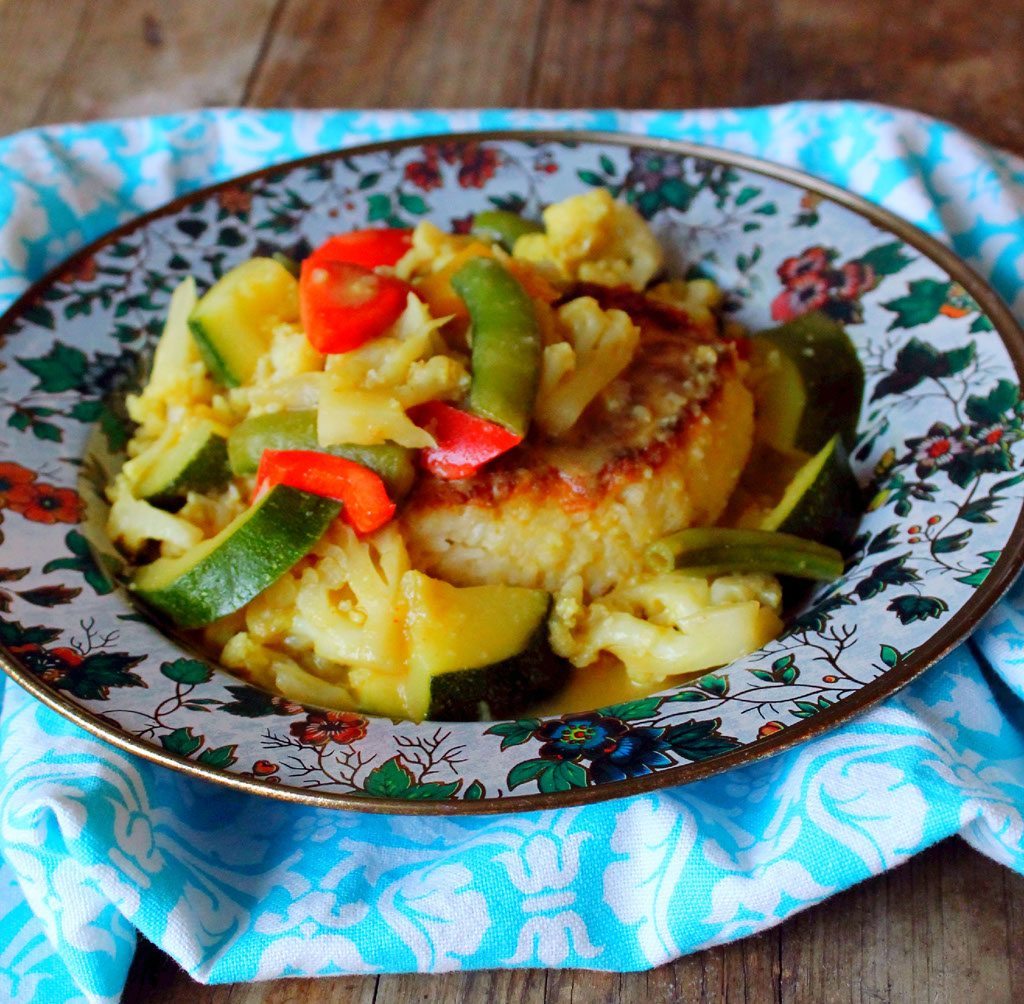 Thai Vegetable Green Curry with Jasmine Rice Cakes
2013-03-11 14:45:24
Ingredients
1/4 c. grapeseed oil, divided
12 oz. fresh cauliflower
3 T. Thai green curry paste
2 T. fish sauce
14 oz. can light coconut milk
1 T. light brown sugar
2 small zucchini (cut into 3/4-inch pieces)
1 small red pepper, diced
1 small yellow pepper, diced
8 oz. sugar snap peas
2 T. fresh lime juice
4 c. cooked jasmine rice
1 egg
2 T. flour
1/2 t. table salt
Instructions
Heat 2 tablespoons of oil over medium high heat in a large stock pot. Add cauliflower and curry paste and cook for 5 minutes, stirring occasionally. Add coconut milk, fish sauce and brown sugar. Bring mixture to a simmer.
Add the zucchini, peppers and peas, cover and cook for 5 minutes, removing lid once to give it another good stir. Uncover pot and let simmer for 3 minutes more. Remove from heat and stir in lime juice.
Meanwhile, pulse half of cooked rice in food processor, about 12 pulses. Return to bowl with rest of rice. Stir in egg, flour and salt. Use hands to form into 6 cakes. Heat remaining 2 tablespoons of oil in large skillet over medium high heat. Cook rice cakes until well-browned, about 3 minutes per side. Depending on the size of your skillet, you may have to cook cakes in two batches (3 at a time).
Serve each rice cake topped with veggies and plenty of sauce.
Foodtastic Mom https://www.foodtasticmom.com/