This post was sponsored by MINH® Mini Chicken Egg Rolls and I was compensated to write it. Regardless, what I have written reflects my own opinion and experience. I hope you find it useful.

Christmas is so close I can taste it and trust me, it's going to taste good! I don't ever need an excuse to get out the fancy dishes and make my friends and family feel special with the food I fix them. It's the core of who I am. But the holidays are hectic and I always finding myself wishing I had more time to really pull out all the stops.
But what I want to show you today is that you can make a simple holiday party look like you're a 1950's housewife, when in reality you are throughly modern, busy (probably working) mom. These are my Ten Simple Holiday Party Hacks…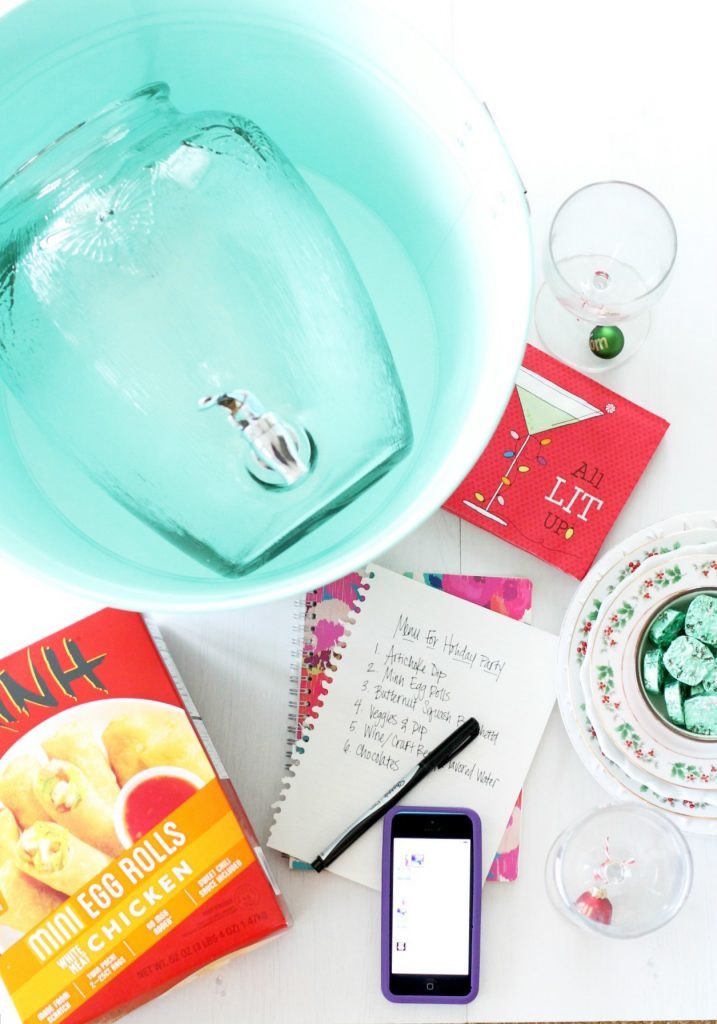 1. Make a list and check it twice. Lists keep me organized. I carry notebooks with me everywhere.
2. Set out everything you need the night before the party… dishes, napkins, serving utensils, beverage containers, etc.
3. Fun cocktail napkins are a must.
4. Serve flavored ice water to keep your guests hydrated throughout the evening in between the wine and beer.
5. DIY wine charms – I made these for a party a few years ago. Simply buy a box of tiny ornaments and write your guests' names on them in paint pen. Tie them to the base of your wine glasses with string.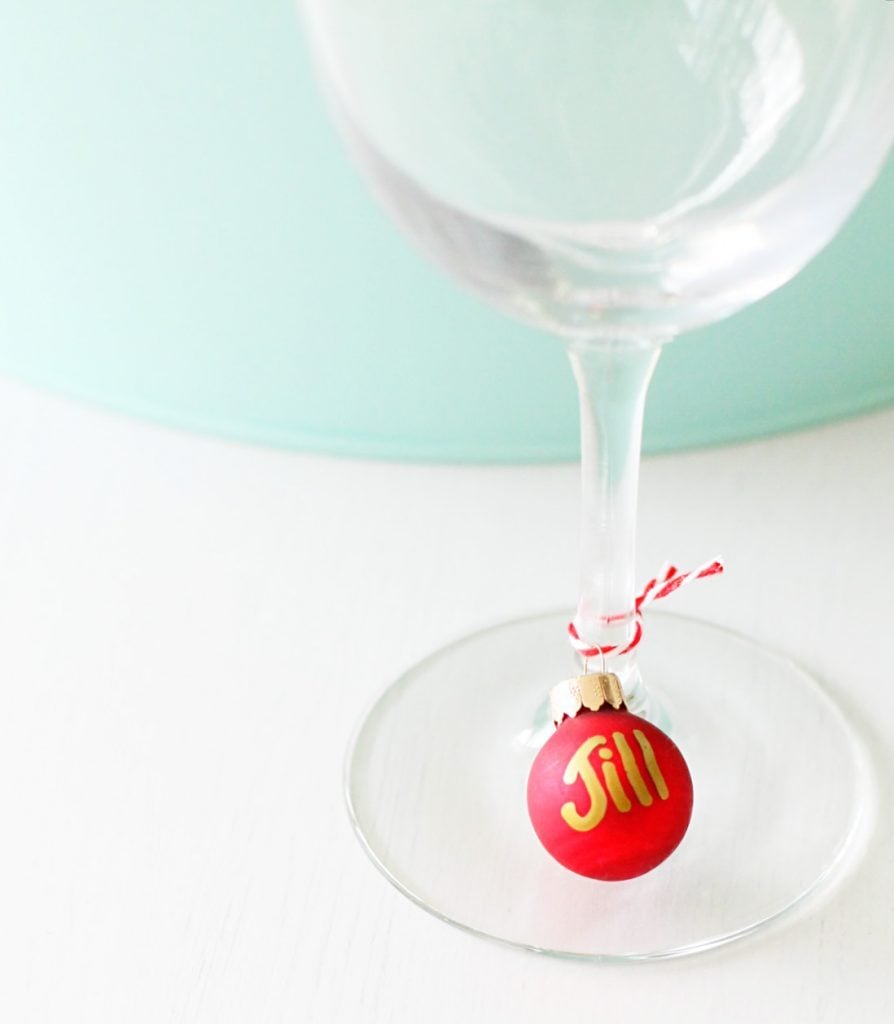 6. Use real dishes instead of paper plates for a dressier feel.
7. For the menu, use a combination of homemade and frozen appetizers purchased at Sam's Club.
8. Instead of dessert, set around small bowls of chocolates.
9. Make a playlist of favorite holiday songs for background music during your party.
10. Keep your guest list manageable – I find 12 to be a good number.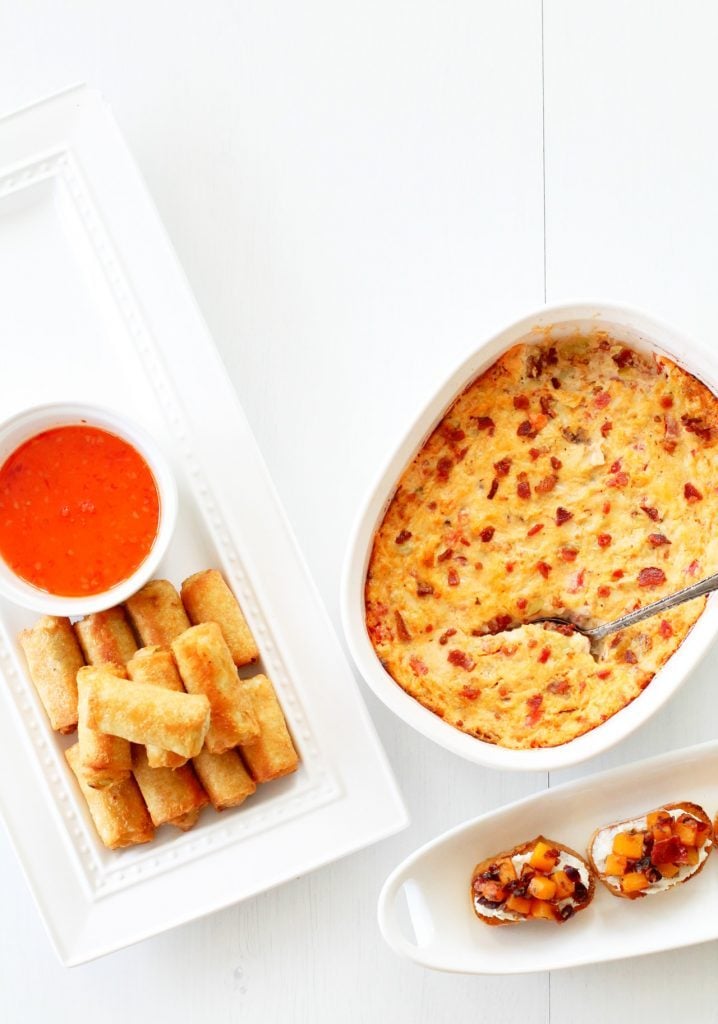 For purpose of this post I decided to share two of my all-time favorite appetizers. Ones that I know are crowd pleasers and that are very simple and quick to make. The recipe for my Bacon, Tomato and Artichoke Dip can be found HERE. And the recipe for my Butternut Squash Bruschetta can be found HERE. Both were previously posted on my blog.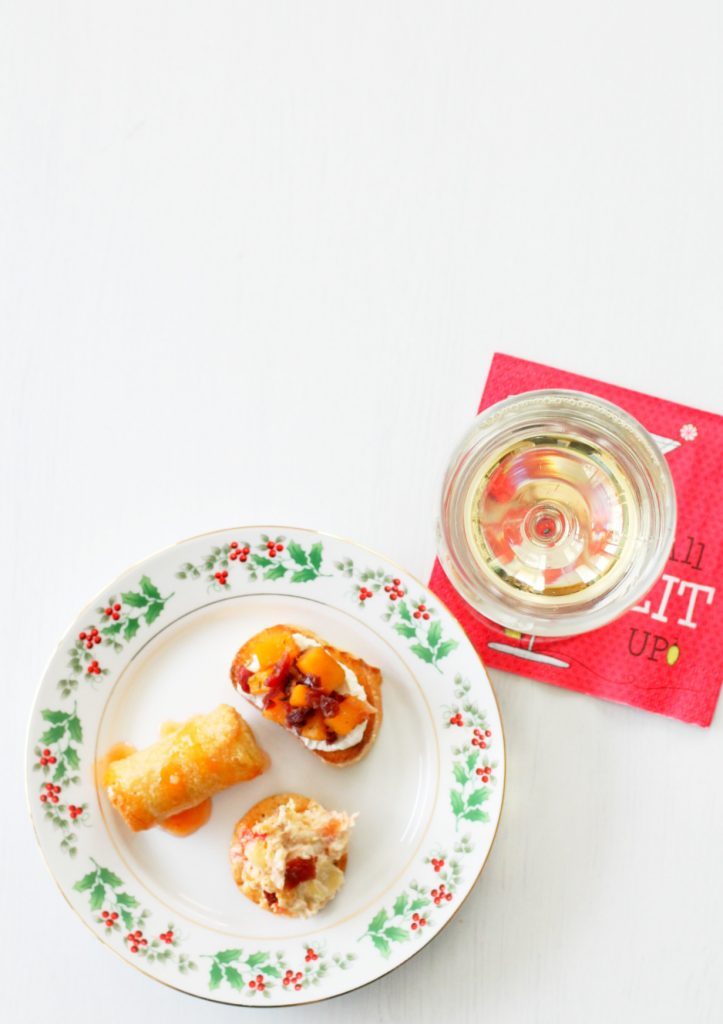 As for the frozen appetizer, that is thanks to my sponsor, MINH® Mini Chicken Egg Rolls, and they are delicious enough to stand up to my own two crowd-pleasing recipes. There's plenty for a festive holiday party of about 12 guest (50 egg rolls per package) and they include the sweet chili sauce. This party-scape was really so simple to put together. You can manage to wedge a fun evening with friends even into the most hectic of schedules, I promise. And isn't connecting with loved ones what the holidays are for? They'll thank you for providing them with full bellies and warm hearts.