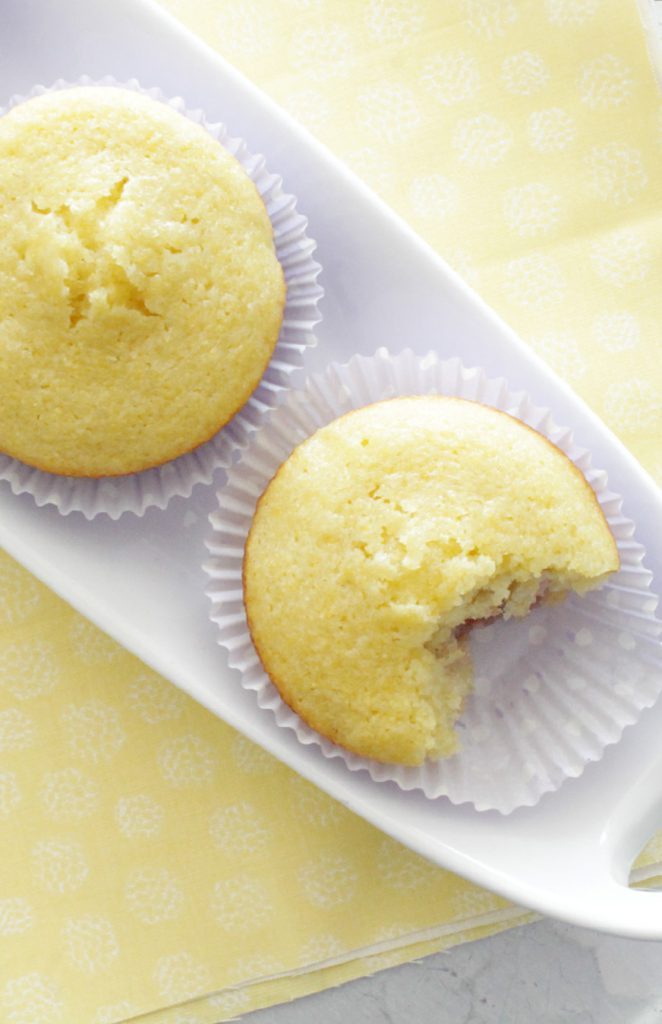 Today I present you with a muffin based on an ice cream flavor. But not just any ice cream flavor… Jeni's Splendid Ice Cream's Sweet Corn and Black Raspberry flavor. You may need to have been living under a rock to not have heard of Jeni's Splendid Ice Creams before. Her shops began in my home state of Ohio (Columbus to be exact) but her stores and pints of ice cream are quickly spreading across the country.
I kept saying this summer I was going to purchase the ice cream attachment for my KitchenAid mixer and her ice cream cookbook and give a few of her unique and seasonal flavors a whirl, but alas other things seemed to take priority. Maybe for fall and a pumpkin flavored ice cream…
Anyway, speaking of pumpkin, one of my most favorite muffins I've made (and made a LOT of) are these pumpkin muffins with cream cheese filling. Click HERE for the recipe and a photo tutorial of how to assemble them. Another one of my favorite things to do is take favorite recipes and plug-in new flavor combinations to the basic structure of the recipe and so that's how these muffins were born.
The corn muffin recipe itself is thanks to Daily Dish Recipes. She says it's her most popular blog recipe to date and I can totally understand why. I've never had a more tender, sweet, cake-like corn bread anything than this. I added some whole corn kernels to the batter, but that was the only change I made.
As for the filling, I simply replaced some of the powdered sugar with some Smucker's Natural Blackberry Fruit Spread. It made the filling a lovely shade of lavender and just a tiny bit tart. Before Jeni's ice cream flavor, I wouldn't have thought to pair sweet corn and blackberries, but it's totally a match made in heaven!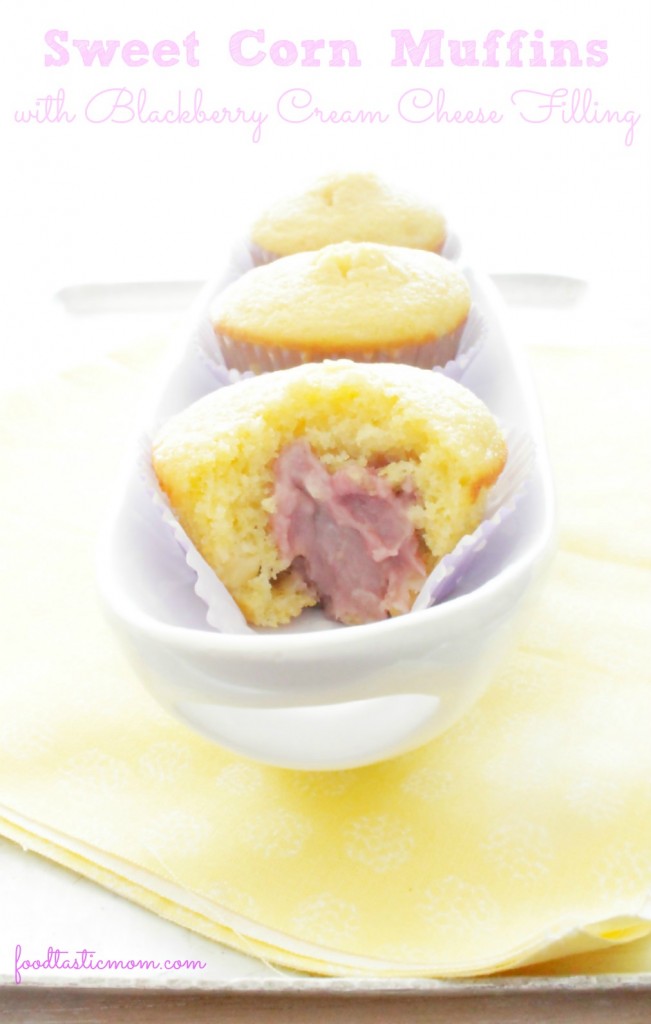 Sweet Corn Muffins with Blackberry Cream Cheese Filling
Ingredients
8

oz.

cream cheese softened

3/4

c.

powdered sugar

1/4

c.

Smucker's blackberry natural fruit spread

1

c.

cornmeal

3

c.

all-purpose flour

1 1/3

c.

sugar

2

T.

baking powder

1

t.

salt

2/3

c.

vegetable oil

1/3

c.

melted butter

1

T.

vanilla extract

4

large eggs

2 1/2

c.

whole milk

1

can

15.25 oz. whole white sweet corn, drained
Instructions
With a hand or stand mixer, beat together the cream cheese, powdered sugar, and blackberry spread until smooth. Place 1 tablespoon scoops on a sheet pan lined with parchment paper or a silicone baking mat (there will be 24 scoops). Place in the freezer for at least 2 hours to firm up.

Preheat oven to 350 degrees.

In a large bowl, whisk together the flour, corn meal, sugar, baking powder and salt. In a slightly smaller bowl, whisk together the oil, butter, vanilla, eggs and milk. Add the wet ingredients to dry and stir gently with a spatula until a batter forms. Fold in the corn to the batter.

Line two 12-cup muffin tins with muffin liners. Place about a tablespoon and half of batter into the bottom of each muffin liner. Top each with the prepared, frozen balls of blackberry cream cheese filling. Divide the rest of the batter evenly among the muffins liners, covering the cream cheese filling. Batter will come almost all the way to the top of the muffin liners.

Bake muffins for about 24 minutes, or until tops are firm but springy to the touch. Allow to cool for at least 10 minutes in the muffin tins before removing to cooling racks to cool completely before serving.