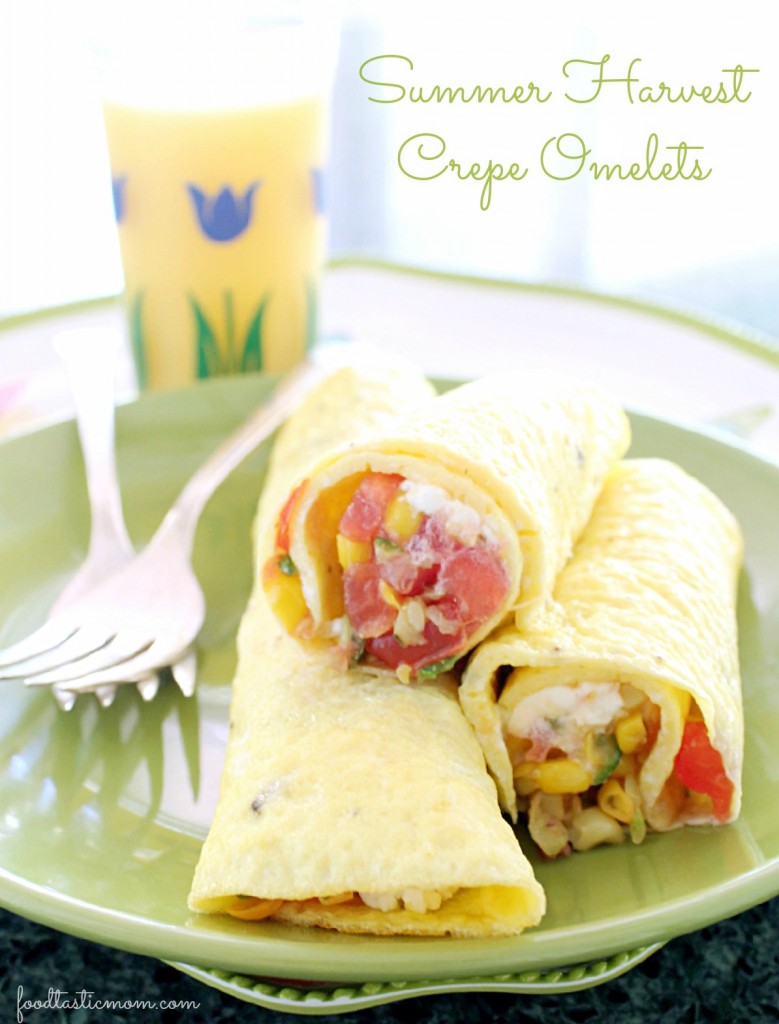 Here in the Midwest the zucchini, tomatoes and corn are starting to sprout out our ears. And generally my family eats all three till we are so sick of it, we're actually glad when the season is over. And no offense to this trifecta of summer bounty, but I'm always most excited for the arrival of back-to-school, football and pumpkins. But I digress…
A few months back, I was playing around with cooking eggs and discovered I could cook one egg at a time, paper-thin, with my 7-inch non-stick skillet, using only some coconut oil cooking spray to really make sure the egg didn't stick. It's healthy, easy, and my kids think it's a super-fun way to eat eggs. Actually, one of their favorite ways to eat one of these eggs is wrapped in a tortilla with refried beans, cheese and sour cream (though much to my dismay, no salsa yet). You can fill these little crepe omelets with anything you want but this time of year, it's yet another use for those zucchini, tomatoes and corn!

I shredded a small zucchini, tossed it with some leftover corn I cut off the cob and sauteed it in some coconut oil. I mixed it with some fresh, chopped tomato and that, along with some crumbled goat cheese is the summer harvest filling. Simple and seasonal.
If you're entertaining, you could even make this into a "bar" set-up. Once the eggs are cooked, they stack well. Set out some bowls with your favorite prepared toppings and you have an easy, make-your-own, crepe omelet station. And I guess I'm calling them crepe omelets because the thinness of the egg looks like a crepe, but it's just an egg, with salt and pepper. A new way to impress your friends and family!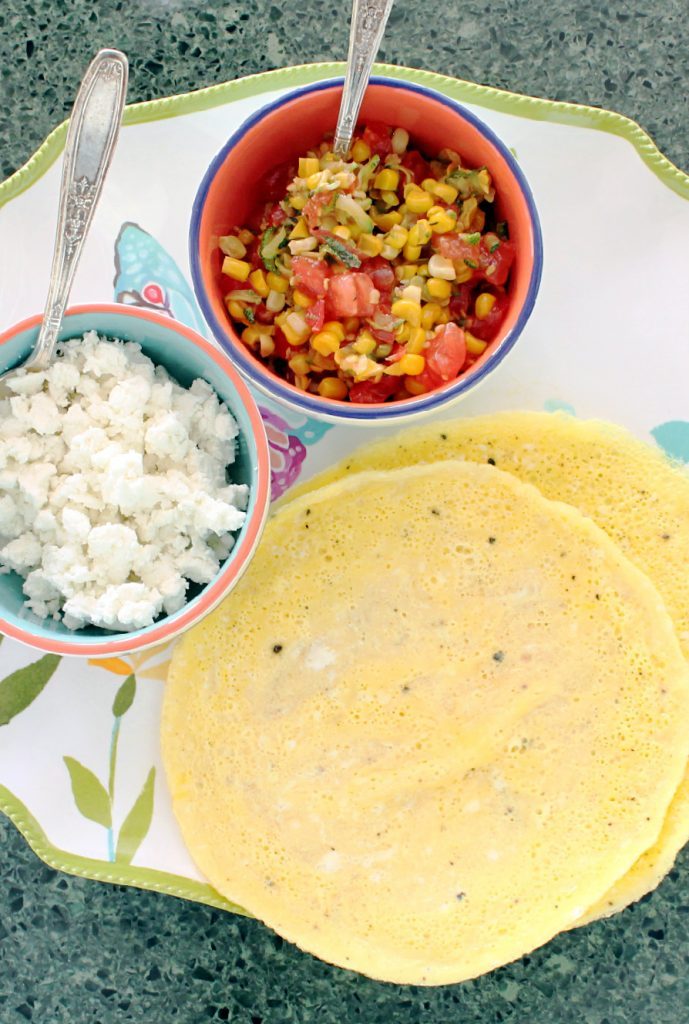 Summer Harvest Crepe Omelets
Ingredients
6

eggs

coconut oil

or similar high quality cooking spray

salt and pepper

1

T.

coconut oil

or olive oil

1

small zucchini

shredded

1

ear corn

cooked and cut off cob

1/4

t.

dried thyme

1/2

t.

salt

1

large tomato

seeded and chopped

6

T.

goat cheese

crumbled
Instructions
In a 7-inch, non-stick skillet, heat oil over medium high heat. Add the zucchini and corn, thyme and salt. Cook, stirring occasionally, until vegetables begin to brown, about 7 - 8 minutes. Remove from heat. Toss the cooked zucchini and corn with the chopped tomatoes and salt. Set aside.

Spray a 7-inch, non-stick skillet with coconut oil cooking spray and heat over medium heat. Beat one egg at a time until frothy. Add one egg to the skillet slowly, tilting pan to cover entire bottom if necessary. Watch closely and cook, for just 1-2 minutes until egg is just cooked through. The top of the egg will still look just a bit wet. Do NOT flip. Shake a bit and slide cooked egg onto a plate. Repeat process with remaining eggs.

Fill each crepe omelet with 1 tablespoon of goat cheese and the vegetable filling. Roll up and serve.