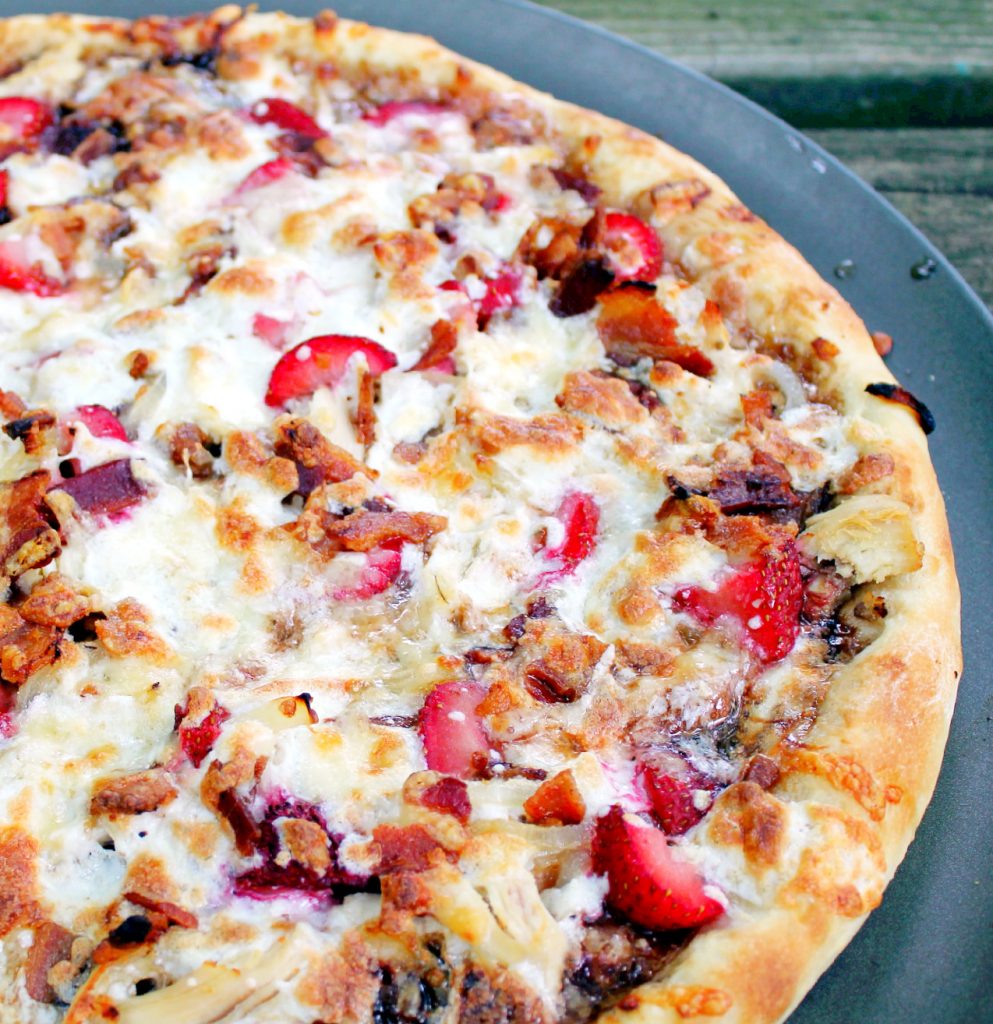 Strawberry Balsamic Bacon Pizza. It looks intriguing, right? But fresh strawberries on a pizza meant for dinner? Not to mention the copious amounts of strawberry jam in the "pizza sauce"… but take a good close look at it. That's shredded chicken and applewood smoked bacon you see poking out of the layer of fresh mozzerella and parmesan cheese. Oh, and there's a bunch of fresh onions caramelized in some of the reserved bacon fat piled on there too. And yummy, sticky balsamic vinegar mixed in with the strawberry jam and a bit of sriracha sauce to make an incredibly delicious crusty base to anchor this unique pizza.
I originally spotted this lovely pizza idea HERE. I will most certainly file this recipe as a keeper and look forward to when I make it again. Next time I think I'll finally try grilling my pizza crust with these toppings.
Strawberry Balsamic Bacon Pizza
Ingredients
for the crust
3

c.

all-purpose flour

2

t.

salt

1 1/2

t.

rapid-rise yeast

1

c.

lukewarm water

2

T.

olive oil
for the sauce
1/4

c.

balsamic vinegar

1/2

c.

strawberry jam or preserves

1

T.

siraracha sauce

1/4

t.

salt
for the toppings
1

c.

shredded

cooked white breast of chicken

4

slices

applewood smoked bacon

cooked crisp and crumbled

1

T.

reserved bacon fat

1

c.

thin sliced yellow onion

4

oz.

fresh mozzerella cheese

shredded

2

oz.

Parmesan cheese

grated

1/2

c.

fresh strawberries

thinly sliced
Instructions
FOR THE CRUST

Stir dry ingredients, including yeast, in a large bowl. Add water and olive oil, stirring mixture into as close to a ball as you can. Dump all clumps and floury bits onto a lightly floured surface and knead for 2-3 minutes (sprinkling lightly with more flour as needed) into a homogeneous ball.

Clean your bowl, then lightly oil it with olive oil and dump the dough in, turning the dough over so all sides are covered with oil, cover bowl with plastic wrap or a clean kitchen towel and leave it undisturbed for an hour or two… until it has doubled in size.

Uncover the dough and gently press the air out of the dough with palm of your hand. Cover the bowl again and let the dough rest for another 20 minutes.

FOR THE SAUCE AND TOPPINGS

Add the balsamic vinegar to a saucepan over medium-high heat. Bring to a boil and then reduce to a gentle simmer. Simmer for 5-6 minutes until vinegar becomes thick and syrupy and is reduced by half. Remove from heat and whisk the reduced balsamic in with the strawberry jam, sriracha and salt to make the sauce. Cover and set aside until ready to make the pizza.

In a non-stick skillet, heat the reserved bacon fat over medium-low heat. Saute the sliced onions for 8-10 minutes until just beginning to caramelize. Remove from heat.

TO MAKE THE PIZZA

Preheat oven to 500 degrees.

Remove dough from the bowl, gently begin stretching it into a circle. Lay it flat on your 15.75-inch T-fal Air Bake pan and press the dough gently from the center until it reaches the edges of the pan. Brush the crust edge very lightly with olive oil.

Brush the sauce evenly over the crust to within 1/2-inch border of the crust. Evenly top the sauce with the cooked chicken, bacon, cheeses, onions and strawberries. Bake pizza until cheese is bubbling and browning and edge of crust is looking crisp, about 12-14 minutes. Remove from oven and let cool slightly before slicing and serving.