Spumoni Brownie Torte brings the classic flavors of Italian spumoni – chocolate, pistachio and cherry – to your table in the form of a company-worthy frozen dessert. This is a sponsored post for HemisFares™ brand that is available exclusively at the Kroger family of stores. All opinions are honest and 100% my own.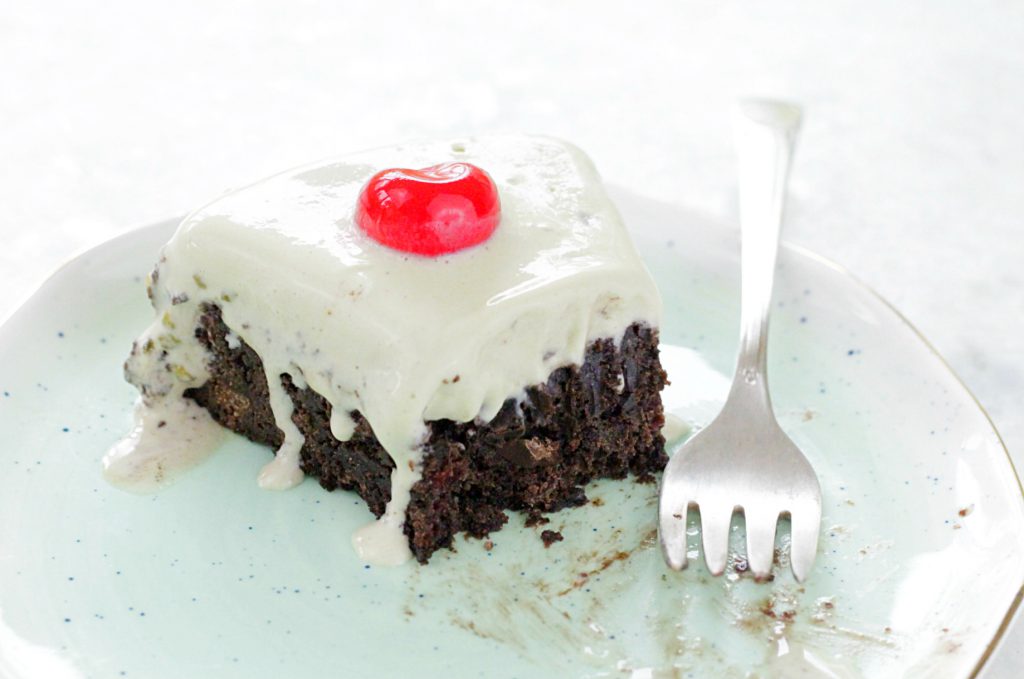 Spumoni is one of the those special occasion flavors for me. I'm not Italian (French, British, German – and Irish by marriage) but my Mom always brought out a spumoni ice cream roll with our cookies each holiday season. As a kid I thought the combination of chocolate, pistachio and maraschino cherries was just so exotic – and the colors were pretty too.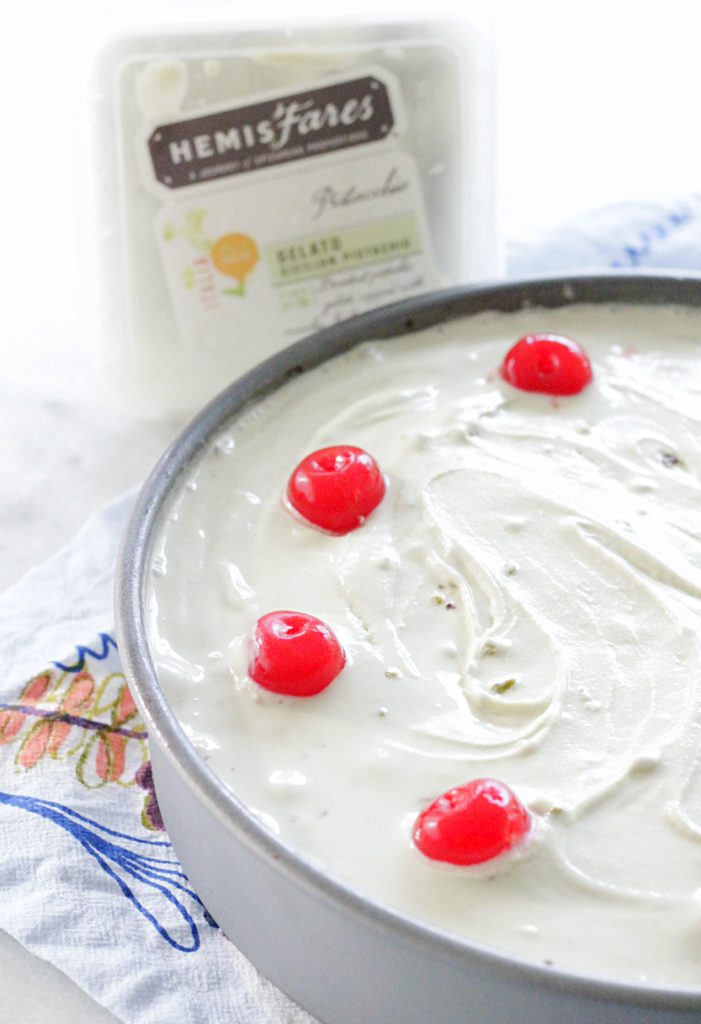 That's where my inspiration for this dessert came from – fond childhood memories. And thanks to HemisFares and Kroger I am able to infuse this 'homemade with help from the store' dessert with truly authentic Pistachio Gelato, sourced from Italy.
I wanted this dessert to be simple yet taste truly special. So a box of brownie mix gets 'doctored up' with melted butter (instead of oil) and maraschino cherry juice (instead of water). Some maraschino cherries folded in and under baking the brownie just a bit makes a stand out, intensely favored chocolate base for the cool and creamy pistachio gelato layer on top.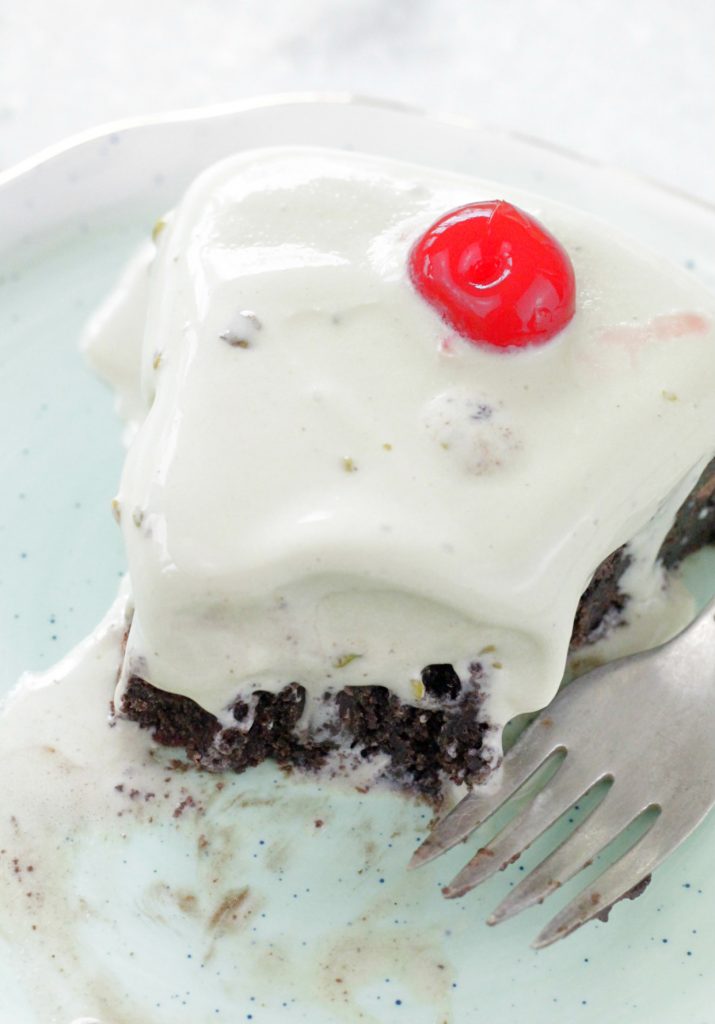 This Spumoni Brownie Torte is actually better made the day before you plan to serve it so it has plenty of time to chill in the freezer, making it a good choice for entertaining. Lasagna or pasta topped with one of HemisFares authentic Italian sauces (plus salad and garlic bread) would be a terrific dinner pairing with this dessert.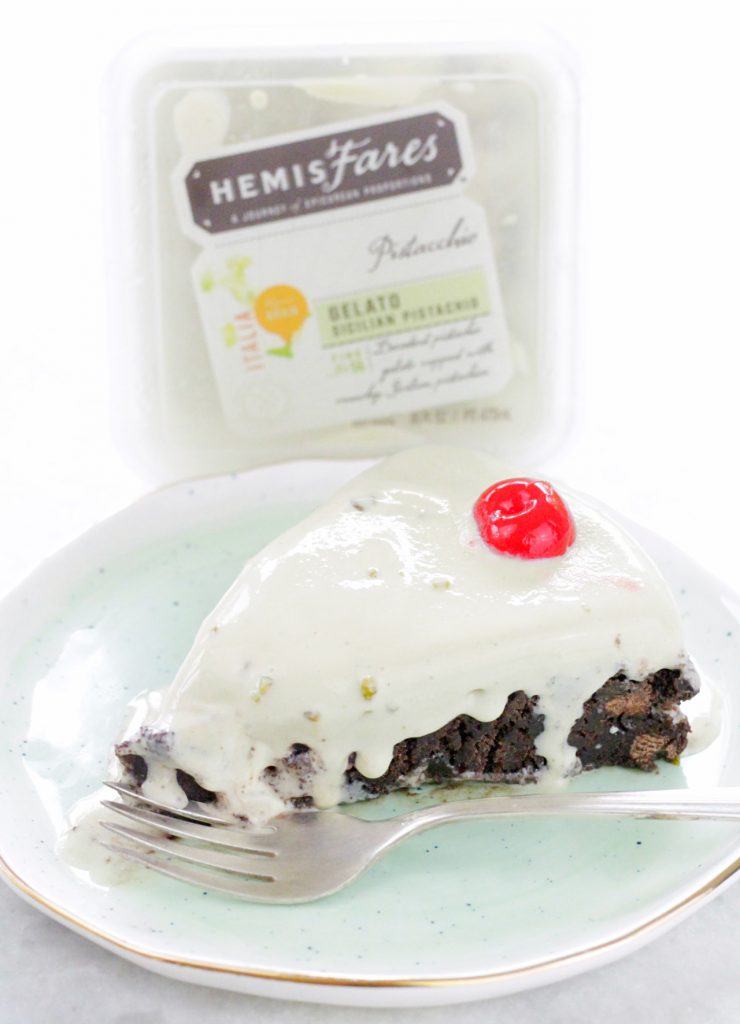 For more information on HemisFares you can check out the website HemisFaresFinds.com or facebook.com/Hemisfares.
PIN THIS RECIPE

Spumoni Brownie Torte
Ingredients
1

large

egg

8

tbs

unsalted butter

melted

1

jar (12 oz)

maraschino cherries

divided

1

box

brownie mix

2

containers

HemisFares Pistachio Gelato
Instructions
Preheat oven to 325 degrees.

Spray a 9-inch round cake pan with cooking spray and set aside.

In a large bowl, whisk together the egg, melted butter and 1/4 cup of the maraschino cherry juice (drained from the 12 ounce jar).

Add the brownie mix and stir until just combined.

Chop about half the jar of drained maraschino cherries and fold into the brownie mix.

Spread the cherry brownie batter into the prepared cake pan and bake until top is just set, about 38 - 40 minutes.

Run a knife around the edge of the brownie to loosen and allow the brownie to cool completely in the pan.

Set the HemisFares Pistachio Gelato on the counter to soften for about 10 minutes.

Spread the gelato evenly on top of the brownie.

Space 8 cherries around the edge of the pan (one per slice).

Cover the pan tightly with plastic wrap and freeze for at least 2 hours (or overnight).

Remove the brownie torte from the freezer about 10 minutes before serving. Slice and serve.
Find this delicious HemisFares pistachio gelato in the frozen section at your local Kroger.