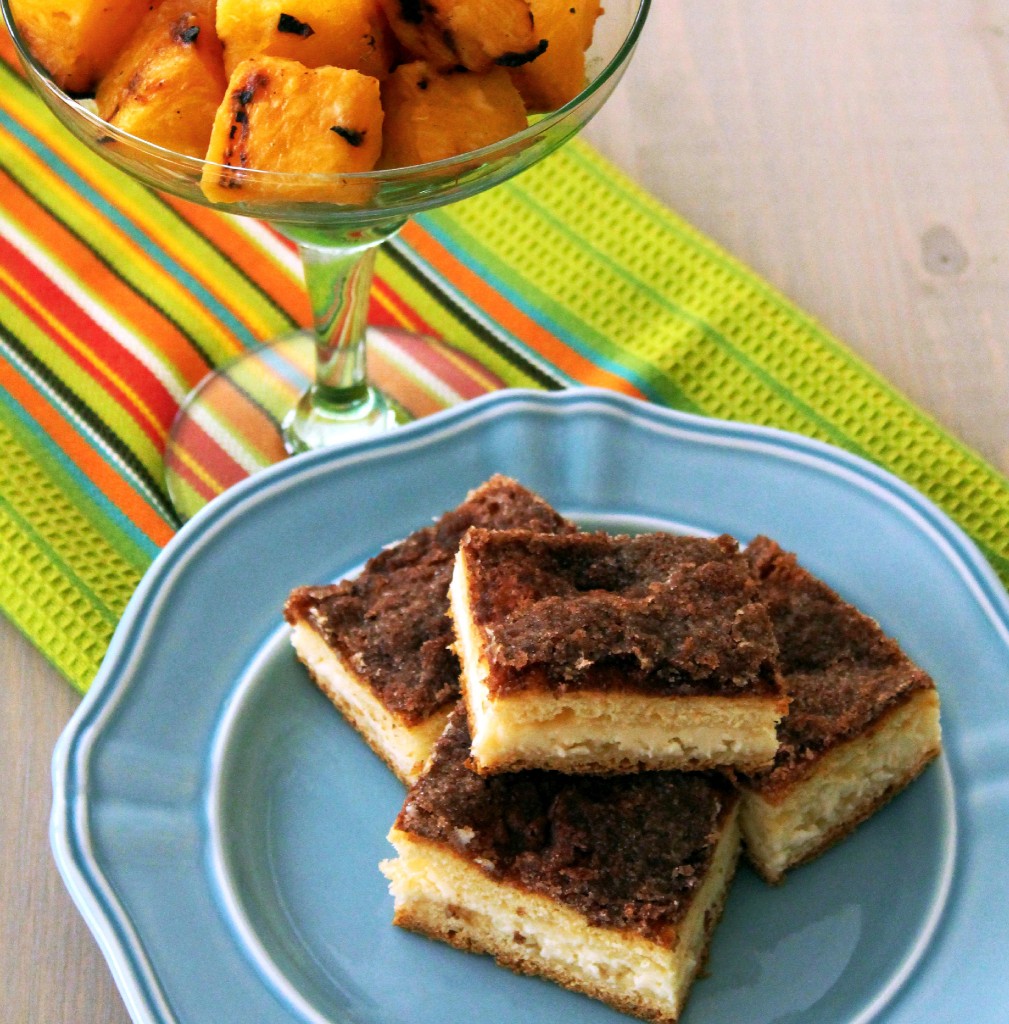 So our bourbon burgers, in honor of Derby weekend, actually paired quite nicely with these sopapilla cheesecake bars and grilled pineapple, in honor of Cinco de Mayo. I'd never heard of sopapilla cheesecake, but apparently it's been around for quite a while and is very popular on Pinterest. A friend brought it to our church life group meeting this past Sunday and I knew I had to post it on here.
I'm not normally a fan of using many prepared grocery items, like Pillsbury crescent rolls, in my day-to-day eating, but for certain recipes, I will happily make an exception. There are always times I need a super-quick dish that is guaranteed to be a crowd-pleaser, and these sopapilla cheesecake bars are it.
Since our grill is new, I decided to grill some pineapple to serve with our meal, and also the fresh fruit cancels out the fat and calories in the bars… of course it does.
Sopapilla Cheesecake Bars
2013-05-04 10:56:11
Serves 12
Ingredients
2 pkg. Pillsbury Crescent Rolls
2 (8 oz.) pkg. Philadelphia Cream Cheese, softened
1 1/2 c. sugar, divided
1 stick unsalted butter, melted
1 t. vanilla
1 T. cinnamon
Instructions
Unroll one package of crescent rolls and evenly place in bottom of ungreased, glass 9 x 13 baking dish, pinching seams together if necessary. With an electric hand mixer, beat together the cream cheese, 1 cup sugar and vanilla until smooth. Evenly spread over the bottom layer of crescent rolls. Top cream cheese layer with a second layer of crescent rolls, again pinching seams together as necessary to cover the cream cheese layer.
Pour the melted butter evenly over the top of the cheesecake. Mix together the remaining 1/2 cup sugar with the cinnamon and sprinkle over the melted butter.
Bake on middle rack of oven for 30 - 35 minutes, or until center of cheesecake is set. Allow the pan to cool on the counter for about 20 minutes and then put it in the refrigerator for at least 2 hours until well-chilled. Cut into bars and serve.
Adapted from Pillsbury
Foodtastic Mom https://www.foodtasticmom.com/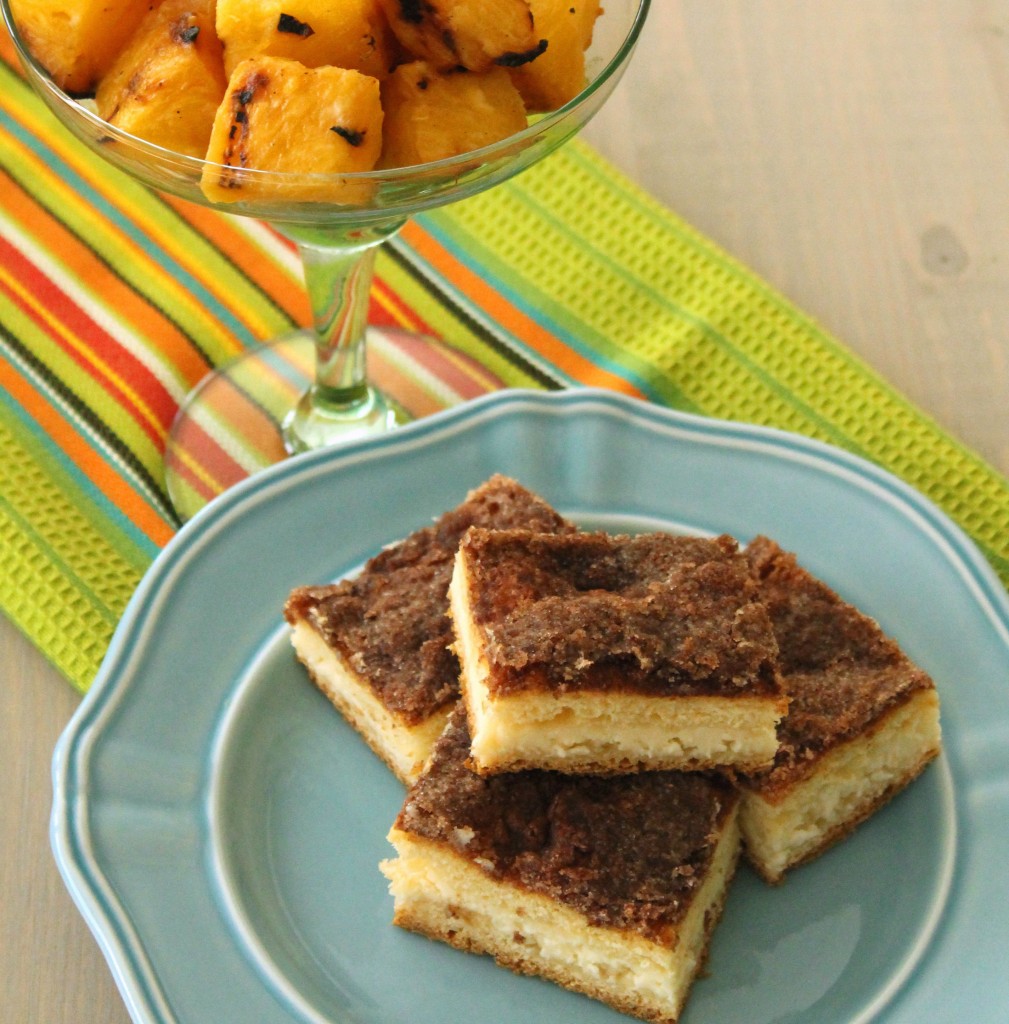 Grilled Pineapple
2013-05-04 11:05:10
Ingredients
2 fresh pineapples
1 T. unsalted butter
1 T. fresh lime juice
1 T. light brown sugar
Instructions
Cut the tops and bottoms off of each pineapple. Slice the rind off, using a sharp knife. Cut each pineapple into about four large slices... when it's standing, cut a strip from one side, along the core. Turn pineapple clockwise three more times, making another slice each time. Discard cores.
Heat grill to low and grill pineapple slices, about 5 minutes per side. Remove to cutting board and cut into bite-sized pieces.
Place butter, lime juice and brown sugar in a small saucepan. Heat to a simmer and cook for 1 minute, stirring constantly.
Pour glaze over grilled pineapple, stirring well to coat. Serve pineapple at room temperature.
Foodtastic Mom https://www.foodtasticmom.com/