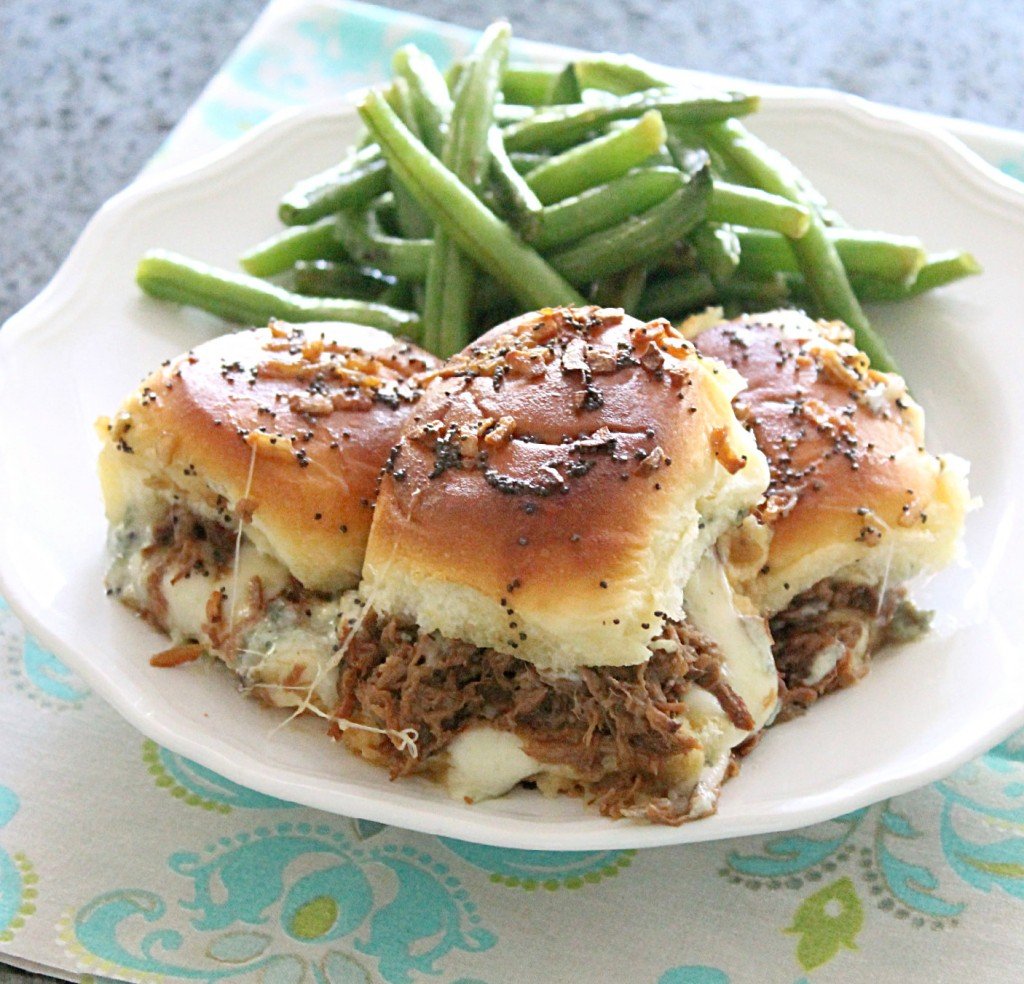 My husband says to tell you all these sliders are f'ing good. How's that for an endorsement? I catered a retirement party and suggested these beef sliders I'd been wanting to try. I've made similar ham and swiss sliders countless times and these are a more fancy-pants version of those. These beef sliders, by the way, are thanks to the blog Heather Likes Food. Give her a visit since she's pretty much a genius for bringing us this recipe!
You begin by slow-roasting a big hunk of beef, seasoned with soy sauce, brown sugar, thyme, garlic powder and bay leaf. The beef alone can be a meal in itself right there. It also can be made ahead and stuck in the freezer until you need it. Talk about convenient!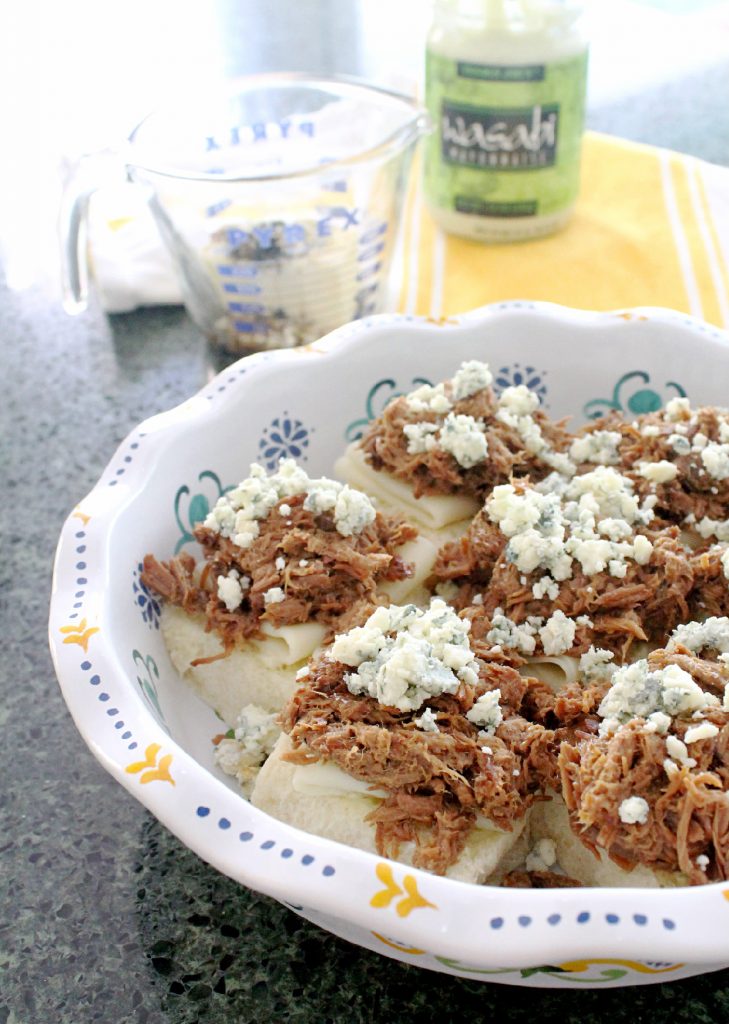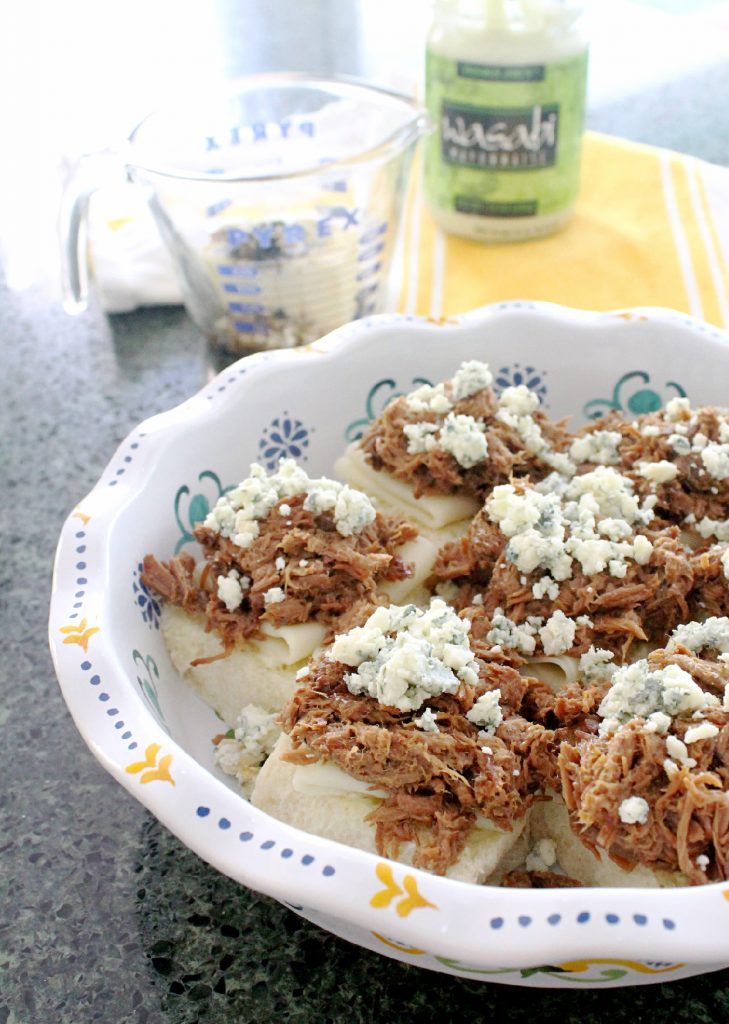 Once the beef is roasted to perfection, you layer it on slider-size buns with some smokey blue cheese, provolone and in my case Wasabi Mayonnaise (which if you don't have a Trader Joe's near you to purchase, you can substitute with horseradish mixed with regular mayonnaise… also, I am sad for you and your lack of Trader Joe's).
Then liberally drizzle them with butter! This is not diet-food my friends, which is why I'm giving you some freshly grilled green beans to serve alongside.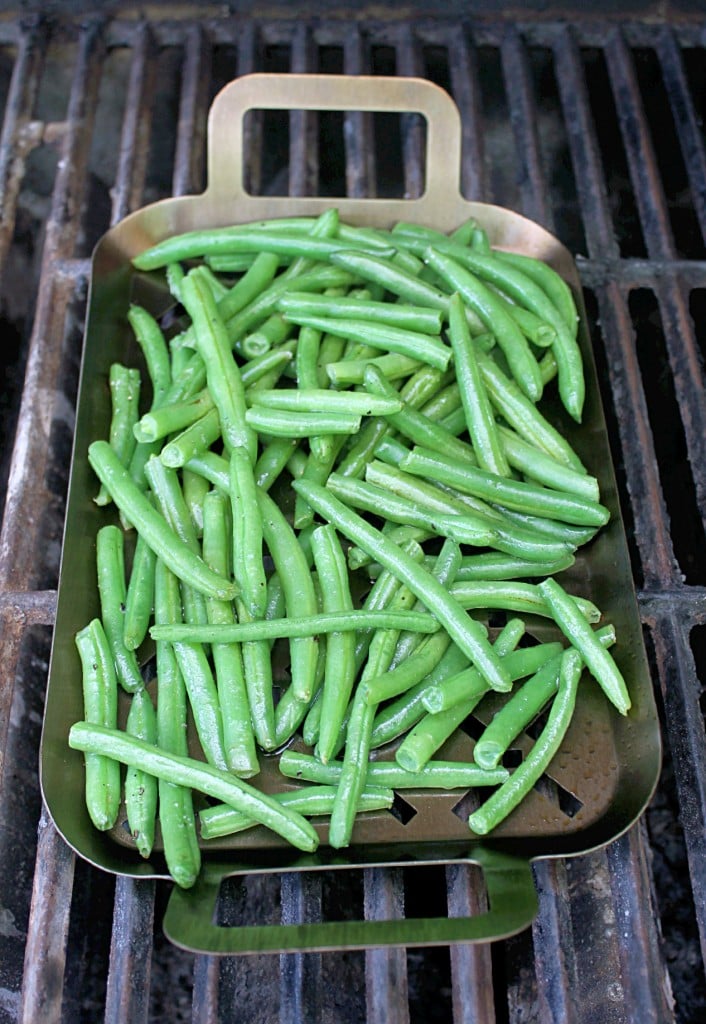 Oh, and did I mention the butter is melted with Worcestershire, onion and poppy seeds? It's a thing of beauty really.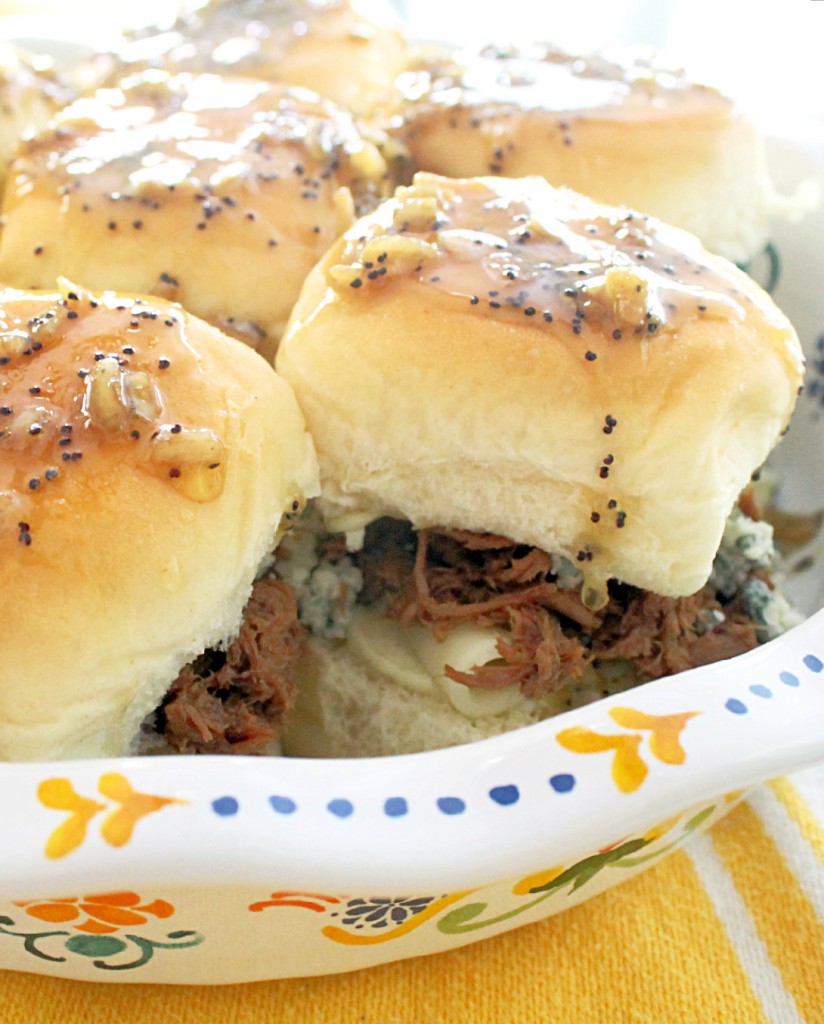 Bake them in the oven, and behold… f'ing good sliders. These sliders are an explosion of flavor. Guaranteed to please a crowd. Enjoy!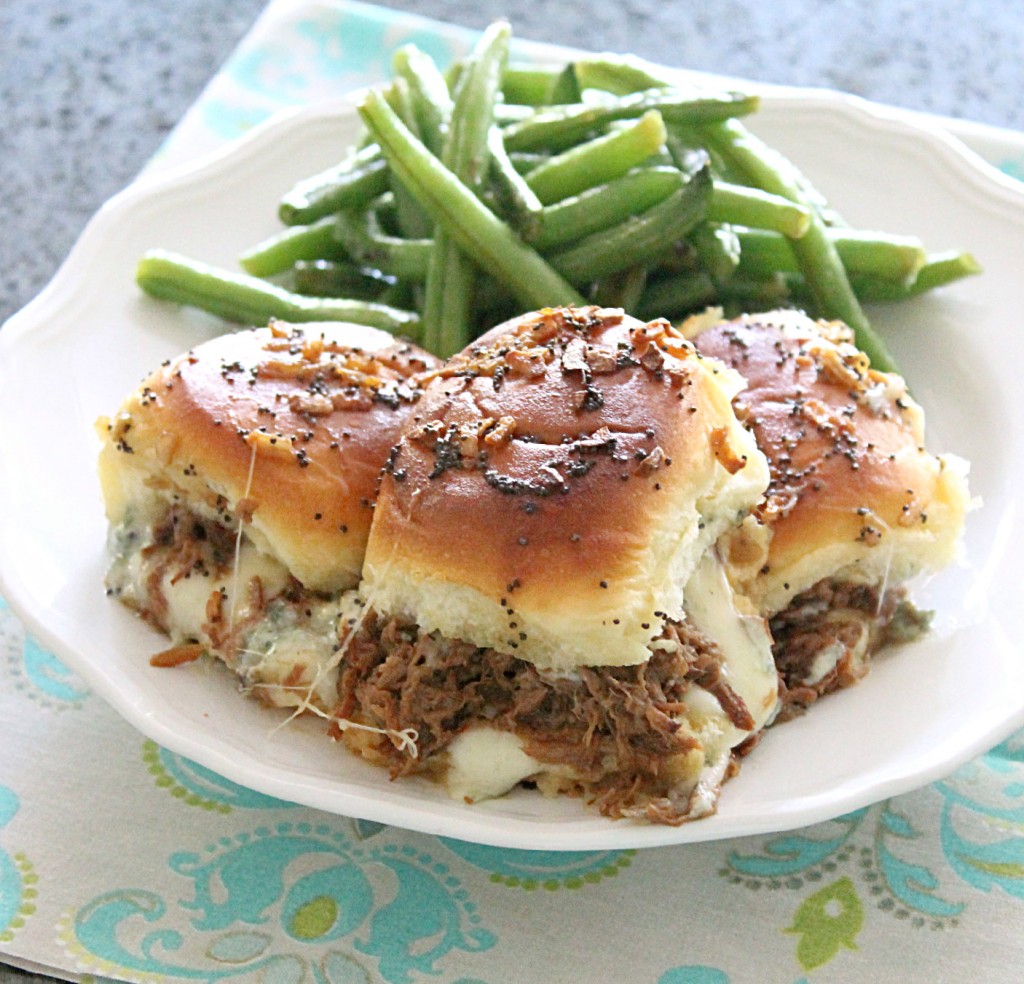 Slow-Roasted Beef Sliders
2014-07-01 18:44:41
Ingredients
1 (4 lb.) beef chuck roast, trimmed of excess fat
1/2 c. soy sauce
2 T. light brown sugar
2 t. garlic powder
1 t. dried thyme
2 bay leaves
24 slider buns
1/4 c. Wasabi mayonnaise (or mix mayonnaise with horseradish to your spice tolerance)
24 thin slices provolone cheese
8 oz. smokey blue cheese, crumbled
1 stick butter, unsalted
1 T. Worcestershire sauce
1 T. dried onions
2 t. poppy seeds
pinch of salt
Instructions
In a slow cooker, add the beef roast, soy sauce, brown sugar, garlic powder, thyme and bay leaves. Roast on low for 8 hours. Shred beef and continue to roast another hour to allow it to fully cook in the juices. Remove beef and sauce and allow to cool completely. Can be made ahead and frozen. Thaw completely before continuing.
Preheat oven to 375 degrees.
Spread each side of the buns lightly with the Wasabi mayonnaise. Layer one slice of provolone, beef and blue cheese on each sandwich. Melt together the butter, Worcestershire sauce, poppy seeds, dried onion and salt in the microwave until completely melted. Pour butter mixture evenly over top of the sliders.
Bake the sliders in a shallow dish or pan, covered loosely with foil for 15 minutes. Remove foil and bake another 5 minutes. Serve warm.
Adapted from Heather Likes Food
Foodtastic Mom https://www.foodtasticmom.com/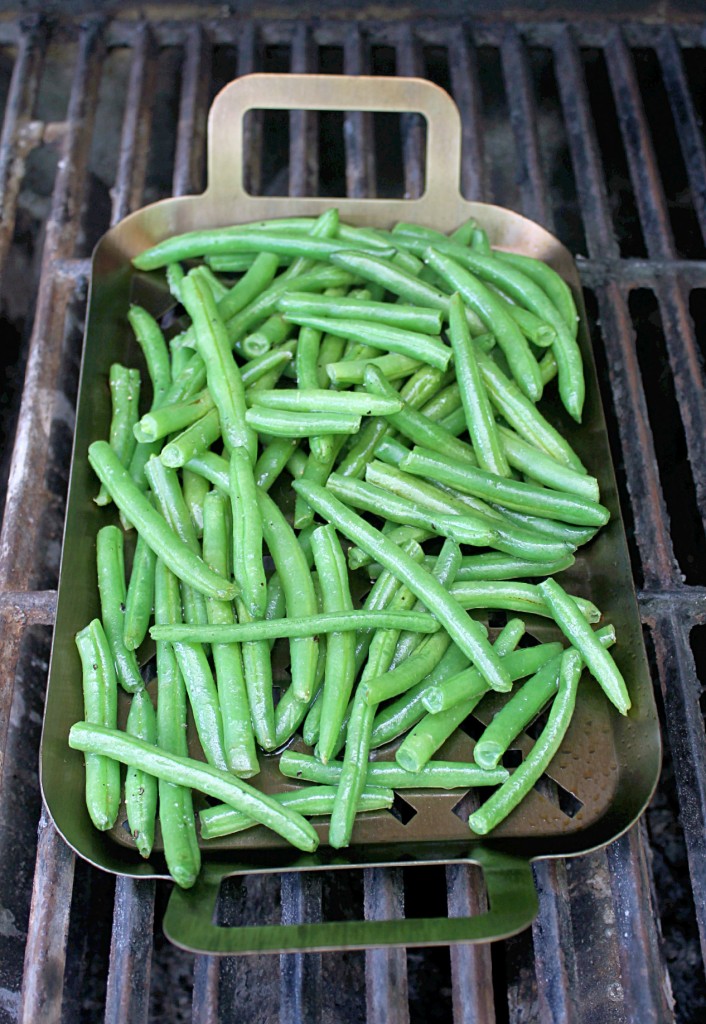 Lemony Grilled Green Beans
2014-07-01 18:47:31
Ingredients
1/2 pound fresh green beans, washed and stemmed
2 T. olive oil, divided
1 t. salt, divided
cracked black pepper
zest and juice of 1/2 fresh lemon
1 T. honey
Instructions
Drizzle the green beans with 1 tablespoon of olive oil and sprinkle with 1/2 teaspoon of salt. Grill on grill pan over low heat until they are beginning to soften and brown, 8 -10 minutes.
Whisk together the remaining 1 tablespoon of oil, lemon zest and juice, honey, remaining salt and cracked black pepper. Remove green beans from the grill and pour the dressing over the beans. Toss to coat evenly. Serve warm.
Foodtastic Mom https://www.foodtasticmom.com/