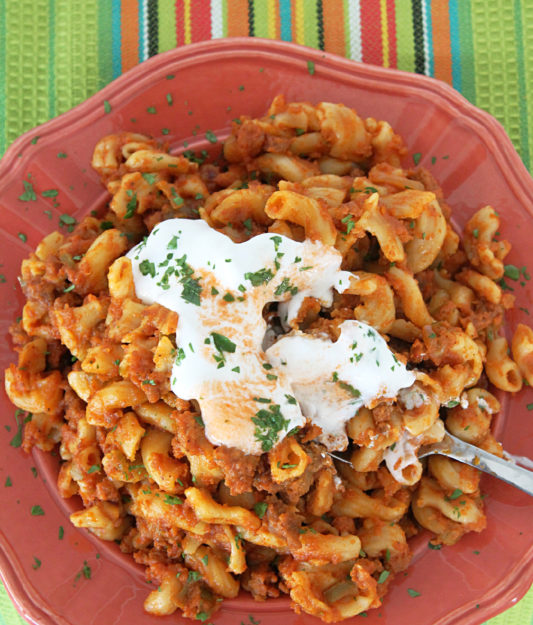 I had a lot of fun putting my own spin on a couple of recipes from Ragú® Old World Style® Traditional Sauce for their New TraDish campaign. The sauce is tasty, packed with 11 tomatoes in every jar and it's economical. As much as I'd love to feed my family of four fresh salmon dinners every night, that is just not a reality on a teacher's (husband) and fledgling food blogger's (me) budget. So salmon one night and taco mac out of the Crock Pot the next. I doubt we differ from many families in that respect. And it's not just budgetary concerns for me, it's being mindful of each of our tastes. I don't cater to one taste, I cater to ALL of our tastes. So some nights are just more "kid-friendly" than others. I can promise you this is one of those recipes.
Before we ran out the door for Caleb's swim practice, I had to get this dish photographed before I lost my natural light. Both kids always need a snack when they get home from school, so I went ahead and served them a bowl of this and their reactions were priceless. "Oh my gosh, mom. This is so GOOD!" No matter how much they like my cooking, it's not every meal that I get such an enthusiastic response. In this next photo you'll see Hannah's little hand. I wanted a close-up and a little different perspective than I am normally able to get by myself taking a photo. You should have seen us. Me positioning her hand, realizing she couldn't NOT shake, then having Caleb come around and support her arm from behind. All with about 10 minutes before having to leave for the YMCA. It's an exciting life I lead!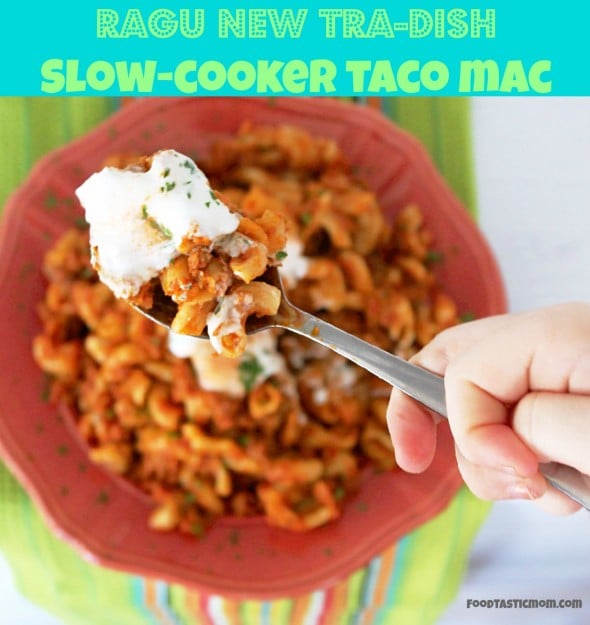 The other great thing about macaroni and cheese fixed in the Crock Pot? No boiling noodles before-hand! After browning the beef and peppers mixed with taco seasoning, I placed it in the bottom of my Crock Pot set on low. I then layered the uncooked noodles and the Ragú® Old World Style® Traditional Sauce and cheese mixture on top. A few stirs while cooking, and the macaroni plumped up like magic.

This New TraDish is perfect actually for nights when you can't sit down at the same time as a family. With Caleb and his swim schedule, and Hannah not yet involved in sports, I am just starting to understand the hectic schedule of a family with active children. It is not always a reality to sit together at the dinner table. This taco macaroni and cheese can stay on warm setting and be ready for a serve-as-you-arrive dinner. Top with a little extra sour cream and a shot of hot sauce and it is good to go. Got hungry teenagers in your house? This is the recipe for you!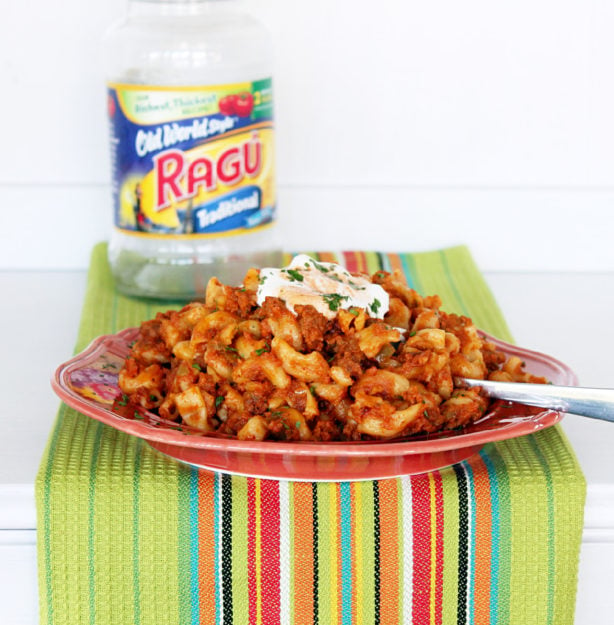 *I am being compensated by Ragú® for my time and effort in creating and posting this unique recipe. All opinions, however, are my own.
Slow Cooker Taco Macaroni and Cheese
Ingredients
1

lb.

lean ground beef

preferably grass-fed

1

green pepper

diced

1

4 oz. can green chilies

1

envelope taco seasoning

your favorite brand

3

c.

macaroni pasta

uncooked

1

jar Ragú® Old World Style® Traditional Sauce

1

c.

sour cream

1/2

c.

water

2

eggs

3

c.

Monterey Jack cheese

shredded

extra sour cream and hot sauce for serving
Instructions
In a stock pot over medium high heat, add the beef, green pepper and jar of green chilies. Cook, breaking up meat with heat-proof spatula or wooden spoon until pink is just gone.

Add the envelope of taco seasoning, stir well to combine and simmer for about two minutes more.

Spray the insert of a Crock Pot with cooking spray. Add the beef and pepper mixture to the bottom of a Crock Pot set to low.

Spread the uncooked macaroni evenly atop the cooked beef and peppers.

In a clean bowl, whisk together the Ragú® Old World Style® Traditional Sauce, sour cream, water, eggs and shredded cheese. Spread atop the macaroni.

Cover and cook on low setting for 3 - 4 hours. Stir once or twice during cooking time. Serve taco macaroni and cheese topped with additional sour cream and hot sauce.