This Slow Cooker Alfredo Macaroni and Cheese doesn't require pre-boiling the macaroni and tastes like a cross between your favorite Italian Alfredo pasta and traditional macaroni and cheese.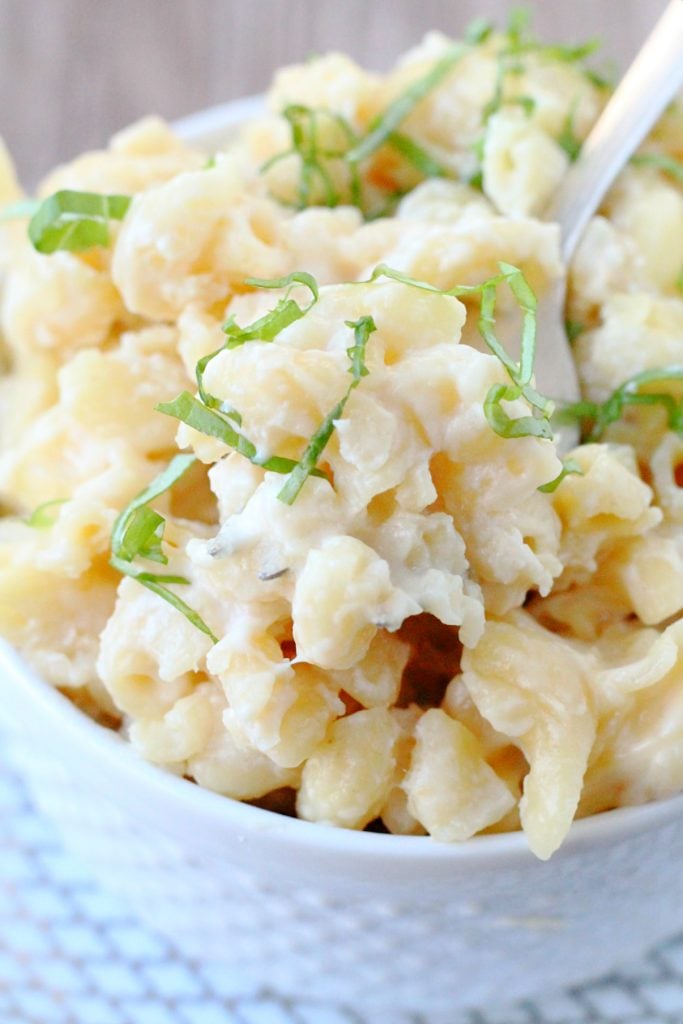 I'd been wanting to try a macaroni and cheese in my slow cooker for a long time. Both my kids (like most kids it seems) love macaroni and cheese but I actually don't make it very often from scratch. I'll be honest I usually rely on store brands to keep on-hand for when the macaroni and cheese craving strikes. Especially the single-serve microwave pouches. They are so convenient!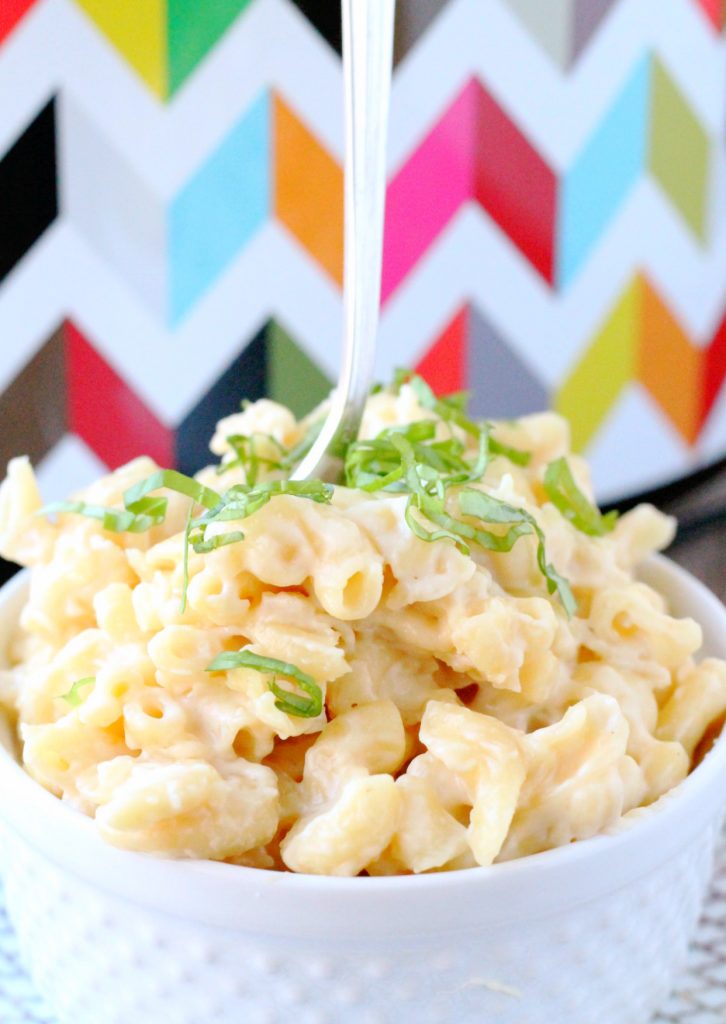 But sometimes I want macaroni and cheese for dinner and I felt like it should be just as convenient as the store varieties. Using a slow cooker seemed like the obvious solution but most recipes I'd found require boiling the macaroni first. And that just seemed like a fussy step to me. Do you agree?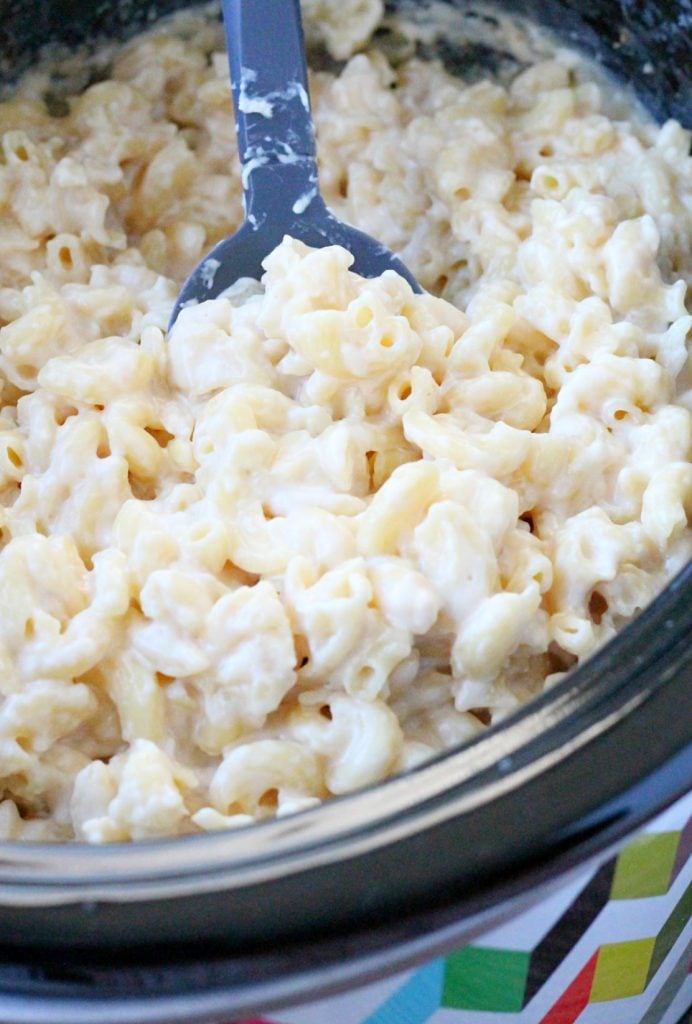 So I found THIS recipe and modified it to my own tastes to make it more like an Alfredo cheese sauce. Plus I found that 12 ounces of pasta is really the right amount – at least for my slow cooker which is 6-quarts and runs on the hot side. You can save the last 1/4 box of macaroni for later and toss it into a pasta salad.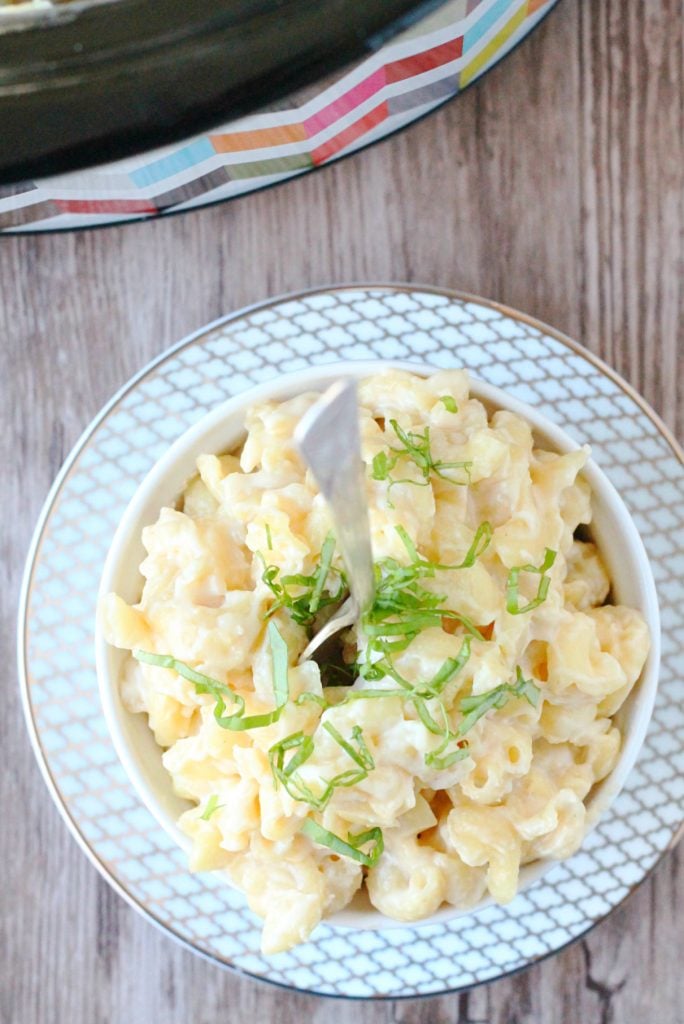 I wanted a good base that I could offer mix-ins with. Serve this Slow Cooker Alfredo Macaroni and Cheese with some roasted broccoli, grilled chicken, crumbled bacon, chopped tomatoes… the possibilities are endless. It's a such a simple and family-pleasing dinner solution!
Slow Cooker Alfredo Macaroni and Cheese
Ingredients
12

oz.

macaroni pasta

1

12-ounce can evaporated milk

2 1/2

cups

milk

2

cups

8 ounces mozzarella cheese, shredded

1

cup

4 ounces sharp white American cheese, shredded

1

cup

4 ounces Parmesan cheese, shredded

4

tablespoons

butter

cubed

1

teaspoon

salt

1

teaspoon

garlic powder

fresh basil

chopped
Instructions
In a 6-quart slow cooker, whisk together the evaporated milk, milk, salt and garlic powder. Stir in the pasta, cubed butter and shredded cheese.

Cover and cook on low setting for 3 hours. Be sure and stir the macaroni and cheese after the first hour of cooking.

Serve topped with chopped fresh basil.