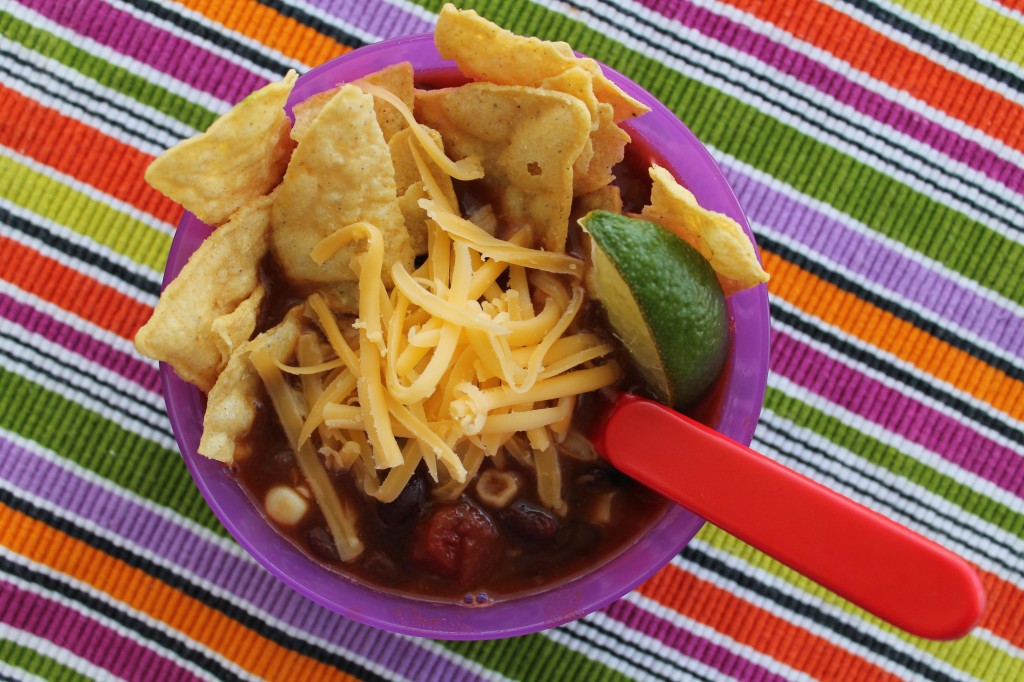 You may be wondering why I've taken a picture of this soup in a child's plastic bowl from Ikea. If so it's because both my children love this soup… one of the most important criteria for me if a recipe is a keeper or not. I happened across the original recipe for this tortilla soup when doing a Google search for "quick soup". I needed to take something that would keep well in a crock pot for our trick-or-treating adventures, but I had at most 30 minutes to throw it together. Kid friendly, quick and relatively healthy make this a great meal for the busy holiday season!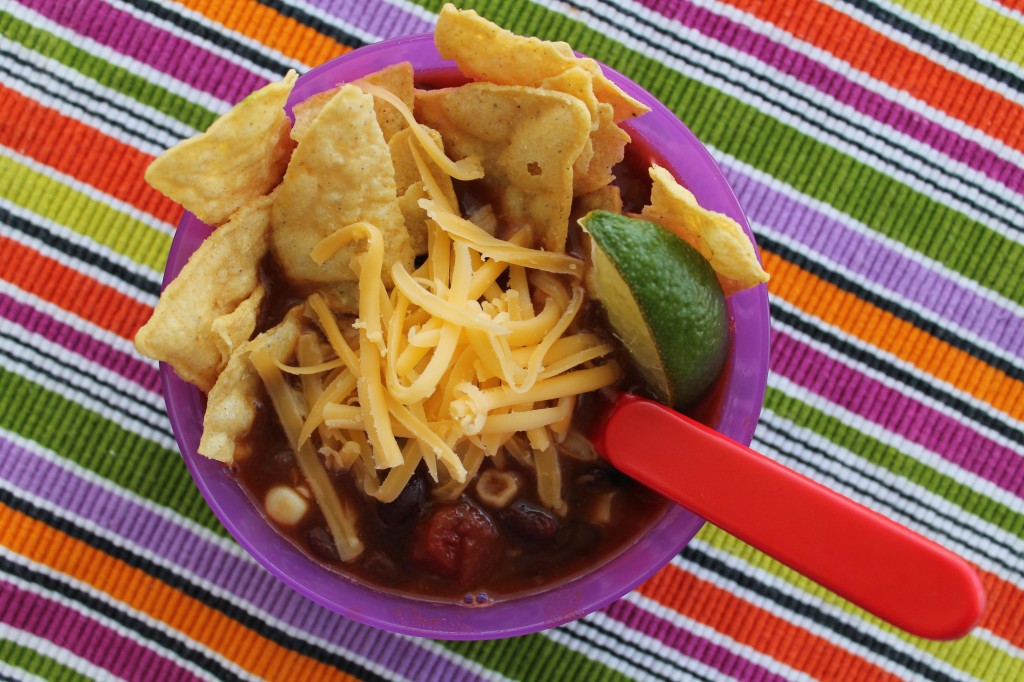 Simple Tortilla Soup
2013-04-29 13:57:16
Ingredients
2 T. olive oil
2 sweet onions, diced
6 garlic cloves, minced
2 t. chili powder
1 t. salt
1 t. cumin
1/2 t. ground chipotle pepper
1 (28 oz.) can fire-roasted diced tomatoes
1 (28 oz.) can diced tomatoes
4 (15 oz.) can black beans, drained
1 bag (16 oz.) frozen sweet corn
1 box (32 oz.) chicken broth
1 (10 oz.) can beef consomme (Campbell's brand)
Juice of two fresh limes
1/4 c. chopped fresh cilantro (optional)
Tortilla chips
Shredded cheddar cheese
Instructions
In a stock pot, heat oil over medium heat. Add chopped onions and cook until beginning to soften and brown, about 8 minutes. Add the garlic, salt, chili powder, cumin and chipotle pepper and stir until fragrant, about 1 minute. Increase heat to medium high and add the tomatoes, beans, corn, chicken broth and consomme. Bring to a simmer, stirring occasionally. Simmer for about 10 minutes and stir in fresh lime juice and cilantro if using. Serve soup topped with plenty of crushed tortilla chips and shredded cheese.
Adapted from Martha Stewart
Foodtastic Mom https://www.foodtasticmom.com/