Thanks to Barber Foods for sponsoring the creation of this original recipe post and video. #BarberNight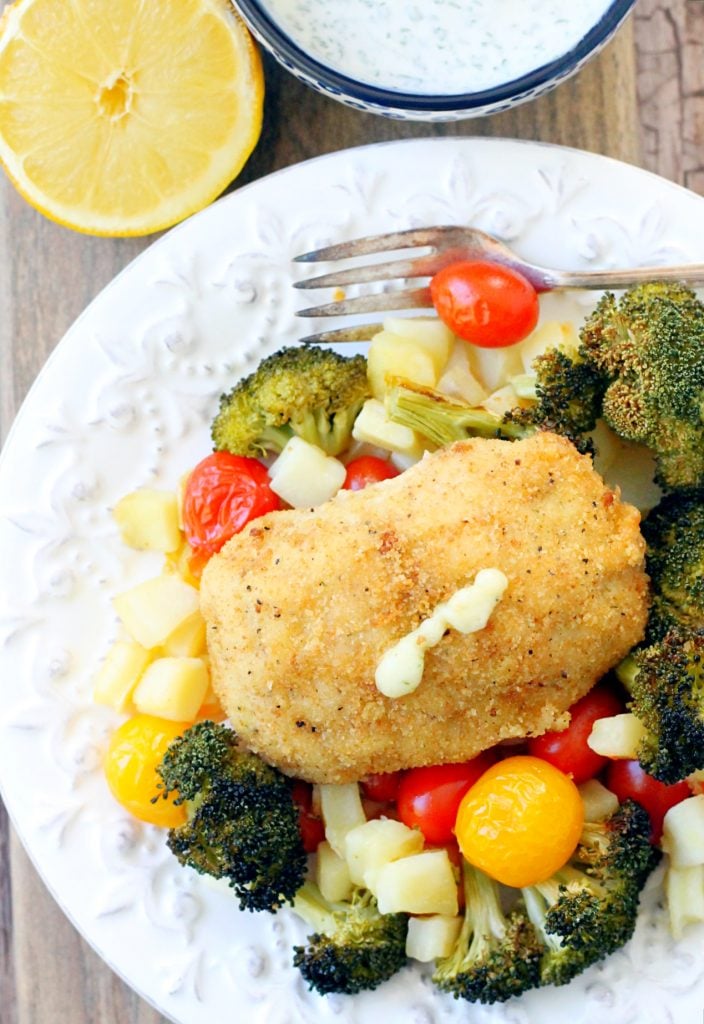 Sheet pan meals are all the rage right now, but I hadn't tried one in my own kitchen until last week. I mean I definitely utilize things cooked on sheet pans. Roasted vegetables mostly. And this simple sheet pan meal is a delicious mix of roasted veggies and stuffed chicken breasts with a roasted lemon sauce.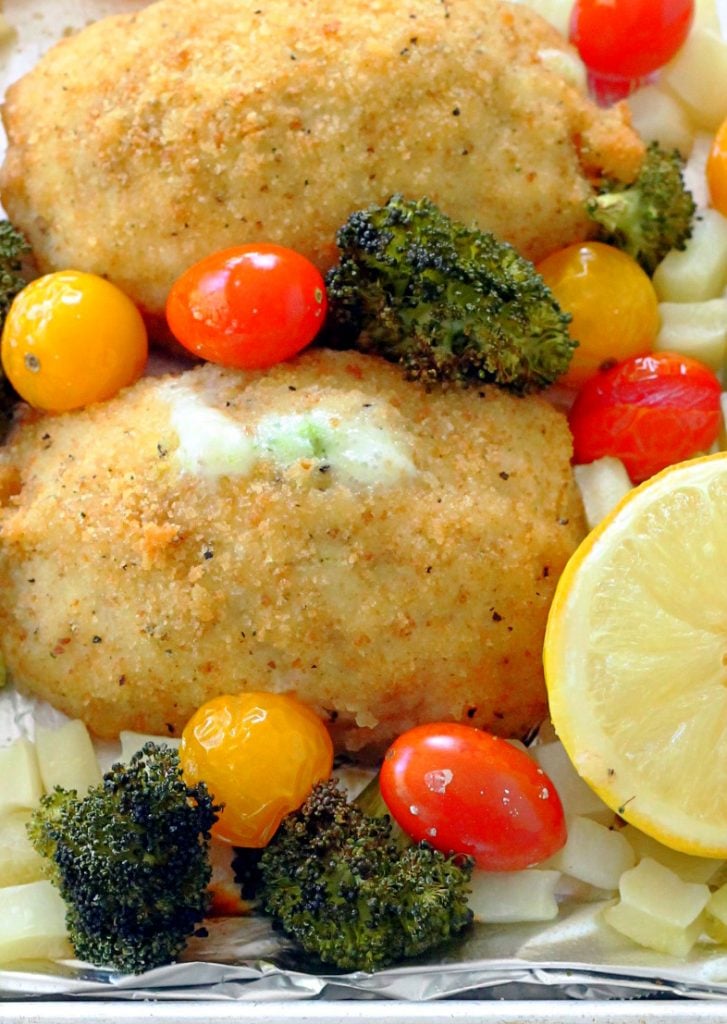 It is possible to make stuffed chicken breasts from scratch but it's pretty time consuming. They are a special occasion only meal in our house. During the week (especially when school is in session) I rely a lot on prepared chicken. Whole rotisserie chickens and fried chicken from the grocery deli section and Barber Foods Stuffed Chicken Breasts in the frozen section. The thing about having kids is that they want to be fed dinner every single night, who knew?! <<<I need a sarcasm font. This requires a lot of creativity throughout the year!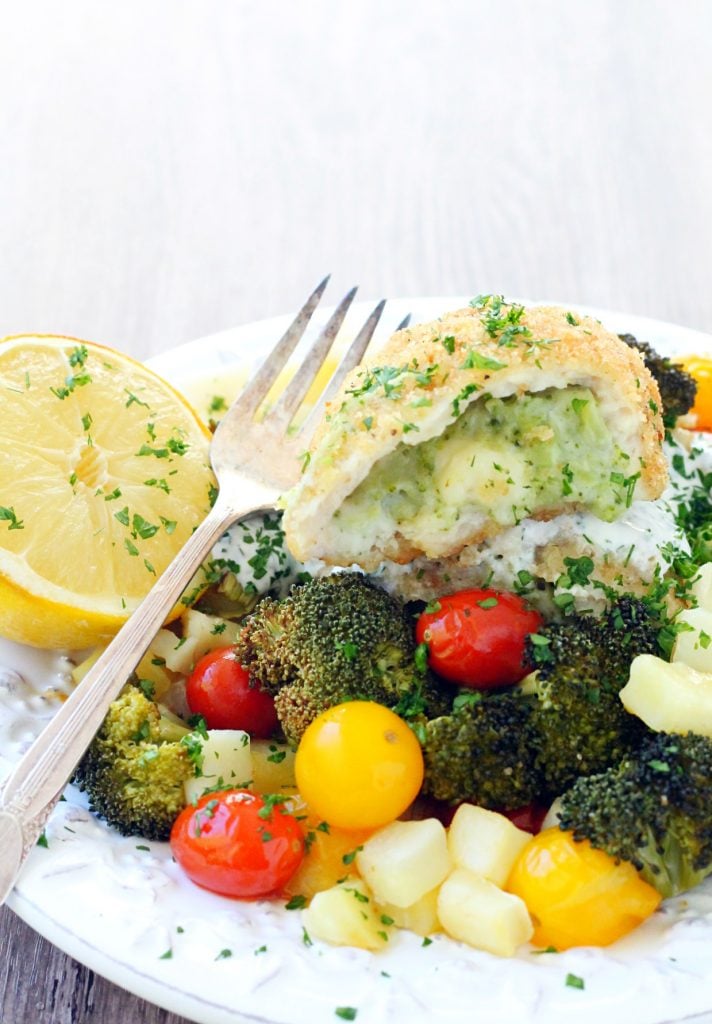 I really like Barber Foods Broccoli and Cheese Stuffed Chicken Breasts. I keep some in the freezer for last-minute dinners. I don't do very well with meal planning. Because inevitably my best laid plans seem to fly out the window when life happens. But as I said I always have a hungry family to feed no matter what so I use all the help I can get.
I decided to create a sheet pan meal when Barber Foods asked me to talk about why I like their stuffed chicken. The chicken bakes up crispy on the outside with a tender, flavorful filling on the inside. They make quite a few varieties which you can find HERE but the broccoli and cheese is my favorite.

This recipe can be assembled and in the oven in just a few minutes. I used frozen cubed potatoes because after testing raw potatoes first I realized they wouldn't get tender enough by the time the rest of the veggies and chicken was ready to come out of the oven.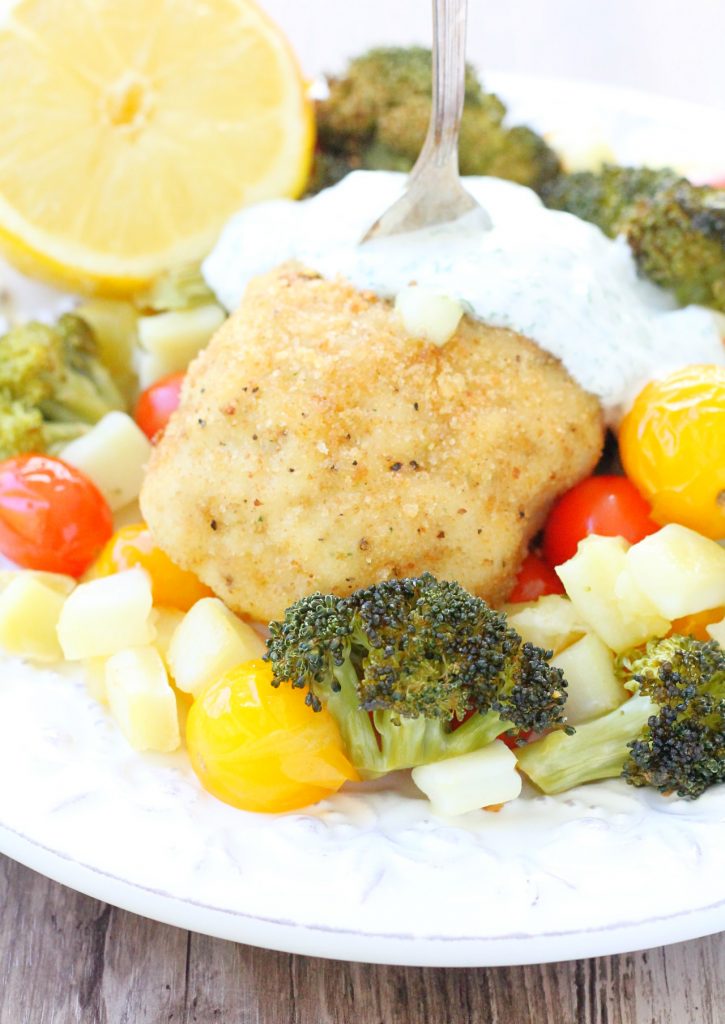 I really like making fresh sauces to compliment our meals. With minimal effort they make the dinner seem completely unique and all homemade. If you've never roasted a lemon before you are in for a treat. The juice concentrates and gets sweeter giving the sour cream and fresh herb sauce a bright and tasty flavor.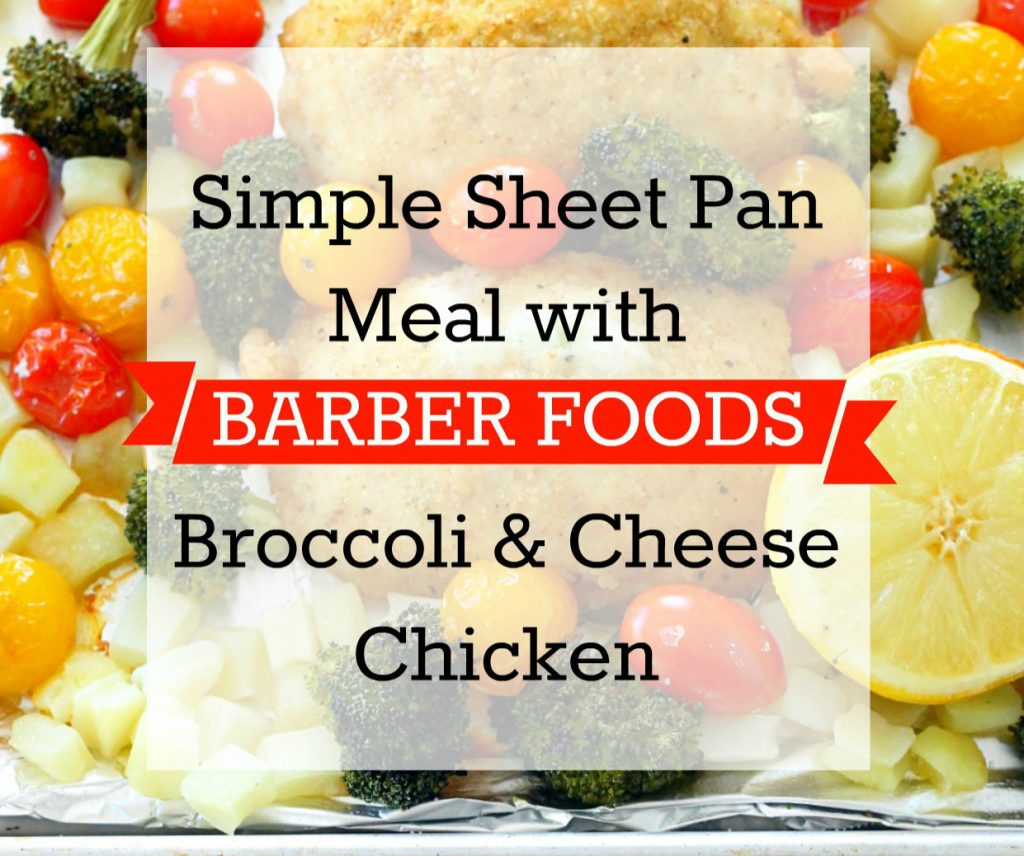 This recipe is featured at Meal Plan Monday, proudly hosted by Southern Plate, Southern Bite, A Southern Soul, and Big Bear's Wife.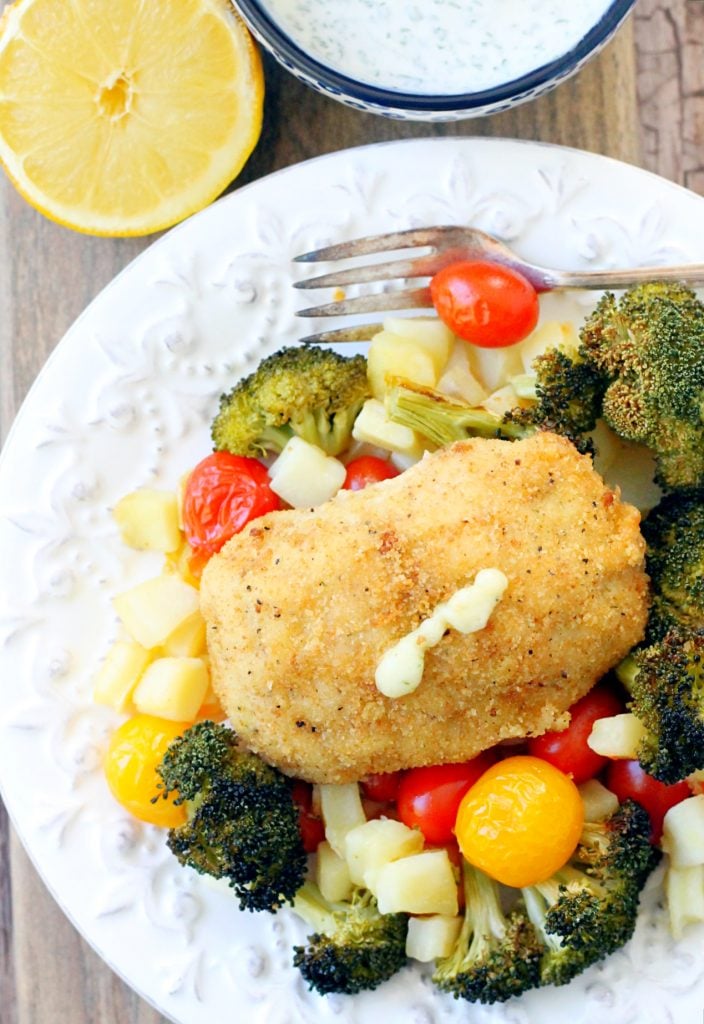 Simple Sheet Pan Meal
2016-09-25 13:45:41
Ingredients
4 Barber Foods Broccoli and Cheese Stuffed Chicken Breasts
4 c. frozen cubed potatoes
2 c. cherry and/or grape tomatoes
3 c. broccoli florets
1 t. salt
2 T. olive oil
one half lemon
1/3 c. sour cream
2 T. fresh chopped parsley
1 T. fresh chopped dill
Instructions
Preheat oven to 375 degrees.
Line a sheet pan with foil and spray with cooking spray.
Layer the potatoes, tomatoes and broccoli onto the pan.
Sprinkle with salt and drizzle with olive oil.
Nestle the Barber Foods Stuffed Chicken Breasts and lemon half (cut side up) evenly on the pan amongst the vegetables.
Bake at 375 degrees for 50 minutes.
Squeeze the juice from the lemon half into the sour cream. Mix together with the fresh parsley and dill.
Serve each stuffed chicken breast with a mix of roasted vegetables, topped with the sour cream and roasted lemon sauce.
Foodtastic Mom https://www.foodtasticmom.com/