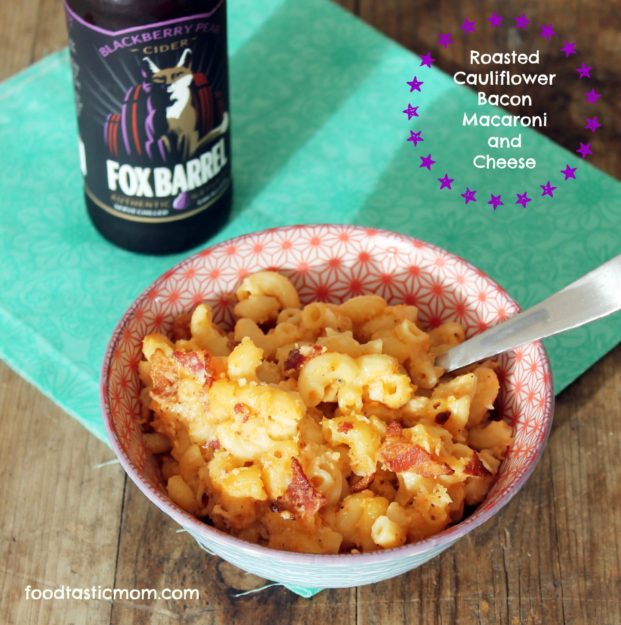 I hardly ever make homemade macaroni and cheese. Which is weird, cause I'm a mom and isn't mac and cheese one of a few staples in kids' diets growing up? It is for mine, although I stock our pantry with those microwavable, individual packets of mac and cheese made by Amy's, are you familiar with them? They are organic and super convenient. Which I find is usually the point with macaroni and cheese.
We hosted dinner at our house last night though, before we visited our township's annual jack-o-lantern walk, that needed to be both kid and adult friendly, so macaroni and cheese seemed like the perfect side dish of choice. I did a search on Pinterest and the recipe that caught my eye contained both cauliflower and bacon… a perfect balance of nutrition and decadence in my mind.
The original recipe was only sized for two portions, plus was written in metrics, so it required quite a bit of conversion on my part, but it was definitely a solid recipe and I'm pleased with the results it produced. In addition to the roasted cauliflower, the sauce relies on a mix of reduced white wine and chicken broth as its base, rather than milk or cream… plus cornstarch for thickener, rather than a flour roux. So even with the bacon (6 slices for a whole pound of pasta), it's a mac and cheese that attempts to be more nutritious than the average, while still tasting way better than average. I've got seals of approval from my nine taste-testers last night, both tiny children and adults, to prove it.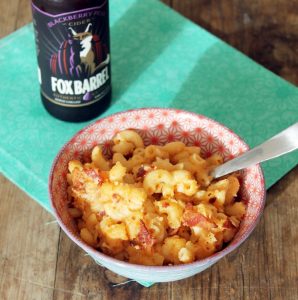 Roasted Cauliflower Bacon Macaroni and Cheese
2013-10-27 09:23:19
Ingredients
One box (16 oz.) of elbow macaroni pasta
1 head of cauliflower
1 T. olive oil
1/2 t. salt
1 c. dry white wine
3 c. low-sodium chicken stock
8 oz. extra sharp cheddar cheese, shredded
3 T. corn starch
4 oz. cream cheese, cut into cubes
2 T. unsalted butter
4 oz. Parmesan cheese, shredded and divided
6 slices bacon, cooked and crumbled
Instructions
Bacon can be cooked and crumbled in advance. Store in the refrigerator, covered, until ready to use.
Preheat oven to 400 degrees. Wash and cut cauliflower into bite-sized florets. Toss with olive oil and salt and spread in an even layer on a sheet pan. Roast for 20-25 minutes, stirring once, or until fork-tender.
Meanwhile, place one cup of wine in a large sauce pan, bring to a boil and reduce to simmer. Simmer until wine is reduced by half. Remove wine from heat and add the chicken stock to it.
Bring a large pot of water to a boil and cook the pasta according to package directions. Drain, but reserve about 1/2 cup of the pasta water in the bottom of the pasta cooking pot. To that same pot, with the water, add the reduced wine and chicken stock mixture and the roasted cauliflower. Using an immersion blender, blend until the cauliflower is blended into the sauce. Some small florets remaining whole is OK.
Return the mixture to medium-high heat. Whisk in the corn starch, bring to a simmer, then add the shredded cheddar. Mix continuously until the cheese is melted and the mixture has thickened. Reduce heat to medium-low and stir in the cream cheese, butter and half the Parmesan cheese until they are all melted.
Stir in the cooked macaroni and mix well until the pasta is completely incorporated.
Pour the macaroni and cheese into a greased 9x13 casserole dish. Top evenly with the cooked bacon crumbles and the rest of the Parmesan cheese.
Place the dish under the oven broiler on high for about 5 minutes until the bacon re-crisps and the top of the cheese is beginning to brown.
Adapted from Butcher Baker Blog
Foodtastic Mom https://www.foodtasticmom.com/