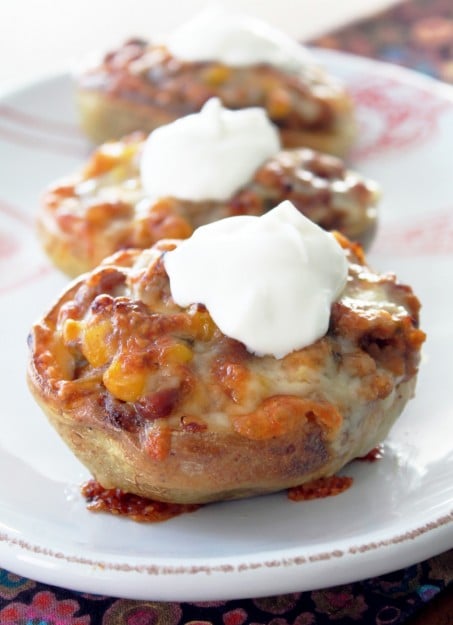 These came about on a night I was searching through my pantry for dinner. We had a can of Bush's Bourbon and Brown Sugar Baked Beans and a can of chipotle peppers in adobo sauce. I had some Yukon Gold potatoes and some ground turkey and corn in the freezer. Potato skins loaded with chili seemed like a great idea and they most certainly were!
The potato skins are pretty quick to put together too by using the microwave. After washing, prick the potatoes a few times, then stick them in the microwave on a large plate and cook until they can be pierced easily with a fork. Depending on the size of potatoes, that can take as little as 12 minutes.
After they have cooled a bit, slice them in half, scoop out the insides, brush with a little oil and bake in a 500 degree oven for 15 minutes. They come out looking crispy and golden, like this…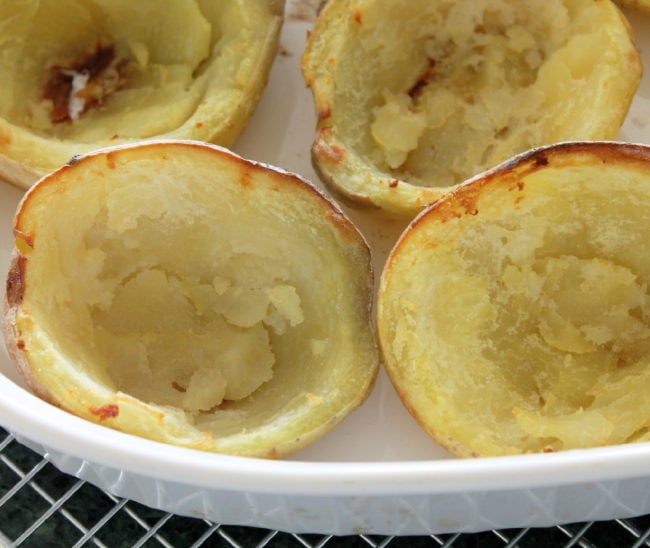 While the potatoes are transforming, the chili truly is quick to put together. Saute some onion and green pepper in a bit of oil. Add the turkey. Once it is browned, mix in some seasonings, adobo sauce, the can of baked beans and corn. Let it simmer and then it's ready to load into those crispy potato skins.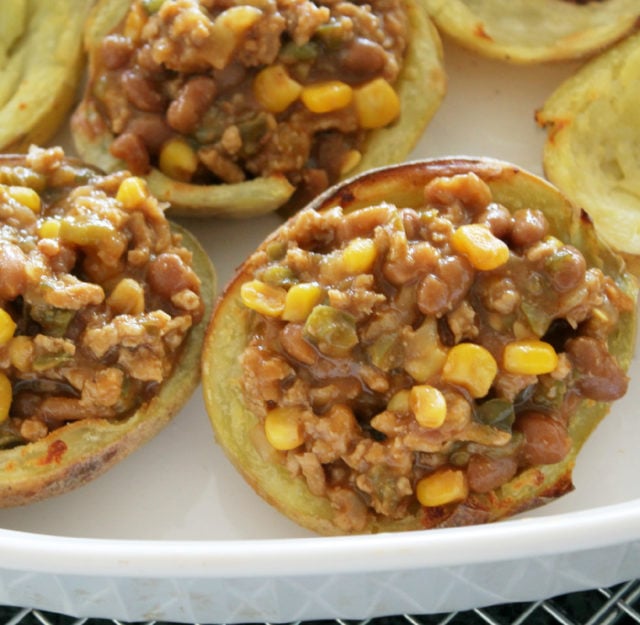 I personally love the combination of sweet and savory and this totally fits the bill. These microwave well too the next day for a leftover lunch. Yum…

Potato Skins with Quick Bourbon Baked Bean Chili
Ingredients
8

small to medium Yukon Gold potatoes

3

T.

olive oil

divided

2

green peppers

diced

1

large sweet onion

diced

1

pound

ground turkey

1

chipotle pepper in adobo sauce + 2 T. of adobo sauce

1

t.

salt

1

t.

ground cumin

1/2

t.

garlic powder

1/2

t.

smoked paprika

1

can

22 oz. Bush's Bourbon and Brown Sugar Grillin' Baked Beans

1 1/2

c.

frozen corn

1 1/2

c.

sharp cheddar cheese

shredded

sour cream to serve
Instructions
Preheat oven to 500 degrees with oven rack in upper third of oven.

Wash potatoes and prick each several times with a fork or a small, sharp knife. Place on a microwave-safe plate and microwave 6 minutes. Turn potatoes over and microwave 6 minutes more. Check for doneness by piercing with a fork. If they are tender. Take out to cool. If not, keep microwaving... start with about 3 minutes more. (You may have to do this in two rounds, depending on the size of your potatoes).

After potatoes have cooled a bit, halve each potato and scoop out the flesh. Save the middles for mashed potatoes at another meal.

Place potato halves, cut side up in a very large casserole dish. Drizzle potatoes with 2 tablespoons of the oil. Use fingers to spread the oil evenly over the insides.

Bake the skins at 500 degrees for 15 minutes.

While you are prepping potatoes, also cook the chili.

In a stock pot over medium heat, add 1 tablespoon of oil. Add the chopped green peppers and onion and saute for about 5 minutes. Add turkey and cook through, breaking meat up with a wooden spoon.

Chop the chipotle pepper very fine. Add the chopped pepper, the adobo sauce, salt, cumin, garlic powder and smoked paprika. Stir until well combined and cook for about 2 minutes. Add the can of baked beans and corn. Bring to a simmer and simmer for about 5 minutes.

Fill each potato skin evenly with the chili. Top each potato skin generously (about a heaping tablespoon) with the shredded cheddar cheese.

Return the stuffed potato skins to the 500 degree oven and bake for 10 minutes more.

Serve immediately topped with sour cream.